Home > Movies > Bollywood News

Adoor flays Jha over Devgan award

George Iype in Kochi and Syed Firdaus Ashraf in Mumbai | July 31, 2003 16:17 IST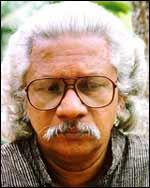 The National Film Awards have landed in controversy yet again.
After last year's ruckus involving Bollywood actress Raveena Tandon, it is director Adoor Gopalakrishnan's turn to now raise queries about the conduct of the awards.
Gopalakrishnan believes it was "improper and immoral" for director Prakash Jha to head the National Films Awards jury because the best actor award was given to Bollywood star Ajay Devgan, who is acting in Jha's film Gangajal.
 
Devgan was adjudged best actor for his performance in Rajkumar Santoshi's Legend of Bhagat Singh.
 
Jha headed the 23-member jury whose other members were M M Alex, K S L Swamae, film historian S Theodore Bhaskaran, Kiran Ghai, actor Mukesh Khanna, Biju Vishwanath, Manoj Tiwari, Shyama Prasad, filmmaker Arun Kaul, Nasir Mohammad, Quraishi, Saibal Chatterjee, Amitabh Parashar, critic Swapan Mullick, Sreelekha Mukherjee, Biplab Ray Chaudhuri, Oriya film-maker Nirad Mahapatra, Mrinal Kanti Das, Zoobi Amar, actor Raza Murad, journalist Rauf Ahmed, actor Dinyar Contractor and Gautam Kaul, former police officer and film critic.
 
Jha's conduct as chairman of the National Film Awards jury was "against the very ethics of the jury," Gopalakrishnan, whose latest film Nizhalkoothu was adjudged the best Malayalam feature film at the National Film Awards, alleged.
According to the director, who headed the jury some years ago, jury members have to give an undertaking that they do not have any connection with the entries screened for the awards. "If Jha suppressed the fact, it amounts to a violation of the covenant and is immoral."
Gopalakrishnan said director Amol Palekar, who was to head the jury last year, did not take up the assignment because a film he had acted in was to be screened before the jury.
"You ask the director of the film festival. It is not my decision to get this post," Jha told rediff.com in response to Gopalakrishnan's allegations.
Refusing to discuss the controversy, the director of the well-received Damul said, "Keep the dignity and sanctity of the award. Let whatever Adoor says be published. I don't want to comment. For me the chapter is closed. Let us talk about something progressive. One week has passed since the awards were given. There are so many
things to do in life. We should move forward." 
ALSO READ:
'Moviemaking has become a gamble'



What do you think about the story?








Read what others have to say:





Number of User Comments: 24








Sub: National Award

I agree taht Prakash Jha shouldn't have been on the panel when Ajay Devgan (whom he has to judge) is working in his movie. However ...


Posted by ASUDHISH









Sub: Adoor flays Jha: Devgan Awards

I read all comments with interest. I am surprised to see why some people do not understand that 'It is the ethics stupid'. Adoor is ...


Posted by Pramod Bhanti









Sub: national award

congratulation mr. ajay,we pray for next year


Posted by shaiju









Sub: Adoor is right, and Oduvil deserves it!!

What ever Adoor says is authentic and the reason is that national award is should not be an easy job as what Ajay did in ...


Posted by Deepti









Sub: Adoor is right, and Oduvil deserves it!!

What ever Adoor says is authentic and the reason is that national award is should not be an easy job as what Ajay did in ...


Posted by Deepti






Disclaimer