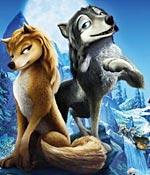 Shaikh Ayaz reviews Alpha and Omega. Post YOUR reviews here!

There's a rich wolf, there's a poor wolf. There's a refined wolf and there's the not-so-sophisticated one. If you've been mistakenly assuming that only humans draw the social divide, think again.

 In the kingdom of wolves, the social order is more apparent than in dystopian lands. Alpha and Omega's Greek title makes it incredibly clear; the extremes of class divide against whose backdrop a love story is set, flowers and eventually tears down the stratification itself. If there's an intentional moral message of egalitarianism here, one cannot be sure.

An animated romantic comedy in digital 3D, Alpha and Omega is located in Canada's Jasper National Park. Humphrey (Justin Long), the arbitrator, fun-lover belonging to the lowest pack, has a crazy crush on Kate (Hayden Panettiere), an alpha set for a bigger role in life. Hitch is, Kate's father Winston (Danny Glover) has fixed Kate's marriage to the son of Tony (Dennis Hopper) of the Eastern pack to maintain calm and order.

However, on a road trip Kate and Humphrey, both opposites in their temperament, rediscover themselves, spend time together and realise they've fallen in love but not before undertaking thrilling train journeys, getting into scraps with bears and whoa, even Humphrey's rescue act (yeah, he saves her life). On the other hand, Kate's fiance develops feelings for her sister Lilly (Christina Ricci).

The plot couldn't have got more predictable, more bland. Absolutely, in some scenes you find the love-struck couple, Kate and Humphrey, cute, sweet and amusing but never hilarious. Alpha and Omega's chief appeal lies in its animation. Strangely, it's a film that need not be in 3D -- it would have been just about the same in any other dimension (it's been released in 2D version, too, I hear).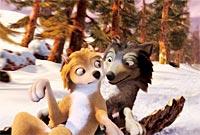 Targeted at children and family viewers, Alpha and Omega offers nothing to the precocious intelligence of the Bourn Vita kid, for the jokes and wisecracks are so infantile that it makes you wonder if it was made for toddlers.  

Although the vocal artists have done a good job, the school-goers would only be attracted by the 3D effects. In any case, kids love any cartoon that comes their way. But there are some that they continue to watch even as they grow up, those that stay with them for eternity.
Alpha and Omega possesses none of those qualities. Honestly, the last time I enjoyed the shenanigans of wolves, it was many years ago -- in The Jungle Book's Doordarshan version. It represented the immortal quality, the recall value that I just referred to. A good excuse to revisit it? 
Rediff Rating: