Himesh Reshammiya is all set to become the Jack of all trades. How so? His next assignment has got him doing it all -- composing, singing and acting.

Titled Aap Kaa Surroor-The Moviee-The Real Luv Story, the film is said to be inspired by the real life romance of this baseball cap-jacket sporting musician. Co-starring Riaa, the film also stars Mallika Sherawat in an evil cameo.  

HR's brand of music is both loved and hated with amazing intensity. Here, too, he dishes up a soundtrack, which is likely to be lapped up by fans and thumbed down by his detractors.

Want to know what's in store? Here's a quick look:

Assalaam Vaalekum opens with HR droning about love and loss only to promptly break into a deafening jig. The poor sync between the sluggish chorus and the high-pitched lead singer mar the tempo a great deal.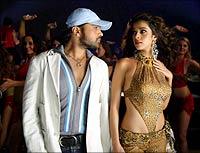 Though the nasal element in Reshammiya is decidedly subdued, he can't help his trademark zest. The singing star's fervent chanting of Tera mera milna in the awfully squeaky company of Shreya Ghosal is not stuff Aashiq banaya aapne was made of. This one gets a miss.
Jhoot nahi bolna bears the stamp of the kind of glitzy compositions Laximikant-Pyarelal were known to successfully churn out in the 1980s. So if your idea of musical heaven is a gaudy orchestra coupled with soppy lyrics (marjavan, lootavan, bhoolavan, the works) and Reshammiya-Ghosal combination of sound effects, play it again.   

It's called stretching, HR style. Note how the man picks on a certain word and leisurely emphasises on the same. Here, he stuck on Tanhaiyaan. Even if the beats and overall effect is tried and tested, HR, in his comfort zone delivers. This ode to loneliness is catchy.

Ditto for Ya Ali. Zingy, foot-tapping and engrossing, the disco ditty holds tremendous repeat value. The dance number would work even better if Reshammiya would go easy on the lyrics. The urgency in his voice goes against the bouncy nature of Ya Ali.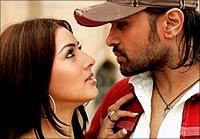 HR weeps and whines in every beat and sentence of Tera Bina, occasionally also mouthing lines like 'Bhagwan ka screenplay bhi ajeeb hai.' The tune is fairly dulcet but Reshammiya's melodramatic crooning, predictably hogs the limelight.

He achieves the desired effect to better results in Kya jeena. While the classical alaap (by Jayesh Gandhi) is well done, the track bears strong memories of Rahat Fateh Ali Khan's wonderful rendition of Main jahaan rahoon (from Namastey London).  
Nothing can prepare you for what is to follow next. HR doing a RD with Gabbar thrown in! As blasphemous as it sounds, the man reprises the legendary Mehbooba track of Sholay, shredding it to bits with his pathetic version. What's unbelievable is Asha Bhosle actually agreed to be a part of this joke of a remix.

The soundtrack, but obviously, features remixed versions of all the tracks by DJ Akbar Sami. Rattling techno beats and accelerated tempo do their bit at achieving the same.

All in all, Aap Kaa Surroor-The Moviee-The Real Luv Story, with all it's extra 'e's and 'a's might not be a bad investment for HR fans. 
 
Rediff Rating: