Kabir Khan's '83 is an ode to a game changing chapter of Indian cricket history, pitch-perfect partnerships between openers and tail enders, knowing your mate's strengths as well as your own, seizing that one moment that defines the rest of your life, applauds Sukanya Verma.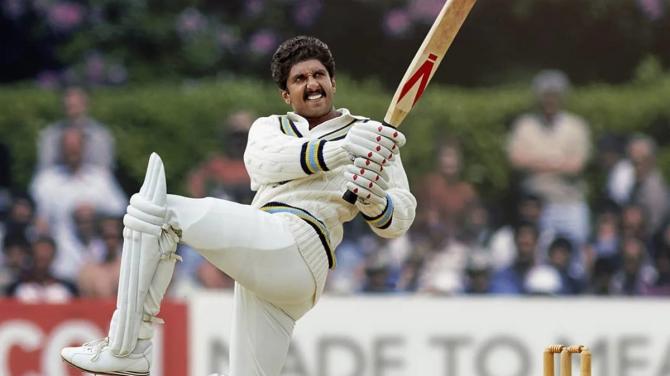 'If you build it, he will come.'
The profound optimism of this Biblical phrase and prophecy from Field of Dreams realised by Kevin Costner as he turns his cornfield into a baseball pitch in the hope of a surreal encounter is magnificently evoked in director Kabir Khan's life-affirming '83.
In recreating the magic and mood of the year that Indian cricket team won its maiden World Cup, the film-maker not only brings back yesteryear legends to the fore but also reiterates the soothing power of nostalgia -- much, much needed in these pandemic-ridden, crestfallen times.
The year is 1983 when Sunny Deol made his debut on screen and Maruti 800 hit the road, Bandit Queen Phoolan Devi surrendered to the police and Sachin Tendulkar decided to become a cricketer, a momentous piece of information affectionately noted by the movie.
As is a sly nod to Kapil Dev's famous Palmolive da jawab nahin in a moment of shaving cream smeared on his face, a generation will readily remember as does its ingenious screenplay by Kabir Khan, Sanjay Puran Singh Chauhan, Vasan Bala.
In the days of limited landline phones and television sets, entertainment wasn't instantly consumed and discarded and the successes of 1981 (Kranti, Ek Dujje Ke Liye) lingered on in radio waves and public consciousness.
Unlike many other period films that rely almost entirely on technology and popular culture to underscore the past, Kabir Khan transports us back into the era without feigning the slightest bit.
As much as one appreciates the detailing gone in font and fashion, the experience never feels vintage; it's like being in real time.
In 1983, I was too young to remember the tournament but discerning enough to feel the impact of India's milestone victory.
Flashes of Kapil Dev holding that glorious cup, Vengsarkar's injury, Sandhu and Srikkanth in action, pictures of Roger Binny and Gavaskar splashed on my notebook, I have blurry memories of their advent into stardom.
At first, I couldn't put a finger on what makes the atmosphere so genuine and relatable but I soon realised it's the decorum, the decency and solidarity of players, a keen respect for the game and opponents even when the going gets rough and hostile.
Kabir Khan's labour of love is special for more reasons than one.
It takes a rare, humbling look into the world of cricketers long before they were perceived as an overindulged, overpaid lot, riding high on exclusive endorsements and multi-million auction bids.
Back when a hot bath and wholesome meal was a luxury their measly allowance could not afford and in place of hype and hullabaloo, there was indifference and condescension to contend with.
When India flew to England for the World Cup tournament, the bench-warmers and baingan gobblers at BCCI scoffed away in cynicism and shared no hope, not even a fool's.
Prematurely booked for return, the team's classic case of underdogs could not deter their staunch manager PR Man Singh (Pankaj Tripathi sporting a mild Hyderabadi accent and emanating a distinctly, delightfully Farooque Shaikh vibe) or relatively inexperienced skipper Kapil Dev (Ranveer Singh) focusing on motivating a young, restless side of glossed-over talent to come into its own.
Despite the low stakes, Team India's good-humoured, winsome camaraderie is a fond glimpse into uncomplicated, unpolitical times.
'83 acquaints us to the men in white -- before blue became the official jersey colour and 50 overs the norm -- their banter, libido, eating habits, sportsmanship and personal life as they learn a thing or two about England's fickle weather and greeting the queen.
Some get more screen time than others but an impression is left by all.
Sunil Gavaskar's (Tahir Raj Bhasin) declining form, K Srikkanth's (Jiiva) goofy antics, Mohinder Amarnath's (Saqib Saleem) star son expectations, Yashpal Sharma's (Jatin Sarna) under-rated prowess, Roger Binny's (Nishant Dahiya) charismatic game, Sandeep Patil's (Chirag Patil) frolic and flirtations, Madan Lal's (Harrdy Sandhu) eagerness to prove, Syed Kirmani's (Sahil Khattar) no-nonsense tenacity and Balvinder Singh Sandhu's (Ammy Virk) naiveté stand out more pronounced than others even as Kapil Dev's inspiring captaincy takes centre stage.
'83 doesn't paint him as an icon but a responsible professional and robust player wanting to do his people proud.
Though the star all-rounder is leading a pack of rough-on-the-edges, compared to the 'mighty West Indies' anyway, it's their energy as a whole that makes '83's endeavour on screen a true triumph.
One of my biggest takeaways from '83 is how the West Indies look formidable without turning into foes.
Malcolm Marshall, Andy Roberts, Viv Richards (former companion Neena Gupta on board as Kapil Dev's mum winks at the connection) -- all its esteemed cricketers, icons in their own right, are presented with the awe they deserve, proving the adversary doesn't have to be painted evil to feed the competition or fuel our allegiance.
Be it Bajrangi Bhaijaan or even Tubelight, Kabir Khan's refined sensibilities constantly challenge the way love for one's country is defined in our movies. He avoids the pitfalls of patriotic fervour in '83 as well.
One of the most poignant scenes in '83 occurs seconds before the interval, when a demoralised team looks out of the bus to see a massive crowd of West Indian fans engaged in celebration but a lone tricolour is enough to lift their spirits.
For a sportsman, a waving flag is a source of comfort, a sign of support and a fan's unconditional belief in your abilities on good days and bad.
All the actors slip into their parts seamlessly and portray a picture of believable bonhomie, especially the scene-stealing Jiiva while Ranveer Singh becomes one with the character of Kapil Dev -- sound, surface and soul.
Kudos on the sublime make-up but the internalisation is on a spectacularly spiritual level.
I didn't see Ranveer or any other actor in '83. It's all Kapil Dev, Gavaskar, Srikkanth, Sandhu and a certain Master Blaster in the making.
Juxtaposing the live action unfolding on celluloid with snapshots of the unforgettable reality is a nice touch.
As ardent Kapil Dev's do or die resolve is, the thrill of the team's unlikely win doesn't stem from dramatic scenes or speeches as much from the volatility of the game itself.
The fortunes-shifting opening match opposite the West Indies, Kapil Dev's record breaking, undocumented-on-video 175 against Zimbabwe and, of course, the all-important final win against the two-time champions are highlights that stand out.
Edge-of-the-seat emotional stuff, this.
And composer Pritam's gung-ho soundtrack with a central motif, reminiscent of Joe Hisaishi's Laputa: Castle in the Sky's theme, plays it up abundantly for effect.
Unsurprisingly, the clichéd sports genre tropes -- words of encouragement and dream-come-true assertions -- ring hollow agaainst the organically achieved high of '83s meticulous depiction of the tournament. Deepika Padukone's short and supportive contribution as Romi, Kapil Dev's significant other is a case in point.
Another downer is the monotonous crowd reaction in the stadium or before the screen, barely conveying the enormous range of response India in the finals elicits.
Agreed on cricket's unifying role, but '83 only half-heartedly employs it as a political tool to defuse tension amidst communal discord.
Although it is rather cool to see the man of the hour himself, cheering across the stands, in a Stan Lee like appearance.
Kabir Khan's '83 is an ode to a game changing chapter of Indian cricket history, pitch-perfect partnerships between openers and tail enders, knowing your mate's strengths as well as your own, the everlasting tradition of superstitions and sledging and seizing that one moment that defines the rest of your life.
Rediff Rating: