Bengalis are really passionate about football, but that passion was totally missing in this father-son generation-strife about who ends up standing tall at the end, feels Prateek Sur.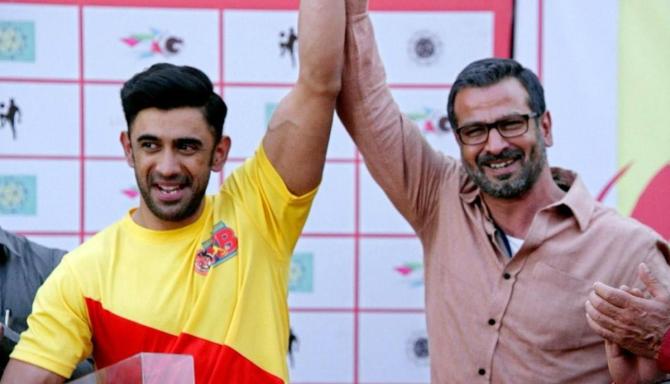 The Ronit Roy and Amit Sadh-starrer 7 Kadam is a clash of generations with a father and son wanting to help each other out in their respective lives, yet choosing different approaches to get to the same goal.
Will they be able to work out their differences?
Who will end up coming on top in this clash?
Well, you'll have to watch the show to know that.
Ronit Roy is back in his safe territory, and that's not a good thing.
He has been accused time and again of playing the same angry and drunk father character, who keeps broodingly pushing his life goals onto his children, and he does the same exact thing once again.
You've seen him play this character in Udaan, 2 States and so many other films and shows before.
He gets the nuances right of being born in a Bengali household and growing up worshipping football. Because Ronit Roy himself is a Bengali, his accent is the most authentic amidst the lead cast.
Amit Sadh is not in his element.
If you've seen his recent Web series Jeet Ki Zidd or Avrodh or even Breathe, he has a certain charisma.
In 7 Kadam, that element is missing and Sadh is somehow made to feel as if the entire burden of the family (or in this case, the Web series) is on his shoulders.
Deeksha Seth has been waiting for years to get some good projects. After her debut in Bollywood with Lekar Hum Deewana Dil (2014), she has finally got a decent project.
But in an attempt to make her character bubbly and chirpy, the makers have made her appear like someone who is piling on.
In hindsight, her character is the perfect example of what a stalker looks like. She follows Amit Sadh everywhere! So much so, she suddenly shows up outside his room's window in the night.
The makers have unknowingly glorified the stalker syndrome to an extent that when it seems Amit Sadh is unable to get rid of her, he finally decides to say yes to her and fall in love. Their love story feels really forced.
One of the biggest flaws of the Web series is the Hindi-Bengali accent all characters speak in.
Being a Bengali myself and hailing from the same part of the country, trust me when I say *no one* talks like that there -- neither people from Kolkata nor people from Asansol.
The makers should have picked up either Hindi or Bengali and stuck to it throughout.
Mohit Jha's direction is amateurish.
His story does not fit in 2021.
It's an old and dilapidated story with some really botched up shots.
The name of the show, 7 Kadam, implies the seven steps a player takes before hitting a penalty kick.
In this case, the Web show starts with Amit Sadh going to take that penalty kick and the entire story runs in flashback until the climax where it's finally shown whether or not he hits the goal.
What's wrong here is that seven steps are not a universal thing that every footballer takes. Some do it in five, some do it three, so the title 7 Kadam seems very illogical.
Lastly, in a sports drama, the sport needs to be shown at least a considerable amount. Sadly, 7 Kadam doesn't have that.
The actual football playing scenes in this four-episodic-show is barely 10 minutes.
You are left wanting for scenes where the coach is training the players or the players are dribbling the ball.
7 Kadam barely has them as blink-and-miss scenes.
To sum it up, Bengalis are really passionate about football, but that passion was totally missing in this father-son generation-strife about who ends up standing tall at the end.
Rediff Rating: