Killer Kangana or Teasing Twinkle? Take your pick!
Demotional became a word.
Stars spoke about sex and size.
Arjun Kapoor volunteered to be a kissing prop on more than one occasion.
Kangana Ranaut gave 'bloody hell' to host Karan Johar.
Akshay Kumar sang and serenaded Twinkle Khanna on national television.
Shahid Kapoor's burping ways became public knowledge, as did Arbaaz Khan's Bermuda triangle personality.
Mostly though, we still can't get over Jackie Shroff and Aamir Khan discussing water harvesting. With Koffee With Karan's season five wrapped up, let's look at all its star-studded episodes that made varying degree of noise for different reasons.
VOTE for your favourite in the poll below.
Shah Rukh Khan and Alia Bhatt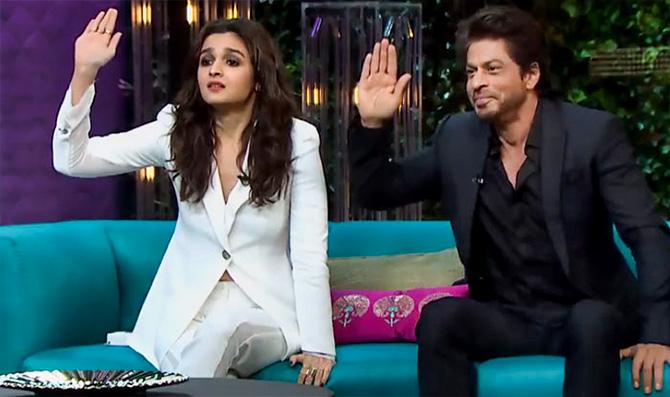 SRK coined a new word: 'demotional'.
Alia spoke about bunnyhopping with Katrina Kaif.
The Dear Zindagi duo reunited to open the fifth season of Koffee With Karan but it's King Khan, who stole the scene with his wisdom, wit and wacky recital of a kiddie nursery rhyme in Arnab Goswami's baritone.
Akshay Kumar and Twinkle Khanna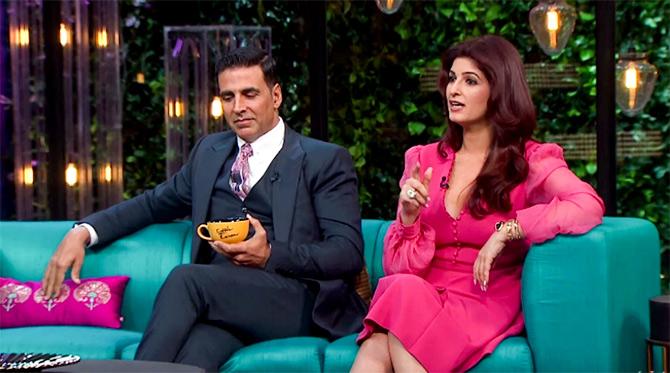 KJo's first crush Twinkle Khanna made a memorable debut on the show.
She ribbed her host about 'hostage' videos, mocked her dreadful acting skills and turned husband Akshay Kumar red-faced with her disclosures about looking into his family's medical history or refusing to have a second child until he got his act together career wise.
Varun Dhawan and Arjun Kapoor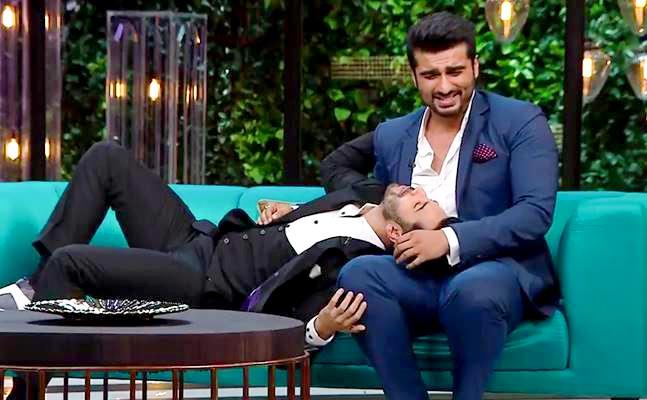 Bromance reigned supreme every time Varun Dhawan rested his head on Arjun Kapoor's lap to rattle gibberish or got into a competitive spirit over matters of size. Though boringly diplomatic on the personal front, VarJun had a good laugh over their adventures from film school days.
Ranbir Singh and Ranveer Singh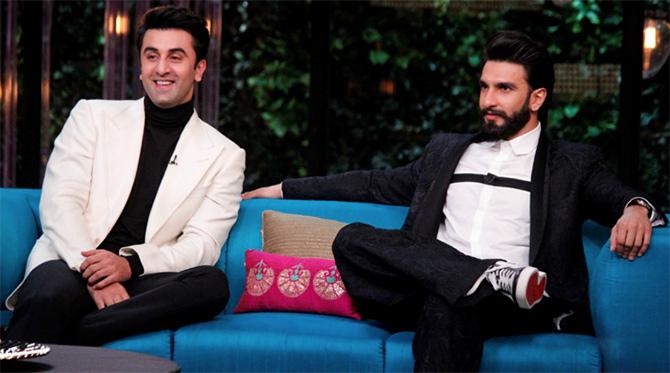 As great it was to see two of Bollywood's best young stars team up for Koffee With Karan, the episode itself took time to take off as long as the focus stayed on their love lives.
Ranveer wasn't his usual madcap self whereas post-Ae Dil Hai Mushkil Ranbir exuded catty confidence. Bring up porn or Arjun Kapoor though and how quickly things changed.
Aditya Roy Kapoor and Parineeti Chopra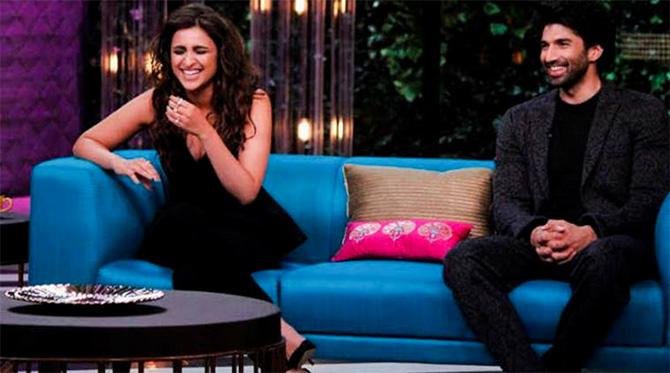 Parineeti Chopra may share a 'Dear Buddy' in-joke with her Dawaat-E-Ishq co-star but the all sugar no spice episode was anything but droll. Between one's vanilla ways and another's childish enthusiasm, KJo's wicked innuendoes came crashing like a house of cards.
Here's a sneak peek of the episode
Salman, Sohail and Arbaaz Khan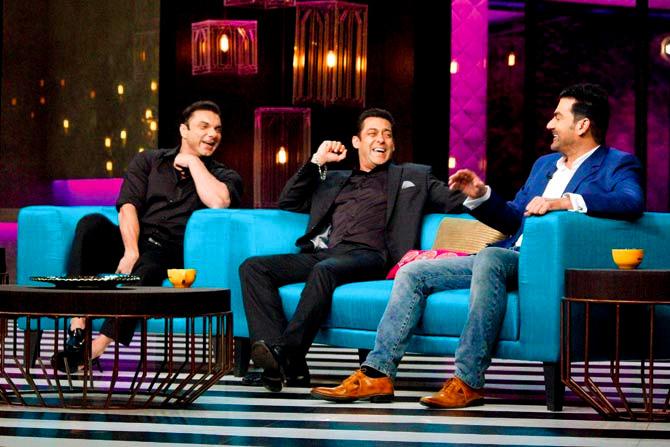 The 100th episode will be remembered solely for Sohail Khan's masterstroke of a quip where he alludes to bade bhaiya Salman as number one while he and Arbaaz are zeroes.
Despite the goods, the episode itself lacked that extra something. And for once, it is Johar who appeared to play safe.
Aamir Khan, Fatima Sana Shaikh and Sanya Malhotra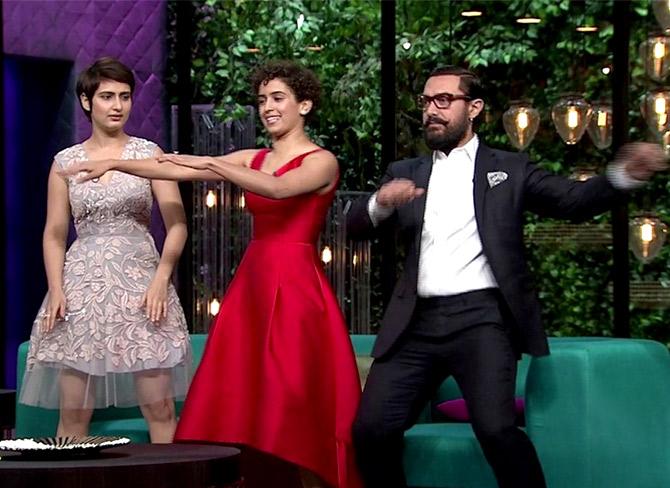 The Dangal girls marked a welcome break from guarded, PR driven stars as they gushed about taking selfies from the corners of Aamir Khan's home. Their spontaneity rubbed off on screen dad Aamir Khan too. On being quizzed the one thing he hates about the industry but pretends to like, pat came the reply 'Your show.'
Here's a sneak peek of the episode
Katrina Kaif and Anushka Sharma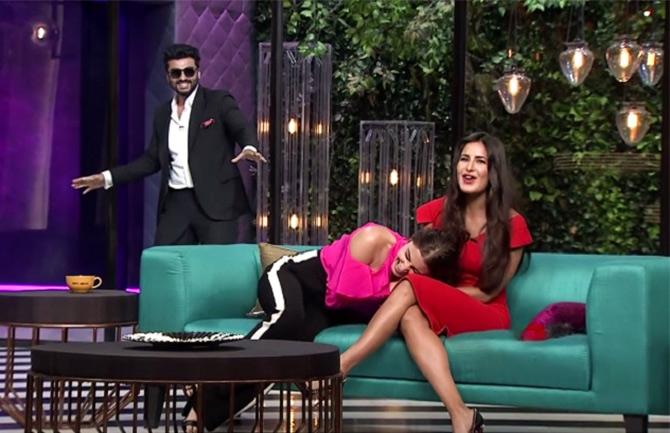 Anushka Sharma's goofball humour came as no surprise but who knew Katrina Kaif could be so fun? That bit about everything that's uttered on the show lapped up as gospel truth... howlarious, Kat! Even contemporary Deepika Padukone couldn't resist tweeting her love for the said episode.
Here's a sneak peek of the episode
Shahid Kapoor and Mira Rajput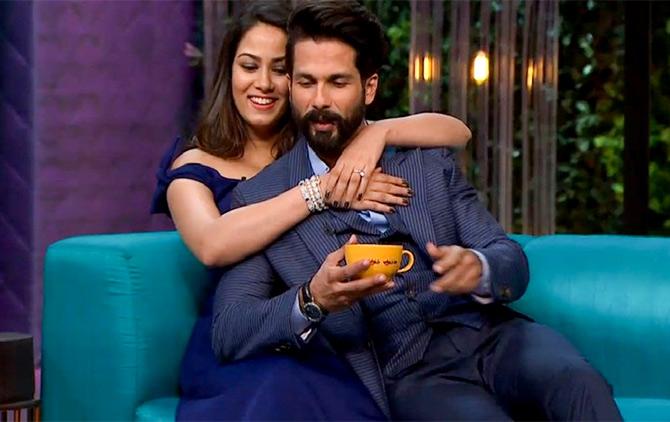 Valentine's Day came a month early this year. Blame it on Shahid Kapoor and his missus Mira.
The mushy couple didn't leave any opportunity to demonstrate their SO in love state. It was cute. It was cheesy. It was too much information.
Sidharth Malhotra and Jacqueline Fernandez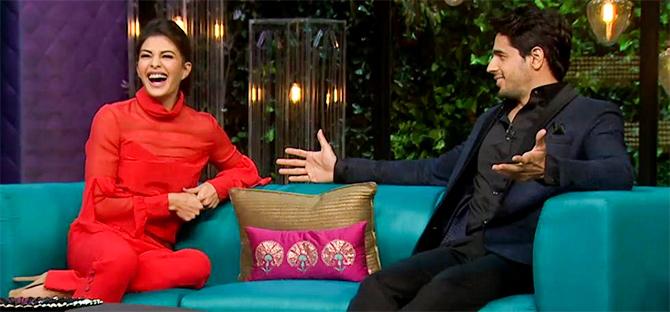 When hyper bubbly met serene hunk, the upshot is Koffee With Karan's episode number 10 of season five. Did anyone really chat in this episode -- purely designed to promote the Reloaded pair and their believed chemistry? All we remember is Jacquline Fernandez and her incessant giggling.
Kareena Kapoor Khan and Sonam Kapoor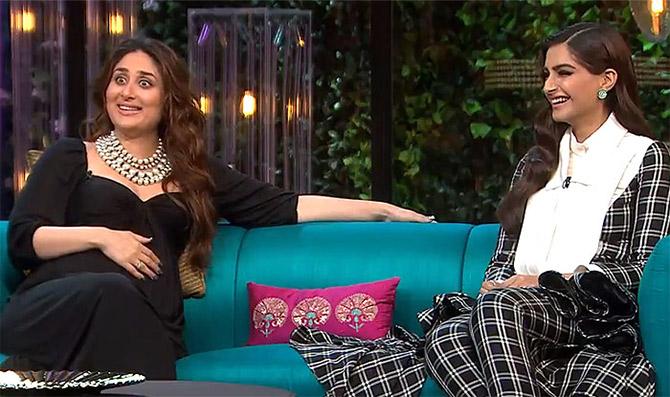 You'd think an episode starring two fashion-forward Kapoor firebrands would make for one helluva masala viewing. Alas, between Sonam's politically correct stance and Bebo's 'GK aunty' skills, the Kapoor & Kapoor session never quite takes off.
Priyanka Chopra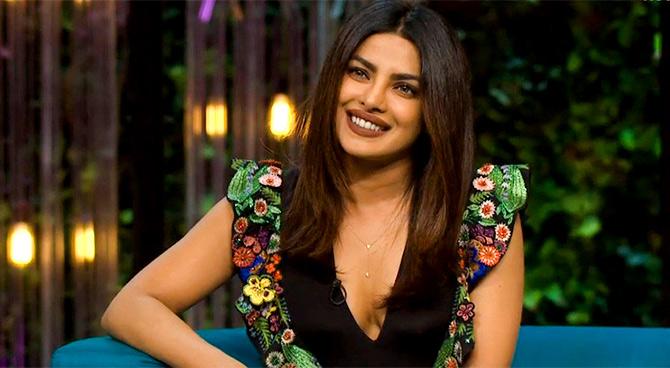 Priyanka Chopra's solo appearance on KFK is further proof of the powerful place she's in right now. And the desi girl gone international wins the mood with her glamorous verve and gamely humour.
More power to her.
Jackie and Tiger Shroff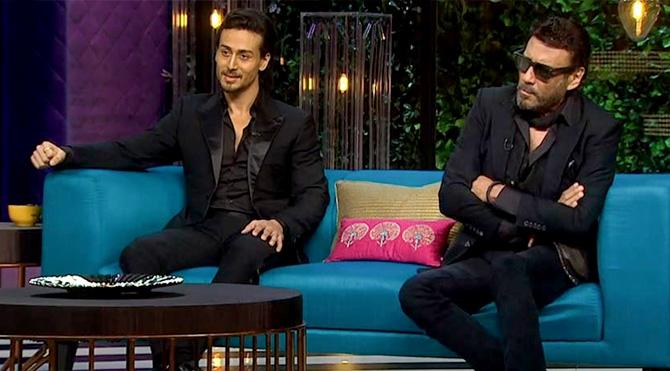 Every now and then Koffee With Karan springs a pleasant surprise our way through delightful candour.
After Hema Malini, Rishi Kapoor and Juhi Chawla, it is Jackie Shroff's turn to impress.
The bindaas Hero's characteristic lack of inhibition, something one isn't accustomed to seeing on the show, grabs you like a breath of fresh air.
Son Tiger could learn a thing or two about loosening up from his parents.
Here's a sneak peek of the episode
Farah Khan and Sania Mirza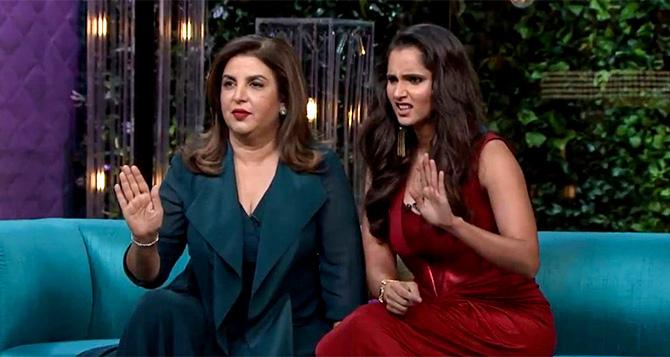 Imagine a kitty party in the absence of the life of a party. Pretty much sums up everything that's wrong with Farah Khan, Sania Mirza and Karan Johar's dreary koffee pe charcha for you.
Unless Karan making fun of Farah's unattractive placemats is funny.

Here's a sneak peek of the episode
Varun Dhawan and Alia Bhatt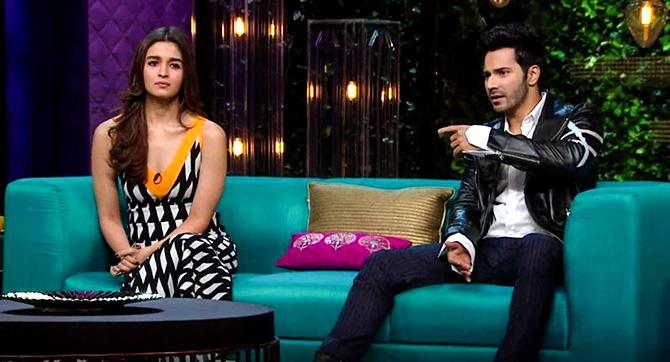 Alia appears more relaxed making her second appearance with Badrinath Ki Dulhania co-star Varun Dhawan. The episode may be PR exercise masquerading as friendly banter but the chemistry between KJo and his discoveries, especially when they reverse roles, is far too chilled out to complain.
Kangana Ranaut, Saif Ali Khan and Shahid Kapoor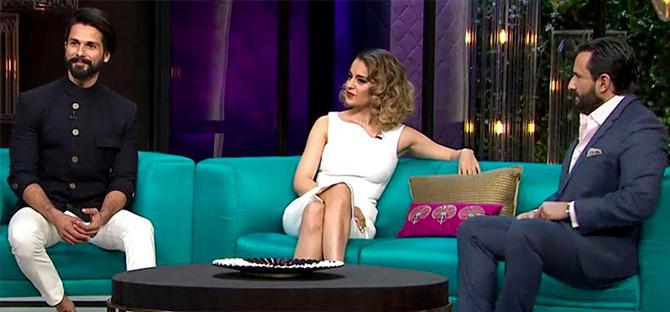 The most talked about episode of them all. The one that kick-started a debate on Bollywood's thriving nepotism and prompted quick think pieces by the dozen.
But whether you're siding Kangana for blasting KJo over his elitism/nepotism/favouritism with a sarcastic smile or consider her tirade overblown, let's not forget Saif Ali Khan's cheeky sense of humour through it all.
Zoya Akhtar, Imtiaz Ali, Kabir Khan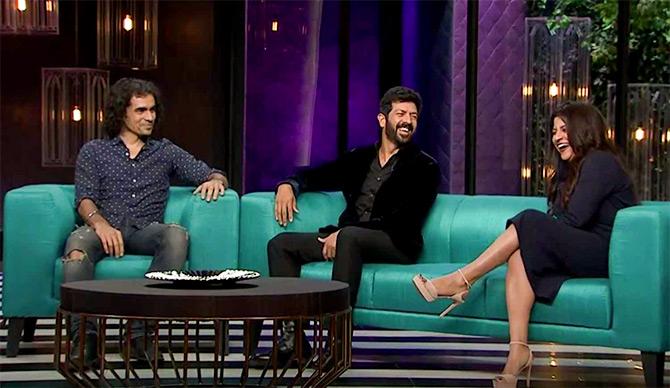 On a director's couch, Zoya Akhtar pointed out at the Censor Board's identity issues, Kabir Khan revealed why documentary filmmaker is a bad word in Bollywood even as Imtiaz Ali flashed a mischievous grin, as if secretly laughing at the frivolity of the present platform.
Don't you just love that about him?
Kapil Sharma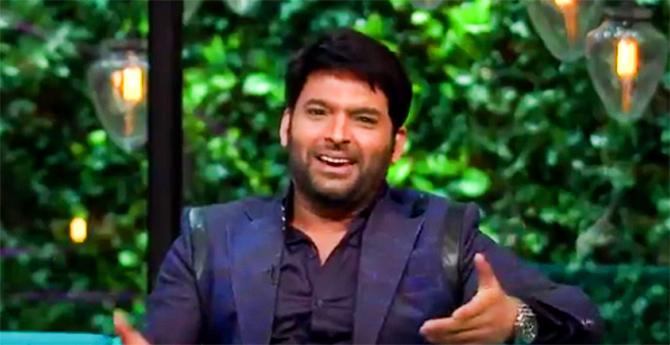 The popular comedian spoke about his English Vinglish, head over heels infatuation for Deepika Padukone and other unremarkable stuff in an episode that felt too self-conscious to spell fun.
Neha Dhupia, Rohan Joshi, Malaika Arora and Ayan Mukerji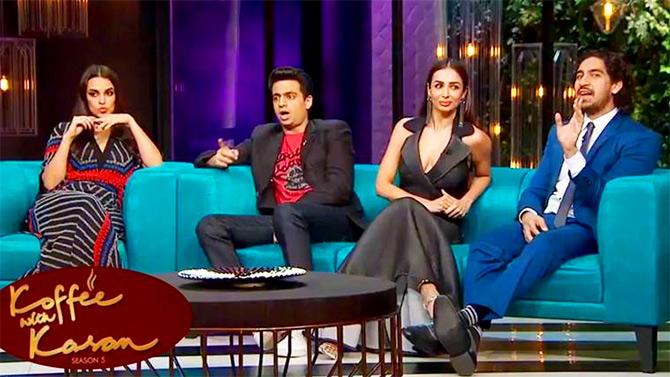 Karan Johar roped an odd, unfunny bunch to award the best and worst of Koffee With Karan this season.
Twinkle Khanna and Jackie Shroff emerged as unanimous favourites but Malaika's bias for the Khans didn't go unnoticed nor did the foursome's sly commentary on the infamous Kangana episode.
Needless to say, the Queen star didn't win any prize in a single category.