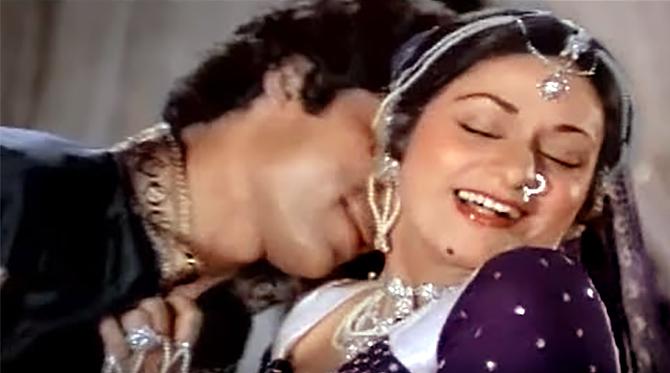 "You can't compare Lata Mangeshkar with anyone," Bappi Lahiri tells Subhash K Jha.
"There has never been anyone like her, and there never will be. Many have tried to imitate her but have fallen flat on their faces," he adds.
Bappida's association with Lataji goes back many years.
"She sang for my father Aparesh Lahiri. Do you know that Bengali song Ekbar biday de Ma ghure ashi from the film on Netaji Subhas Chandra Bose about this 18-year old freedom fighter bidding his mother goodbye before being hung to death? Not a single person, who hears this song, can stop himself from crying."
Bappida fondly recalls Lataji visiting his home.
"I have pictures of me as a toddler on her lap. When I became a music composer, I asked her to sing for me. The first songs were Pyar mein kabhi kabhi and Dur dur tum rahe in Chalte Chalte."
Bappida reminisces, "I am one of the lucky composers alive for whom she sang so many songs. The songs that she sang for me -- like Soonee sej saja doon (Jyoti), Sooni sooni raahein (Phir Janam Lenge Hum), Aao tumhe chand pe le jayen (Zakhmee), Saiya bina ghar soona (Aangan Ki Kali) and Chanda dekhe chanda (Joothi) -- are my most precious compositions."
But the song he is proudest of is Kaliyon ka chaman.
"This song from the film Jyoti was picked up by the famous American rappers Truth Hurts."
He feels Lataji is beyond praise.
"I don't have words for her. I only know there will be not another Lata Mangeshkar. She is turning 90 but she has given us songs that will be sung for 90,000 years."