Lata Mangeshkar turns 90 on September 28, and we start the celebrations early. We present beautiful features on the songstress published on Rediff.com through the years.
Lata Mangeshkar's 2011 calendar, called Tere Sur Aur Mere Geet, is a treasure trove of musical information, as Lataji looks back at 28 music composers that she had worked with over the years.
She writes interesting anecdotes on each, and we present some of it here.
Ghulam Haider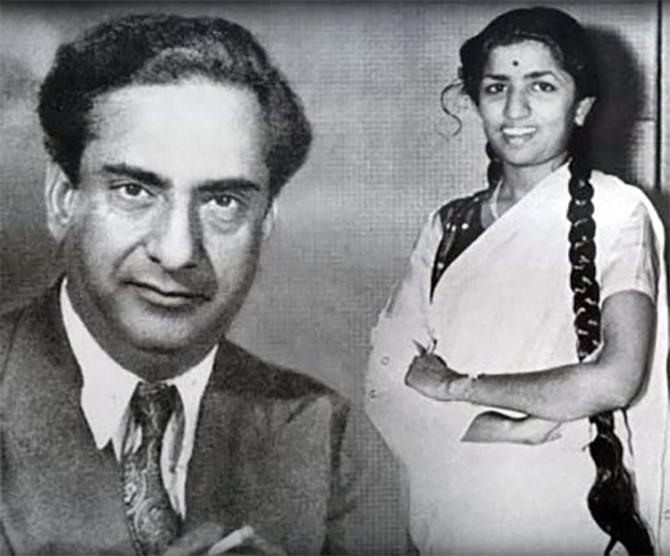 In 1947, I received a message from Masterji, Ghulam Haider. "One song needs to be recorded, come as early as possible."
As it was night, I was accompanied to the studio by my cousin.
Masterji was in a hurry as he had to leave for Pakistan.
The recording lasted through the night. I was awaiting my turn on a bench in a corner.
Finally, at the stroke of dawn, Masterji called me. He played the tune on the piano. He was a master piano player.
Then I sang his song, Bedard tere dard ko. It was past 8:30 am by that time.
Those days one had to sing the entire song with the orchestra without committing a single mistake and hence was a strenuous exercise.
Masterji recommended me for the film Shahid to Filmistan's Mukherjee.
He rejected me, reasoning that my voice was too thin. Masterji told him that day, "You are rejecting her now, but one day will arrive when the entire industry will spread a red carpet for this girl."
The prophecy of Masterji turned out to be true. The songs of Andaaz, Barsaat, Badi Behan, Mahal were gaining popularity every passing day.
One day, I received a call from Masterji from Pakistan.
He used to refer me as 'Memsahib'. He said, "Memsahib, I had told you, people will never forget you, and you will not forget me either!"
Then one day, Noorjahan called me, Masterji was suffering from cancer.
The last song that Masterji recorded with me is the one closest to me.
Shyam Sunder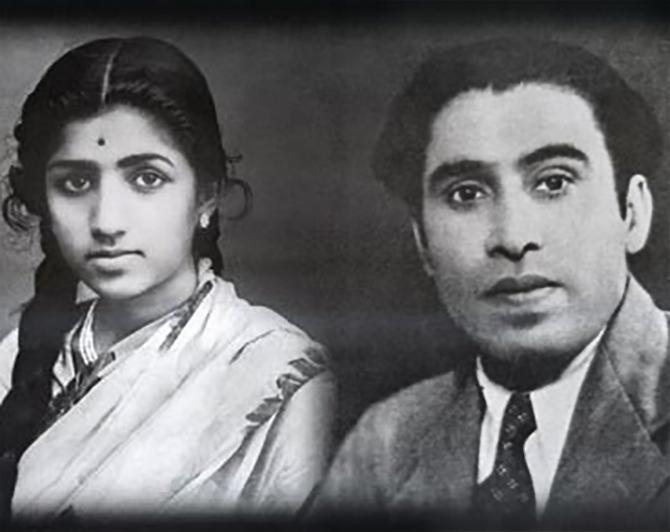 During the period of 1946-1947, I was an employee of Master Vinayak.
One day he summoned me to his house in Dadar and told me that Shyam Sudner had come and wants to hear you sing.
I complied and sang a Bandish.
There was no reaction on Shyam Sunder's face. Days passed by. Master Vinayak met an untimely end.
I was searching for work.
Then one day, Shyam Sunder called for me.
I have sung many melodious songs for Shyam Sunder.
I remember a qawaali from the film Chaar Din. The singers included Rafi, Shivdayal Batish, Rajkumari, Hamida, Johrabai and Iqbal. This qawaali, Haseenon ki adaein bhi by Shyam Sunder was very challenging and consisted of difficult taans.
Our rehearsal was going on. I was the focus of his attention. He was keen to know how I perform on a song which had a Punjabi style. I sang all the taans much to the delight of Shyam Sunder. He told everyone, "This is how to sing a song in Punjabi style."
Shyam Sunder was a jovial person.
Due to some misunderstandings, I was not singing for him for a period of time.
One day, I received a message from him. He had composed a song especially for me. The song Tujhko Bhulana Mere Basme Nahi from the film Alif Laila was the last song that I sang for him. He met a sad, untimely death.
The song Sajanki Galiyan from the film Bazaar is my favourite.
Naushad Ali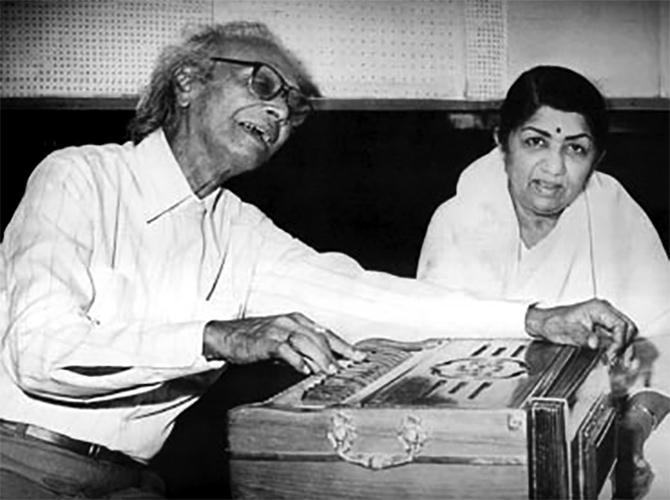 "Naushad Sahab wants to meet you," Mukesh told me one day. I had just begun to sing for Ghulam Haider, Shyam Sunder and Khemchand Prakash.
I told Mukesh, "I will go and meet him, but will not appear for a trial!"
I was a trained singer.
Mukesh agreed and we proceeded for the meeting.
Naushad Sahab praised me a lot and told me that a trial is not needed. He asked me to sing a recently recorded song or a ghazal.
I sang Shyam Sunder's Ummeed Ke Rangeen Jhulemain. Naushad nodded in appreciation and offered a princely sum of Rs 600.
I recorded Haaye Chore Ki Jaat Badi Bewafa with J M Durrani for the film Chandani Raat. I sang for Jaadu, Dulaari as well.
But our partnership attained popularity through the 1949 super hit movie, Andaaz.
During the recordings of Andaaz, Naushad Sahab told me, "Think of your good friend while singing these songs."
I asked, "Which friend?"
He replied, "Noorjahan."
I sang all the songs of Andaaz in 'Noorjahan style'.
Soft spoken and a master of the Urdu poetry, Naushad Sahab was a perfectionist who strived relentlessly to make each and every song a hit. This included long rehearsal hours. We worked together in numerous films.
Naat is a type of music which is sung in the glory of the prophet. This Naat of the film Mughal-E-Azam is my favourite.
C Ramchandra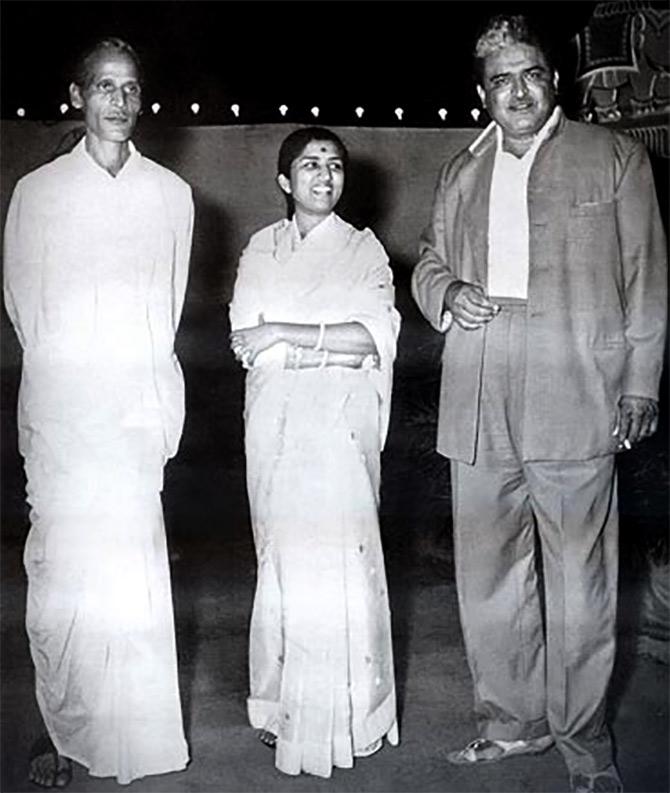 I sang for C Ramchandra during the early period in films like Khidki, Shehnai, Nadiya Ke Paar.
After that, I sang for him on a consistent basis.
The speciality of C Ramchandra was his simple, melodious songs. His songs were immensely popular during those days.
Aye Mere Watan Ke Logon is simply unforgettable.
This song written by Poet Pradeep, on the background of the 1962 China War and glorifying the contribution of the Indian soldiers, was to be sung by Asha and me.
But the music composer C Ramchandra insisted that this should be sung only by me.
I prepared for this song from a tape in his voice and presented this song to the audience in New Delhi.
This ceremony was to honour the martyrs and was attended by the erstwhile Prime Minister of India, Pandit Jawaharlal Nehru.
On hearing this song, Panditji was overcome by emotions, a fact now known to many.
Madan Mohan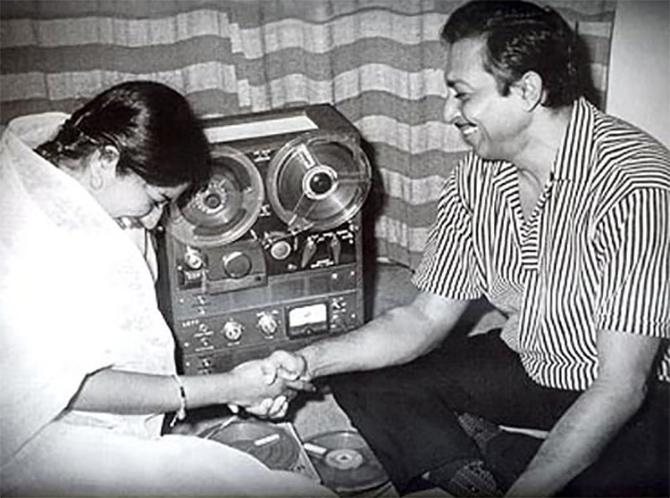 I shared a special relationship with Madan Mohan, which was much more than what a singer and a music composer share. This was a relationship of a brother and a sister.
I still remember, once he had purchased a high end car.
He drove it to my house as he wanted me to see it.
It was Rakhi Pournima that day. He asked me to tie the rakhi. This became a ritual every passing year.
Madan Mohan used to attend the mehfils of Indian classical music. But his favourite was the ghazal.
He trusted me to sing his best compositions.
He used to stay very near to my house.
Hence we used to visit each other's house on a regular basis. His wife and children are still very close to me.
Along with his passion for music, he had a keen interest in cooking. Every once in a while he used to say, "Come for lunch, I will make delicious mutton karela today."
I was not able to sing for his first film Aankhen. But after the film, Madhosh, I have sung for him on a regular basis.
It is a difficult task to choose one song from his collection. But it is the song, Woh Chup Rahe to Mere Dil Ke Daag which is my favourite.
Sajjad Hussain
The personality and the music of Sajjad Hussain were quite extraordinary.
He had a keen ear for each and every sur that was sung.
He was especially alert during the recordings.
He used to personally check whether each instrument has been tuned appropriately and each singer is singing as per the scale.
Both of us share Indore as our birthplace. He was an expert player of Mendolin.
He had a great sense of humour and all of us enjoyed this to the fullest.
The serious composer in him used to vanish during these incidents.
He was very proud of his music and had studied Arabic music in detail. He always spoke from his heart and had an eye for detail. He used to have a mehfil with all of us.
Sajjad Hussain, to his credit, has very few songs.
But each one of those is a gem. His song, Aye Dilruba Nazare Mila is a melodious song and is as challenging as any of his other songs.
Salil Chowdhury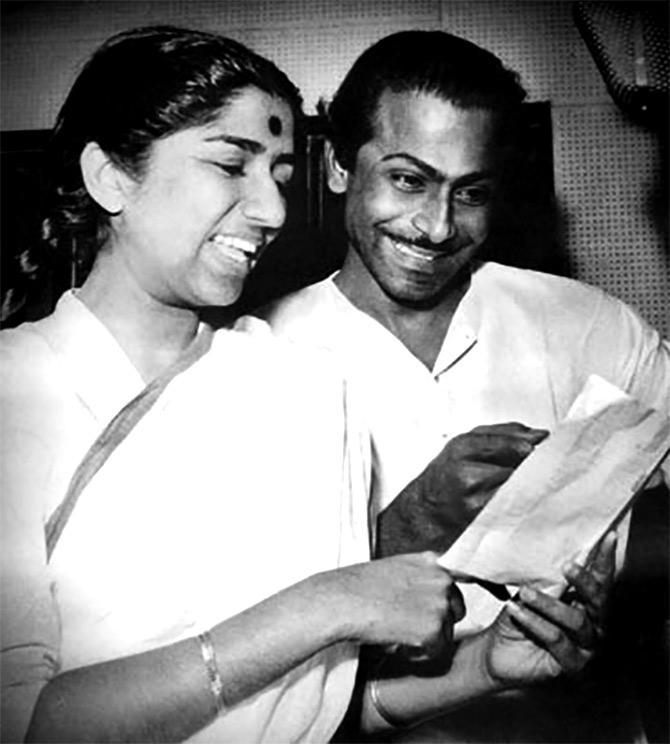 I first sang for Salilda in the film Do Bigha Zameen. Bimal Roy had organised a music concert at the Mohan Studio in Mumbai. Salilda and some other Bengali artists were involved in the concert. I was very much impressed.
I heard Ranaar and Abak Prithvi by Sukaant Bhattacharya.
This was a first glimpse of Salilda's multi faceted genius.
Salilda had a keen interest in the folk music and Western classical music.
He had called me to his house in Andheri. He was staying with his wife and his daughter.
He taught me two Bengali songs, Shatbhai Champa and Na Jeo Na.
These songs became immensely popular in Bengal.
Every year, on the occasion of Durga Pooja, I used to sing the Pooja Geet at his place. This annual event was an eagerly awaited one in Bengal.
The songs in the film Madhumati were very popular.
Salilda taught me Bengali.
Hridaynath considers Salilda as his Guru.
After Salilda's death, the recital Pooja Geet ceased as well. Now I have sung Pooja Geet after 20 long years.
Each and every song by Salilda is an unforgettable one. Na Jiya Lage Na from the film Anand is my favourite.
Khayyam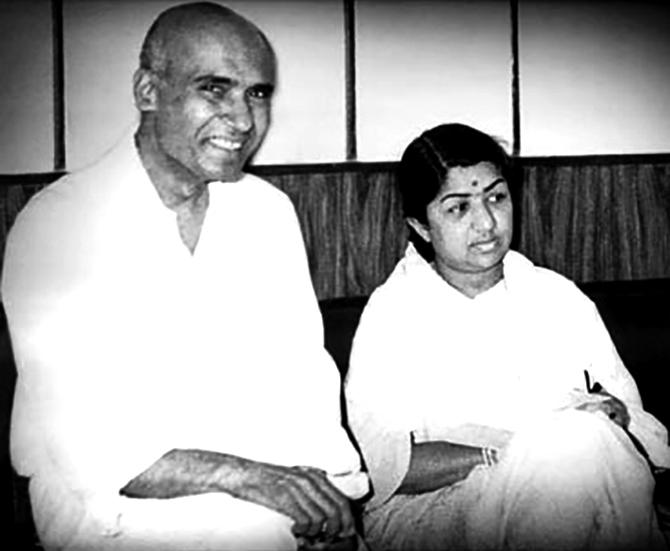 Khayyam is an independent, principled and a free spirited music composer who is a connoisseur of the Urdu poetry.
He has worked for a few films, but has made a lasting impact because of his compositions.
I have sung some of his beautiful compositions.
I like the songs Apne Aap Raaton Main Chilmane Sarakti Hain and Aap Yun Fasalonse Gujarte Rahe from the film Shankar Hussain, Mere Chanda Mere Nanhe and Baharon Mera Jeevanbhi Savaro from the film Aakhri Khat. These songs were very popular as well.
A music composer who is totally dedicated to his work, Khayyam and his singer-wife, Jagjit Kaur are very close to us.
Khayyam has used Arabic music skilfully in the film Razia Sultan.
I like the song, Ae Dil-E-Nadaan from the same film.
Chitragupt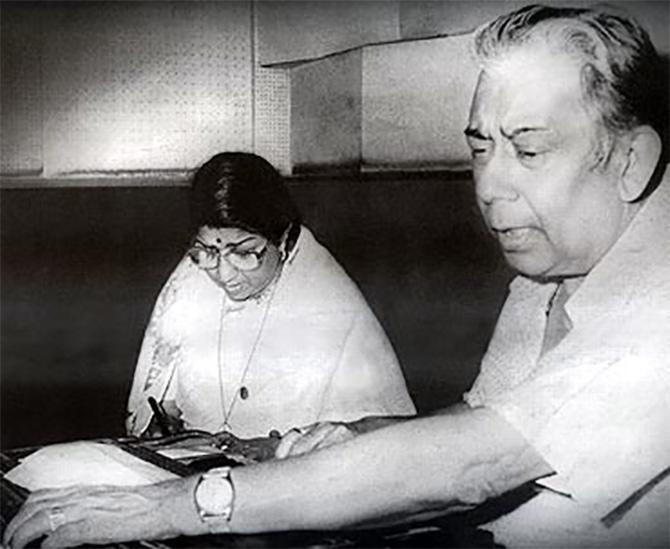 Music composer Chitragupt was a well educated and a well cultured person. After our recording in Mehboob studio, we used to go to his house in Khar. We then used to eat delicious food cooked by his wife, which was accompanied by humour and lots of fun.
In Madras, after the work, we used to go along with Prem Dhawan, Dilip Dholakia, Chitragupt and their families. It used to be a nice picnic for us.
Once I saw Chitrgupta limping during a recording session.
I saw that his chappal was not in a good shape.
I asked him to get it fixed or get a new one. He said, "If I wear this chappal, the recording goes on smoothly. This has been my experience so far."
Then I replied, "Chitraguptji, you trust this chappal more than my voice!"
Then he said, "No Didi, that is not the case."
Usha and I have sung Bhojpuri songs for Chitragupt as well.
Dil Ka Diya Jalate Gaya is a beautiful song from the film Akashdeep.
Jaidev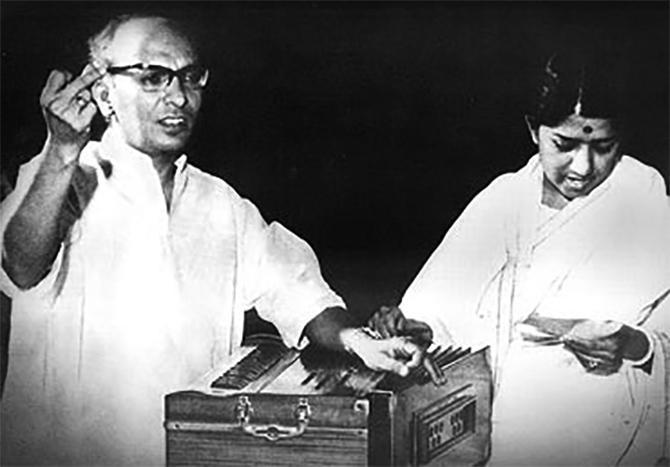 Jaidevji was a great music composer who had a style of his own. I knew him since the days in which he used to be an assistant to S D Burman. Indian classical music featured a lot in the compositions by Jaidev.
It used to be a challenge to sing the songs composed by Jaidev.
I like his songs which are sung by other singers as well. Jaidev composed music for the Nepali film by King Mahendra.
I have sung for the film Maitighar which is a Nepalese film.
Due to some reasons, there was misunderstanding between both of us for a period of time.
Dev Anand asked me to sing for his film, Hum Dono, but I refused.
But both Dev Anand and Vijay Anand insisted that I should sing for this film.
Finally, I sang two bhajans for Hum Dono which became immensely popular. Allah Tero Naam became popular across the world!
Jaidevji was a gifted music composer. But fame and money eluded him.
This makes me really sad.
When the Madhya Pradesh Government presented the Lata Mangeshkar Award to Jaidev, he came to my house and said, "Didi, you have made me a lakhpati!"
The truly melodious Allah tero naam is my favourite song.
Rahul Dev Burman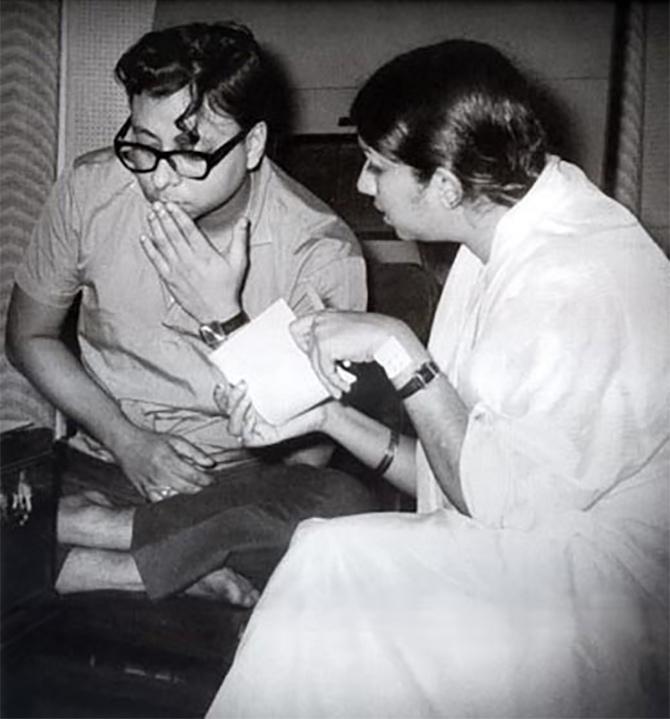 Young Pancham approached me for his first film Chote Nawab. During that period of time, there was some misunderstanding between Dada Burman and me. Pancham persisted and pleaded me to sing for him. Finally I agreed to sing for his first film.
I am a witness and a contributor to the first and last film (1942: A Love Story), and hence the entire career of Pancham.
I still remember the day he was hospitalised in Hardy Street, London.
He was to be operated upon the following day.
I visited him and Pancham said, "Now that I have seen you, I am ready to go ahead with the operation."
The song Kuch Na Kaho from the film 1942: A Love Story was recorded after his death.
My favourite song by Pancham is Kya Janu Sajan from the film Baharon Ke Sapne.
Laxmikant-Pyarelal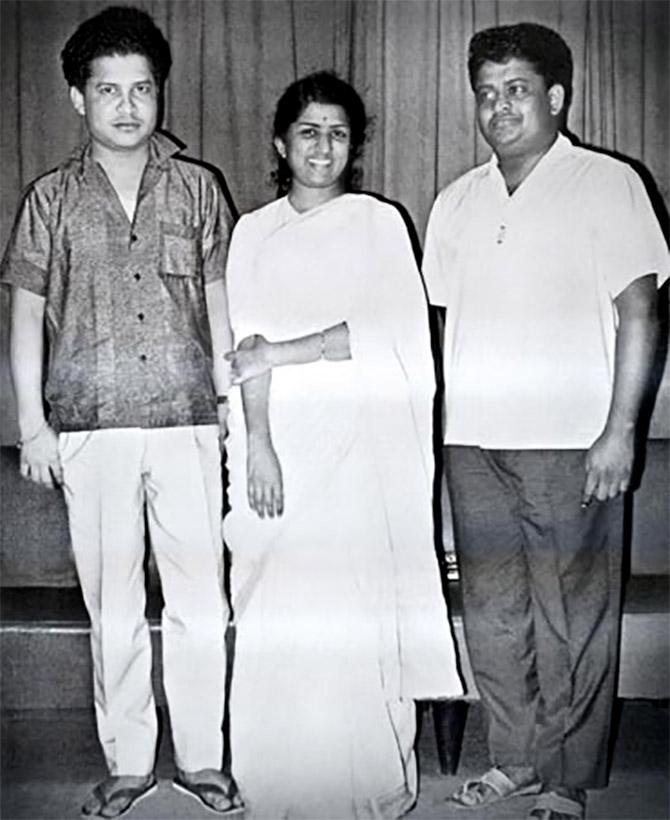 Surel Kala Kendra was run by Usha and Hridaynath when they were very young. Young Pyare used to play violin. Fair and good looking Laxmikant, who was introduced to me by the brother of K L Saigal, used to play mandolin. These kids grew up in our house, later worked as assistants to Kalyanji-Anandji.
I told them, "You should work independently." After this, both of them decided to work together.
I was invited for the mahurat of their first song.
They gave me a cheque of Rs 101.
I told them, "I can do with 1 rupee as well."
Both of them toiled hard and due to their talent, became famous.
I nave worked extensively with them and many of my songs have become very popular as well. We share mutual admiration between ourselves.
I like the song, Suno Sajana Papihene.
Pandit Hridayanath Mangeshkar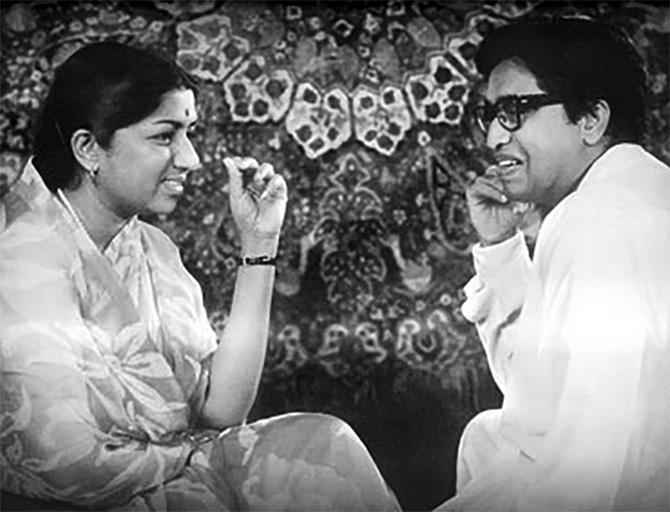 Hridaynath is the youngest of the siblings and a favourite of all of us. He is a recipient of motherly love from all his sisters. He is a great music composer and I am not saying this only because he is my brother.
At the tender age of 17, he expressed his desire to compose music.
I sang the song, Tinhi Sanja Sakhe Milalya.
I was pleasantly surprised by the depth of his intelligence and the reach of his thoughts.
His first film in Marathi, Akashganga did not do too well.
After a period of time, the music of Hridaynath got its due.
It was accepted and it was quite a sensation in the young generation.
Hridaynath explored my Non-Filmi side through albums on Meera Bhajan, Dnyaneshwari, Bhagwad Gita, Marathi poetry and Ghalib. I am extremely proud of his study on cl-assical Music and his authority on varied subjects.
From the film Lekin, the song Sunio Ji Araj is a beautiful mixture of Indian classical bandish and folk music.
A R Rahman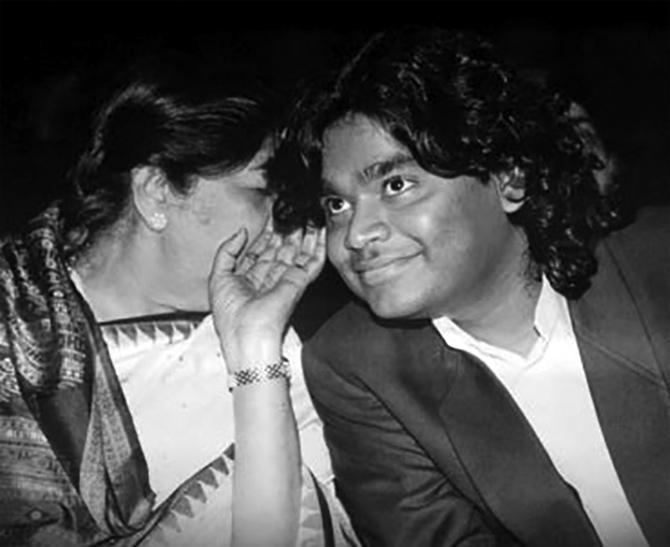 When the young and talented A R Rahman called for me, I faced a problem of language. In spite of this, I spent some time with him and understood and learnt the song from him. I like his work in the album Vande Mataram.
He is a shy and an introvert person.
He is talented, hardworking and I am proud of him.
I haven't sung extensively for A R Rahman.
I like the songs from the movies Zubeida, Rang De Basanti, Lagaan.
The song Jiya Jale Jaan Jale from the film Dil Se is my favourite.
This special feature was first published in September 2012.