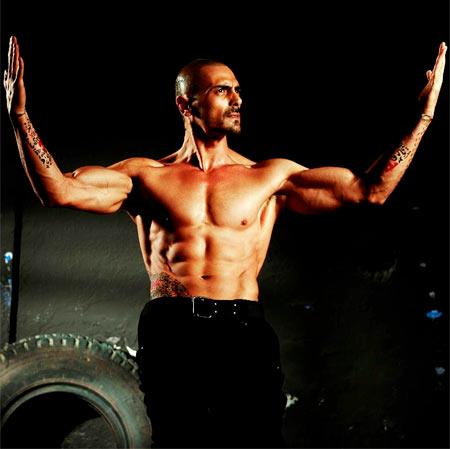 After nearly two years of negotiation, discussion, trials and delays, Arjun Rampal's perfume is ready to be launched in Mumbai on January 12.

Called Alive, Arjun's perfume -- in two different scents -- is produced by Drom Fragrances International, one of the largest perfume manufacturers in the world.

The perfume line will be distributed by a distrubution chain called Baccarose, who distribute Burberry, Cartier, Caroline Herrera, Azzaro, Alizabeth Arden, Ferrari, Prada, and many more.

So far only two other Bollywood actors Amitabh Bachchan and Shah Rukh Khan have perfumes to their credit.

It took Arjun more than six months to select the fragrance for his perfume.

Reliving the experience Arjun says, "Selecting a fragrance for a perfume is an extremely time-consuming and tough task. It took me six months to do so. One can't allot more than three hours a day to savouring scents because after that your sense of smell goes for a toss. I had to continue trying the fragrance and in-between, dunk my head into pots of coffee to stop my olfactory senses from shutting down. But it's finally all been worth it."
After Arjun shortlisted the fragrances, he invited his friends from the film industry for a smelling party.
"They all liked the two fragrances that I had selected," he says. "Those are the two scents that have gone into the two perfumes that I am putting out."
When asked about the poor success ratio of Bollywood's denizens in the field of fragrance, Arjun says, "I've done my best. Picked the scents that I think are unique and likable. I am very fond of perfumes. I think they give every individual a sense of confidence and an identity. I hope to increase my range of perfumes in the coming months."