Disney Star India, bought at a valuation of $15 billion, could be on the block for roughly one-third that amount.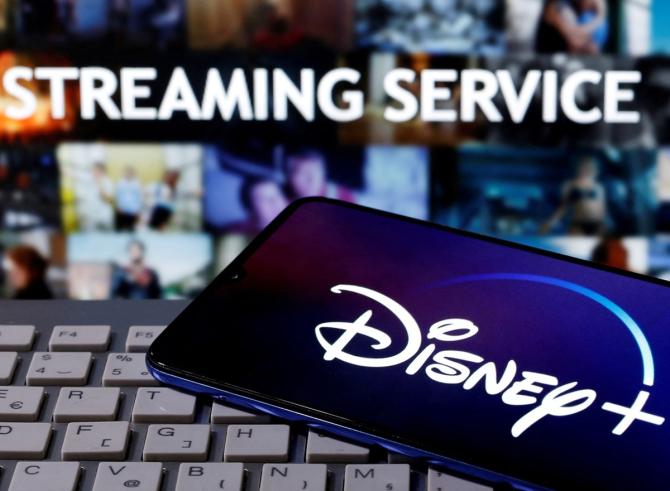 For the first time since it entered India in 1993, Disney today has scale and a national footprint in the country, thanks to its 2018 acquisition of Twenty First Century Fox's entertainment assets.
Star India, which came with this acquisition, has more than 60 channels in eight languages.
It has led the growth of broadcasting in India since the mid-1990s with Kaun Banega Crorepati, several popular daily soaps, kabaddi, cricket, and other Indian sports.
An important part of the $71 billion that Disney paid for Twenty First Century Fox, it gave Disney a seat at the table with other American media giants doing well in India: Warner, Sony, and Paramount.
Now, say reports, Disney Star India, bought at a valuation of $15 billion, could be on the block for roughly a third of that amount.
'Disney is exploring strategic options for its Star India business, including a joint venture or a sale, a sign of strain at one of the premier properties it acquired from Fox,' says a report in The Wall Street Journal. Disney Star declined to comment.
Star India, the country's second-largest media firm, has a disproportionately high audience share in broadcasting, a nice streaming business, and is profitable and growing.
It holds sway over more than a fifth of all TV viewing in India.
Despite the loss of Indian Premier League rights, Disney Star's revenues have risen from the $2.2 billion (around Rs 17,600 crore) in 2021-22, shows Media Partners Asia data.
Its profits have probably fallen, but its entertainment business is not to be dismissed.
What went wrong?
If the WSJ report is correct, two factors are possibly contributing to this decision, say analysts.
Globally, Disney wants to let go of linear to focus on streaming, but more so in a market as strongly local as India.
In the years since it acquired Star, much of it is being run out of Disney's headquarters in Burbank, say insiders.
The centralised decision making doesn't work for a market like India.
Probably, Disney realises that and, therefore, wants an ally that can leverage this better.
However, analysts say that this in no way is a distress call, given Star's strength in entertainment. There are several potential partners, says one insider.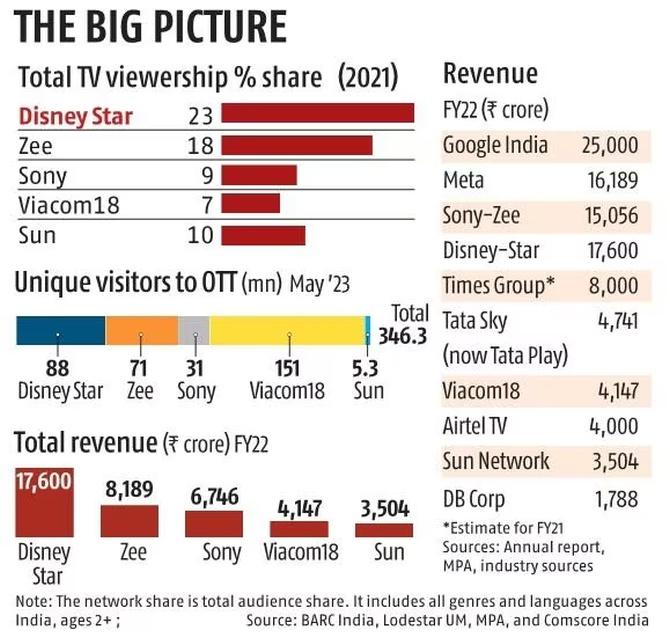 Sony Pictures Networks, the entertainment arm of the $86 billion Sony Corp, is housed in Culver City, California -- very close to Burbank. But it is already committed to buying ZEE
There is a buzz around Viacom18 and Comcast, but much of this may be speculation.
Still, these companies have the balance sheet strength to take on an asset the size of Disney-Star, say analysts.
Viacom18 is a joint venture between Reliance Industries, Paramount Global, and Bodhi Tree Systems -- a platform co-owned by James Murdoch's Lupa Systems and former Disney-Star India CEO Uday Shankar.
The Murdoch-Shankar team took Star from Rs 1,600 crore (Rs 16 billion) in 2006-2007 to more than Rs 14,000 crore (Rs 140 billion) in 2017-2018, when the sale took place.
Hotstar was another key asset in the Fox sale.
Of Disney's 160 million subscribers globally, India brings in more than 40 million. That is down from 50 million in early 2022.
These subscribers average a revenue of 59 cents, compared to the global average of $4.44 and more than $7 in the US. Many subscribers on Disney came in only because of the IPL.
Media Partners Asia estimates that in 2023 Disney could lose 15 million subscribers in India. But the loss of IPL, not bidding for which was Burbank's decision, is a passing thing in the broader India growth story.
There are 510 million over-the-top (OTT, which is another name for streaming platforms) viewers in India, more than 110 million of which are subscribers. It is a Rs 22,000 crore (Rs 220 billion) market and growing rapidly.
Why then would Disney, which is investing billions into streaming, want to exit this market in India? We do not have the answer as of now, only the buzz.
Feature Presentation: Rajesh Alva/Rediff.com