'We are a young nation. But I wanted to explore the conflict between the young and the old.'
'The cynicism of people who have lived it versus the optimism and naiveté of the young.'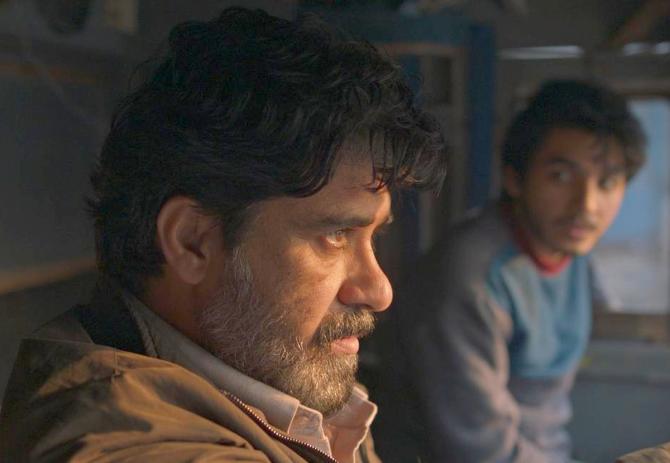 Ivan Ayr grew up in Chandigarh and moved to the US to study journalism. That path did not work for him and so he finished an engineering degree from California State University in San Jose.
But his passion for media led him to write and later take evening film-making courses offered by the San Francisco Film Society.
After a couple of short films, he began to focus on features. His first film Soni (2018), about two policewoman in Delhi, dealing with prejudice and patriarchy played in Orizzonti section at the Venice Film Festival.
The film was critically well received and went on to win the Oxfam award for best film on gender equality at the Mumbai Film Festival and also the best film award at the Pingyao International Film Festival, started by master Chinese film-maker Jia Zhangke. Soni is now streaming on Netflix.
Thirty-seven year old Ayr (he goes by his nom de plume that he originally adopted as a writer) is now back with his new film, Meel Patthar (Milestone), a heartfelt ode to truck drivers and their way of life outside Delhi.
Meel Patthar is a quiet, brooding, poetic drama about a middle-aged truck driver Ghalib (Suvinder Vicky), coping with a personal tragedy and facing the chance of losing his job to a young protege Pash (Lakshvir Saran).
Partly in Punjabi and in Hindi, Ayr's film sucks the viewers into a world few of us know. Long drives on highways, catching sleep in trucks and the checkpoints where the police often ask for bribes.
Ghalib has measured the worth of his life based on driving on highways, delivering goods. But an economic downturn and the arrival of a young man, eager to learn and eventually take over Ghalib's job, unsettles his reason of existence.
Like Gurvinder Singh (Anhey Gorhey Da Daan and Chauthi Koot), Ayr is a rare fil-mmaker, far removed from the Hindi cinema world in Mumbai and exploring narratives set in Delhi, Haryana and Punjab.
Meel Patthar premiered in the Orizzonti section at the Venice Film Festival. Due to the pandemic Ayr was not able to travel to represent the film.
Ivan Ayr speaks to Senior Rediff.com Contributor Aseem Chhabra in an exclusive interview. The director was at his home in Chandigarh.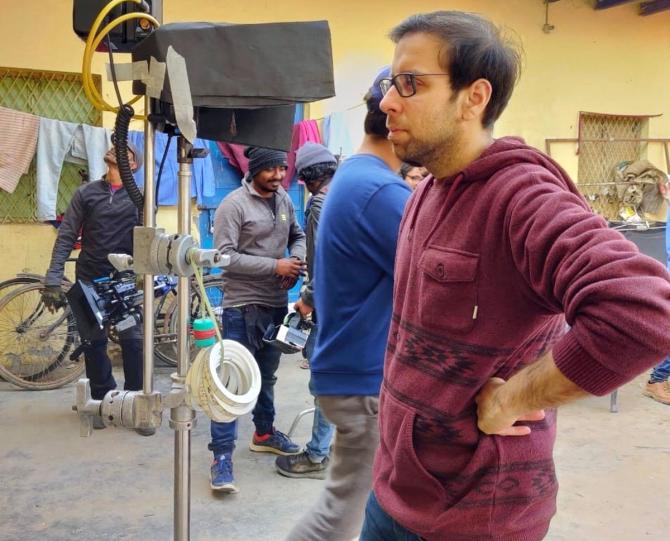 Ivan, we are still in the middle of the pandemic, but the Venice Film Festival decided to hold the first physical film event of the season. When did you shoot the film?
We shot it in early 2020. After the lockdown happened we decided to take a trip to Punjab where my wife's (Producer Kimsi Singh) family is.
I started to edit in Punjab with the workstation I was carrying with me. Half of it was later edited in Chandigarh.
Usually, I do the first cut myself and then I get a consulting editor on board to refine the film. This time, there was no way of collaborating.I had no other choice.
What about the rest of the post-production?
It was all done remotely. When Venice saw the first cut of the film, they were excited. In less than 48 hours they said you must complete the film and send us the final cut, a presentable version, by the end of August. So the last two months have been focused on that.
But don't you have to be present for the color correction and sound design?
Color correction is still something that can be done remotely, but sound design is very hard if you are not present in the studio. But we didn't have any choice.
I had my headphones and I was listening to the sound mix on it. Or else I would not have been able to deliver the film. So some compromises had to be made.
I am sure from your point of view you made compromises, but for a viewer, I thought the film was perfect. The mood you create, the sound, the way it is shot, and the pacing that comes from your editing.
You capture the Delhi and North India winters so beautifully.
I suppose a lot of the scenes were shot in the morning when there was fog and not a lot of sunlight. You picked the season intentionally?
At the script stage itself I was imagining an overcast, gray, hue, an industrial mise-en-scene. While doing our location scouting, we went to those places during the specific times of day.
So that we were getting an accurate picture. Those things are important when you are doing camera rehearsals to get the look of the film. All of those scenes were shot during those specific windows of the day.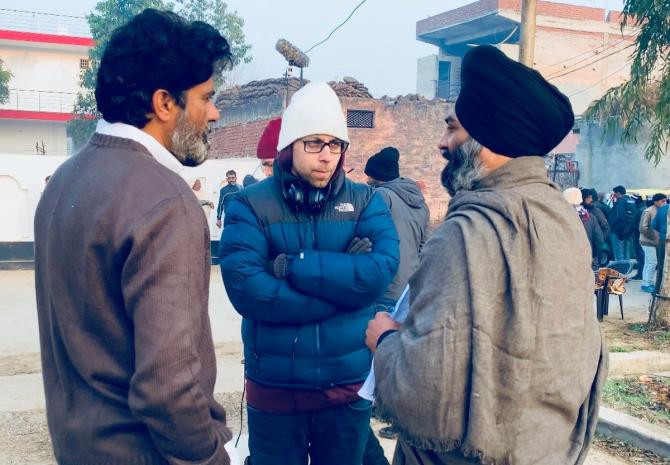 You would shoot from what time?
We would start very early actually like 3 or 4 in the morning. We had to rehearse since some of the long takes were very tricky. It would take 3 hours to rehearse the scenes and then between 6 am or 7.30-8 am we would start the shoot.
And where in Delhi did you shoot? I was imagining you were somewhere deep inside Punjab?
Ghalib's village in supposed to be Punjab. But we found a village in Haryana about 60-70 kms from Delhi. Thankfully, we found Punjabi speaking people who agreed to play background actors.
The place where Ghalib works is called Sanjay Gandhi Transport Nagar. It's right on the entrance to Delhi, on the main highway when you are coming from Karnal and Sonepat.
There's a very infamous mountain of garbage. And on the other side of the highway is the Sanjay Gandhi Transport Nagar, which is the biggest transportation zone of Asia.
It has got its own eco-system, the way of doing things. It's a fascinating place.
And the apartment building where Ghalib lived?
That is supposed to be not to far from where he works. But we found that particular building in Noida.
I don't know anything about truck drivers, but the atmosphere that you create just grabs you. It's so mesmerizing. Did you study the ways and lives of truck drivers? How they are stopped on the way at checkpoints and have to bribe cops. I know before you made Soni, you spent time in police stations around Delhi.
These are stories I heard from my extended family. Many of them are in the transportation business, both in the West and here in India.
Some started off by driving trucks long distance before they became transporters. So there were trucking folklores.
And because of the proximity I had to this business, I was able to access what an actual trucking company looks like and feels like. It was matter of going there and seeing how things are done.
There was about a week when I talked to young and old truck drivers -- the two generations that are shown in the film.
I did that at the Sanjay Gandhi Transport Nagar and in Chandigarh as well. I wanted to know how the modern world had impacted the drivers. I shared with them stories I had heard and that helped in connecting with them.
Bottom line, it's as difficult as it used to be. It hasn't become any easier for them.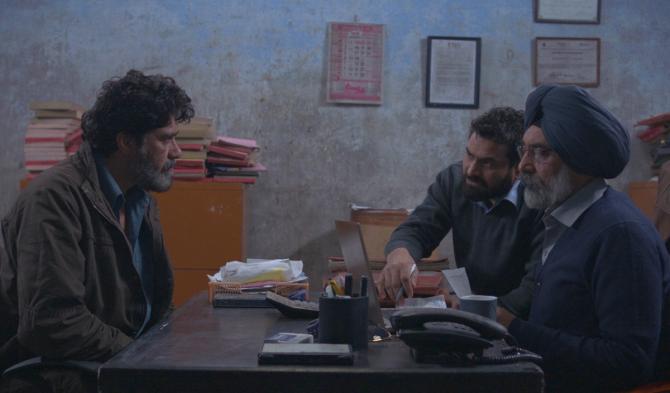 You name the older protagonist Ghalib (after the legendary poet Mirza Ghalib) and the younger man as Pash, which was a nom de plume for Avtar Singh Sandhu (One of the major poets of the Naxalite movement in the 1970s, he was killed by Khalistani terrorists in 1988). What led you to come up with those names?
The idea was a bit pessimistic. First, in the sense that they are forgotten/discarded names that hold no meaning anymore.
Second, Ghalib and Pash in the film are witnesses to desperate times, but, unlike their namesakes, hardly express their emotions.
But even if they did (and let's say they did so in the most intense literary form), who would care?
In Soni, you had an older and a younger woman, a protege kind of a story. But the Soni character had worked as a policewoman for some time.
In Meel Patthar you have a very raw protege who arrives in the middle of the film. And the older man resents him. What was the thought behind this narrative?
The idea about the protege was there from the beginning. I wanted to look at someone who had achieved something that hadn't been achieved before.
He gets to a point where there is a certain amount of respect that he gets from his co-workers. That also becomes a point from where the downfall begins.
But he still has his aspirations. Actually it's more like a drug for him.
And the new protégé comes with own set of aspirations. The older guy just lives for his work because that's just who he is.
He says in the film his work defines him.
He cannot imagine his life without his work. And then this young guy comes into the picture at a point where things are falling apart for the company. And there is the backdrop of economic challenges.
There is a workers' strike. The company is shutting down businesses.
We are a young nation. But I wanted to explore the conflict between the young and the old. The cynicism of people who have lived it versus the optimism and naiveté of the young.
The resentment felt natural to me.
How would somebody react when he is told your days are up and you have to make way for somebody? And then he's got his own issues. He is part of a system that took away so much from him. And he is still addicted to it.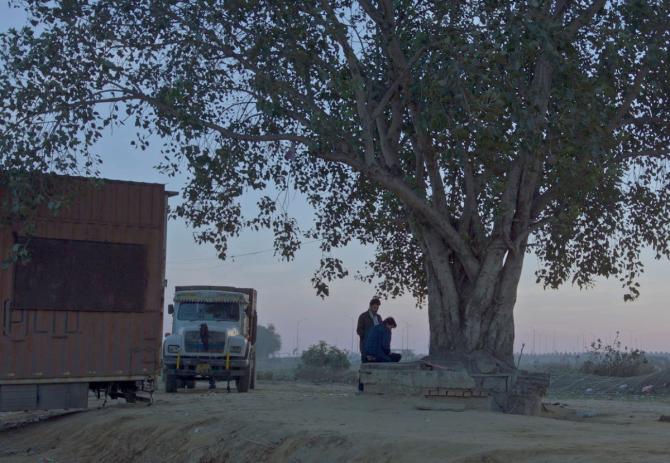 The very first time Ghalib walks into the apartment, we see a picture of the Dalai Lama on the wall. And gives us a good hint about his background story.
That actually came from some facts. Many of the drivers who haven't been married, they sometimes go to the north eastern states to find their wives. You hear such stories.
The protagonist Ghalib is an outsider in a way because he has a history. He was not born in India. There is that sense of detachment that he feels.
So he could have connected with somebody who was not based in North India. His wife would have felt an outsider and lonely in North India. I thought it would add some beauty to the narrative.
Tell me about the lead actor Suvinder Vicky. He must be in his late 40s or early 50s.
He was in Udta Punjab and Chauthi Koot. He hasn't had a bigger break in mainstream India cinema.
But what a solid actor he is. The way he walks with his backache.
His face shows a history of a life lived. And his quietness speaks so much more.
And how did you direct him?
He has done more work in Punjabi cinema. I remembered him from Chauthi Koot where he played the villager who owned the dog. He was much younger in that film.
He is somebody whose face speaks so much. So I was instantly drawn to him. There was an audition, which he did really well. He is fluent in Hindi and Punjabi.
He has got a strong theatre background. He has a great voice. And since he had worked with Gurvinder Singh, he understood that this was not your mainstream commercial film.
The most fundamental thing that we focused on during the rehearsal workshops was restraint. I told him that given everything around him, it's very easy to be full of rage.
Ghalib could be best described as a Murakami character. His male characters are very passive. The idea appealed to Suvinder.
He stands out because so much is thrown at him, but he takes it all with dignity.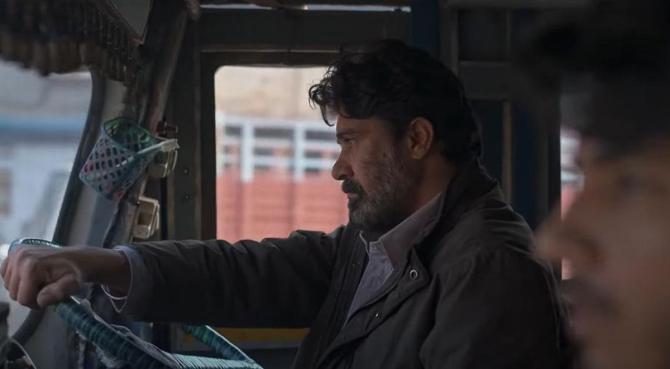 And the other actor Lakshvir Saran, how did you find him?
He played a small role in Soni. The scene when Soni and Kalpana go to a park at night and they see a policeman harassing a young couple.
That's when I first met Lakshvir and he left a good impression on me. He was professional. And even when he knew the camera was at a distance he was very committed to doing what he was going.
We had a conversation and he sent me an audition tape.
You have written his role so beautifully -- a complex young man. Initially, he comes across as a cocky guy. At some stage we start to resent him. But what a twist you had in the film.
By the end I had tears in my eyes. It broke my heart.
The nice thing about him was he knew nothing about the trucking business. He comes from a middle class background where his parents are teachers.
This was a different world for him. And the world of acting is new for him. He just moved to Mumbai to look for work.
His curiosity, aspirations, aligned with his actual inexperience. He himself admitted that it helped him.
There is a moment when the camera is on Pash's face as Ghalib is bribing the cops. Pash is trying to understand this world.
Those moment are key when you are editing the film. You ask yourself if that is a right shot or not.
My heart was saying that this shot implants a seed that this character is also important, that he has a moral voice in him.
So in the end his face will come back to us. And we will feel his absence in the end. That's an editing choice I hoped it would work at the end.
Can you tell me about your nom de plume? I can hear from your voice and accent that you are Punjabi speaking. And you grew up in Chandigarh.
That was something I decided when I started writing. There have been so many writers who take an assumed names going back to George Elliot.
I am comfortable with that name. Also, it is an anagram for a nickname my mother calls me by.
Feature Presentation: Rajesh Alva/Rediff.com