'If you can display aggression, jealousy, anger and reveal that you can be clever and manipulative on the show, then why can't you express your love?'
Contestant Miesha Iyer got evicted from Bigg Boss 15 last weekend.
Though her journey started with fights with Prateek Sehajpal, it was her romance with Ieshaan Sehgaal that made waves a few days after the show began.
The couple were slammed on social media, with people wondering how anyone could fall in love in a few days.
The lovebirds were spotted kissing so often host that Salman Khan had to sound a note of caution and remind them that they were on national television.
But Miesha has a different take. She tells Rediff.com Senior Contributor Rajul Hegde, "I don't think I did anything wrong. I am a new age woman. I felt very strongly for Ieshaan and I expressed it."
How are you feeling after coming out of the Bigg Boss house?
I still have a Bigg Boss hangover.
I was inside the house for a little over a month. I miss so many things -- the bonding, the masti...
I even miss Bigg Boss's voice; he would scold me when I used to speak in English.
Ieshaan didn't even give me a chance to miss him, not even for a day. He got evicted a few hours after I did (laughs).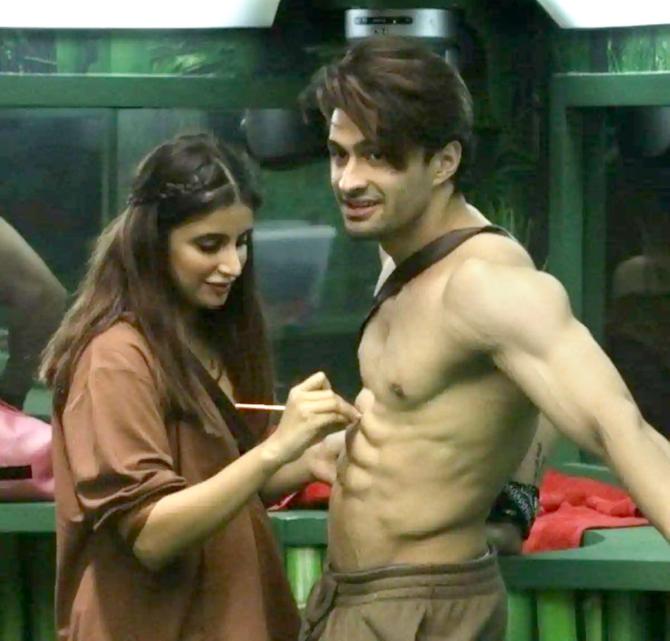 There were different reactions to your love story. Some have called it fake.
If that was the case, we would have planned it better, wouldn't we?
We would have given a build up, raised the suspense level and then expressed our love for each other.
But our feeling was so strong that we didn't want to fake it, even to ourselves.
Everyone who came on the show from outside repeatedly told us to play the game individually.
If the relationship was for the game, we would have taken their advice and gone our separate ways. That didn't happen.
This itself proves that our relationship wasn't for the game.
Your PDA on the show raised eyebrows outside the house.
If you can display aggression, jealousy, anger and reveal that you can be clever and manipulative on the show, then why can't you express your love? Love is a beautiful emotion. Why can't love be accepted?
Honestly speaking, I don't think I did anything wrong.
I am a new age woman. I will do what I want to do.
I wouldn't want to change anything about my journey in the house.
I felt very strongly for Ieshaan and I expressed it. And in today's time, and age we are in, it should be accepted.
Everyone expects us to be real on the show. I was real; that was my way of expressing love.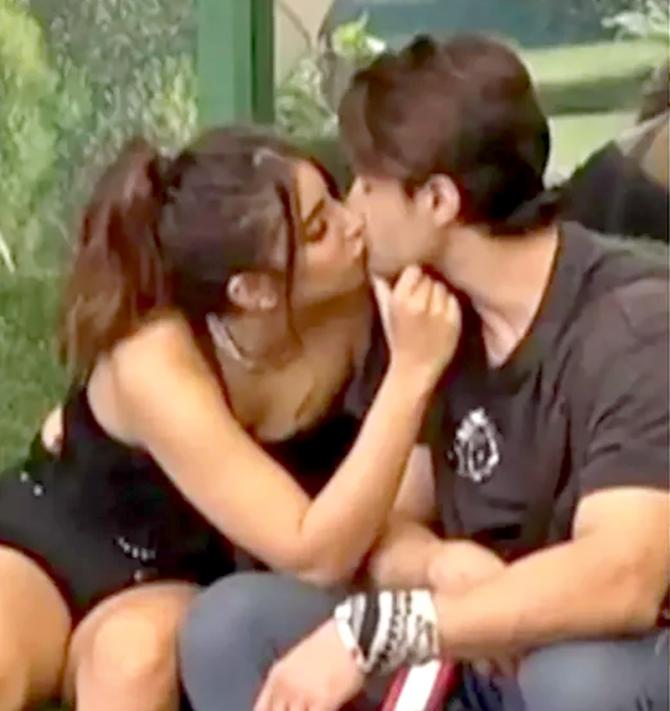 Do you think your game got affected because of your love angle?
I don't think it affected our game because, for the first few days in the house, I felt like a fish out of water. I was still trying to get to know everyone.
Plus, there were so many mind games happening.
But there was one person who made me comfortable and it is always great to be someone's priority.
Ieshaan was my safe space in the house. He was my sanity; he was there for me. That kept me longer in the game and I felt a little like home there.
Are you guys taking this relationship forward?
We are inseparable after we have come out of the Bigg Boss house.
We have already gone on our first date and are giving our interviews together, eating together and chilling together.
We are seeing this as a long term relationship.
Before I entered the show, I had confidently said that I would not get into a relationship there.
What happened with Ieshaan was totally unexpected; it was such a strong connection that I had to express it.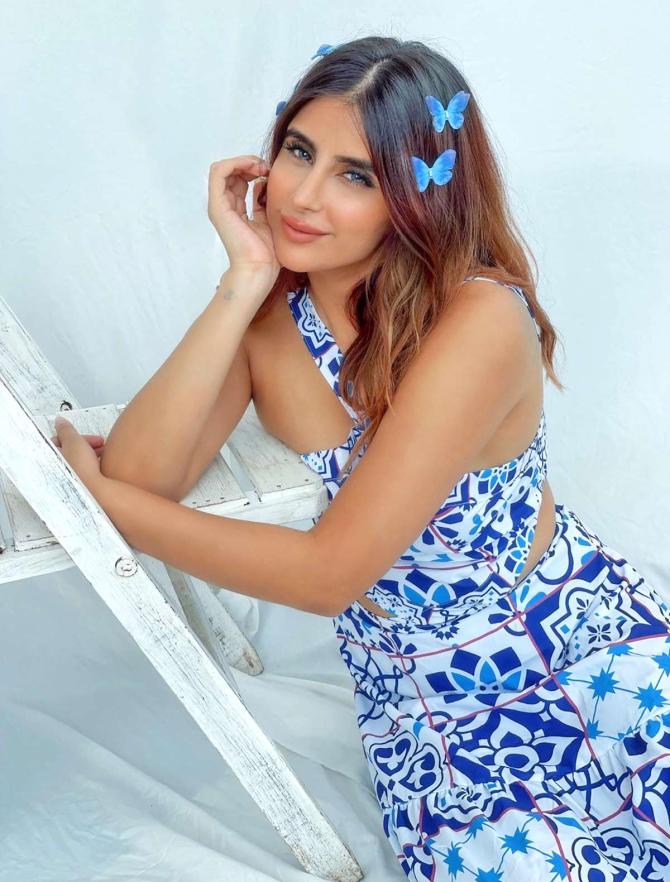 Did you expect to be eliminated so soon?
When the nominations happened last week, it was like a wakeup call for me.
Everyone was playing the game. I realised I needed to pull up my socks and play the game too.
Obviously, when you are nominated, you always feel you might end up going home.
I thought I played the game well in the last few days but it was too late.
I have done two reality shows earlier but nothing compares to this. It was a different, and very tough, experience.
Though I could not spend too much time in the house, I am grateful for the opportunity. Participating in Bigg Boss is a dream come true for me.
What do you have to say about Raqesh Bapat and Neha Bhasin's entry into the Bigg Boss house?
Honestly speaking, we always knew that OTT contestants would enter the house at some point. I really like both Shamita Shetty and Raqesh.
I think Shamita is a boss lady -- so opinionated, intelligent, genuine. Maybe everybody doesn't get to see her side in that one hour.
She was protective about me and would tell me what is right and wrong.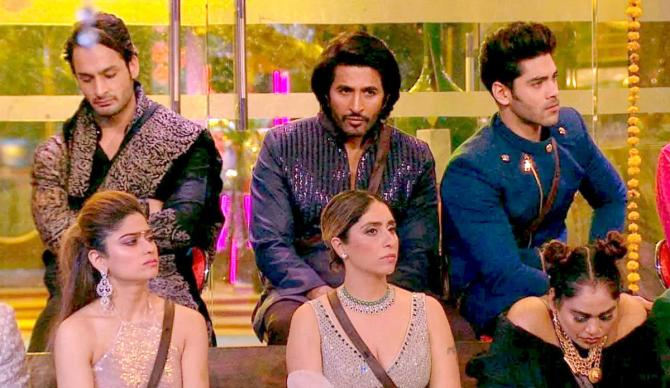 Who is playing a smart game?
Everyone is playing in their own way so I won't judge them.
It's a part and parcel of the game.
Everything is fair in love and war. But definitely Vishal Kotian is good at playing mind games.
What do you think of these contestants in the Bigg Boss house?
Umar Riaz" A cutie, super funny, very entertaining and naughty. He has a keeda in him which is great. He is genuine.
Karan Kundrra: Mastermind. He is very smart; he knows what to say and what to do.
When he is face-to-face, he will sugarcoat everything. At the back of his mind, he is planning what to do next.
Tejasswi Prakash: Smart and understands the game and the audience.
Prateek Sehajpal: A bad boy with a good heart.
He wanted to participate in this show for a very long time and will do anything to stay in the house. That doesn't mean he is a bad person.
I know him from outside the house. We have always fought on the show because we have been on different sides. But I know that his heart is pure. He knows when to play the game.
Neha Bhasin: She doesn't mince words and says what's on her mind. She has a badass vibe which I really like. She doesn't care what people think, that's the best part about her.
Who do you think will be in the top 3?
Shamita, Umar and it's a tie between Prateek and Jay Bhanushali.