Blame it on Dr Vijay Kapoor, folks!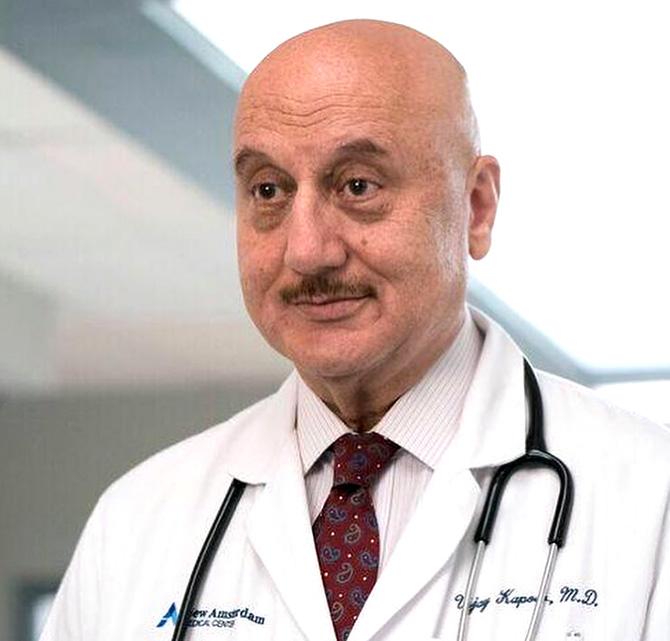 Dr Vijay Kapoor has led Anupam Kher to resign as chairman of the Film and Television Institute of India.
No, no, Anupam -- praise be to the Lord -- does not have any medical issues. But he has struck a silver streak playing the neurologist Dr Vijay Kapoor on the NBC television series New Amsterdam.
Even though New Amsterdam has had mixed reviews since it premiered last month, it could be extended for a second or third season given the current paucity of hospital shows on American television.
Anupam certainly hopes so, indicating that in the resignation letter he sent the GoI.
Anupam -- who does not fake an American accent and speaks English the way he normally does -- has struck a chord with his sensitive portrayal of a dedicated Indian-American doctor estranged from his family.
Already, New Amsterdam's show runners appear to be adding plot lines to his character. Anupam, no doubt, believes that Hollywood will notice his work in the NBC show and sign him up for meatier roles that do justice to his enormous talent.
In his resignation letter to Information and Broadcasting Minister Rajyavardhan Singh Rathore, Anupam said due to his commitment to New Amsterdam he will be stationed in the US for 'nearly nine months between 2018 and 2019 and then for a similar period for a minimum of three years more'.
'Given this assignment, it would not be fair to me, the students and management team, for me to hold a position of such responsibility and accountability, without being actively involved in the operations,' he said in his resignation letter.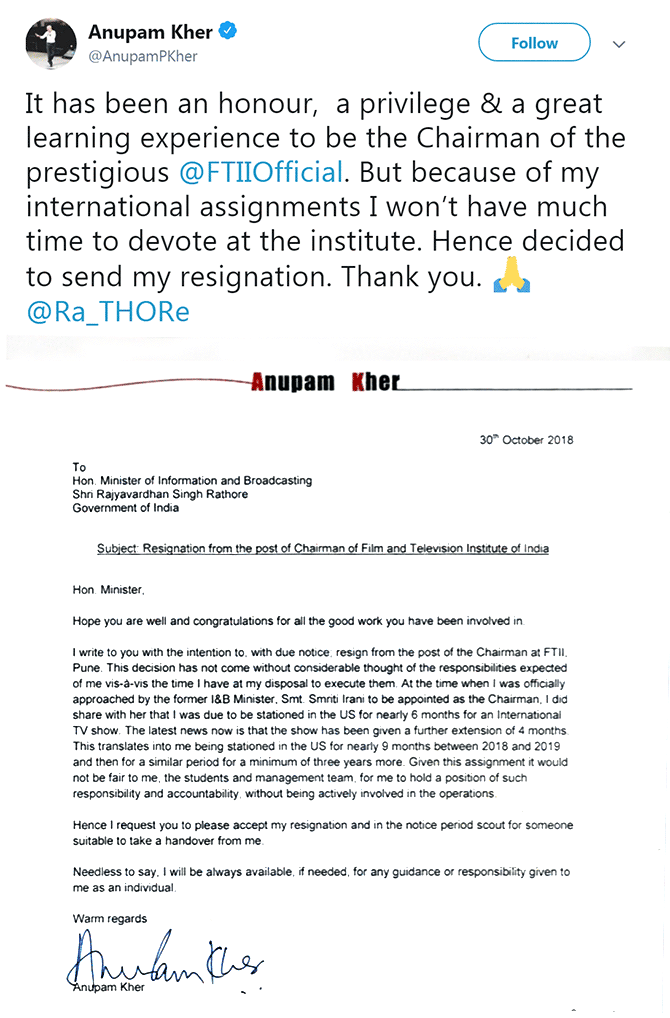 His resignation has been accepted by Colonel Rathore who thanked Anupam for his services to the FTII, sources told PTI.
Anupam replaced Gajendra Chauhan, who had a controversial tenure as head of the FTII, in October 2017.
As Anupam Kher bows out, we ask you, dear readers, who would make a good FTII chief? Please do post your suggestions in the message board below: