Take a look.
Their posters adorn the walls of smitten fanboys and girls but whom do movie stars idolise?
We don't know about real life. But, on screen, they're starstruck like anyone else and enjoy decorating the walls of their room with pictures of a beloved idol or movie.
Fan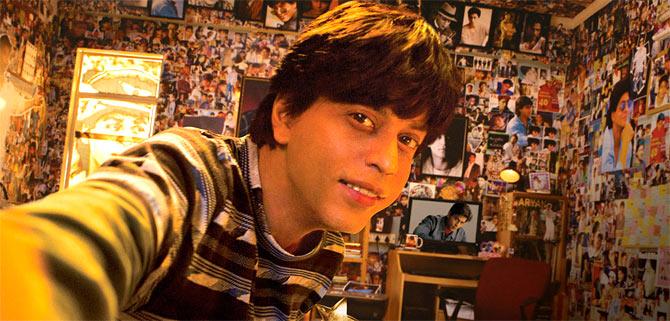 Most stars secretly worship themselves but Shah Rukh Khan does it openly in Fan and for a reason.
Not only is he playing a superstar like the one he already is but also his biggest admirer in a double role that won him tons of appreciation.
A collage of SRK's pictures covering the entire room is only the beginning of this fan's dangerous obsession.
Chashme Buddoor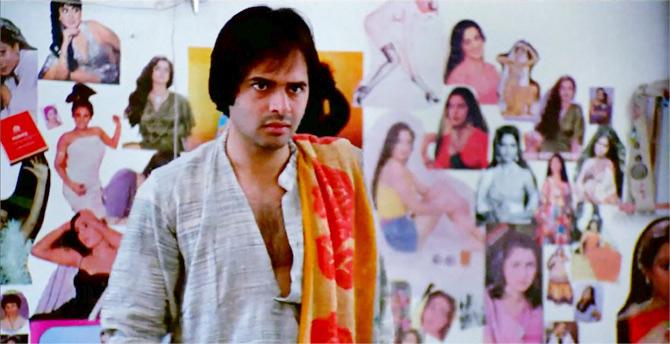 In Sai Paranjpe's endearing classic, three friends share a bachelor's pad and decorate their individual wall as per their tastes. If one wall's all about bodybuilding, cuttings of Bollywood screen sirens obscure the other.
And when neither intrigue Deepti Naval, Farookh Shaikh proudly points out, 'Meri deewar woh hai. Gandhiji wali.'
Maine Pyaar Kiya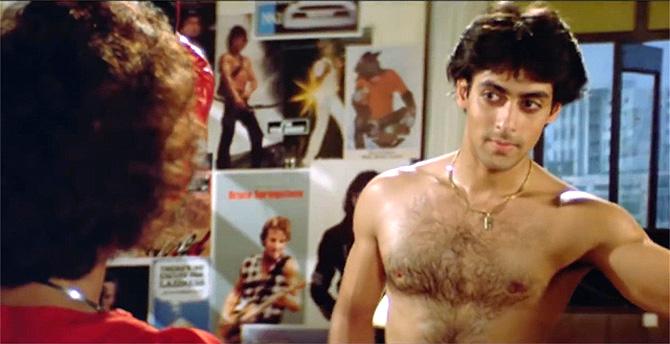 Salman Khan's phoren-returned 80s cool dude imagery is perfectly conveyed in the choice of posters on his wall. Sylvester Stallone, Arnold Schwarzenegger, Bruce Springsteen, Madonna, Michael Jackson... you name a pop culture icon and it's up there.
Love Love Love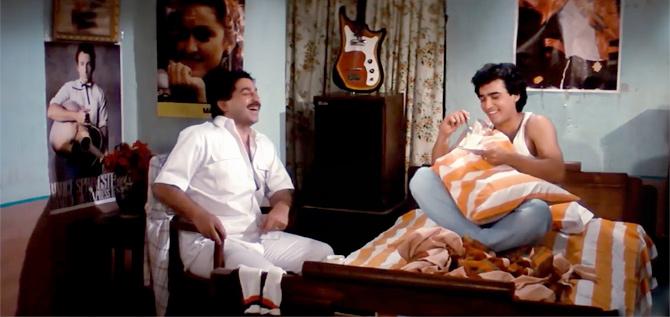 Aamir Khan's played a college boy in a number of movies. Love Love Love, where he plays a poor guy in love with a rich girl, is the least memorable one in the pile.
Though he dances to ripped-off Bappi Lahiri beats and Disco Dandiya for the longest while in the movie, the walls in his home scream Madonna and MJ.
Deewana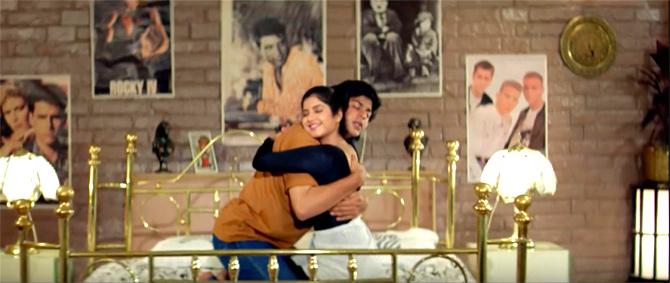 The posters seem like a last-minute addition by the art designer and don't gel one bit with the flashy sensibilities of SRK's room in Deewana.
There's nothing wrong in clubbing Top Gun, Cocktail and Charlie Chaplin but, really, Rocky IV? Clearly he hasn't read Roger Ebert's scathing review.
Humpty Sharma Ki Dulhania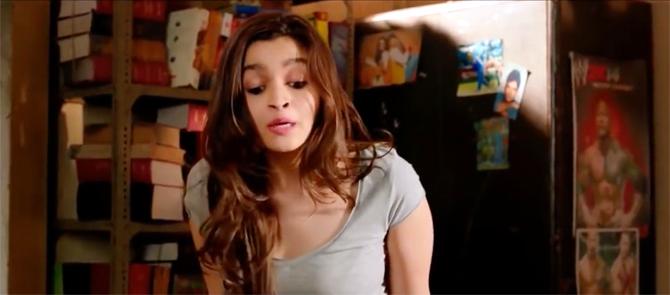 What are the chances of spotting a Dilwale Dulhania Le Jayenge poster inside the room of a character embodying its pop cultural impact?
Pretty strong, we discovered.
Rockstar
What better way to show a character's a huge fan of a certain artist and aspiring musician than gluing their famous posters on the wall?
In Rockstar, Ranbir Kapoor's aspiration to make big in the world of music comes alive every time he looks enthusiastically at his music idols, particularly, The Doors frontman, Jim Morrison.
Bareilly Ki Barfi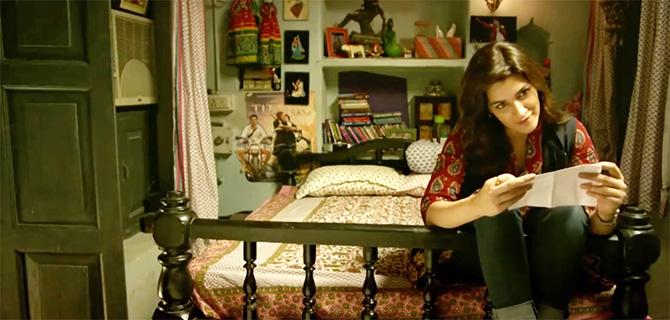 In most movies, the girl's room is a pastel heaven filled with flowers, soft toys or glamorous frames of her own picture. It's almost a relief to see that iconic Titanic poster in Kriti Sanon's room.
As the small-town cutie who loves Hollywood movies and big-scale adventures, the epicness of James Cameron's romance fits just about right.
Desi Boyz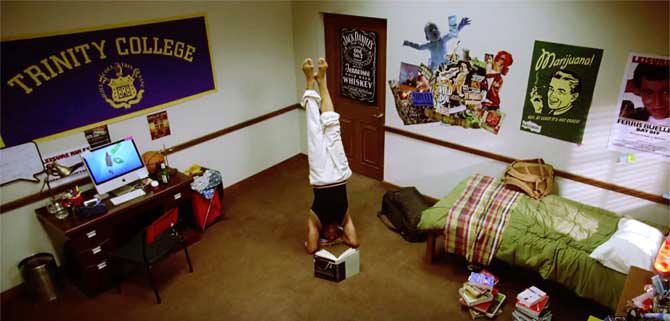 Despite that cheeky vintage Marijuana poster or one of the John Hughes classics, Ferris Bueller's Day Off, humour doesn't touch anything about Akshay Kumar's stripper-to-student turn in the utterly moronic Desi Boyz.
Mast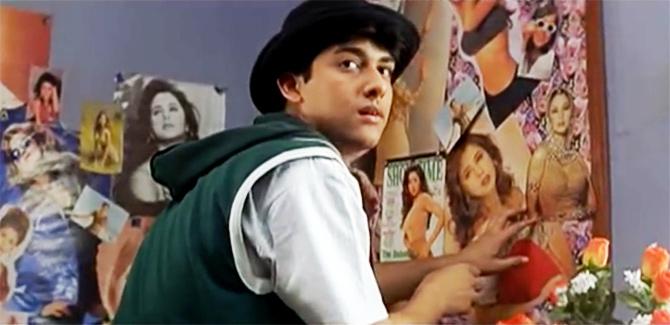 Ram Gopal Varma relives his Sridevi fixation to craft Aftab Shivdasani's starstruck behaviour for screen idol Urmila Matondkar in the wishy-washy Mast.
The film's catchy music and the Rangeela heroine's gorgeous photographs are our favourite and only memory of it.
Rangeela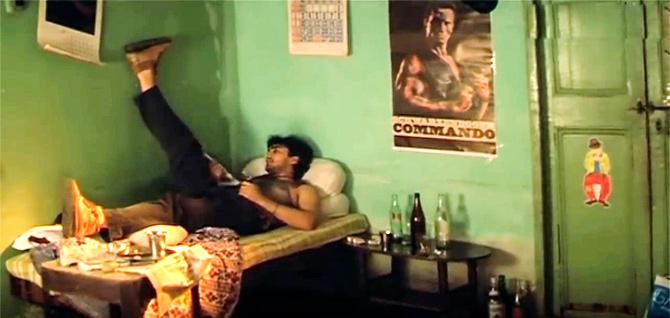 Speaking of Rangeela, even a tapori Aamir Khan cannot resist plastering Arnie's classic Commando poster in his green-walled shack.