A comedy show leads to some not-so-funny moments.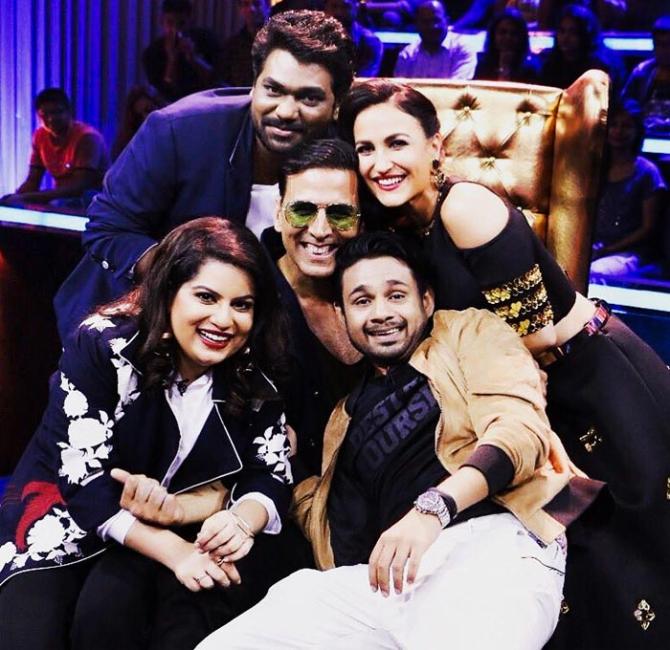 IMAGE: Mallika Dua with The Great India Laughter Challenge team: Akshay Kumar, Hussain Dalal, Zakir Khan and Eli Avram. Photograph: Mallika Dua/ Twitter
Comedienne Mallika Dua and her father Vinod Dua recently lashed out at Akshay Kumar for his alleged sexist remark about her on the show, The Great Indian Laughter Challenge.
The actor has been trolled on the net since last few days for making the comment.
While Akshay is busy with the music launch of his upcoming movie 2.0 in Dubai, his wife Twinkle Khanna has come out in her husband's defence.
The former actress tweeted her official statement: 'I would like to address the controversy on the sets of The Laughter Challenge.
'The show has a bell which the judges ring after a contestant's exceptional performance and when Ms Dua went forward to ring the bell, Mr Kumar said, 'Mallika Ji aap bell bajao main aapko bajata hun'.
'A pun on the words and actions related to ringing of the bell. It's a colloquial phrase that both men and women use -- for instance, 'I am going to bajao him/her' or 'I got bajaoed', Red FM even has a tagline 'Bajatey Raho' all without sexist connotations.
'Vinod Dua, Mallika Dua's father, had written a post -- it's been taken down now -- stating, 'I am going to screw this cretin Akshay Kumar'.
'Should Mr Dua's statement also be taken literally or interpreted in context? Words, especially humour, has to be seen in its right context.'
Twinkle closed her argument by advocating for 'freedom in comedy'.
'I have always stood up for the freedom within comedy including defending AIB's infamous roasts on numerous occasions in the past and that is my stance even today, so kindly stop tagging me in this debate.'
The controversy broke when Mallika shared an unaired video of the show on Twitter in which Akshay tells her, 'Aap ghanti bajaiye, main aapko bajata hoon.'
The comedienne found the comment sexist, and in fact, has written about it at length on The Quint.
'Was it the single most vile act of inappropriate behaviour? No.
'Was it enough to make one uncomfortable? Yes.
'Would the superstar be offended had someone jokingly said to his daughter, 'Nitaara ji, aap bell bajaaiye main aapko bajaata hoon?' -- most probably,' she writes.
'Which is what happened in this case.
'My father, who watched the leaked video, was left seething at the sight and sound of his daughter being subject to this idea of humour and banter by her colleague at her workplace.
'Even while I ignored it, he made his stance clear, as he generally does, indirectly making me question what kind of a feminist and person I am,' Mallika added, referring to her father, senior journalist Vinod Dua.
She explains how it all happened: 'It was my very first day on a television set of this scale.
'We were tongue tied in the mammoth presence of a Bollywood megastar to begin with.
'I don't belong to Bollywood and I'm not fluent in its diplomacy and supposed charm yet.
'When he said "Mallika ji, aap bell bajaao, main aapko bajaata hoon", in my head I went "WTF was that!" and that was all the time I had to process this.
'We went back to celebrating the contestant's stellar performance and shooting the rest of the episode.'
'It's normalised to such an extent that even I didn't make a huge deal of it.
'I'm a huge part of the problem. Do not make this about Akshay Kumar and trivialise it. It's about all of us,' she adds.
Meanwhile, Akshay Kumar is yet to respond to the controversy.
With inputs from ANI.