Ranveer-Vaani take Befikre to Dubai.
Aseem Chhabra was there.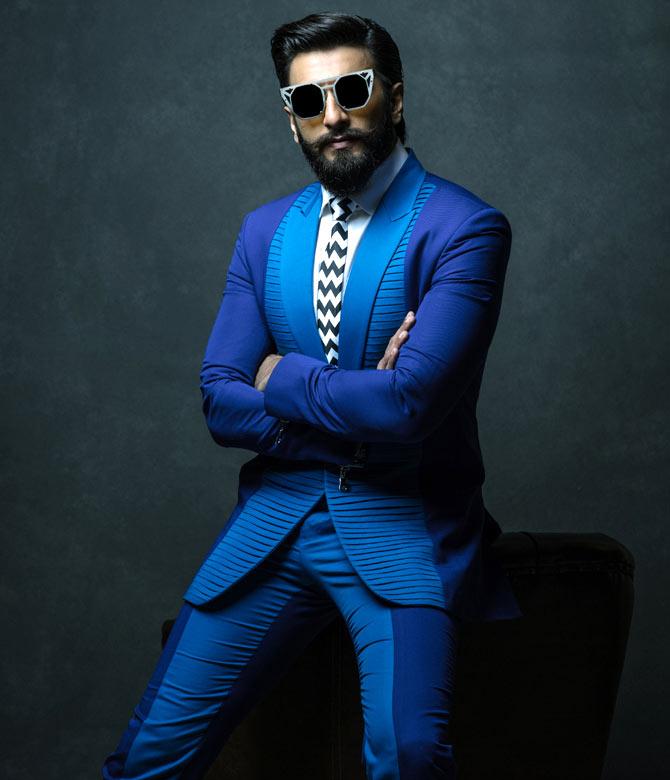 IMAGE: Ranveer Singh poses at the Dubai International Film Festival. Photograph: Gareth Cattermole/Getty Images for DIFF
Ranveer Singh loves his clothes and often what he wears at events reflects an extension of his high-spirited personality.
For the world premiere of his new film Befikre at the Dubai International Film Festival, Ranveer wore a long white jacket, with what definitely looked like a ghagra-style skirt. He carried what could only be described as a man purse.
"Tonight is a fancy, fancy, night," Singh told the media earlier.
He was asked if he would repeat the morning's clothes in the evening. "It will be a little bit dressier, you know, evening time."
And then he added with the typical Ranveer Singh energy and wide smile, "I will be the belle of the ball!"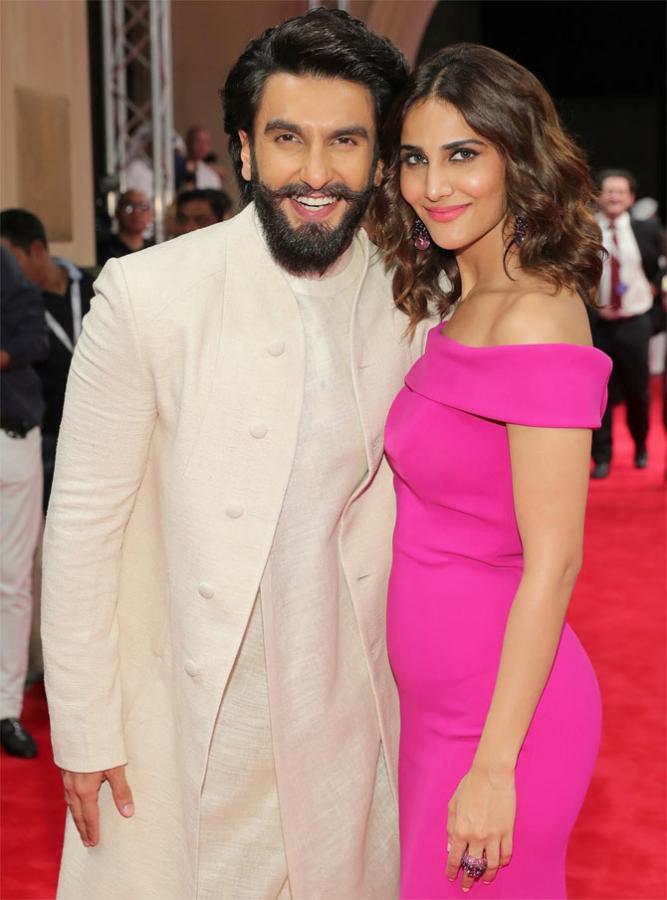 IMAGE: Ranveer and Vaani Kapoor at the Dubai International Film Festival. Photograph: Aseem Chhabra/Rediff.com
The clothes did get dressier later in the day. Ranveer wore a bright blue suit designed by Dubai-based Indian designer Varoin Marwah.
"He's made this smashing electric blue suit which I paired with Christian Louboutin, another one of my favourite people. He's such a warm person," he said.
And then Ranveer spoke about his sunglasses -- large framed glasses, which had a neon blue coloured reflection. The glasses were a gift from Akshay Kumar.
"They are my lucky shades," Ranveer said.
The actor recently attended a martial arts tournament in Surat, an event backed by Akshay Kumar. "There was pandemonium as you can imagine. And I lost my favourite pair of sunglasses. They are impossible to get. I had done weeks and weeks of research, and finally found them," he said.
"I had no idea how he (Akshay Kumar) found me the exact same pair," Singh added. "I was heartbroken. Right before I came to Dubai, he sent me these. That's why he is a superstar. He has done the most amazing thing for me."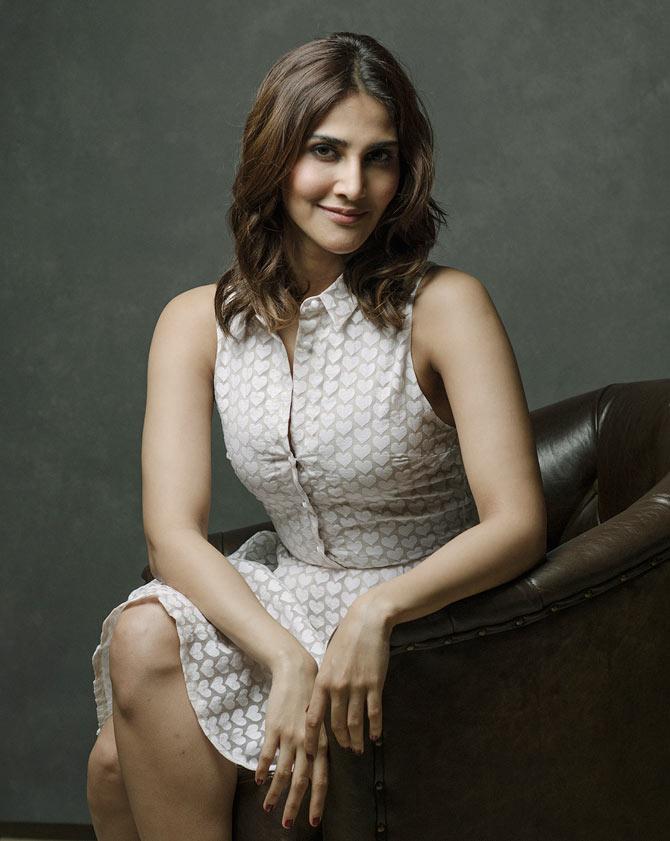 IMAGE: Vaani poses in Dubai. Photograph: Gareth Cattermole/Getty Images for DIFF
In comparison, Vaani Kapoor, Singh's Befikre co-star, wore a simple white dress with hearts to the media event.
"She's got so much heart," Ranveer joked as Vaani said she had too much love to give.
To that Ranveer asked, "Why don't you direct some in this direction?"
"You have plenty coming from your fans," Vaani retorted.
"I don't think at all. I look at what is laid out, like one dozen suits and impulsively, in one second I can tell which one I want to wear," Ranveer added about how he doesn't take much time deciding on what he has to wear for an event.
***
'I never wanted to be an actor'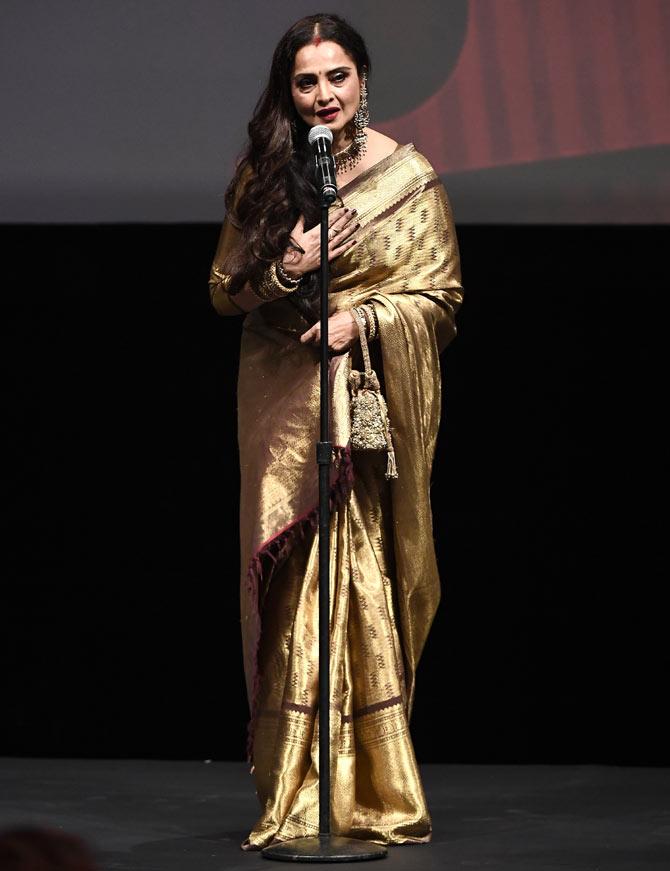 IMAGE: Rekha on stage. Photograph: Gareth Cattermole/Getty Images for DIFF
The Dubai International Film Festival honoured three of the world's leading movie personalities with lifetime achievement awards -- actor Samuel L Jackson, French-Lebanese composer Gabriel Yared (The English Patient) and the gorgeous Rekha.
Before the event began, Rekha -- dressed in her signature gold sari -- was seated next to Jackson and two actors could be seen chatting animatedly.
Accepting his award, Jackson said he had been invited to make a film in India. One can assume that the invitation came from Rekha herself.
Later after she was honoured, Rekha took the mic at Dubai's Madinat Arena and referred to the United Arab Emirates as 'God's own place' with 'a big open beautiful heart, open to the world's cultures, arts in particular.'
"I know this is not the Oscars and no music is going to start," she said, "so bear with me."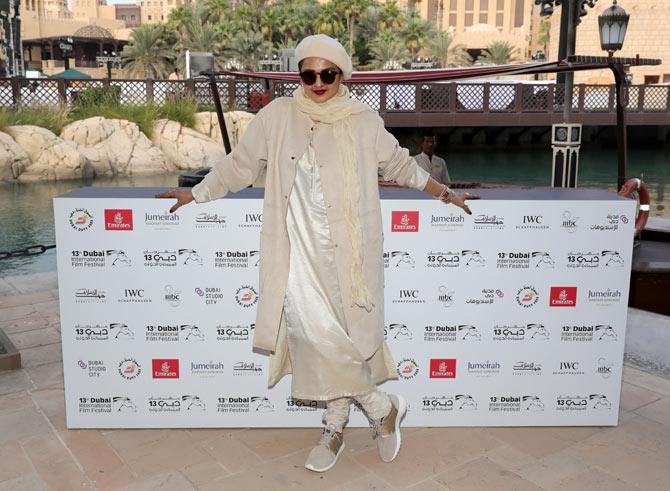 IMAGE: Rekha attends a photocall at DIFF. Photograph: Neilson Barnard/Getty Images for DIFF
"I never wanted to be an actor," she said. "My parents were actors. My mother had dreams for me, so here I am. I hope to God and pray that she's proud of me."
The audience applauded and the music started to play, but Rekha continued. "I told you there is no stopping me. I want to dedicate this award to my today's gurus, the next generation of actors the world over. They never cease to amaze me and time and time, I am learning from them."