Meena Kumari's Pakeezah and Rekha's Umrao Jaan epitomise the cinematic tawaif, a combination of poetess and seductress, steeped in the tragic metaphor of the candle that burns itself out while giving light to a thankless world.
The greatest films on the kotha culture are the ones with the best poetry and music.
Subhash K Jha lists his favourites.
Pakeezah, 1972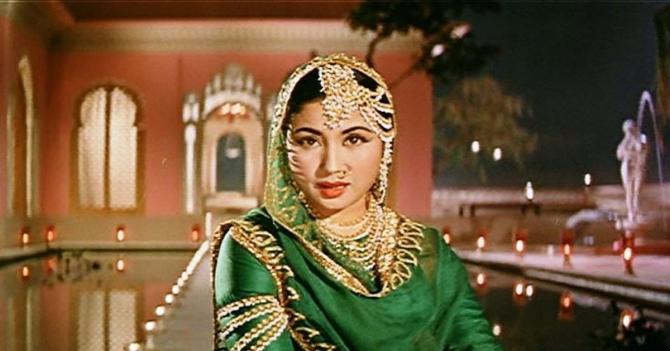 Meena Kumari lived the part of the tawaif Sahib Jaan and the credit for her heart-melting performance must got to a large extent to Ghulam Mohammed's music.
As sung by Lata Mangeshkar, the mujras -- the life and breath of every tawaif tale -- are among the finest heard in Indian cinema: Chalte Chalte, Teer-E-Nazar Dekhenge, Thare Rahiyo Ho Banke Yaar Re, Inhi Logon Ne, which one do we choose?
I could watch Pakeezah a million times just for the songs.
During a large part of the film's shooting, Meena Kumari couldn't even move because of ill health, let alone dance.
Chalte Chalte was shot with chorus dancers and Teer-E-Nazar was performed by a duplicate dancer, Padma Khanna.
Umrao Jaan, 1981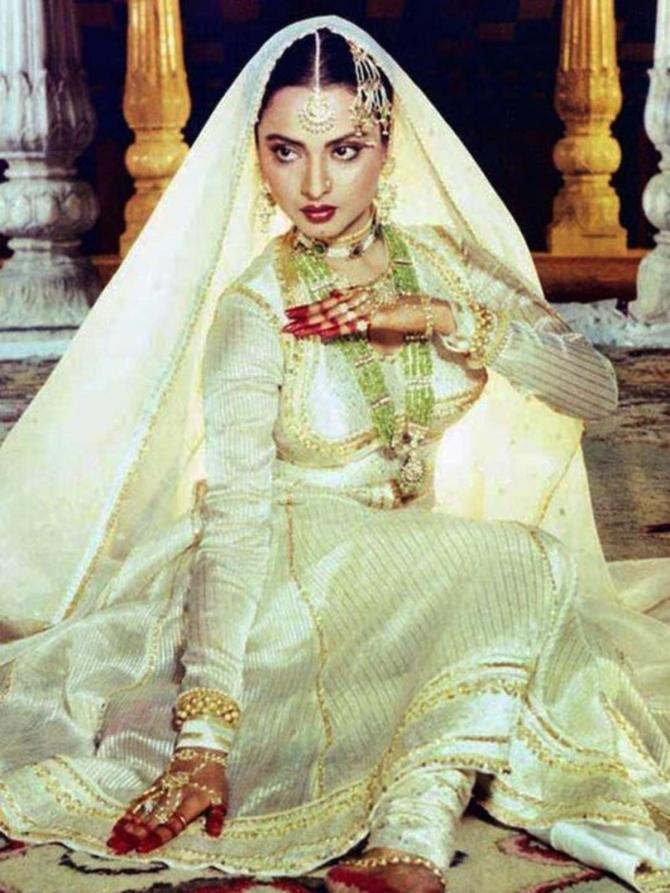 Again, a tawaif's tale elevated by Khayyam's music and Shahrayar's poetry.
And sung exquisitely by Asha Bhosle.
I asked Director Muzzafar Ali why he chose Asha, not Lata, and he told me it was Khayyam's decision. If Lata had sung for Umrao, it would have been a Pakeezah Part 2.
Asha Bhosle did full justice to the melodious mujras: Dil Cheez, Inn Ankhon Ke Masti, Yeh Kya Jegah Hai Doston, and my favourite Justuju Jiski Thi.
Sadhana, 1958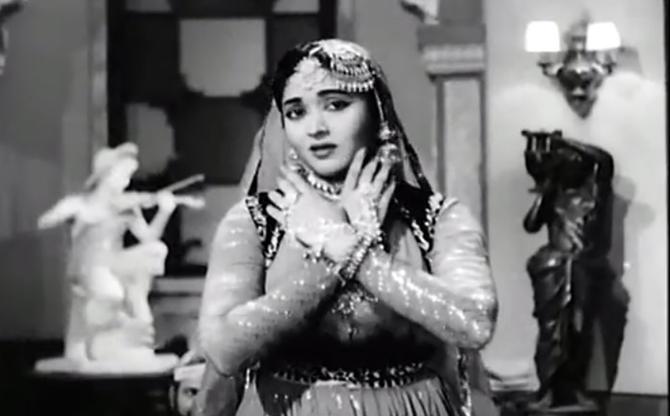 Vyjayanthimala's tawaif act in B R Chopra's reformist drama is better than Meena Kumari in Pakeezah or Rekha in Umrao Jaan.
Actresses seldom get roles like the one in Sadhana, and Vyjayanthimala is rightly proud of the film.
It provided her with a platform to showcase the shades of her versatile personality.
She had already played a tawaif named Chandramukhi, in Bimal Roy's Devdas, three years before Sadhana.
Devdas was a relatively easier role to play; she played the courtesan with a heart of gold.
In Sadhana, Vyjayanthimala is initially portrayed as a gold-digging schemer, who takes advantage of a dying woman's last wish to see her bahu.
From the sensuous dances to the desire to be a part of mainstream society, Vyjayanthimala takes her character through the wide arc with a confidence that sublimates Champabai's journey into a metaphor on societal prejudice and its subjugation by elements which have the guts to say no to biases.
Years after Sadhana, L V Prasad produced Khilona where a tawaif Mumtaz is brought home to a well-to-do family to play a psychologically traumatised man Sanjeev Kumar's wife.
After he is cured, she is pushed out, until the man protests on behalf of the prostitute.
Sharafat, 1970
At the beginning of her career, Hema Malini played a fallen woman rescued by an idealistic college professor Dharmendra and rehabilitated until she returns to her old life, convinced she would never get societal sanction.
The climactic mujra Sharafat Chhod Di Maine epitomises the disillusionment of a woman, who craves to leave behind her life of disrepute if only samaj would let her.
Devdas, 2002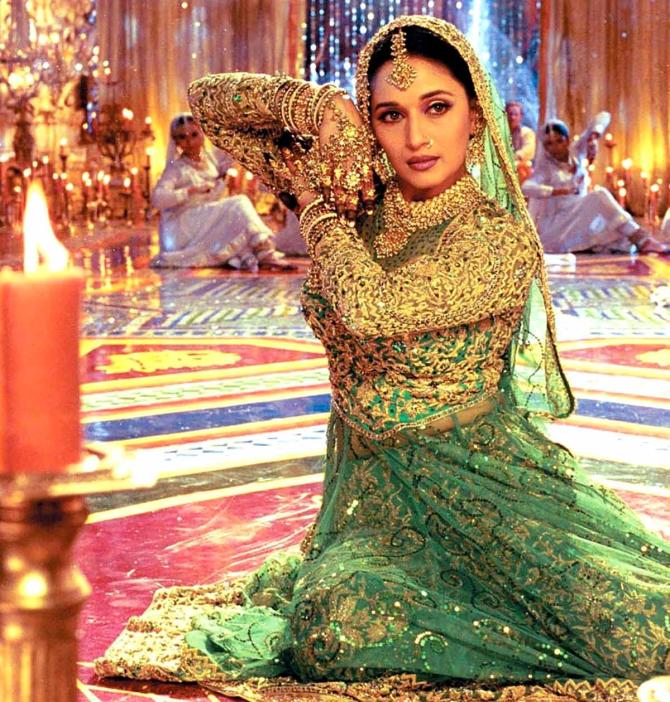 Madhuri Dixit's tawaif with the heart of gold act was embroidered with exquisite dances choreographed by Kathak legend Pandit Birju Maharaj and, of course, Bollywood's most reputed choreographer, Saroj Khan.
In what's possibly the best written and choreographed courtesan's role since Meena Kumari's in Pakeezah, Madhuri gleams with a graceful aura.
Her recent attempt to do the tawaif act in Karan Johar's Kalank fell flat on its face.
Bhansali had planned another tawaif's tale, Heera Mandi with a gallery of gorgeous actresses from Rekha, Tabu, Kareena Kapoor to Alia Bhatt inhabiting the kotha.
One wonders if such an epic is possible any more.