We go on the sets of Juhi Chawla's Chalk N Duster.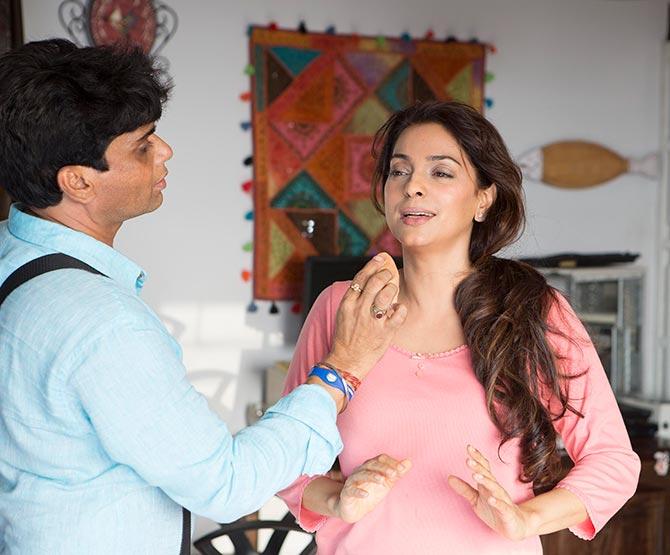 Image: Subhash Singh and Juhi Chawla
Make-up artist Subhash Singh spent years making actresses look beautiful in front of the cameras.
Now, the women -- Shabana Azmi, Juhi Chawla, Upasana Singh, Zarina Wahaab, Richa Chadda and Divya Dutta -- have repaid him by featuring in his production, Chalk N Duster.
Directed by Jayant Gilatar (Meri Pyaari Behaniya Banegi Dulhaniya and Himmatwala), the film is about problems that school teachers face.

We are on the sets of the film at Kamal Amrohi studios in Jogeshwari, a western suburb of Mumbai, where shooting began in the early hours.
Richa Chadda, who makes a cameo as a journalist, has finished her shoot for the day, and settles down to chat with us.
"Shabana Azmi recommended me (for the role) and Juhi Chawla wanted me to do the film. It's just two days of my life, so I am doing it," she says.

She is comfortable playing a journalist because "I have lots of experience of journalists -- I face them every now and then!"
But she doesn't play an entertainment journalist -- she plays a political journalist.

Speaking about her co-stars Shabana Azmi and Juhi Chawla, she says, "I don't look at Juhi ma'am and Shabana ma'am as celebs, but as good actresses. I have grown up watching their films."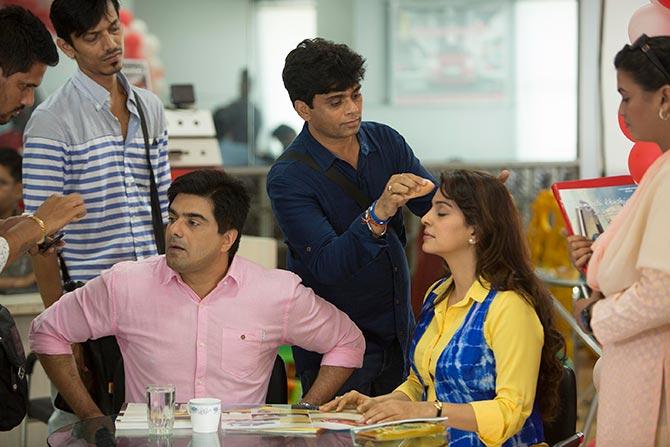 Image: Samir Soni, Subhash Singh and Juhi Chawla
Juhi Chawla is busy with her make-up. She has been at it for three hours.

She plays a chirpy school teacher in the film, who mimics her colleagues. But in the second half, her character becomes very hard-hitting.

Samir Soni plays Juhi's husband in the film while Girish Karnad plays Shabana Azmi's husband. Jackie Shroff and Arya Babbar play the trustee of the school.
A pivotal scene, featuring Juhi, is being shot inside a hospital erected at the studio.

Shabana Azmi's character -- a senior teacher -- suffers a heart attack in school but no one does anything about it. So Juhi's character takes the initiative and gets her hospitalised.

Juhi rehearses the scene a couple of times with Deepali, a television actress, who plays Shabana Azmi's daughter in the film. Then Juhi calls for some glycerin, as she has to appear teary-eyed.

After the scene is shot, Juhi returns to her cheerful self, and answers our questions.

"Today we are shooting a very emotional scene in the film," she says. "It is the turning point in the film."

She agreed to act in the film because "I like the title and the story of the film, and it is a very heartwarming script.
"Chalk N Duster will remind you of your school days and your teachers and their contribution to your life and how you have forgotten them when you grow up.
"Teachers influence and inspire you at the beginning of your life. Chalk N Duster helps you value your teachers. The film is also about the business of education," she says.

Juhi points out that "people who are not educated know the value of education more than those who are educated. People who do menial jobs value education a lot."

Yet, teachers are often in the news for the wrong reasons.
"Teachers do beat up kids and I am not saying it is right, the media only writes about the negatives. When 50 lakh teachers do good work, no one writes about it but when a teacher hits a student and parents protest, it will be on the front page."

A vivid memory of her school days was being caught by a teacher when trying to prompt another student for a geography test. She could not complete the test, as she was told to stand outside the class. The worst was that the school principal was passing and saw her!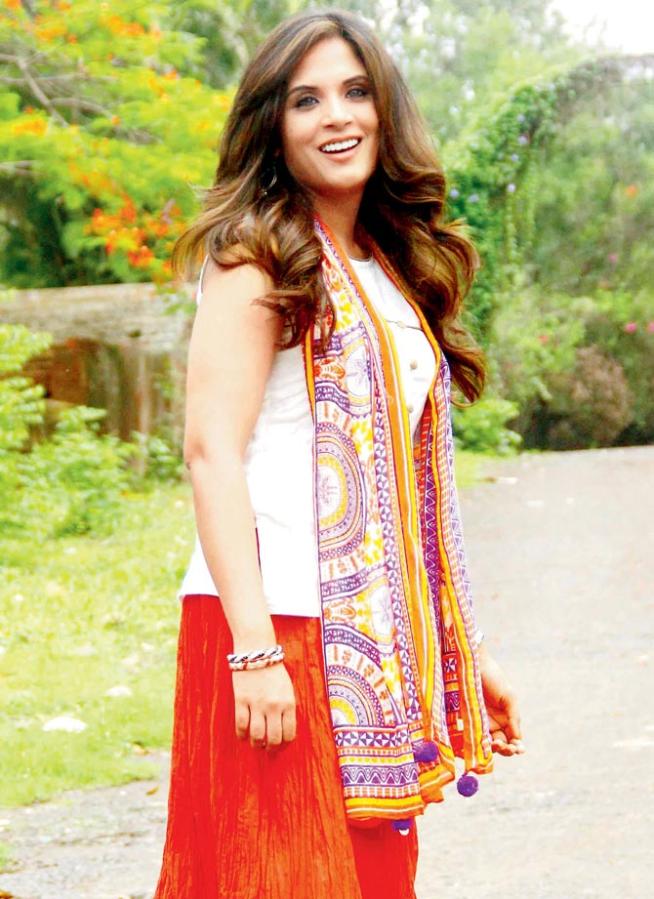 Image: Richa Chadda
Director Jayant Gilatar feels that school teachers are unfairly treated.
"All government staff has medical facilities and they have concessions in buses and trains. Our research showed that such facilities are not available to school teachers," he says.
"When my writer Ranjeev Verma narrated the concept of the film Mee Sikshihka - it was a Marathi script that we worked on and made it Chalk N Duster - the first person who came to my mind was Shabana Azmi.
"In fact, I told my producer I will not do the film if Shabana Azmi is not in it. I have wanted to work with her for long."

Gilatar wants to send a message to the government and school managements to "take care of teachers even after they have retired; to form a foundation for them when they are old that will take care of their medical problems."

The film has been shot in real locations, on trains and in real schools in Kandivali, a suburb of Mumbai. It is 70percent complete.

Chalk N Duster will be release on September 4, a day before Teacher's Day.