'Why do we feel our parents are not human? That our mother is not a woman?'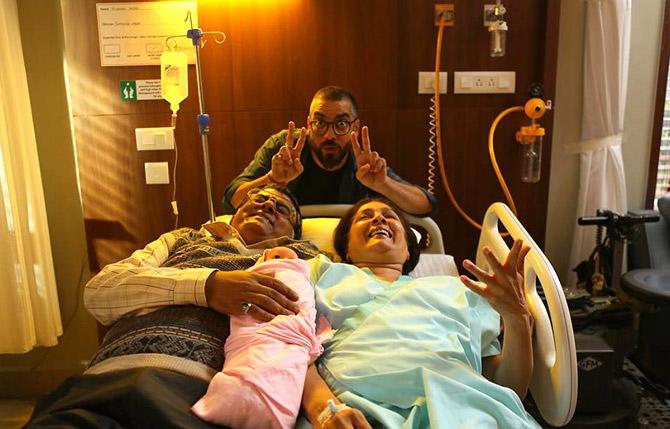 "Mein director galti se bana," Amit Ravindranath Sharma says with a laugh.
Sitting in his spacious and beautifully designed office on the 18th floor of a Mumbai high-rise, Amit is enjoying the success of his directorial venture, Badhaai Ho, which has entered the Rs 100 crore club.
"When I was in Class 11, one day, my mother called me from work, and asked me, 'Do you want to do modelling?' That very moment I decided, mein hero banooga!," he says with a laugh.
That didn't happen.
Instead, Amit became an ad film-maker.
He was just 24 when he started a production house Chrome Pictures along with his wife Aleya Sen and partner Hemant Bhandari.
Fourteen years, 1,800 ad films and two feature films later, Amit looks content as he cuddles his nine-year-old son Rosh, and says, "I learn a lot from him. He's my heart."
As Rosh basks in his daddy's attention, Amit says he is very good with children.
Perhaps that's why he made his film -- about a 51-year-old lady getting pregnant -- with so much love.
"In the last three-four years, certain subjects are entering middle class homes and breaking taboos. I get excited by these kinds of topics," his wife Aleya adds.
"I knew about the humour during the scripting itself...when I watched the first cut, the emotional scenes gave me goose bumps. Like the one when Ayushmann (Khurrana) is slightly drunk and is talking to Sheeba Chaddha (who plays Sanya Malhotra's mother) and giving his point of view of what his family is about. And the relationship between the brothers! I've seen these relationships (in the movies) which show that they are really great buddies, growing up. But aisa hota nahin hai," Aleya says with a laugh.
"Here, it looks real. I loved that scene from school (where Ayushmann confronts his young brother's bullies). I feel I have seen this. It's a very Delhi thing," she says.
2018 has been very busy for Amit and Aleya.
"Two releases," Aleya says, including her directorial debut Dil Juunglee in March, "Then, Amit's next will start, mine is at the pitching stage..."
It is a busy time, and it is going to get busier still.
Yet, for the moment, Amit is relaxed as he sips on a chilled drink and tells Ronjita Kulkarni/Rediff.com, "The audience is tired of watching maar-dhaar; they want stories now."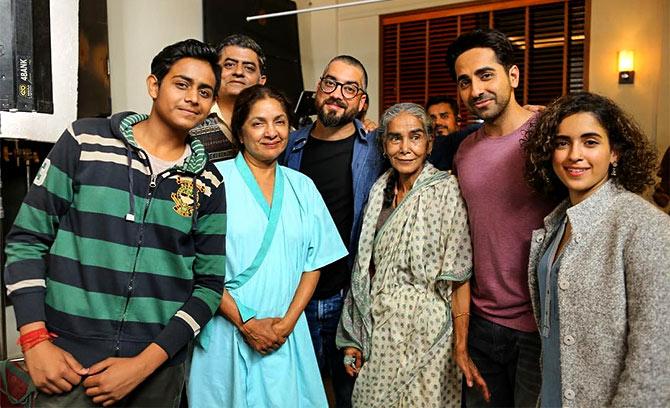 Did you expect Badhaai Ho to be such a hit?
I thought people would like it, but not that it would do so well.
We had as much fun shooting the film as you did watching it.
And in the scenes where people cried, we cried too during the shoot.
Like which scenes?
Like the time when Ayushmann comes home (after fighting with his parents) and says sorry to his mother; she says, 'Khana khaya tumne?'
That dialogue wasn't in the script.
I was very close to my mother; I lost her in a car accident in 2008.
I started missing her during the shooting of that scene.
I remembered that whenever I would enter the house, she would ask if I had eaten -- even if she was angry with me.
So I thought we needed that dialogue, and I told Neenaji that.
I used to talk to her every day about my mother. That she would have reacted like this, this would have been her expression.
She said the dialogue exactly how her mother would say it.
That day, while shooting, I was missing her a lot and I cried.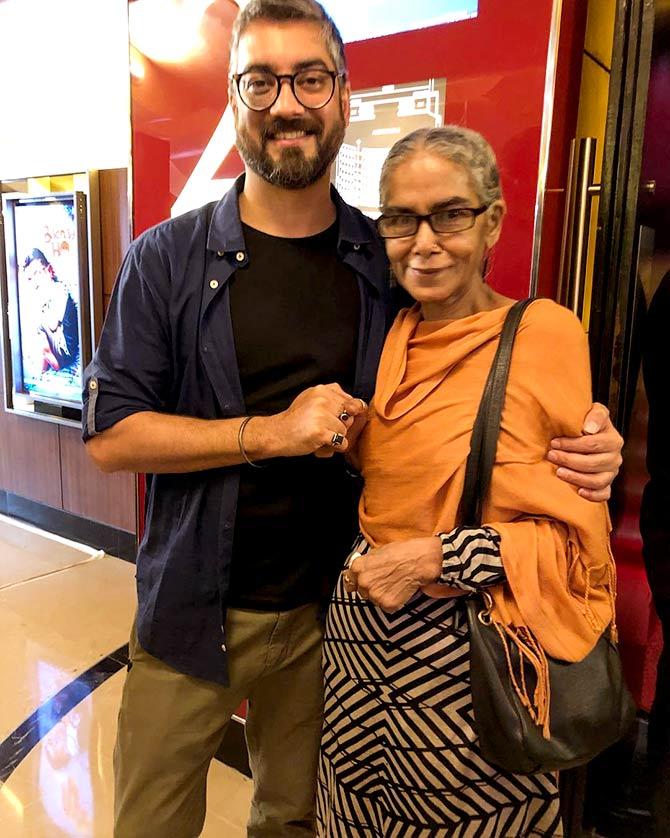 What was it like working with Surekha Sikri?
I would show Surekha ma'am pictures of my dadi, and the kind of clothes she would wear.
But the minute the shot was done, she would ask, 'Now what do you want me to do?'
Suddenly from that (conservative) Dadi to an English-speaking one, I would say, 'Yeh kya ho raha hai!'
After the film released, she messaged me, 'Dude, your film is a superhit!'
Whenever she would talk to me in English, I would say, 'Don't talk to me in English. Aap Dadi hi rahiye.'
Was Neena Gupta your first choice?
Our first choice was Tabu. But that time, the script was different.
Neenaji's name came up, but I was not convinced because I had not seen her on screen for a long time.
Then, I saw her short film, Khujli, where she plays a middle class wife.
I called Ayushmann, and said, 'Mummy mil gayi.'
Ayushmann said Neena Gupta was very hot, that mummywali feeling would not come.
So I asked him to watch Khujli, and then he agreed with me.
I have seen Neenaji wearing those fashionable Masaba clothes. So I asked her to wear something simple when we were meeting.
She was totally transformed when she came to my office that day -- she had borrowed her maid's kameez!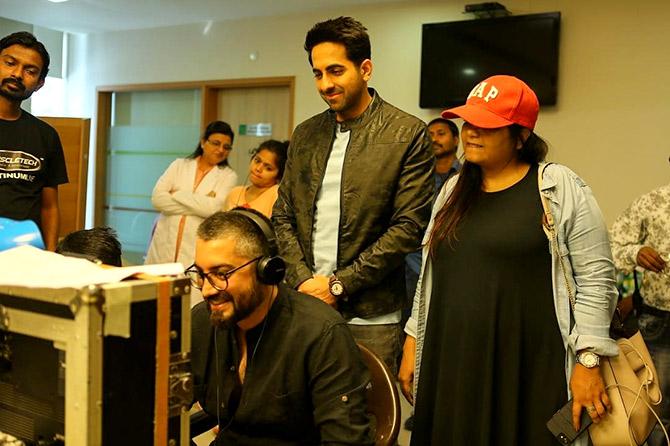 Gajraj Rao was brilliant casting.
Ayushmann was my first choice, and he was on board immediately.
He suggested Gajraj Rao's name. They had worked together on something.
He is an ad film director, so I knew him.
Gajrajji said it was a very big role, 'koi bade actor ko le lo.'
I said I want you.
He speaks through his eyes, and that's what I wanted.
Did you ever worry about the saleability of the project?
My dad always predicts whether a film would work or not.
During Tevar, he told me that the time for such films is going to end.
For Badhaai Ho, he said it is superb.
When Hemant saw the first cut, he predicted it would be a 100 crore film.
But the film's theme includes parental sex, which no one really wants to watch.
If your parents are still in love, what's wrong with that?
My parents were lovebirds.
The love that the Kaushiks have in the film, I have seen that at home.
My parents would go for a walk, hand in hand, after dinner every night.
Everyone would say, 'iin dono ka pyaar bahut pyaara hai.'
My father says 'shayad usi cheez par nazar lag gayee', and that's why she is not here anymore.
Why do we feel our parents are not humans? That our mother is not a woman?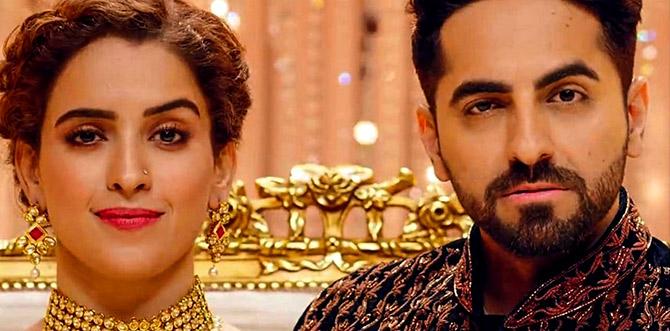 What's your favourite scene in the film?
When Dadi supports her bahu (against their relatives).
It was tough to shoot, for me as well as the actors -- especially Surekhaji.
I didn't want to keep that scene very serious; I wanted a little break from that.
So she says, 'bagar sexy kare... so someone says, 'Ammaji, it's not sexy, it's sex.'
The other scene was the climax.
I told my actors not to use glycerine; I wanted real tears.
Our baby was seven days old. I told his mother that he had to sleep during the shot.
I told my actors, especially Gajraj Rao -- he talks and laughs very loudly! -- I told him, 'You will not talk or laugh, aap udhar kone mein jaakar beith jao!' (laughs).
Also, he needed to go in that zone for that scene.
Before the shot, I would take the baby from the mother's arms and give it to the actors.
I would not even give it to the ADs (assistant directors), in case someone dropped the baby.
I would not say 'Action!'; I would nod to my actors and my DOP (director of photography) and the camera would start rolling.
How did you become a director?
My mother worked in the engineering department of Doordarshan. She was not a film buff, my father was.
She knew someone who knew Pradeep Sarkar, and so I met him.
After 20 days of meeting him, he gave me an ad film -- it was a three second role in a 20-second film.
The shoot was in Manali.
It was the role of a Himachali boy taking a sticker out of a scooter, and throwing it.
The next shot was a close-up of the sticker on the ground.
But the sticker was not falling on the ground correctly.
So Dada (Pradeep Sarkar) told a boy to borrow a strand of hair from a lady. That boy asked a lady spectator, and he was shooed off.
Finally, he got it.
Dada took that hair, made a small hole on that sticker and he tied the hair. When the camera rolled, he pulled the hair and the sticker fell just the way it should.
I was watching from behind, and I felt it was magic!
I got so fascinated that I asked if I could stay back, even though my part was over, and watch the shoot. I was 16 years old then.
He said okay.
He asked me to complete my studies first; I joined him at the age of 18, and worked with him for six years.
I met Aleya there.
My childhood friend Hemant was working with Shoojit Sircar.
At 24, the three of us started Chrome Pictures.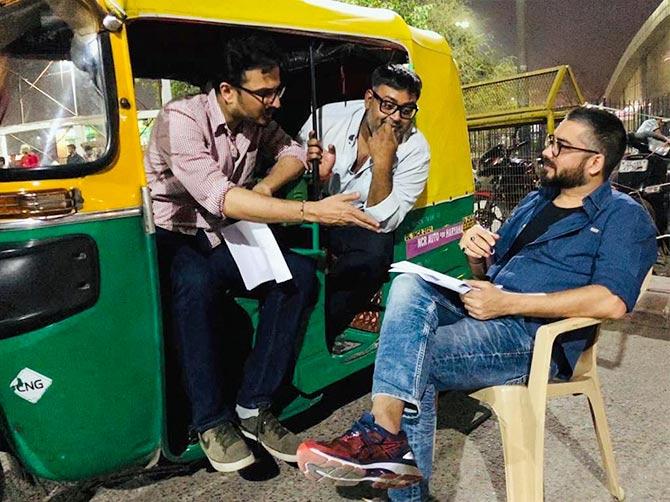 Where did the confidence to start a production house come from?
The confidence came at 21 when Aleya and I made our first short film called Free Falling together.
Since then, I started telling people that I wanted to direct.
Since I was only 21 then, Dada told me to get experience first.
When we started our production house, we looked like kids, so people did not take us seriously.
I didn't have a beard then, so I started growing one to get a mature look.
The first year we didn't get much work.
Then, we did an ad for Hanes undergarments, which got some international awards.
After that, there was no looking back.
When did you decide you wanted to direct a feature film?
After I did a campaign for Bindas Bol condoms, I felt I was ready for a feature film.
You need that one trigger in your life, and this campaign was that.
I was 26 then and I started working on a script.
I worked on it for six years, but it did not work out. The actors kept asking for changes.
That's when Boney Kapoor came into my life with Tevar.
I was working on a script for (producer) Sunil Manchanda. He's a friend of Boney's, so he introduced us.
Boney straightaway offered me a film. He said he had Sonakshi Sinha and Arjun Kapoor on board.
I told him I didn't want to make a remake (Tevar is a remake of the Telugu film Okkadu).
I asked if I could change it, and he said okay.
Tevar didn't do well at the box office, but I learnt a lot.
I felt the marketing of the film went wrong. It wasn't a single screen film, it was a multiplex film.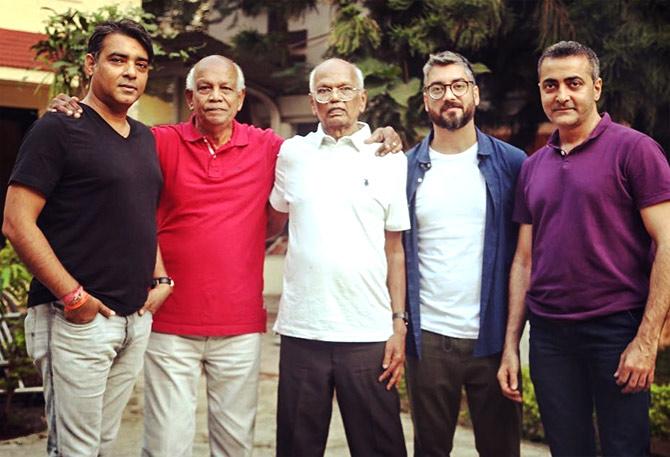 How did Badhaai Ho happen?
In 2015, I heard a one-line idea from (writers) Akshat (Ghildial) and Shantanu (Srivastava) about a 51-year-old woman getting pregnant.
I decided I would direct and produce it as well, since I have 60 people working for Chrome Pictures.
People told me to think a thousand times before going ahead with this idea because it could be my last chance.
If this film didn't work, they said I would have to pack my bags and get out of the industry.
But I was confident about the story -- it's not one you see in your everyday life.
This used to happen earlier -- I remember my grandmother and my grandmother's mother were pregnant at the same time. They delivered within two months!
In Tevar's case, the story looked familiar. People felt they had seen it before. That's why it didn't work.
Also, with time, the audience has changed.
Why did Shubh Mangal Savdhaan work?
Why did Vicky Donor work?
Why did Dum Laga Ke Haisha work?
The audience is tired of watching maar-dhaar; they want stories now.
What next?
I'm doing a football biopic.
Boney Kapoor is producing the film, and Ajay Devgn will play the main character of Syed Abdul Rahim.