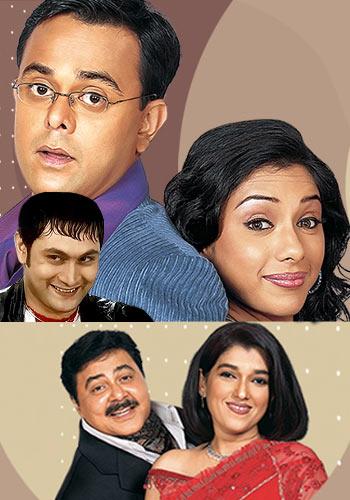 The hugely popular television show Sarabhai vs Sarabhai is all set to come back as a web series.
The sitcom revolved around a quintessential upper-class Gujarati family, played by the senior Sarabhais -- Ratna Pathak Shah's Maya and Satish Shah's Indravadan -- and their sons Sumeet Raghavan's Sahil, Rajesh Kumar's Roshesh, and daughter-in-law Rupali Ganguly's Monisha.
Rajesh Kumar confirms the new development: "Yes, the entire team gathered together to celebrate Satish Shah's belated 65th birthday, and (producer) J D Majethia surprised us with the idea of coming back with Sarabhai v/s Sarabhai. We discussed it and decided that it should come back as a web series."
"When the show ended, all of us waited for it to come back," he adds. "The sets stood for two long years, without any shooting. But there were technical issues: the channel on which it was aired was contemplating because (melodramatic) saas-bahu (soaps) had taken over. Our show was bi-weekly, and it was a big risk for them to come bring it back. Finally, we are coming back this year."
Sarabhai vs Sarabhai aired almost a decade ago, are his children aware about the show's popularity?
"It's like a generation leap," he replies. "My two boys were born after the show ended. The older one has not watched any episode but has got the glimpses of it during the re-runs. He said 'pappa is so funny'."
Will the characters age, since they're coming back after 10 years?
"No, but there will be no Botox for sure!" Rajesh laughs. "We will come back from where we left off. I am preparing to get back to my character Roshesh but I will have to work out to reduce my weight. I have gained a lot of weight in the last couple of months during my US vacation."