"If we fail our boards, it's on Justin Beiber," says Bieber fans who were at the concert on May 10 at the DY Patil stadium.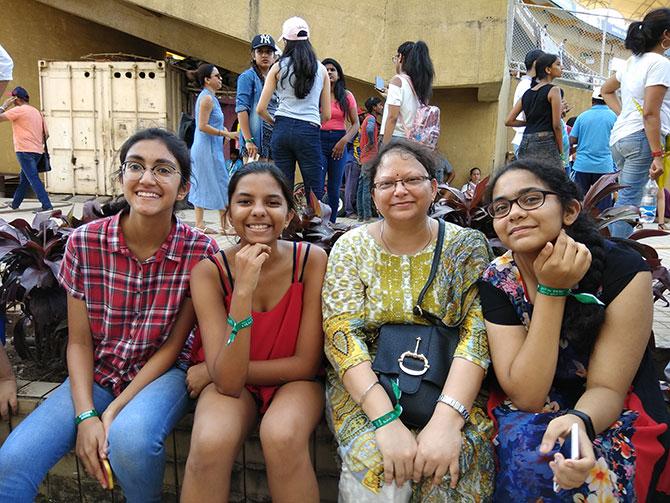 Kadambani brought her school-going daughter Aakriti with her friends, Ananya and Vidhi, for Justin Bieber's Purpose concert at Mumbai's DY Patil Stadium.
They reached the venue at noon, even though the gates were to open four hours later, and yet, had to stand in a long queue.
"We had snacks on the way but the line was very, very long," Kadambani says.
The huge wait didn't kill the young girls' excitement.
The moment the concert was announced, Ananya had pestered her father for passes.
"My dad was in the middle of a board meeting and I called him five times. He was really disturbed. I pleaded him for the passes," Ananya says with a laugh.
"Her happiness is more important," Kadambani beams.
That's why the young mother came with her daughter for the concert even though she's definitely not a Belieber. In fact, she would have opted for a cricket match instead of a Bieber concert.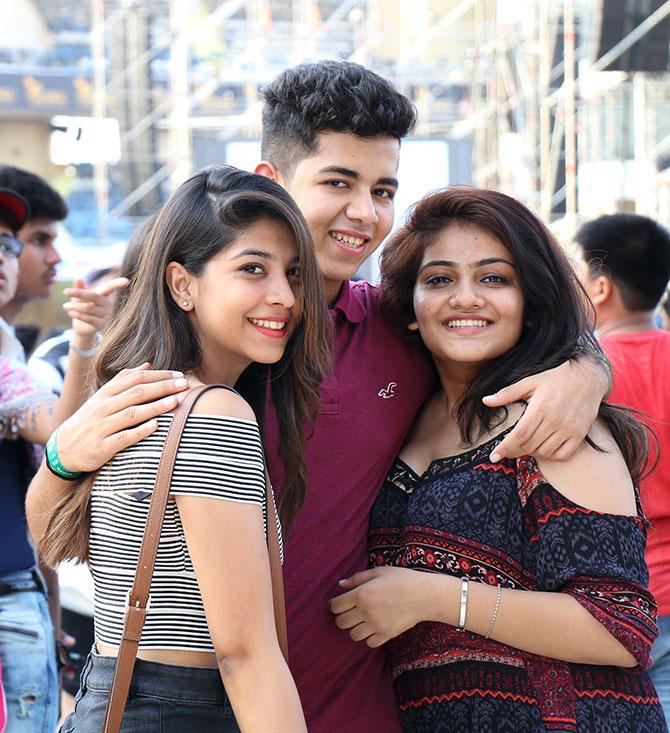 Vanshika and her friends Vinayak and Khushi, all junior college students, weave their way through the traffic and walk the last few kilometres to the stadium.
"It's hot but we have to make it in time for the concert," they say. "There's no way we can miss this experience."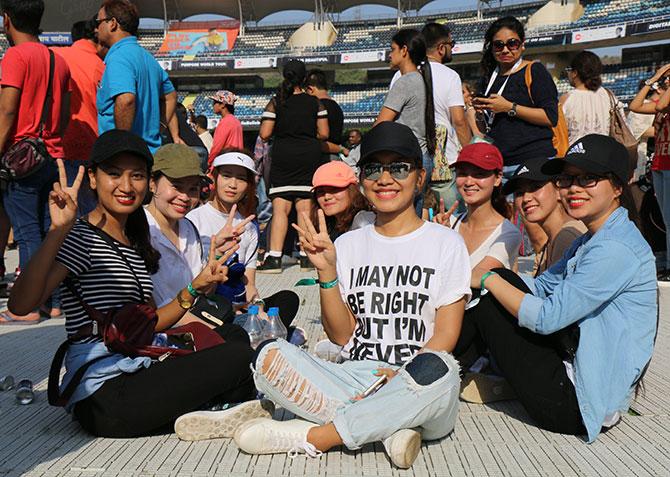 A bunch of girls from Arunachal Pradesh sit on mats, and relax after standing in the horrendous queue.
They were dentists and have come all the way from Mathura, Uttar Pradesh, to attend the concert.
"We are VERY excited!" Gemirumi stresses.
The heat does not bother them.
"Anything for Justin!" they say in chorus.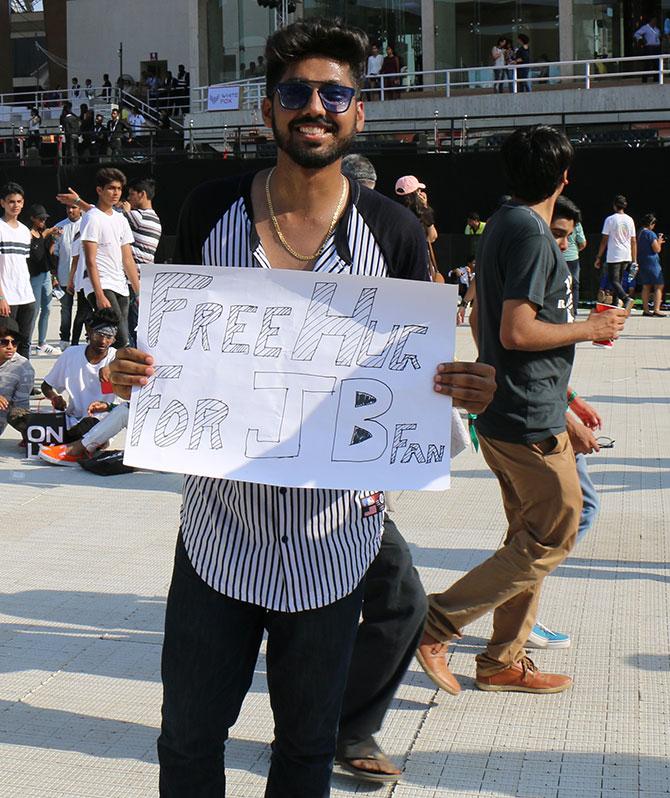 'Free hug for JB fan,' reads a placard, held up by Jigar Jani.
"A hug can resolve anything. It can give you more energy," Jigar says.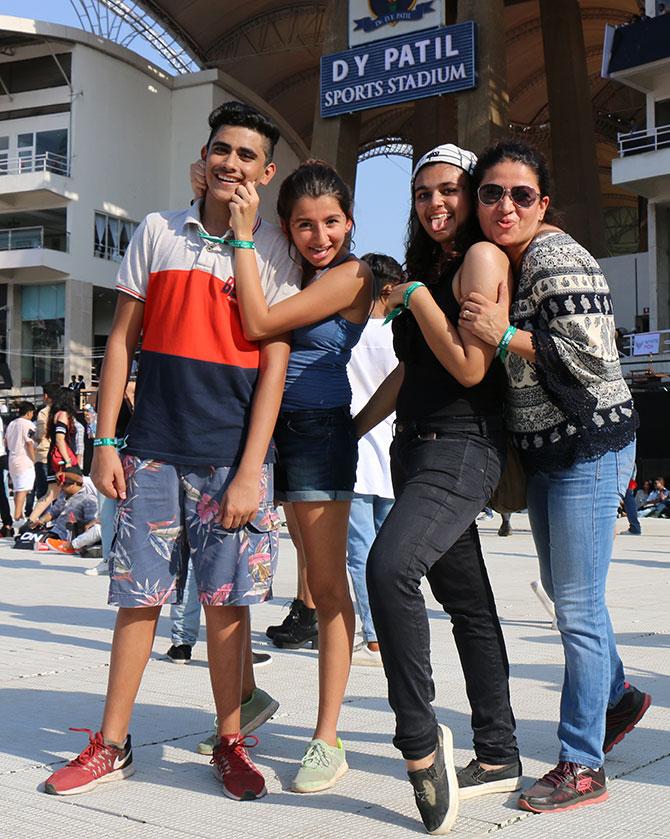 Pune-based Shaina, Lalaiya and Aman booked their concert tickets during their board exams.
"If we fail our boards, it's on Justin Beiber," they exclaim.
They sing and dance on the road, under the scorching summer sun.
"We are hyperactive. We remain the same till 1 or 2 am," they say with a laugh.
Aman is the quieter one. "I try to control them," he grins.
One of the girls' mother Guneer has come with them. But she has got left behind in the crowd.
When we spot her, we tell her that Justin Bieber might be responsible for low exam scores.
"This is the last concert she is going to till she finishes her major!" Guneer threatens, good-naturedly.
She adds, "This is their first concert and it's during the holidays, so it's fair enough."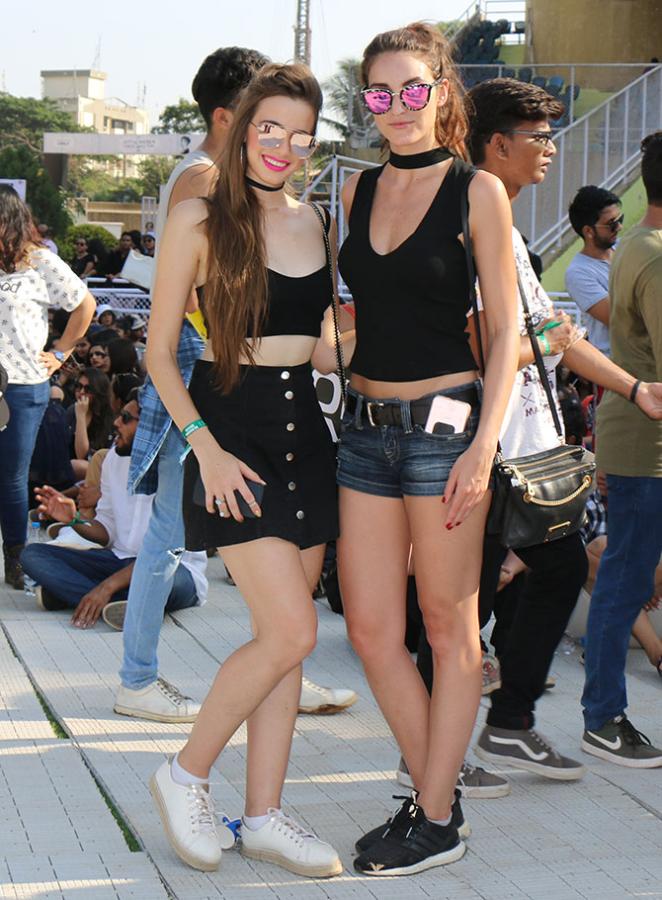 Brazil's Naomi and America's Yovana make sure they make it to the concert. Both are models who work in Mumbai.
How are they coping with the heat?
"We are trying to find shade! Also, we love ice cream and cold drinks. We drink a lot of water," they reply.
Then, they can't help but add: "We love Bieber... so much!"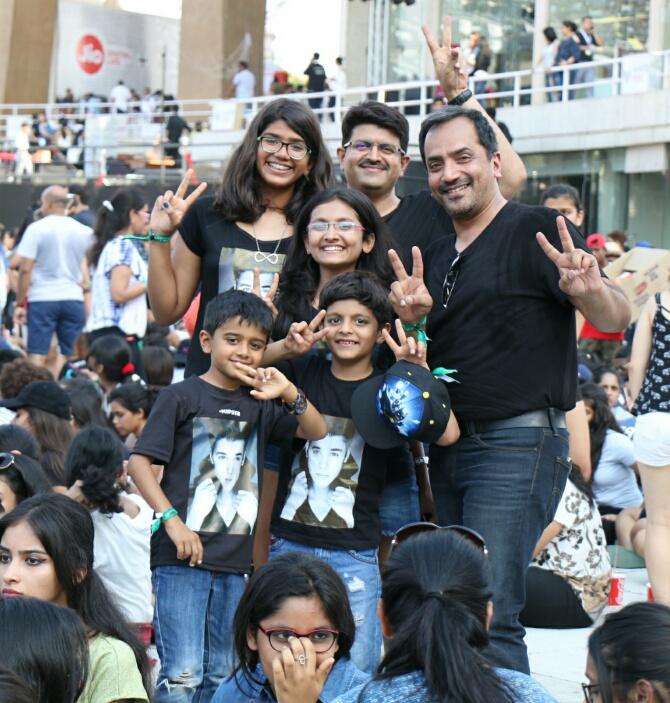 Aarin, 7, Aditya, 8, Anushka and Saloni, both 13, have come with their parents, Nimit and Snehal.
The kids are terribly excited.
"It all started when Anushka and Saloni made us buy tickets. But all of us are big Bieber fans," says Snehal.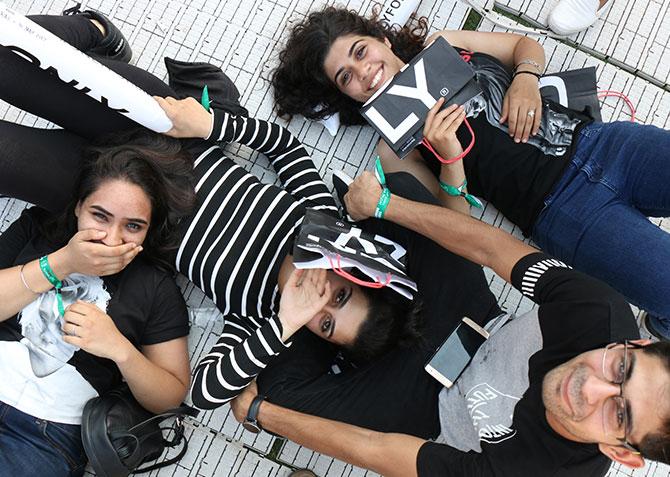 Simran, Pearl, Akshay and Tinaz lie on mats as they wait for the Canadian singer.
They have come from Pune, and reached the venue as early as 11 am!
"We are saving on energy. That's why we're lying down," they explain.
They have been planning this concert trip for the past two months.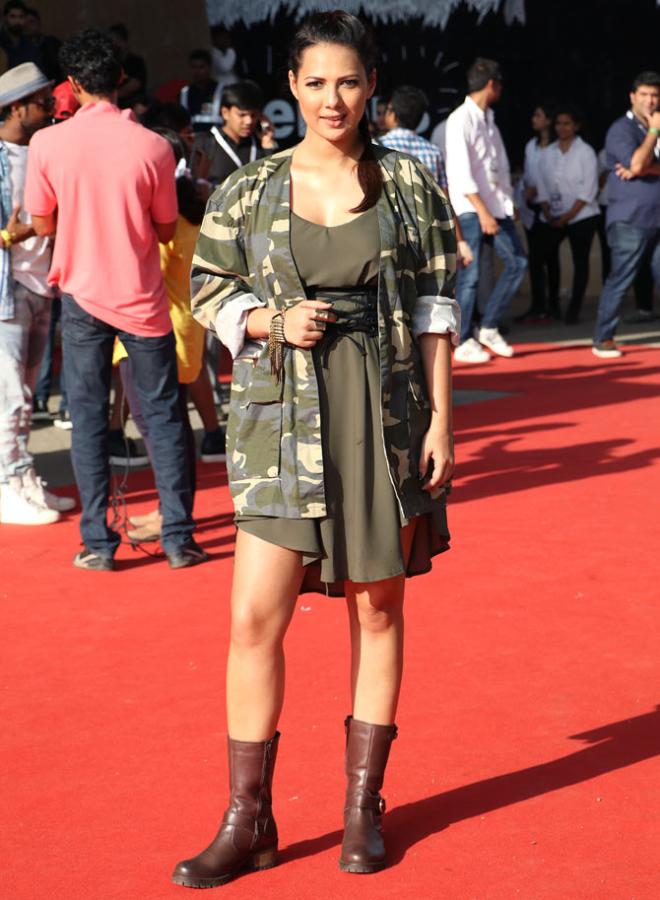 Former Bigg Boss contestant Rochelle Maria Rao is a major Bieber fan. "One of the perks of my job is that I get to be around these events!" she laughs.
Her favourite songs are Sorry, What Do You Mean and Purpose.
"Purpose is a deep and meaningful song, so I like it," she says.
Dressed strikingly, she is wearing a military jacket over a dress, her hair is done neatly.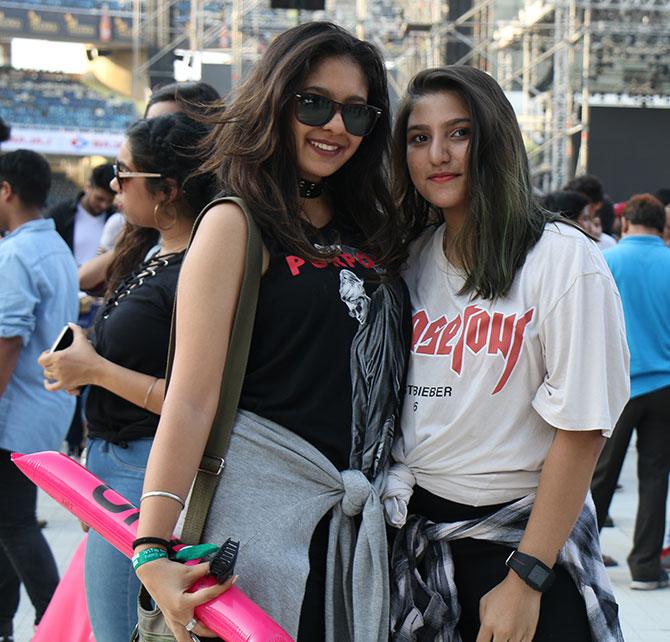 For Sara, a junior college student, the concert is a birthday present to herself.
"It's been my dream to attend this concert!" she gushes. "I have been waiting for this day. Fortunately, it's on my birthday!
Knowing what a loyal Belieber she was, her father woke her up one morning and showed her an article in the newspaper. It said Justin Bieber will be performing in Mumbai on May 10.
"I almost passed out, I am not even joking! I started crying. I couldn't believe it," she says.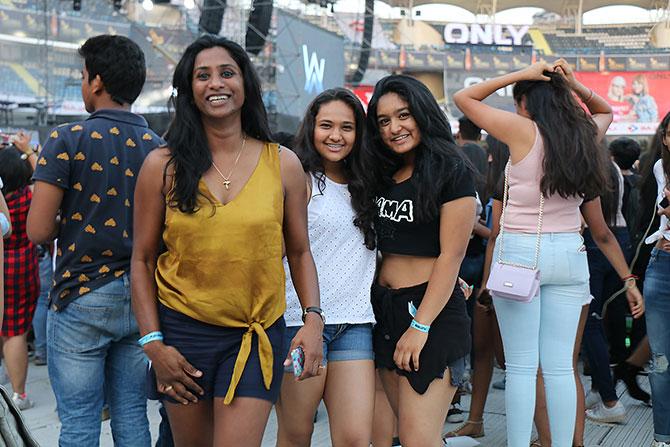 Shiny Varghese, a sportswoman from Pune, has come for the concert with her daughter, Shivani and friend Radhika. They will return to Pune right after the concert.
They paid Rs 15,400 for one platinum ticket.
Is it worth it?
"Yes, it's a lifetime experience. You buy it just once. We thought rather than taking the kids to a more crowded place, this would be better for them," Shiny says.
Since Shiny is sitting alone, we sit down and chat for a while.
Thanks, Shiny, for that conversation and, of course, the ice cream!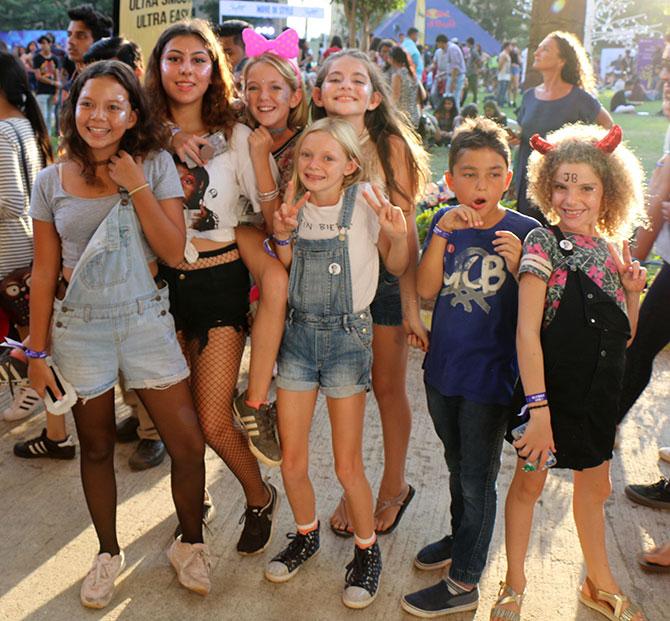 See the excitement in the faces of Maya (in black) and her family and friends! They sang their favourite Bieber song for us.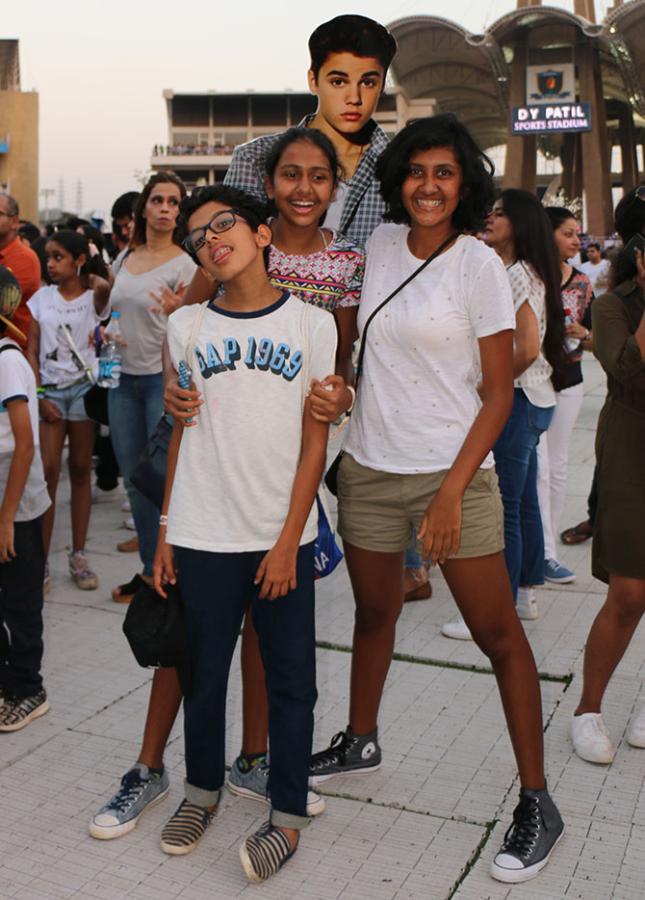 Renee, Raaina and Aaditey, all students from Mumbai, got a cut out of their favourite along, hoping to catch his attention during the concert.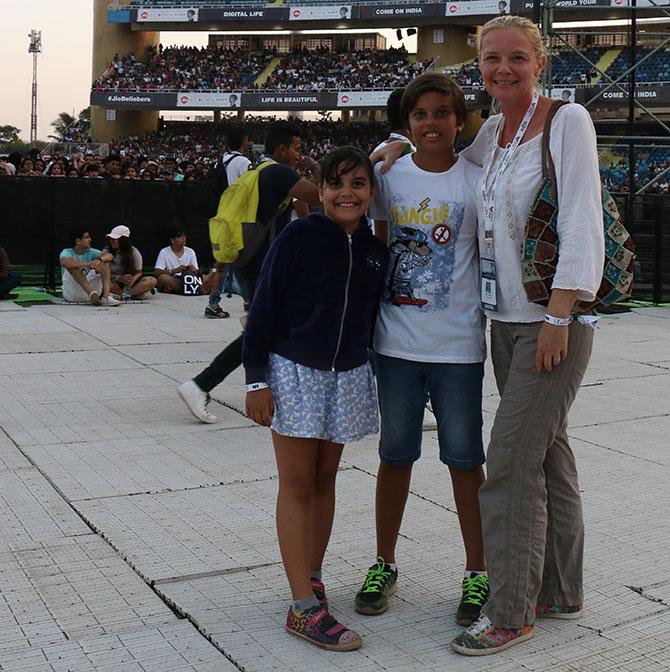 The little girl Eran D'Souza, is dancing and having fun. 'My favourite song is Cold Water,' she says. She is waiting for him to be on stage. Liam, in the white tee, says, 'I don't know any.'
'Liam...' his mom says giving him a look.
'Really mom,' he replies.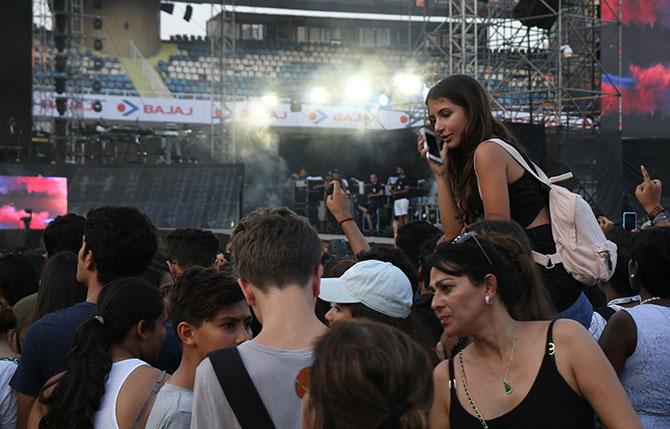 A father gets his daughter the best view. From his shoulders. A total aww moment, isn't it?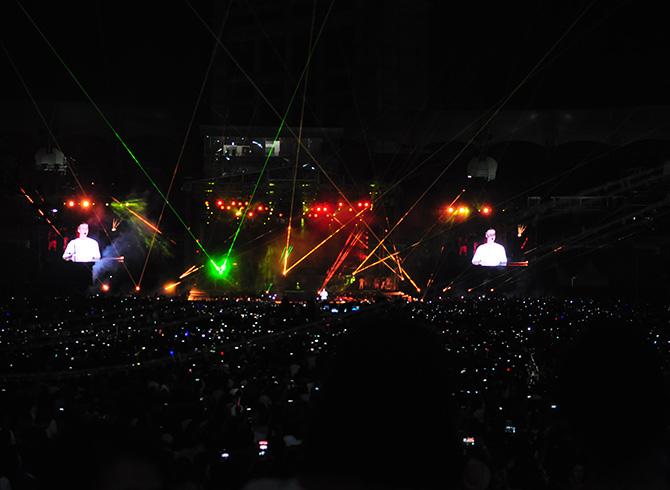 60,000 are expected. It seems like they all came -- the grounds and stands are packed with Indian Beliebers.
Photographs: Rajesh Karkera/Rediff.com and Dominic Raja/Rediff.com