Shoojit Sircar takes Rediff.com's Ronjita Kulkarni behind the sets of October, and right inside his beautiful mind.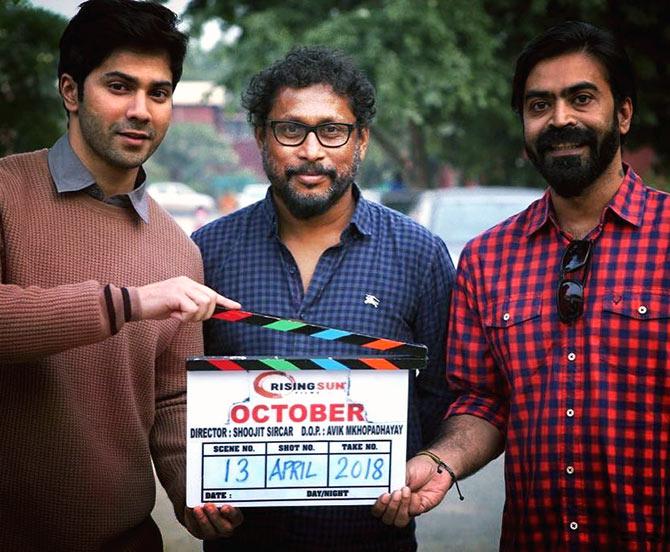 One of the most moving moments in Shoojit Sircar's October is when its lady protagonist opens her eyes for the first time.
Shiuli, played by Banita Sandhu, has been in a coma for a couple of months after she fell off a terrace. She has been mostly non-responsive, but one day, miraculously, she opens her eyes.
The only thing she can move are her eyeballs -- from left to right, and vice versa -- and that is the only way she can respond to questions thrown at her.
It is an important scene in the film.
And it took more than three months of rehearsals to perfect it.
It was the toughest scene to film for Director Shoojit Sircar.
"I was very concerned about that scene because that is when she first responds, but she cannot move anything," Shoojit says, looking back.
"Banita did three or four months of meditation and would look at one point for 20 to 30 minutes. She cannot even blink; she had to slowly move her eyes left and then right. During the shooting, I would stand behind the camera and move my finger left and she would follow. Then I would move right.... it looks very easy, but it is very complicated."
This life of a comatose patient is one Shoojit knows well.
"My mother was comatose, exactly like how it has been shown (in October), for three-and-a-half months," Shoojit says. "It happened in 2004; I was in my 30s then."
Shoojit's mother had a stroke and was hospitalised in Delhi where they then lived.
"In those three-and-a-half months, I was completely cut off from the rest of the world," Shoojit says.
He had just finished shooting his first film Yahaan, starring Jimmy Sheirgil and Minissha Lamba, and was busy in the editing stage. Yahaan released the next year.
"It was just a thought that I gave Juhi (Chaturvedi, his longtime writer and friend) to create a film like the relationship between a mother and child. A mother does a thankless job; they take care of their children unconditionally. I wanted that unconditional love," Shoojit says.
Juhi came up with the story, and the first draft was written in 2016.
"Anyone who has gone through an ICU experience will find a lot of similarities with what Dan (played so impressively by Varun Dhawan) or the mother (Gitanjali Rao, another fabulous performance) go through," says Shoojit.
"I love to do subjects that are very common, relatable."
***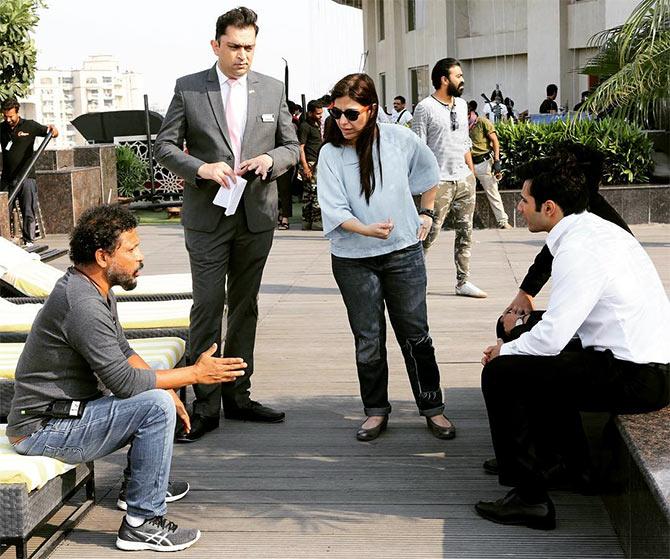 October is the story of a hotel management intern Dan whose life changes dramatically when a co-intern Shiuli falls off a terrace.
'Where is Dan?' she asks just before she falls, and while there is no deeper meaning in it, Dan cannot get over the fact that her last words involved him. He takes care of her selflessly, unconditionally.
It is a role Varun Dhawan has never done before.
What made Shoojit cast him?
"I have never seen any of Varun's films, just glimpses," Shoojit reveals, as he sips tea and nibbles on biscuits at lunch time.
"He came to meet me and I actually saw Dan in him. I was watching his behaviour. He was clumsy, honest... his eyes spoke a thousand words of innocence. And he is like that. He's a lovely person if you meet him."
"I realised that he's not like what I perceived him to be," Shoojit adds. "He is a very normal guy. He is also hungry and wants to do a lot of things. So I took that chance and I started preparing him."
"I introduced him to the world of meditation. I told him he had to be very calm. Everything did not have to be performed or underlined or overdone. It had to be restrained. That was a challenge for me as well," he says.
Varun was not allowed mobile phones and was cut off from the world.
While Varun was an experienced actor, Banita was a newcomer.
Shoojit knew her, as he had directed her in an advertisement.
"Her role needed someone who could speak through the eyes," Shoojit says. "When I met her, I felt she was so mature at 19. She would convey her feelings through her eyes. She is from Wales, and has no idea about India at all. She was brave, ready to jump in."
Gitanjali Rao, who plays Banita's mother, is also new to acting.
"Gitanjali is an animator!" Shoojit exclaims. "I worked with her in a commercial where she appeared for five seconds. When I told her I wanted to work with her, she was shocked. She asked me, 'Do you think I can act?'"
"I wanted a face where you just had to see it and feel that it was so motherly. And she did it marvellously," he add.
***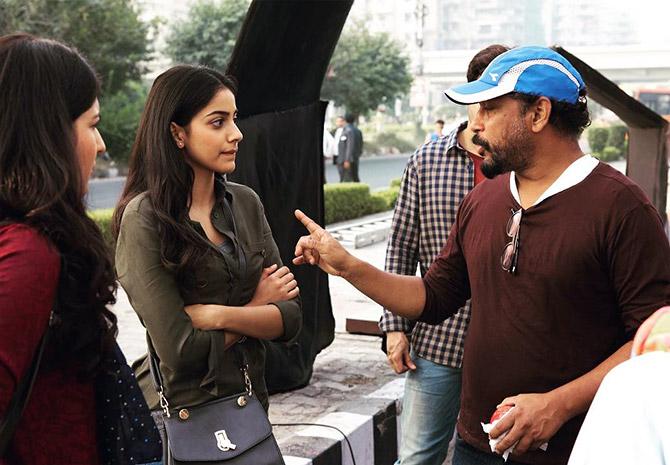 One of the biggest challenges Shoojit faced while making October was to restrain himself because the film could have become very melodramatic.
"Also, I had to keep the pace what a coma patient goes through; what it feels like to wait 24 hours every day in the waiting room for months and months, just hoping for a miracle. That hospital becomes your home -- your first home, not your second. Whoever has gone through that will tell you," Shoojit says.
The second challenge, he says, was to create the ICU environment.
"We had to make it look like a buzzing ICU, the sights, the sounds from the ECG etc. We did not shoot it in an actual hospital, but it had to look real," he explains.
Bringing Varun down to Dan was another challenge.
"We have forgotten to be normal. We must *be* normal, not *act* normal. We should not go overboard for everything," Shoojit says.
The director, who has five releases to his credit, prepares his actors in different ways.
"With Irrfan, you don't have to do anything," he says of his Piku actor. "It's just talking to him. I don't have to make him act; he's a brilliant actor. But I have to fill his hard disc with a lot of information, so that he can process it nicely."
"Even with Deepika (Padukone, who also starred in Piku). She has done scenes in one or two takes. Sometimes actors get irritated with me, they feel I talk too much. But that's my job. I have to make sure they react right," Shoojit explains.
Shoojit has worked with Amitabh Bachchan the most, in films like Piku, (his production) PINK and his unreleased film Shoebite.
"Sir believes in hours and hours of rehearsals. He discovers himself with each rehearsal. He will listen to you. He will read each and every word of the script, and he will make sure that the meaning of each and every word comes out in his performance," Shoojit says.
"It is a very good working relationship. We have no other agenda in our life. He loves to work and I love to work," Shoojit says with a laugh.
"If I write a good character, I go to him first. When I wrote October, I first narrated it to him. Even for Piku. In PINK, I just took a chance and asked whether he would do it. He said yes in a minute."
***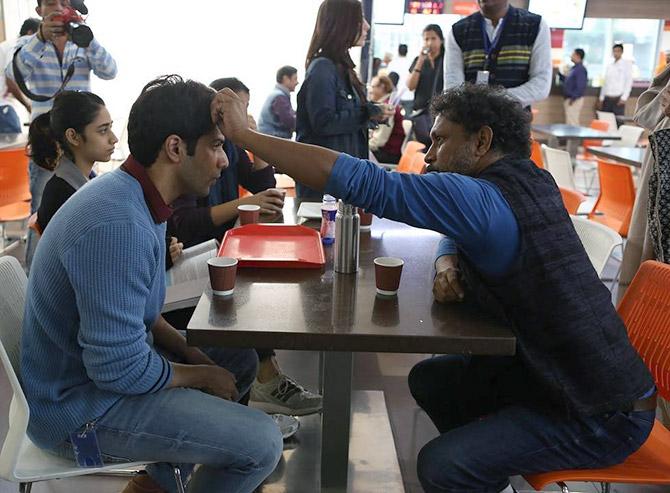 Shoojit isn't afraid of telling stories, no matter how unique the story may be.
"If the story or script inspires me and is worth it, and I am in a comfortable zone, if it is challenging to me, I will go for it," Shoojit says.
"My approach is this: Will I be able to do justice to the story, the characters, and the mileu they are in? Will I be able to tell the story in the way that I have visualised it? That is my challenge. My challenge is not whether the story will work."
The director encountered several challenges while making his kind of cinema.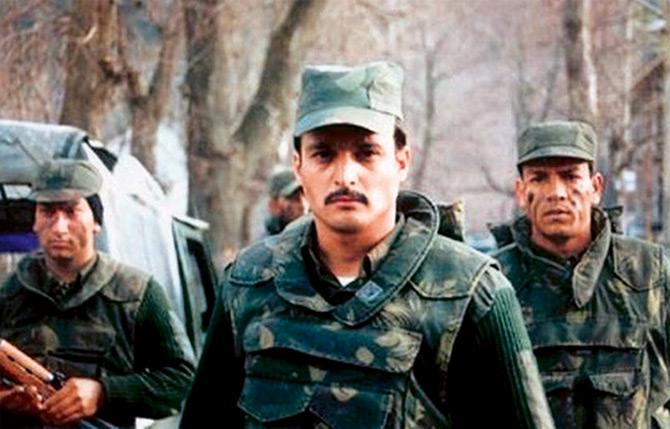 He started his career telling the story of Kashmir with Yahaan.
"The first film is always a challenge, and I succumbed to a lot of things," Shoojit says.
"The biggest challenge was to release the film. I come from an ad background, so making a film for me is very easy. But I didn't realise that releasing a film would be so tough. It is tough to make a producer, distributor, people to believe in your first film."
He followed it up with Shoebite, a film starring Amitabh Bachchan, which has still not released.
As Shoojit started it in 2006, his mother's hospital experiences were still on his mind.
"I dealt with a similar subject; there is a comatose element in Shoebite," he says.
It was the first time that he collaborated with Juhi Chaturvedi and Amitabh Bachchan on a film.
"When we went to Mr Bachchan with Shoebite, he liked the subject, but he wasn't sure, as he hadn't seen anything from me. Jayadi (Bachchan) had seen Yahaan because she was in touch with Gulzarsaab and he had written the dialogues. So he had suggested that she watch the film."
"She did, and she liked it, so she recommended it to Mr Bachchan. So he watched it, saw my work," Shoojit says.
"We started meeting him and talking to him. He is so experienced, he can gauge a person while talking to him, so he probably did that. He also wanted to work with young directors."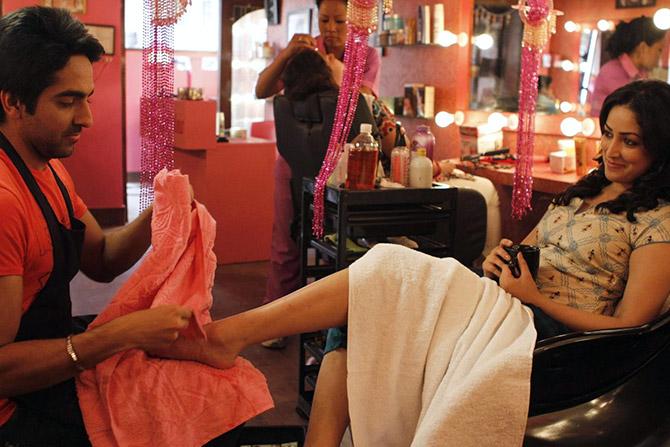 Six years later, in 2012, Shoojit made Vicky Donor. Starring Ayushmann Khurrana, Yami Gautam and Annu Kapoor, the film was about sperm donors.
"I thought people would just throw the film right out. Sperm donation! In our society! People will say Shoojit Sircar has gone mad. He is making a third rate comedy slapstick," he says with a laugh.
"My biggest challenge was how not to make it replusive for people... like when the nurse gives him the bottle (to collect the sperm)," he continues, laughing louder.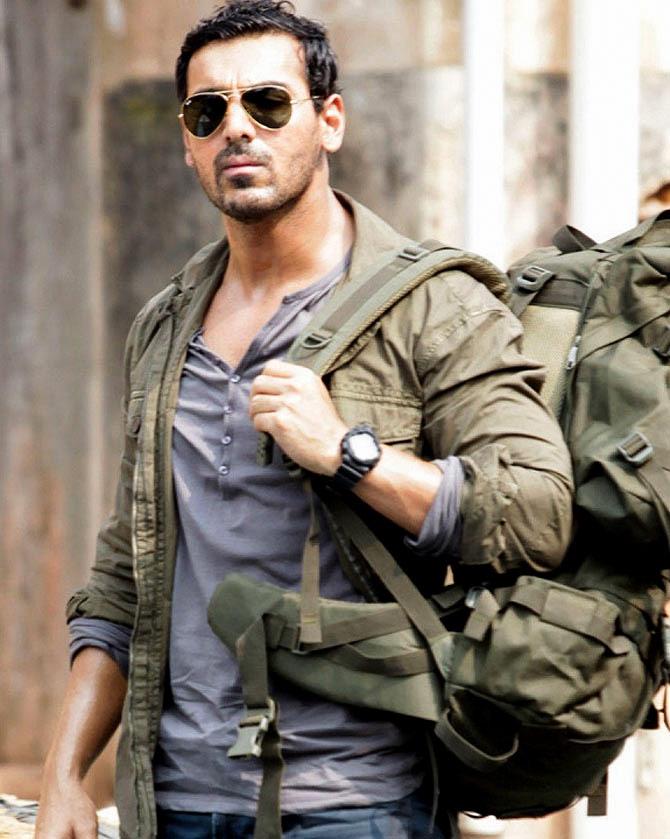 The next year, he made Madras Cafe with John Abraham, set against the LTTE conflict in Sri Lanka and the Rajiv Gandhi assassination.
"Madras Cafe was the toughest script to write," he says. "We were walking on a thin line because of the political backlash. Also, how does one make a political film interesting? It is the longest time I have taken to write a film. Even when it came on the table, there were a lot of discussions and debates about it."
"I could not name real people and yet give a feel that it is a real event. People who have lived through that era, people who know what happened in Sri Lanka, what happened in India, what happened in Tamil Nadu, they related to it," he adds.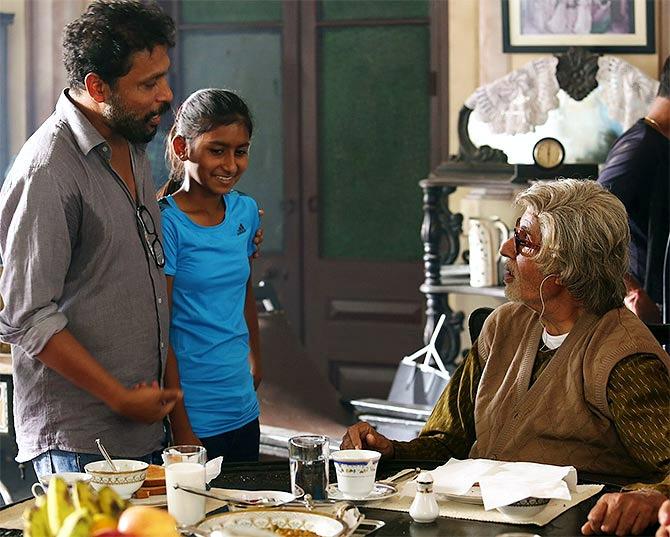 In 2015, Shoojit made Piku with Deepika Padukone, Amitabh Bachchan and Irrfan, where the elderly man compared everything in his life to constipation.
"The death scene at the end is the toughest," Shoojit says. "I was wondering how to handle it. That scene needed a maturity because in the entire film, the father and daughter fight, and he is constipated, but finally, they are father and daughter. And now, she would be left alone."
"Also, I did not want to be melodramatic, but restrained -- be calm, celebrate death, and move on. And then it moves to the badminton scene."
"There was a lot of pressure from my close friends to show Deepika and Irrfan together, sitting, going in together into the house. But I thought why not finish the film with a game of badminton? And that is what I did. Because these relationships also happen. They don't have to end in some sort of finalty," he says.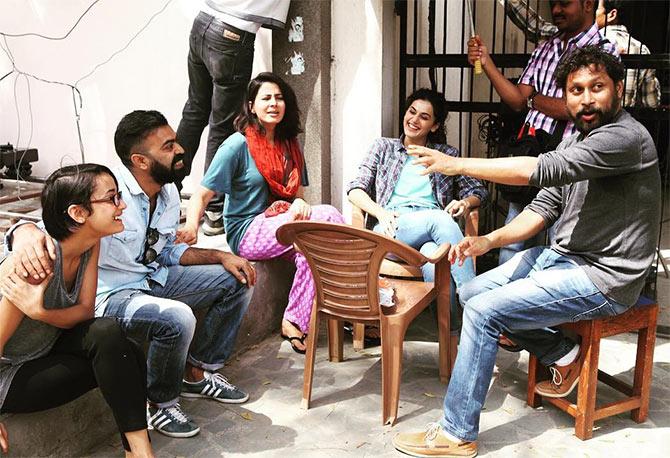 PINK was directed by Aniruddha Roy Chowdhury. Shoojit was "deeply involved" as the creative producer.
Starring Taapsee Pannu, Kirti Kulhari, Andrea Tariang, Amitabh Bachchan and Piyush Mishra, the film was about three girls who fought a case against their sexual molester.
"How to bind the case not with logic, but with morality. How to prove the case with morality that no, these girls were not wrong," Shoojit says. "The toughest decision was to take the last scene, which also is the first scene, and take it to the end of the film. Show what actually happened in the room and let people perceive the three girls the way they want to."
***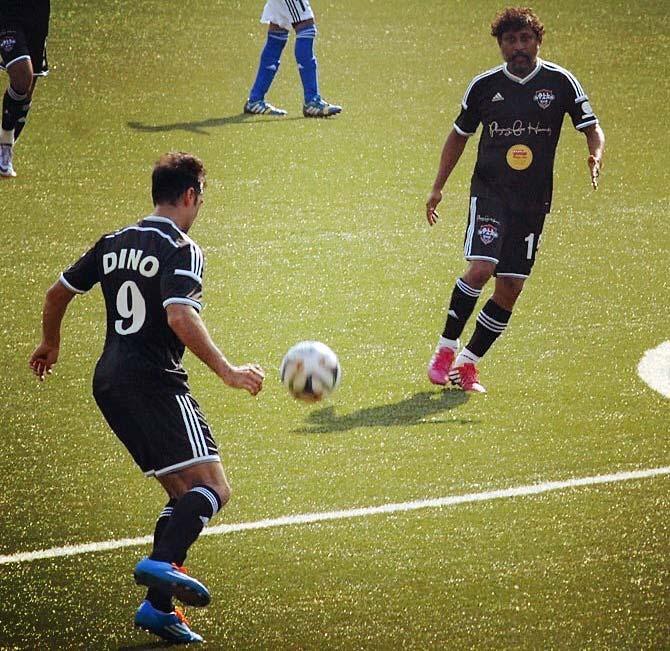 How does Shoojit Sircar unwind after making such insightful movies?
"I play football," he answers with a grin.
The director is part of the All Stars Football team with Ranbir Kapoor and Abhishek Bachchan, and will be playing in Singapore soon.
"A lot of my friends say, 'Don't play, you will get injured, you are an old man', but I still play," Shoojit chuckles.
Shoojit had a passion for football right from his college days.
Direction, on the other hand, happened by accident.
During his third year in college, Shoojit took up a job in the accounts department at the Le Meridian hotel in Delhi for 18 months.
"That is why I know the hotel industry very well. That experience helped me a lot on October," he says.
Then, he saw a play and joined a theatre group.
"I had nothing to do with theatre, but I get sucked into things. So I got sucked into theatre, and left my job. Then I realised that theatre does not pay any money!" he says, laughing.
He went on to do odd jobs like being an production assistant.
Things changed when he got married in 1999.
"My wife Jhuma said why don't you make films. So I started studying films. I learnt on my own, that is how the journey started," he says.
He went on to assist Siddharth Basu on his quiz shows and Pradeep Sarkar.
"Making ad films also happened by accident. I wanted to make films, but I got an ad. It was good money. It is also a good way of brushing your skills and learning the technical side," he says.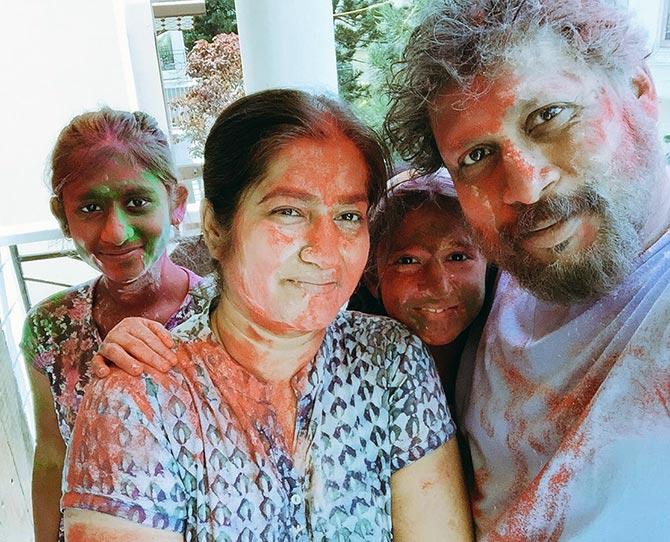 "Jhuma contributes a lot. She is my life and inspiration. I discuss everything with her. She gives me profound suggestions and is a good critic," he says.
One of Shoojit's biggest inspirations is Satyajit Ray.
"When I was in school and college, I never understood Ray's films. I would go to sleep (watching his films). But when I started doing theatre, and started studying films, I revisited his films and realised how modern he was."
"His films are so contemporary. You can relate to his films even now. I always say he is my mentor, my Bible," Shoojit says, and it hardly comes as a surprise.
The first thing you notice when you enter his office in Juhu, north west Mumbai, is a framed poster of Ray's first film, the legendary Pather Panchali.
What is an average day for Shoojit Sircar like?
"I cook every day if I am home, and take care of my daughters (ages 12 and 15). I play football, and do research," he says.
Shoojit relocated to Kolkata in 2010 to keep his daughters away from Bollywood.
"It was a conscious decision of going away from here. I didn't want the film world to affect my children."