Karan Johar's Student Of The Year 2 has a fun launch.
Videos: Afsar Dayatar/Rediff.com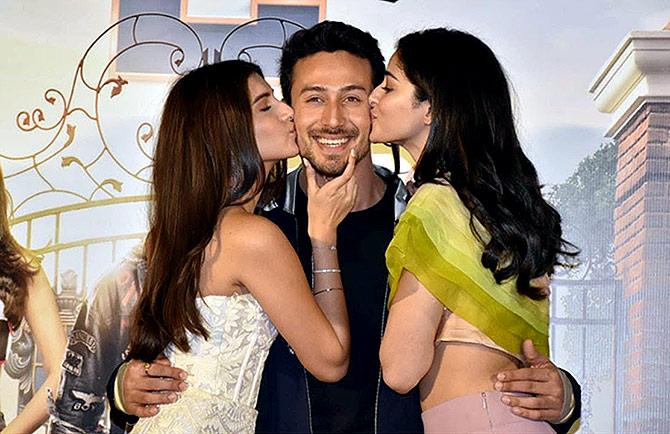 Two stunning looking girls stepped onto the stage and kissed a handsome hunk.
Before you think this is some annoying form of PDA, the three people involved were Tiger Shroff, Tara Sutaria and Ananya Panday.
And the occasion was the trailer launch of Student Of The Year 2.
Tiger, clearly, was hugely popular and producer Karan Johar wasted no time teasing him as he asked him to stand between the two girls before promising, a little later, to get the always-say-the-right-thing Tiger to say some "wrong" things as well.
In between though, he had a rush of "daddy" feelings.
Watch the video below to find out why.
Student Of The Year 2, directed by Punit Malhotra, will see two young debutants -- Ananya and Tara -- on the big screen.
At the launch, the two girls showed no signs of nervousness.
In fact, they were perfectly willing to join in the Tiger-teasing and called him the "biggest brat" in SOTY 2.
Later, Tiger was asked, "So when a girl calls you princess..."
To which Jai Hemant -- yes, that's Tiger real name -- had a pretty cool answer.
And, oops!, did director Punit Malhotra, just reveal a big secret about the film?
Considering the electoral fever in the country, the journos had to try and get a political question or two.
But Karan Johar -- protective about his little brood -- was quick to nip that in the bud.
He was quite happy, on the other hand, to answer a question about Will Smith who danced to Radha (the song from the original SOTY).
Will the Hollywood star be in the film as well? Well, Karan wants you to wait and watch.
To make up for not sharing that bit of info, he instead revealed an interesting nugget about Alia Bhatt, the star of the original Student Of The Year.
If the girls thought they could escape the ribbing, they had to have a second thought coming.
No, she said, no link-up with Tiger but definitely link-up with the co-star of another film...
Aaah... who, Karan immediately wanted to know (for those who haven't caught up with the filmi gossip, Ananya stars with Kartik Aaryan in the remake of Pati, Patni Aur Woh and rumours linking the two have been swirling).
It was Ananya's turn to blush.
And Tiger learnt a sweet something about his father, Jackie Shroff, that he did not know earlier.
Student Of The Year 2, Karan reminded everyone, releases on May 10.