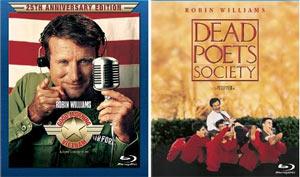 Get ready for the Blu-ray versions of Robin Williams' Good Morning, Vietnam and Dead Poets Society.

Two of Robin Williams' brilliant movies Good Morning, Vietnam and Dead Poets Society will be available for the first time in Blu-ray, marking the 25th anniversary of the former film.

The luminous new editions not only bring extra smile (and in the case of Dead Poets Society a few tears too) and waves of nostalgia to the older moviegoers but also offer an opportunity for a new generation to discover a comic genius who is now in box office wilderness.

If you view the two films one after another, you will get a chance to admire the acting range of Williams and how he can emote powerfully when the script demands it.

Directed by Barry Levinson, Good Morning, Vietnam was a worldwide hit even though some of the American army humour did not connect with audiences outside USA.

The story is about an Armed Forces Radio disc jockey (Robin Williams) whose manic, hilarious delivery from a studio in 1965 Saigon changes the serene airwaves and gives US troops in the field a morale boost but his irreverent humour, and use of rock and roll tunes upsets the staid military brass.
The film is based on the real-life experiences of deejay Adrian Cronauer, but as many critics including Tom Keogh have pointed out -- 'The film is actually more concept than story: put Williams in front of a microphone and let him go nuts.' The film is a great example for how laughter can be a powerful weapon even in the most distressing situations. Williams got his first Oscar nomination for this film and he won the Golden Globe in the best musical or comedy category. Bonus features including two theatrical trailers and a production diary, and the outtakes from Williams' 'raw' monologues. The 35-minute production diary features Levinson, the screenplay writers and Cronauer himself offering revelations about how the film digressed from Cronauer's actual experiences in Vietnam. There's a lot about filming in Bangkok, and fun scenes of  Williams is playing baseball with the extras.
The best extras in
Dead Poets Society
, the 1989 tear-jerking hit, is the commentary with director Peter Weir, cinematographer John Seale and writer Tom Schulman.
Williams plays John Keating in
Dead Poets Society
, an English professor who encourages his teenage students to find their own voices at a strict all-boys' school in 1959.
As was the case in
Good Morning, Vietnam
, in this film too the authorities frown upon the free-wheeling spirit of Keating just as the students are discovering their voices and self worth.
When an unexpected tragedy strikes the school, Keating faces mountains of turmoil but in the final reckoning, there is a sense of liberation. 
Though some critics found the film to be too melodramatic, it still got a lot of acclaim. Williams was nominated for an Oscar and the hit film was also nominated for Best Picture, Best Director and won for Best Screenplay.
'While
Vietnam
director Barry Levinson let Williams go wild,
Society 
director Peter Weir asked him to dial back,' observes critic Keogh. 'You will hear that and more during bonus features on each film's disc.'
The bonus features for
Society
offer individual commentary by the director, writer and cinematographer. Tom Schulman  explains how the movie came about and why he chose certain lines. Don't miss the 'raw takes' featuring Williams and the "boys".
A Look Back
, filmed many years after the film was made, features some prominent artists including Ethan Hawke and  Robert Sean Leonard review their involvement.