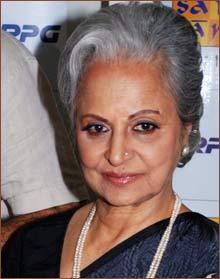 Veteran actress Waheeda Rehman, who was last seen in Rakeysh Omprakash Mehra's Delhi 6 in 2009, says she is not very keen to return to films anytime soon.

Considered one of the most beautiful and talented actresses that Indian cinema ever had, Rehman has starred in classics like Pyaasa, Kaghaz Ke Phool, Guide and Khamoshi.

But acting has taken a backseat for the 76-year-old star, who is busy with other things in life.

"I don't have a movie for now. I will think about it when anything interesting comes up. Honestly, I am not very keen to do it. I am busy with other things in life," Rehman told PTI.

The 76-year-old actress is being honoured with a Lifetime Achievement Award at the 14th Mumbai Film Festival, which started on October 18. Rehman says she is happy to get the award from her favourite artistes.

"MAMI's trustees are some of the best artistes from the industry like Shyam Benegal, Ramesh Sippyji and Shabanaji (Azmi). When they give an award it becomes special. I feel happy, humble and honoured," she said.
Asked about her opinion on the yesteryear actresses making a comeback, Rehman says it is still difficult for female stars in the industry.
"There is some change but it is difficult for actresses. After a certain age, when you are married and have kids your priorities change. If the audience has liked a mature film like English Vinglish, then it is great. I am so happy for Sridevi. Madhuri (Dixit) is also coming back. So it feels great. The change will come but it will take time," she says.
Going down memory lane, Rehman recalled how she opted for roles that were considered bold at that time.
"I never stopped myself from doing difficult roles. I remember, Guru Duttji had signed me for three years. I did CID and then I went on to play Gulabo's role in Pyaasa. I went on to play a courtesan in Mujhe Jeene Do and Teesri Kasam as well," she says.
Rehman was very young when Guru Dutt discovered her but the veteran star says she never faced problem in acting out a scene.
"I had learnt dance and the 'navras bhav' (nine emotions). It helped me emote well onscreen. And I think it is natural for some people. If you understand a scene well, it is not hard to translate it onscreen."
Rehman, however, recalled two scenes which she found difficult to do.
"There is a scene in Pyaasa where the heroine is reading the paper and she comes to know about the hero's death. I was required to scream and go down but I don't know what happened, I just could not scream. Guru Duttji was puzzled and said, 'Girls find it easy to scream and here she can't scream'. He then changed the scene and told me to crush the paper, close my eyes and slide down.
"Then there was a scene in Guide when I go to meet Marco (her husband in the film) in the cave. I have a fight with him, I slap and walk out. It was something I found very difficult to do."
Ask her about her favourite directors, Rehman says, "I had many great directors like Guru Dutt, Vijay Anand and Asit Sen, who directed me in Khamoshi. I feel lucky to have worked with Satyajit Ray. In the present generation, I have only worked with Rakeysh. He is a very sensitive director. I also like Sanjay Leela Bhansali, Imtiaz Ali and Karan Johar and Prakash Jha."