Swati Verma may be living in Mumbai but she is one of the most popular actresses in Bhojpuri cinema. Born to doctor parents, Swati parachuted into stardom soon after her maiden Bhojpuri film Sasurari Zindabad hit the marquee.
Having worked with Bhojpuri stars like Ravi Kissen and Manoj Tiwari, this young actress has carved an enviable niche for herself in Bhojpuri circles. A Science student with a diploma in Russian language, Swati knew her true calling was acting.
Unflinching parental support and self-belief catapulted her to limelight. Swati R Chaudhary learns more this budding talent.
Tell us something about yourself.
I hail from Bilaspur, Chhattisgarh, but my birthplace is Mumbai. My parents are doctors, and worked in KEM hospital, Mumbai, in the 1970s. Later, we shifted to Bilaspur. I studied Science since my parents, understandably, were keen that I take up medicine. I went to Russia, bagged a diploma in Russian language and also took to interior designing. I am passionate about horse riding, Kathak and western dancing. I also have a black belt in Karate.
So how did you end up romancing the arc lights?
I wanted to be an actress ever since I was a kid. I've done a few episodic serials like Ek din ki vardi (Sahara), Suraag (Sab TV) and Aryaman (Doordarshan Network). I also joined Kishore Namit Kapoor's acting school in Mumbai. I always wanted to act. I loved the adrenaline rush of facing the camera.
Were your parents averse to acting?
I somewhere felt daunted as the very prospect of acting. Hailing from a place like Bilaspur that is nowhere even distantly associated to glitz and glamour, acting did seem a bit far-fetched.
My parents were skeptical initially but looking at my determination and passion, they eventually gave in. I moved on only after they were thoroughly convinced about my decision to act. My parents were very supportive.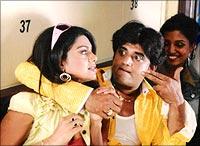 My brother Akshay Verma is an actor. He has a few South films to his credit. His forthcoming Hindi films include Memsaab and Doshi (as a villain).
How do your parents react when they see you onscreen now?
They are overjoyed by the acclaim I've received. I consider myself to be very lucky and blessed for having a family like this. They were very accommodating and even came down to Mumbai to be with me. My mother accompanied me for the premiere of my first Bhojpuri film, Sasurari Zindabad. They think I am doing well and were amazed at my growth from serials to the silver screen. Though I don't stay with them, I always make it a point to speak to them over the phone.
You stay in Yari Road, Versova. Any plans of shifting to Juhu, the pad of film actors?
No. I am more than happy to be residing where I am. I stay with my brother, his wife and my sister in Andheri.
What do your neighbours think of their 'star' neighbour'?
There's this perception in Mumbai that one doesn't care to know his neighbour. But my neighbours are very cordial and affectionate. They are happy for me and always wish me luck. People perceive you in a different light once you become a star. Now I get more love and attention. But I want to stay rooted and grounded. I will never let stardom get to me.
How much does a Bhopuri actress make?
It depends on the banner and the starcast. I started with about Rs 2 lakh, which increased gradually. It also depends on one's career graph.
Mohanji Prasad's Rasik Balma starring Ravi Kissen, Rambha and you is on the verge of release?
Yes. We intend to release it in the first week of July in Mumbai. It's a family film replete with masala and comedy. Ravi Kissen has an extra-marital affair with me in the film. I enter his life with a motive in my mind. It's on the lines of Main Meri Patni Aur Woh. It's very different from my character in Sasurari Zindabad where I bind the family together.
Rasik Balma has a thought-provoking message in the end. It brings to light the fact that a woman should have a life of her own. She should not be homebound all the time, catering to every need of her husband and children. And that the husband should spend quality time with his wife.
What else is happening on the professional front?
Sasurari Zindabad did exceedingly well in Bihar. So we are planning to re-release it in September all over India. I'm done with the shooting of Kunika Lal's upcoming film Maatti. Hamar Rajo Daroga No 1, opposite Govinda's nephew Krishna Abhishek, is almost complete. Some songs to be shot in Mahableshwar are left.
My fourth Bhopjuri film with Ravi Kissen titled Ek Chunma Dai Deb is also in the offing. Besides this, there's a Gujrati film coming up.
Can you give us some insight into Maatti?
Sunilji Prasad's Maatti produced by Kunika Lal stars Ravi Kissen, Hiten Kumar, Kunal Singh, Gunjan Kapoor, Gul, Kunika and me. It's brilliant script that had me in splits. It's a very different film for Bhopuri audiences.
Generally, Bhojpuri films are associated with masala and comedy but is very atypical in its theme and depiction. It deals with the lives of villagers. We shot it in Hajipur, Bihar, which is about two kilometres from Patna to give it that natural ambiance.
This is your fourth film with Ravi Kissen. Do you sense any changes in him post Big Boss, the reality show that made him even more popular?
He is still the same Ravi Kissen I first met on the sets of B R Chopra's episodic serial. Then after three years I shot for Sasurari Zindabad with him. I was shocked at the way he remembered some things about the serial. He always came across as a well-bred, down-to-earth guy.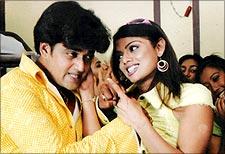 The Big Boss episode has made him even more humble and respectful. I wasn't adept at the Bhopuri lingo since it was my very first film. But he along with my director bailed me out. I think he has become more conscious of his career after Big Boss.
How is he to work with? Any interesting incidents on sets?
I have learnt a lot from Ravi Kissen. It's always been enjoyable working with him. He is quite a prankster at times.
Tell us something about your stint down South.
Symphony was my first Malayalam film with Riyaz Khan and Shiva Dhwaj. After that, I did an item number choreographed by Chinni Prakash. Then I went on to do many more films and item numbers. One of my upcoming films Kaalam Kalamai is on floors and will be released in Tamil and Telugu.
Is Bhojpuri more taxing? How do you juggle the two? Which do you prefer?
People in the South are more disciplined. You get your script on the first day itself. The shooting is from 9 am to 7 pm. Moreover, they pay amazingly well for item numbers! But item songs drain you out. 
There's a lot of hardwork as far as the language is concerned.
As for Bhojpuri, the schedule tends to go haywire sometimes. It becomes erratic and grueling at times.
Incidentally, there's no juggling involved. I believe in quality cinema and language is not an issue. A great script regardless of its language is my main concern.
Which according to you is your best performance to date?
It has to be Sasurari Zindabad hands down. Even my parents will vouch for it. Maatti is close to my heart as well.
Are you happy with the way your career is shaping up?
Yes. I've already worked with Ravi Kissen and people have really appreciated our chemistry on screen. I'm being considered for some more offers with him and Manoj Tiwari.
Showbiz involves a lot of competition, and it is an ongoing struggle to better yourself. When I joined the industry, I was an amateur. I didn't know the tricks of the trade. But now I've leant to manipulate.
Bhojpuri cinema is gradually evolving and being recognised. It's wooing Bollywood stars like Amitabh Bachchan, Hema Malini and Ajay Devgan. By God's grace, it's been an enriching journey. I hope to do better work.
No Bollywood dreams?
I do have two-three Hindi films in the pipeline though nothing has been finalised. I am waiting for a good Bollywood break.