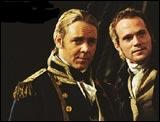 Making strong waves at the box-office and humbling the far more expensive Master And Commander: The Far Side Of The World, the feel-good comedy Elf shot to top position in its second week in North America.

The film stars Will Ferrell as a young man who suddenly discovers he is not really an elf and travels to New York City in search of his human father, leaving behind the elf family that had brought him up. It earned $27 million, having come down by about 13 per cent from the previous week. Expect the film, which has made Ferrell a sudden star, earn at least $130 million.


The Russell Crowe starrer
Master And Commander
, a sober and meditative sea adventure, earned a decent $25 million. But the critically acclaimed film directed by Peter Weir needs much stronger wind and a long journey if it has to earn back its $130-$150 million cost.
Based on two Patrick O'Brian novels about an intrepid British captain, the film mixed rousing action scenes, awesome vistas and gritty surgical scenes with a story of unusual and difficult friendship between a British captain and Irish physician.

The Matrix Revolutions fell by 66 per cent in its third week with a $16 million gross. At the current rate of attrition, the movie could fade away with just about $180 million in North America, about $100 million less than its predecessor.

Yet, it was the third highest grossing film of the week, followed by Brother Bear and Love Actually.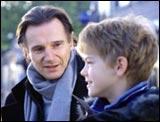 It was a mixed week for family films and comedies: Brother Bear continued to perform well. The ensemble sentimental comedy Love Actually headlined by Hugh Grant expanded from 576 to 1,177 theatres and enjoyed yet another good week.
But the competition proved too much for the Warner Bros comedy Looney Tunes: Back In Action, which opened at fifth position with $9.5 million. The movie, mixing animation and live action, stars Brendan Fraser, Jenna Elfman and Steve Martin alongside Bugs Bunny, Daffy Duck and other cartoon characters.

Family movie scene will get more crowded next week with the Mike Meyers' film, Seuss' The Cat In The Hat.

Tupac: Resurrection, a sanitised documentary about the pivotal hip-hop artist Tupac Shakur that depends entirely on the words of the murdered artist, played in about 800 theatres and earned a decent $4.3 million in three days. It was the ninth highest grossing film of the week, followed by Clint Eastwood's Mystic River, which should reach $50 million in about 10 days.

Meanwhile, Scary Movie 3 grossed $102 million and should be around for another month.
The box office this week:
Rank

Film

Weekend gross

Total
gross

Number
of weeks

1

Elf

$27 million (less 13% from the previous weekend)

$71 million

2

2

Master and Commander

$25 million

$25m

New

3

The Matrix Revolutions

$16 million (less 66% from the previous weekend)

$114m

3

4

Brother Bear

$12 million

$63m

4

5

Looney Tunes: Back in Action

$9 million

$9m

New

6

Love Actually

$8.8 million (plus 30% from the previous weekend)

$19m

2

7

Scary Movie 3

$6 million (less 40% from the previous weekend)

$102m

4

8

Radio

$5 million (less 25% from the previous weekend)

$43m

4

9

Tupac: Resurrection

$4.6 million

$4.6m  

New

10

Mystic River

$3.3 million (less 25% from the previous weekend)

$45m

6
Click here for More Box Office Reports