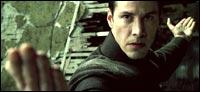 The big news wasn't that The Matrix Revolutions opened at the top but how the far less hyped Elf had a Christmas-size biz and how Brother Bear held strong despite competition for family crowds from Elf.
Equally fascinating was how the sweet comedy Love Actually stood up to several savage reviews from the likes of The New York Times and grossed $6.6 million in about 576 movie houses with an impressive $11,500 per theatre average and found itself on the sixth position on the chart.
The coming weekend will add about 600 theatres.

The Matrix Revolutions, with the seen-it-all and been-there kind of look, still managed to gross a formidable $85 million in North America in five days. Its worldwide gross reached $204 million for the same period. Given the enormous popularity of the series abroad, the film will make plenty of money. But don't expect the last instalment to beat its predecessor that made about $280 million in America and kicked up about $470 million abroad.
The honchos at distributor Warner Bros correctly pointed out that the second Matrix film, which opened four years after the first one stunned audiences worldwide, began on a massive note six months ago and earned 45 per cent more than the latest film in five days because of the great must-see-soon excitement it had generated.

When the eagerly awaited Master And Commander: The Far Side Of The World, in which Russell Crowe plays a complex, courageous sea commander, opens on November 14, The Matrix Revolutions may receive a mighty blow.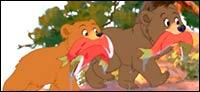 The hilarious comedy, Elf, about a kid brought up by an elf family who goes in search of his biological family in New York soon after learning his true identity, was the second most popular film in North America with a $32 million gross. But its big opening did not send Brother Bear, an animated Disney fable in which a boy turned into a bear has to learn key lessons about co-existence and letting things go, into oblivion. Proving that there is room for two big family movies right at the top, Brother Bear dipped only by 4 per cent from its weekend and ended up at the third position with a $18.6 million gross.

The British ensemble comedy Love Actually, which carries an R-rating because of nude scenes and adult dialogue, binds together nearly a dozen stories revolving around the theme of love conquering everything. Some critics found it too sweet and manipulating.
In the Times, AO Scott declared: 'more like a record label's greatest-hits compilation' or a 'very special sitcom clip-reel show than an actual movie.'

The film features Hugh Grant as a bachelor Prime Minister who falls for his tea-server. It had many supporters in the media too. In Chicago Sun-Times, Roger Ebert declared, 'Love Actually is too long. But don't let that stop you.' In Seattle Post-Intelligencer, William Arnold noted, 'The film is an audience-pleaser, but very calculated and far from (Richard) Curtis' best work.' And USA Today's Claudia Puig found it 'irresistible'.
The sparkling film was the directorial debut of Richard Curtis, writer of Notting Hill and many others.

Scary Movie 3, which was at the fourth place on the chart reaching $93 million, stands an excellent chance of crossing the $100 million benchmark by next week.

The sentimental saga Radio stood at the fifth place, followed by Clint Eastwood's suspenseful psychological drama Mystic River. At seventh position, Texas Chainsaw Murder was doing its own impressive killing and saw a $73 million total.

Reaching older audiences, the courtroom thriller Runaway Jury at eight position, is heading for $55-$60 million gross. Not a runaway hit but far from the turkey some box-office observers expected it to be.

The tenth film on the chart, the rousing comedy School Of Rock, still has many fans. The film may be around for couple of weeks, as more and more big movies will claim the screens in the holiday weekends.
The box office this week:
Rank

Film

Weekend gross

Total
gross

Number
of weeks

1

The Matrix Revolutions 

$50 million

$85 million

New

2

Elf

$32 million

$32m

New

3

Brother Bear

$18.6 million (less 4% from the previous weekend)

$44m

3

4

Scary Movie 3

$11 million (less 45% from the previous weekend)

$36.3m

3

5

Radio

$7.4 million (less 22% from the previous weekend)

$36.3m

3

6

Love Actually

$6.6 million

$6.6m

New

7

Mystic River

$4.8 million (less 22% from the previous weekend)

$40.4m

5

8

The Texas Chainsaw Massacre

$4.7million (less 45% from the previous weekend)

$73.2m

4

9

Runaway Jury 

$4.8 million (less 26% from the previous weekend)

$40m

4

10

School Of Rock

$3.1 million (less 30% from the previous weekend)

$73.5m

6
Click here for More Box Office Reports