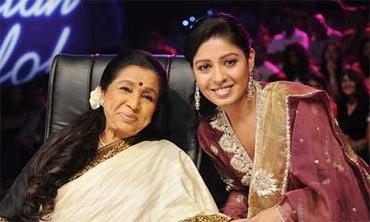 This season's Indian Idol seems to have all the surprises lined up for the elimination days.
All the singers with powerful voices seem to be bowing out like Vishwas, Yash Raj and this week's eliminated contestant Arpita Khan.
Arpita had been in the danger zone often and this time could not save herself. The other two contestants who joined her in the bottom three were Swaroop Khan and Shashi Suman. While Swaroop's entry into the bottom three can be understood considering the monotony surrounding his performances, one thought Shashi was a star performer.
Talking about star performers, this week Indian Idol was a star-studded affair with musical trio Shankar-Ehsan-Loy and living legend Asha Bhosle being present on stage to encourage the new singers. All of them seemed particularly happy with Sreeram and Shashi Suman's performance.
Asha Bhosle came with musical assistants of legendary music director (and her husband) Rahul Dev Burman. The assistants -- Manohari Singh, Kancha and Homi Mullan -- created the same magic on stage that they used to in the recording studios.
Expectedly, and thankfully, a lot of R D Burman numbers were sung this time. The ever-confident and soothing Sreeram changed his style slightly as he sang the evergreen Mohd Rafi number Aaja Aaja Main Hoon Pyar Tera from Teesri Mazjil. He was almost flawless that the judges -- Salim Merchant, Anu Malik and Sunidhi Chauhan -- went gaga over his performance. There is something about Sreeram and the effortless ease with which he carries on his performance that differentiates him from the rest. Interestingly, Sreeram also did a little jig while singing -- something not seen before, which Sunidhi Chauhan liked.
Next in line was the handsome Naushad Kawa who sang Samundar Mein Naha Ke originally sung by RD himself. The number is one of the most difficult ones to sing because it does not follow a set pattern in terms of rhythm or tune. Naushad did a reasonably good job with it. The judges liked it all the more because Sunidhi had challenged him to sing something other than Sufi numbers. It was a good and welcome change. In fact, Asha Bhosle even joked that how come Naushad was singing this song, since this was not a Sufi number!
But Rakesh Maini and his rendition of Tumne Mujhe Dekha got a standing ovation from the audience and Asha Bhosle. She even went on to say that she could see Mohd Rafi in him! Rakesh, who has improved every week, became very emotional, which prompted Anu Malik to comment that he could be the next Idol. (Hasn't he said that before to other participants already?)
The attractive Bhoomi Trivedi was next in line and despite her style, did not do justice to the immensely peppy number One two cha cha cha from Shalimaar. None of the judges including Ashaji were impressed. She even asked Bhoomi to sing a different song to see her versatility. Bhoomi should take cognizance of the comments and work on them immediately because she is perhaps the only contestant who has the right stage presence and voice to make it to the top.
Folk singer Swaroop Khan changed his style and sang the romantic ballad Saagar Kinare. He tried hard, but it was just not his cup of tea. Both Salim Merchant and Sunidhi felt that he was lacking in presentation, though Asha supported Khan saying that he did a good job considering the fact that this was way different from his genre.
Swaroop also had surprise support in the form of cricketer Irfan Pathan who came on stage and asked him to sing Mehbooba Mehbooba in his own style which Swaroop did. It was different, though one would prefer Panchamda's version any day!
Tia's rendition of Ek main aur ek tu was next and quite sadly she failed miserably. Not only was she out of tune, she just could not get the feel right of this evergreen romantic number. Sunidhi was so upset that she asked her the reason for such a poor performance. Malik told Tia that she should not take the audience for granted and think that because they like her they will vote for her. Salim also warned her.
Versatile Shivam Pathak once again proved his talent when he sang Dil lena khel hain dildar ka from the movie Zamane Ko Dikhana Hai. He did a decent job, though Sunidhi, who didn't like his singing, asked him to work on his energy. Salim also felt the same. However, both Anu Malik and Asha Bhonsle liked it. Asha even went on to say that Shivam was very good with the tempo of the song, something which is not easy for a Pancham number. 
Shashi Suman wrapped up the contest by singing Aaja Meri Jaan in his own style. It was a decent performance though it drew mixed reactions from the judges. 
But the most memorable moment was when Asha Bhonsle sang Pyar karne wale from Shaan and Aaja Aaja from Teesri Manzil with all the contestants.