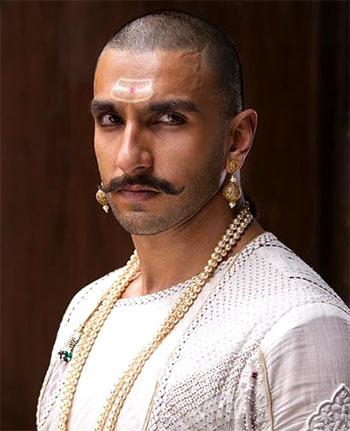 Bajirao Mastani is a big winter release worth looking forward to, says Raja Sen.

Give Sanjay Leela Bhansali swords and sandals and what do you get?
A giant film that looks utterly besotted with itself.
Bajirao Mastani, a period drama based on the real-life Maratha chieftain Bajirao and his swashbuckling wife Mastani, is looking grand and opulent and rich, and the first trailer amps up both the drama and the action, while making its actors look very good indeed.
Mission accomplished, really.
Horses thunder in toward a fort, Ranveer Singh's Bajirao leading the bannermen while carrying that awesome curved sword, his chainmail bouncing Baywatchishly on his shoulders in slow-motion.
Deepika Padukone, her eyes burning fiercer than the flame she dips an arrow into, prepares for attack.
Priyanka Chopra -- playing Bajirao's first wife, Kashi -- cosplays with the man's helmet in front of a mirror.
The imagery is compelling.
Bajirao pulls back his bow in the middle of the royal chambers, seeking to pierce the eye of a peacock feather.
Mastani, standing with her flaming arrow on the ramparts of a defending fort, seems to have higher stakes. We see her fire, we see him being applauded. There is revelry and rose petals and Chopra looking blissfully stoned as she trips on the sight of a chandelier.
Bhansali continues to stress on the equality between hero and heroine as he shows them doing the same thing: Mastani fetishisingly caresses the blade of a sword, Bajirao unsheaths his, she unsheaths hers, he draws blood.
Ranveer looks in fine form here, intense and violent as he throws daggers, and Padukone looks to have stepped out of a classic painting. One shot where she alights from a palanquin is even framed and lit like one of those old-school miniatures.
Deepika, child in hand, cuts down an attacker with her sword.
Ranveer cuts down an enemy on the field.
Both Bajirao and Mastani scream as they slice, proving the Martina Hingis gene is strong in them.
Chopra, meanwhile, seems to have the more generic end of the stick, running through diyas and looking all sing-song.
The trailer ends with the shot of Ranveer's Bajirao flying through the air, hopping superheroically from shield to shield as his sword bends like rubber and he readies to strike.
The only line of dialogue in the three-minute trailer comes after all the lavish spectacle, accompanying the director's credit.
"Bajirao has loved Mastani, not leched after her," it is declared in Singh's voice.
The film does indeed seem more like a labour of love, unlike one of Bhansali's sloppily-conceived recent films.
It might not be Baahubali grand, sure, but it is certainly Jodha Akbar grand, and this will be a big winter release worth looking forward to, especially because of the actors.
Bajirao Mastani will release on December 18.