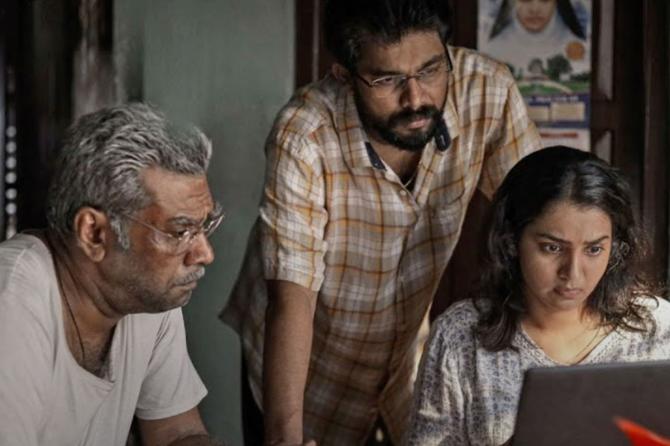 Cinematographer Sanu John Varughese has extensively worked in Hindi films: Main Madhuri Dixit Banna Chahti Hoon, Karthik Calling Karthik, David, Hasee Toh Phasee, Wazir, Badhaai Ho, Lootcase,
But when it came to direction, he chose to make his first feature film in Malayalam.
Aarkkariyam, starring Biju Menon, Parvathy Thiruvothu, Sharafudheen started streaming on the OTT platform NeeStream and Amazon Prime Video from May 19.
Sanu tells Patcy N/Rediff.com, "It's an American Beauty kind of idea. You enter the regular everyday life, which looks absolutely normal. But there's so much underneath that is disturbed."
Is becoming a director the next step for a cinematographer? Your mentor Ravi K Chandran did the same too.
I don't know if it is because direction requires a different set of skills.
But I think what happens is after working in films, over a period of time, you learn more about cinema and get confident enough to tell a story at some stage.
I think it's a progression.
But it varies from people to people.
There's enough in cinematography itself, as a craft, to spend your lifetime and not explore anywhere else.
Why did you think of direction?
I have been primarily concerned with storytelling.
If you see my cinematography, a lot of it is very self-effacing.
I don't want to show the work, I want to get the story through to people.
There are films, which have to be set in a certain dramatic reality where you take a different approach.
Normally, the kind of the scripts I have picked are stuff like that.
You have worked in Hindi, Tamil and Malayalam cinema. What made you direct a film in Malayalam and not in Hindi, which has a wider audience?
I couldn't have pulled off a story like this in Hindi.
I don't think anybody would come to support this.
This film also happened because the producer is a classmate of mine from school; he is a well-known producer in Malayalam.
He has been asking me to make a film, so we wrote a story, spent enough time with it, embellished it and made a movie out of it.
That wouldn't have happened in Hindi.
This is probably the only way I could have made a film.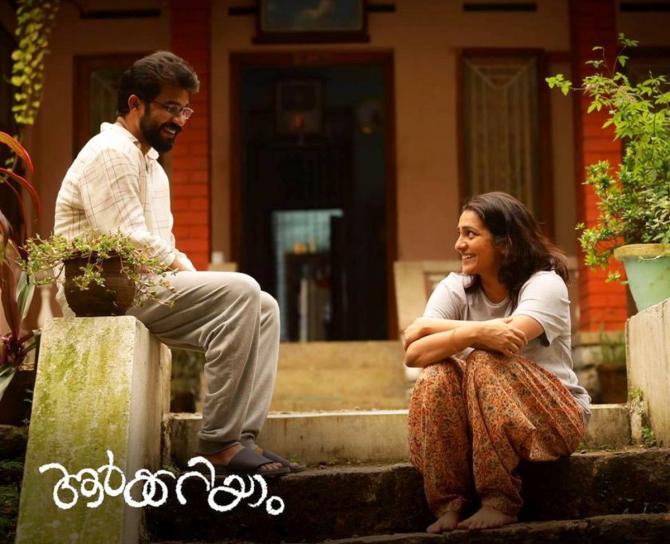 How did you get the idea for this story?
It's my story idea.
I had this storyline from a few years back.
I do a lot of sketching; I carry a small sketchbook around.
There are these storylines, whenever I hear stuff like that, I write them down.
There was this one-line idea I got from a book, about a man who reveals to his son-in-law that he has killed someone. The son-in-law starts blackmailing him and by the end of it, there are two dead bodies in a pit.
We took that story and put it in this one.
We started traveling with the characters, and this is where we arrived.
The film is set in the lockdown and you shot it during this time. What difficulties did you face?
We went in with a very small crew, about 55 of us.
We tested ourselves, and stayed together in a hotel.
The film set was actually the safest place to be around at that point because everybody was tested and everybody was negative.
The government supply lines were also very good.
]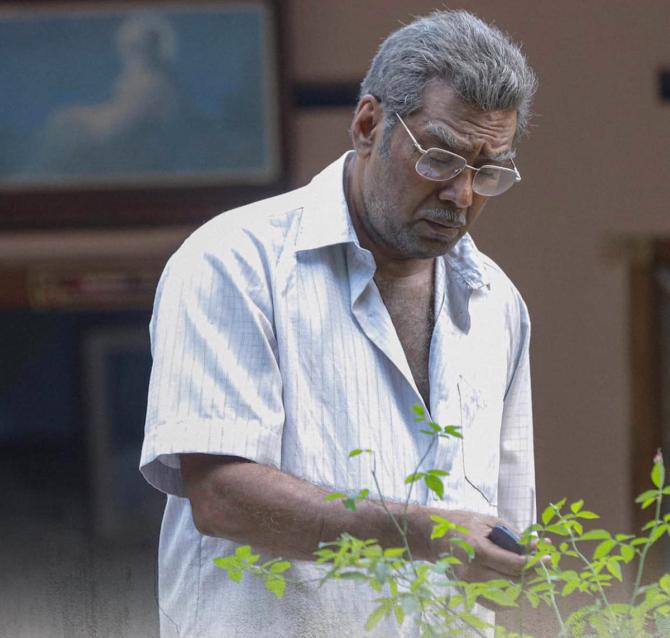 I liked the idea of actors speaking Hindi and English in the movie, like we normally, do it though it doesn't sound smooth in some places...
It's pretty much the reality that I live in.
I have lived most of my life in Mumbai, where I deal with all sorts of people.
That includes second generation Malayalis, like a lot of my close friends (Directors) Vinil Matthew or Rajesh Krishnan. Like, Rajesh goes into Marathi or Gujarati at any point and that's a reality I know really well. So that had to come into the film somehow.
What was even better that Biju Menon keeps singing Yeh Raatein, Yeh Mausam and Sharafudheen sings Chota Sa Ghar Hoga while driving.
My dad's generation grew up on Hindi songs.
Hindi songs were very popular in Kerala at that point because far less movies were being made in Malayalam and these guys watched a lot of Hindi movies.
My dad loves Hindi songs very much. He would sing with the wrong lyrics, like Chaudhary Ka Chand instead of Chaudhavin Ka Chand.
He likes (Mohammad) Rafi.
When you watch the movie and once the crime is exposed, you feel it will be a thriller, but it's really not.
Somewhere, I have to be true to myself.
At this point in life, I am more interested in human drama.
Ten-fifteen years ago, when that one-liner was written, it was a thriller.
But this is the story I want to tell, how something like this affects a normal relationship -- what looks normal from outside but how it is inside.
It's an American Beauty kind of idea. You enter the regular everyday life, which looks absolutely normal. But there's so much underneath that is disturbed.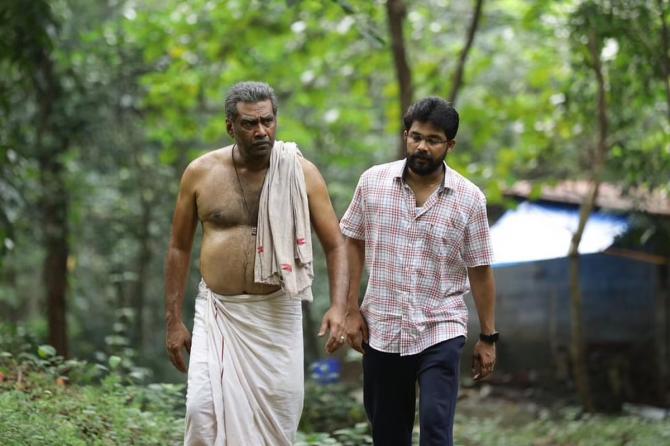 Any particular reason why you chose to set this story in the high ranges of Kerala?
Technically, the reason is that I wanted a larger property which they inhabit, so that there is isolation.
There has to be certain amount of isolation, without which the story cannot happen and this is the only area where people live in larger properties.
Why didn't you take an older actor instead of Biju Menon, who is 50, to play a 70+ man?
I needed an actor with a good grip over his craft.
I went to Biju Menon to play the character of Roy and he agreed and while leaving, I asked him what he thought of this character (Ittiyavara).
You know he's crooked if you watch the film a second time.
It's a totally different viewing because everything about this guy being crooked is in plain sight. You miss it the first time, but you see it the second time.
So that makes it a very challenging role.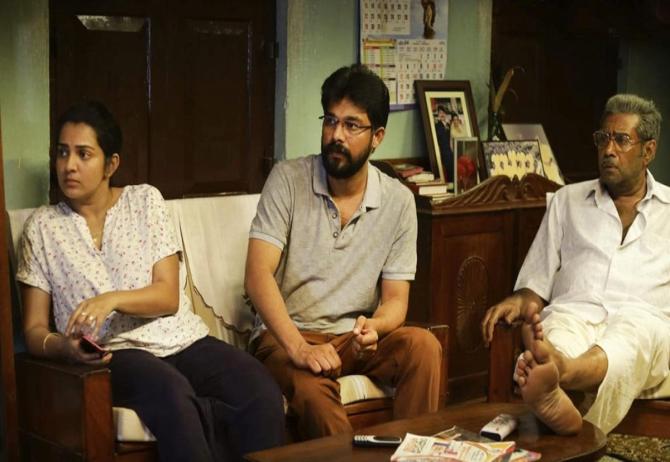 Ittiyavara's fading memory almost becomes a part of the film's texture. Was that by design?
The moral issue of how do you let a guy, who has committed a crime, survive was always there.
It's an ethical question which you need to answer as a film-maker.
We made a deliberate attempt to answer it.
From the beginning of the film, there is talk about how Biju Menon's father has lost his memory and he's waiting for that to happen to him as well.
By the end of the film, he actually loses his memory that, according to me, is death too.
I have tried to answer that question.
Was Parvathy your first choice because you have worked with her in Take off?
Absolutely. I have been in touch with her on and off.
I sent her a message asking if she would read something like that.
She asked me when I was doing it because she didn't have the time.
I wanted her to read it because she is somebody who would empathetically read something like that, and get back about how the character is built.
She started reading it and the very next day, she called me up and said she 'had' to do it.
How did Sharfuddeen come to your mind?
He is somebody who was really ready to give us 100 percent into making the character.
It is not a character which he is familiar with in real life; he's not a guy with a non-resident Malayalee reality in his life.
He is not a guy who has got a metro life reality in his life.
But he understood it and made a character out of that.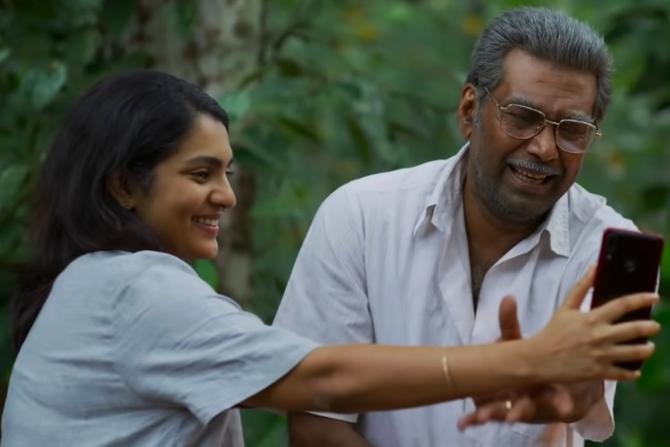 G Sreenivas Reddy is the cinematographer on the film. Did you give him a free hand?
I think I was a very bad director to the DOP (Director of Photography); I think I kept on interfering in his territory.
Anybody else would have happily walked out of this film, but Reddy and I go back a long way. He has been my associate for 10 years.
It's not a senior-junior relationship, we are close friends.
So it was a natural choice.
But I am too interfering and too particular about how I want things and that's always a little problematic.
But he was really sweet.
What are your thoughts on this New Wave we are witnessing in the Malayalam film industry? Are there any film-makers you find inspiring, specifically from the current lot?
A lot of them. I look at Dileesh Pothan's (Joji) work. It's very inspiring.
Mahesh Naryanan's (Take Off, C U Soon) work is very inspiring.
The kind of stuff Ratheesh Balakrishnan Poduval (Android Kunjappan Ver 5.25) is doing, it's a different voice.
There are many voices coming up and it's very interesting.
Kumbalangi Nights is among the best films I've seen in years. It's beautiful!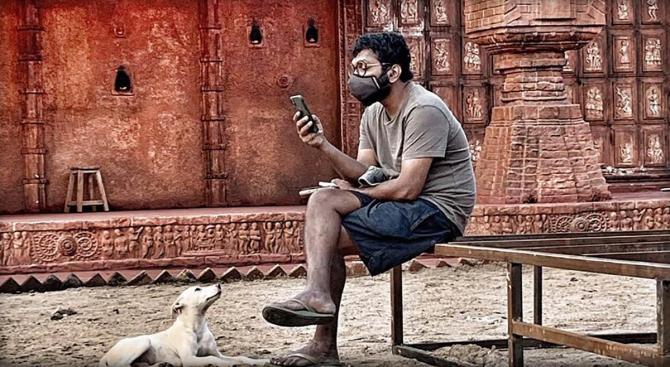 You studied in Kerala and you started your career in Mumbai with Hindi films. Can you talk about yourself?
My parents are teachers. They retired as headmasters.
I graduated in Fine Arts.
I did a BFA in Applied Arts from Trivandrum.
Then I was in Baroda doing my MFA for a bit, but I dropped out of that.
I studied in Central University, Hyderabad. I was doing a Master's in Communication, but it has nothing to do with Mass Communication.
I came to Bombay to shoot News primarily, and then I got into shooting films.
I assisted Ravi K Chandran for a bit because in those days, you needed to know how to shoot films on celluloid.
By 2002, I started shooting my first feature film, Main Madhuri Dixit Banna Chahti Hoon.
I went into advertising for a bit; I must have shot about 1,000 commercials.
From 2009, I have been trying to do at least a film a year as a cameraman.
You have worked with Kamal Haasan in Vishwaroopam and Thoongaavanam and with Farhan Akhtar in Karthik Calling Karthik. Both are actors, directors and producers. How different are they?
My job as a cinematographer is to go in and give a manifestation to what the director's mission is.
To me, Kamal sir, as a director, is a guy I work with and have to fit into his vision to deliver what he wants.
But I could also say something about Kamal sir the actor. I could say that that didn't look nice. It's a relationship like that.
These are the guys who have their own vision and I try to learn from them.
I have gotten a lot of stuff from Kamal sir.
What is your forthcoming work?
I am currently shooting a film in Telugu called Shyam Singha Roy with Nani.
I will shoot a Malayalam film with Mahesh Naryanan in June.
There is another Malayalam film too.
When are you directing your next film?
I want to go into writing first.
I take it as a writing project; if the writing project turns out interesting, then it becomes a film project.