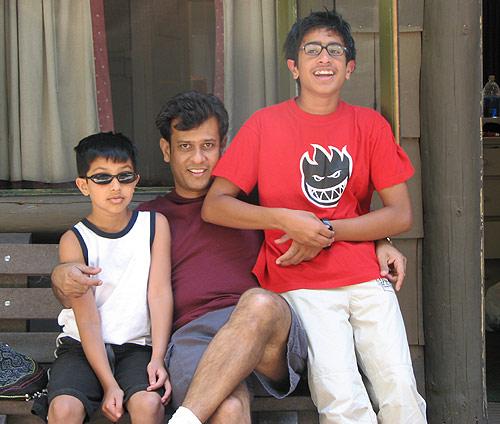 On September 13, 2010, filmmakers Bedabrata Pain and Shonali Bose lost their 16-year-old son Ishan in a freak accident involving an electric razor.

After his shocking defeat in a prolonged court battle against the razor company who the couple held responsible for the accident in Los Angeles, the bereaved father now prepares for a memorial screening of his film Chittagong for his deceased son on October 3.

"Yes, we lost the case," Pain says. "The jury couldn't come to the conclusion that the shaver was at fault. It was a shocking decision but that's life. For me, it changes nothing. In going through the trial, and having had to review the evidence within the last two years I was even more convinced that the razor had produced the spark that caused the fire that took Ishan's life."

While the filmmaker is coming to terms with the LA court's decision, his wife Shonali Bose (who had directed Amu in 2005) is very angry.
She says, "In some ways, I've made peace with the court verdict though I am convinced it was the razor that killed my son. But now I ask myself, what would happen even if we won the case? It wouldn't bring Ishan back. I am going through a tough time. The callousness of the razor company just makes me sad. Even after we informed them of the tragedy, they didn't try to investigate the matter. Instead, they started making all kinds of allegations against Ishan."

It was alleged in the American court that Ishan was on drugs and had deliberately set himself on fire.

Pain says, "Ishan was a fantastic student. He never touched alcohol or cigarettes. They alleged that my boy was on drugs and set himself on fire. Apparently, kids in the US set themselves on fire after consuming some kind of drugs. And this, mind you, when there was no evidence in the bathroom (where Ishan got burnt while shaving) of any fire-producing element anywhere."

But this wasn't the worst part of the court battle. The defence in the court actually insinuated that Pain and his wife were better off now since they didn't have to pay Ishan's school fee anymore.

Pain laughs sadly and says, "They asked me about my son's school fee during the trial. Then they said, 'Okay, so during the last two years you didn't have to pay 58,000 dollars, right?' Believe it or not, they were saying we're better off since Ishan is no more. This is all on record. These were the questions my wife Shonali and I were asked. They also asked, "How much did you spend on your son's clothes? How much have your grocery bills come down by?"'

The filmmaker breaks down as he recalls, "When Ishan was born, Shonali went to college for a course so I had to be both a father and mother to Ishan. I dropped him to school every day. I made his dinner. In my heart, I don't think I've accepted his demise. I feel he has gone away somewhere with his friends and will come back. Even when I was shooting Chittagong in the remote jungles, I spoke to Ishan every single day on Skype because at that time he was doing a Chemistry course.

"Ishan's mother is campaigning for the product to be taken off the market," he continues. "I understand her indignation. But even if we had won the case, what value could they have put on our boy's life? She is in New Delhi with our younger son Vivan, who has resumed his studies there. It was getting very diffucult for them to stay in LA."

Pain has still not come to terms with the tragedy. "I am still trying to figure out what to do with my life. How will I spend the rest of my life without my boy? For the last two years, I've been focusing on the film. Whenever I have a free moment, I have to struggle with guilt of knowing that I couldn't save my son. If I wasn't making the film, I'd have been in LA and maybe this tragedy wouldn't have happened."

Pain looks fazed as he recounts the journey since the tragedy. "I don't know what I would have done if I didn't have Chittagong to make. I've dedicated the film to Ishan. Shonali and I wanted to cast Ishan as the main protagonist in it. The character suited him. Finally, he didn't play the role but he was the film's biggest supporter. The film ends with him. At the end, I've sung a song titled Ishan which Prasoon Joshi wrote. My composer Shankar Mahadevan encouraged me. It fits in beautifully with the theme."

The date of the memorial screening is approaching. "We wanted to do it on September 13, on Ishan's death anniversary but we aren't ready. I'd like Amitabh Bachchan, Jayadi, Abhishek and Aishwarya Rai Bachchan to be present. When I decided to make Chittagong, I had gone to Jayadi to seek her blessings. I am trying to live my life the way Ishan would have wanted me to. But it isn't easy. Someone up there decided to take my surname (Pain) too seriously."
In the picture: Bedabrata Pain with sons Vivan and Ishan