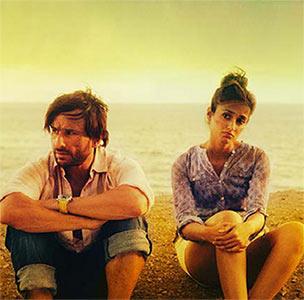 'Saif is very passionate as an actor. He is always thinking way ahead. He wants to make movies for the future. He doesn't necessarily stick to the current trends.'
Director duo Raj Nidimoru and Krishna DK discuss Happy Ending.
Director duo Raj Nidimoru and Krishna DK, popularly known as Raj and DK, have made quite a few comedies (Shor In The City, 99, Go Goa Gone) but they claim they're not funny at all.
As they get ready for their latest film Happy Ending, starring Saif Ali Khan, Govinda and Ileana D'Cruz, they tell Patcy N how they make their movies.

What kind of happy ending are you going to show in the movie -- the one shown in the trailer, or the desi kind, where all's well that ends well?
Raj: The part that we have shown in the trailer is just a pun.
When you make a rom-com, the high point is the happy ending. During the making of Go Goa Gone, Saif (Ali Khan) said why not make a rom-com?
We have been doing crime-comedy, dark-comedy and zombie-comedy so we thought why not a rom-com. But if we make one, then it should have an edge to it.
Romantic comedy is such an exploited genre that it is hard to infuse something fresh and new. We decided to find an edge to it. It's not a spoof; it's a bona fide romantic comedy.
There is a boy meeting girl, there is boy screwing up with girl, girl leaving the boy and boy getting the girl back. We thought of embracing this structure.
All the things in the film have real life connections so the idea was that this guy who thinks 'Pyaar picturon main achcha lagta hain' and all that stuff, and then what happens at the end of it.
It is like sitting on a potty and writing your story. You write this beautiful, romantic scene but you are still sitting on a potty -- that is the reality.
Contradiction is what is funny.
The trailer makes it look like a sex comedy.
DK: It is not a sex comedy. It's a modern relationship where a boy and girl meet; sex is a part of it.
Raj: Sex comedies don't excite me, it is more the naughtiness in a relationship, the little titillating factor.
You are sharing a room and you think how do we sleep, should we sleep head to toe, should we stuff pillows in between… so our film has more of that naughtiness between a guy and a girl, a little madness... that is the fun of it.
How did you get Saif to produce a film a second time? Was it difficult the first time or second time?
DK: Second time came naturally. All these discussions started when we were doing Go Goa Gone. At that time, Saif had just come out of Cocktail and he had a couple of other films on his plate.
But he had said he would like to do a romantic comedy. We started discussing ideas, and this whole thing fell in place.
Saif has done many rom-coms in his life so he was the perfect guy to do this definitive rom-com, which has a take on all the other rom-coms that he has made.
In fact, there is a line in the movie where Saif says, 'I have had many love stories; now it's time for a happy ending'.
It has a dual meaning; it talks about the character as well as the actor.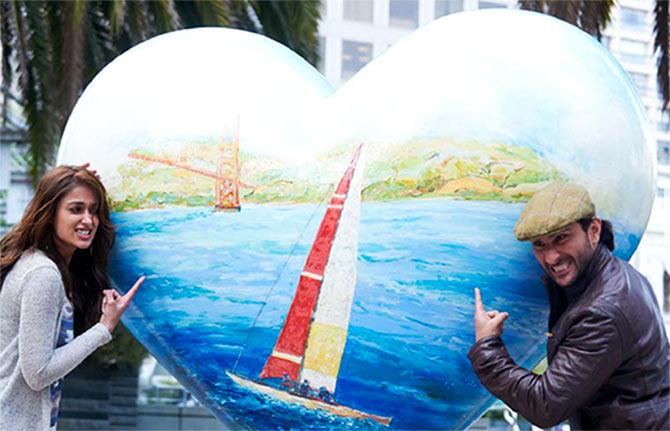 Image: Ileana D'Cruz and Saif Ali Khan in Happy Ending.
How did you get him on board for the first time for Go Goa Gone?
Raj: I got a call out of the blue from Saif. He said, 'Listen, I really like your 99. Why don't you come over to the office and we will discuss some ideas.'
We went and spoke to him about a story that we hadn't shot yet, and Saif said, 'This is nice but this is going to take months to make. Do you have something that is quicker?'
I told him, 'I have a story idea but I don't know whether you will dig it at all.'
We had a little trailer presentation with music and text and stuff. We had that ready because we wanted to make this film at some point.
So we showed it to Saif and he said he wanted to do it.
DK: By the end of the presentation, he had already started imagining himself as the character Boris that he played in Go Goa Gone. He was very excited about playing a fake Russian.
Raj: It was quite easy getting him on board. The only problem was the dates.
DK: On the sets of Go Goa Gone he saw how everything was working and he liked the humour and sensibility. He said why don't we use this humour in a more mainstream genre and we started finding an angle to it.
How did you convince Govinda to do a cameo in Saif's film? In the past, he has refused second leads and this was a long cameo.
DK: It wasn't hard to convince Govinda but we did have a lot of apprehensions.
Raj: Everybody said that he was out of it, he hasn't done a film in three years, it's very hard to work with him, he will not accept easily, he will have lots of rules, you will go crazy...
We didn't know him, we didn't know his sensibilities at all, we had just seen him on the screen.
Plus, his type of comedy is different.
We thought, gaaliyaan padegi, if we just land up at his house. We still decided to try it.
It was a strange meeting because we couldn't understand what he was thinking while we were narrating the story to him. He was polite, he was sweet, he just listened to us with a grin.
After some time, he started laughing. He was like 'Oh God, toh yeh karna hain?'
He called out to someone and said, 'This is the dialogue I am going to say.' He was very excited.
Finally, he agreed to do every single thing that was in the script. Even we were surprised. We thought we would have to convince him to do things and he would ask us to drop certain scenes. But he agreed to do everything.
Was it difficult to get a censor certificate for the film? Were you asked to make cuts?
DK: No. It was fairly easy. We had to change a few words.
There is a lot of stuff the censor could have objected to but they did not and they also gave us U/A certificate.
There are references to sex but in a very contemporary, normal day-to-day life way.
Raj: Even Go Goa Gone was not explicit. It was gory here and there, and there were scenes that were awkward to watch with a family. This one is a tad easier.
I can watch this film with my family.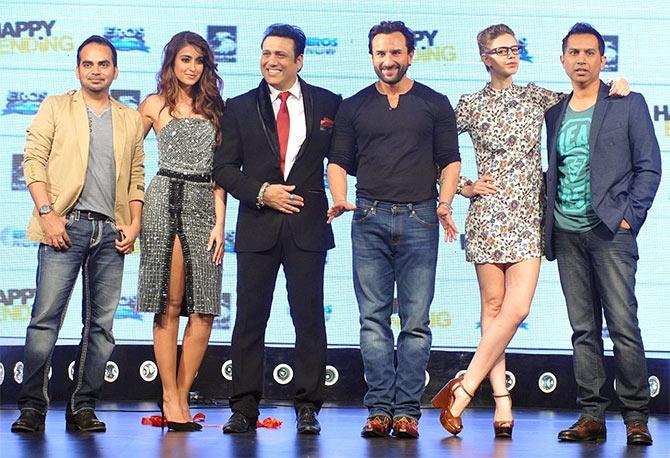 Image: Krishna DK, Ileana D'Cruz, Govinda, Saif Ali Khan, Kalki Koechlin and Raj Nidimoru. Photograph: Abhijit Mhamunkar.
When a producer like Saif Ali Khan is acting in the film how difficult is it directing it?
DK: Saif is very passionate as an actor. He is always thinking way ahead. He wants to make movies for the future. He doesn't necessarily stick to the current trends. But yes, there is a producer in him which gives him a little word of caution here and there.
Having said that, our wavelengths matched; what we wanted to do a lot of the time is what Saif also wanted to do.
He being the producer helped a lot because there was no third power to stop us or hold us back.
Raj: There were no restrictions per se; it was just having faith in each other.
Saif can go all out but he needs to control himself a bit. For example, he would watch an edit and love it and the way he is acting in it. Then he will think of another idea and he will ask why don't we shoot it the other way and see what is best.
But taking the second kind of shot may require a techno crane which would be a very costly affair. He would say, 'So what man, let's do it na?' He is an extravagant producer.
More than Saif, Dinu (Dinesh Vijan) who is a hands-on producer, allows us to do everything. It's never been a compromise.
What is a happy ending for you in your lives?
Raj: There is never a happy ending in life.
Endings are sad no matter what it is. Happy ending is the concept that you feel at the moment.
When the movie releases and it is doing good, it's a happy ending. But the next day, if the box office is not so good, then it is not a happy ending.
DK: Every film in itself could be a happy ending. It's a journey, you make it, you finish it, you put it out in the theatre and if it is received well that is the happy ending of that journey or that story.
What would be a happy ending for Saif Ali Khan?
Raj: Saif is living his happy ending. He has got a lot of money. He has got a great family. He has got great films to be proud of. He is a good actor and in good health.
What about Govinda?
Raj: Govinda's happy ending starts now, with his second innings. He has had many happy endings before but his second phase starts now.
And Ileana D'Cruz?
Raj: We don't know much about Ileana but I think she is heading towards a happy ending.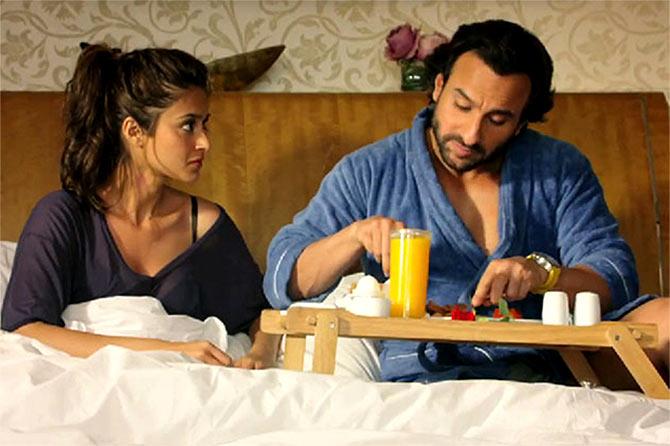 Image: Ileana D'Cruz and Saif Ali Khan in Happy Ending.
How do you work together? Are there arguments and disagreements? Your third partner is Sita Menon, who helps in writing.
DK: Arguments, disagreements are part of any process. There is always some debate.
Sita is more part of the writing process so when at some point the script is locked, we go on the shoot. We do a lot of homework upfront so we pretty much know what we are shooting.
We don't necessarily fight on the sets or argue. The major parts are already planned and discussed before the shooting.
Basically, we agree with each other on most things.
I can see from the way you are answering that you don't cut each other's lines. You take turns to answer.
DK: Is that good or bad?
It's good…
DK: We've got into this habit over a period of time. May be initially we were cutting off each other's lines and sentences. (laughs). Actually we never did; we are not even conscious about this.
Raj: I always thought that filmmaking is a team effort, there are 15-20 minds that come together and contribute their efforts and make a film.
When we met each other to make a film, and discuss a film there was a team right there. So we were a small team of two, and three now (with Sita).
DK: When we made our first film it was me, him and another guy, who was shooting the film. The entire cast and crew was three people.
Now it's grown, it's a collaborative effort. There are many more people now -- cameraman, editor, music composer....
You always see one person captaining the ship, but one person cannot take the ship anywhere, you need a crew.
Abbas-Mustan also work together but they are brothers, they can understand each other better. You are friends. It must be more difficult…
Raj: Very true. Actually, all the duo directors I know are brothers like Abbas-Mustan, Cohen brothers, Farrelly brothers, the Wachowskis.
You can't ask Imtiaz Ali and Anurag Kashyap to direct a film together. I am not sure it will work because their creative minds will collide.
But in our case, we started as an entity. We were two individuals who came together and we later became filmmakers. We only know one way of making films, we discuss and make it.
So what is your story, how did you meet?
DK: We studied at the same engineering college. I am a computer science engineer and Raj is a mechanical engineer. We were quiz partners and part of all the cultural activities.
We started work in different parts of the United States, and we thought it was very boring. We would coordinate over the phone and meet on weekends to make films. We shot our first short film over eight weekends. That gave us a lot of lot of hands-on experience.
Raj: Every Indian is a filmmaker at heart. Cinema is huge and everybody knows everything.
When you watch a film you say, it's not good, I would have made it differently, I would have done this or that. Everyone is a director slash critic.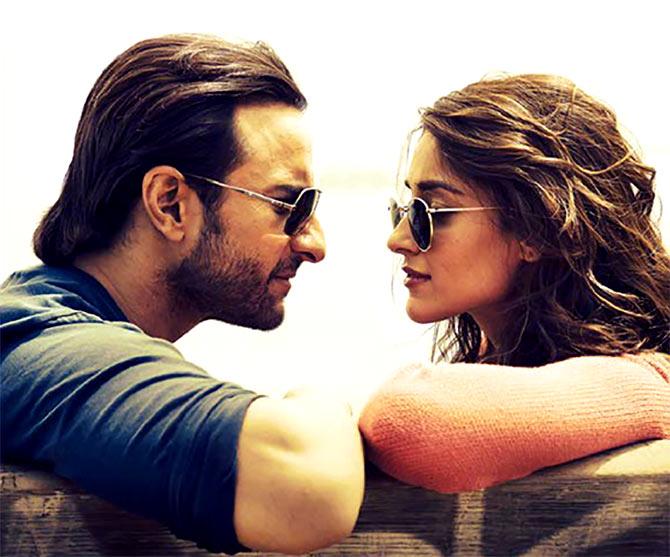 Image: Saif Ali Khan And Ileana D'Cruz in Happy Ending.
Are you funny in real life?
Raj: We are not funny at all. Our films are observational comedy. Nobody has a flare for one-liners or gags.
In real life also it is observational comedy. Lots of things are funny to us. We are usually laughing. But we are not flamboyant.
DK: I don't think either of us can charm people but we have fun with ourselves.
Both of you went to USA but only DK has an accent.
DK: I got an accent? I don't know.
Raj: May be he is talking a lot to Ileana.
DK: That was a mean joke.
Raj: That was a practical line. She has been talking a lot of Australian (Ileana is reportedly dating Australian photographer Andrew Kneebone, who makes a cameo in Happy Ending).
There are a lot of cameos in your film -- Kareena Kapoor, Preity Zinta. Saif is also doing a cameo as Yogi. Even you do, Raj.
Raj: Ileana's boyfriend's cameo is practically blink-and-miss. This is all insider stuff. It doesn't matter if somebody knows about it or not, even my role.
For the public, there are two big cameos: Kareena Kapoor and Preity Zinta and Govinda with his extended appearance.
If you were there on the sets and if you had fitted a scene, I would have asked you if you wanted to be the part of that shot.
Your next film is a Telugu film?
Raj: We are supposed to make one. We spoke to Mahesh Babu a year ago and he said yes. But nothing has been finalised.
DK: We are making Farzi next with Shahid. It's a crime drama.