'There were certain ideals and morals that I had started bending as I was climbing up in the industry.'
'I was unknowingly hurting people close to me, unknowingly treating people the way I wouldn't want to be treated myself.'
'But I am not that person and I didn't start off like that.'
'Then the introspection began.'
'Very rarely does that happen when you do a film.'
'I was feeling unhappy as a person. Now I am much happier.'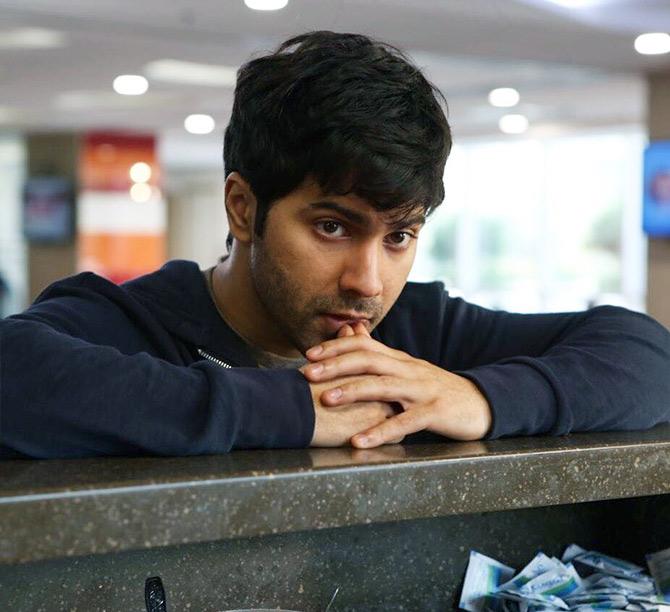 Varun Dhawan is running late for interviews scheduled on a Sunday.
He had a busy Saturday night after performing at the IPL opening ceremony as well as visiting Salman Khan after he was released from jail on bail.
Varun performed with Prabhu Deva without any rehearsal, and he was very nervous.
"We had worked together (ABCD 2), so we had that taal-mel," he says.
The actor says he sought inspiration for a hotel trainee in October, which releases on April 13, from Abhilash, a hotel management trainee in Dwarka, suburban New Delhi, where they were shooting the film.
"Whenever I would do a scene, I would ask this boy before doing it," Varun says.
Banita Sandhu -- the Englishwoman making her Bollywood debut in October -- and Director Shoojit Sircar are also present at the media interaction.
As Varun speaks -- in his usual effervescent style -- he spots Shoojit signalling him.
"Story nahi bol raha hoon, dada (I'm not revealing the story)," Varun assures the director.
Rediff.com's Jahnavi Patel listens in.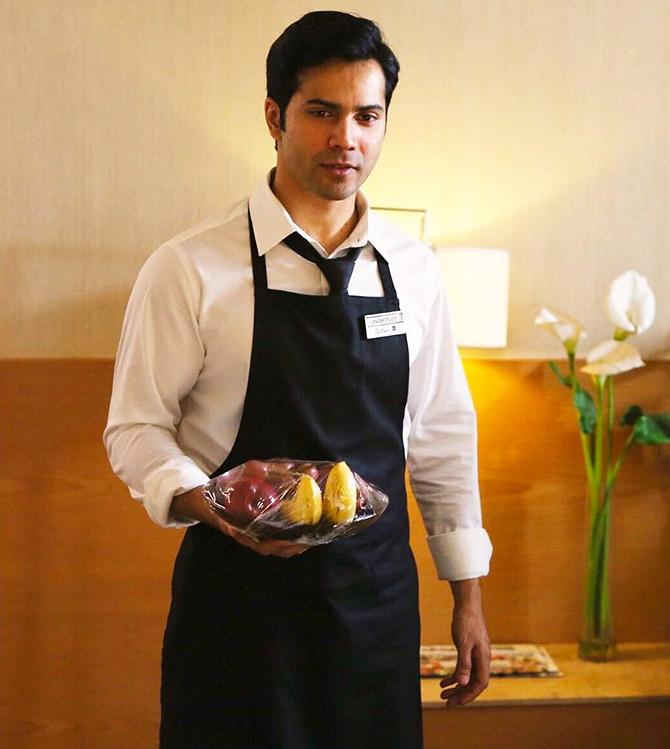 Actors are scared to show their real side on screen. Is it true?
This is human nature; it is not limited to actors.
Even as human beings, we don't expose who we are.
When you get into a relationship, the girl and you will be a little guarded at first. Slowly, you will say the real things about yourself to one another.
The same is with actors.
But he (Shoojit) wanted to see the real side.
That started with no make-up, no glycerine, no hair products, no ironing of clothes.
It started with what this character was.
For it to work, it was important that I am actually not acting.
I am reacting to situations how I feel Dan (Varun's character in October) would.
Is it a conscious call to balance potboilers with films like October?
No. As time goes by, we evolve.
Some personal incidents happen, and because of that, we change as people.
The same thing happened in my life.
Things happened, I changed and then my thought changed.
I kind of burnt out a little after Judwaa 2.
I couldn't do that again without feeling fake.
When I did Judwaa 2, I felt 100% convinced, happy and excited. It came from my heart.
After that, it wasn't coming from my heart.
I was exhausted.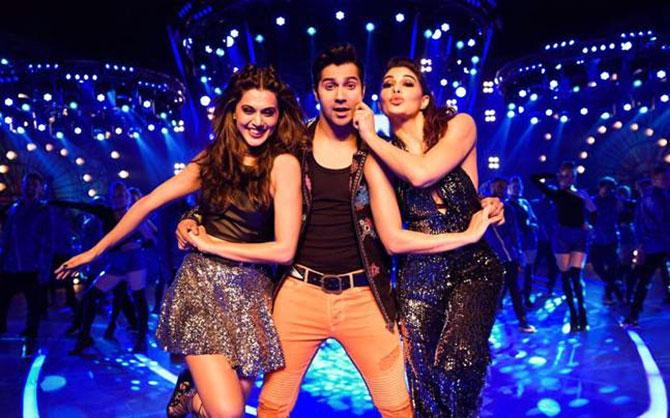 Your role in October is very different from what you did in Judwaa.
Yes, but that's where Shoojit Sircar's brilliance comes in.
I wouldn't do this with any other director.
I knew I was in good hands.
He realised that Varun isn't like this, he is something else. I want to show that side.
When I surrendered, I surrendered totally, even in the promotions.
He doesn't want to lose integrity; he doesn't sell his films at all.
Very rarely a film (like this) comes, otherwise we are always pushing it in people's faces, and then they come and watch it.
I felt I had enough of that in 2017.
I am anyway in people's faces, jumping around in IPL or something.
The process of making this film was so wonderful that I don't think the outcome will be anything less than that.
I love Shantanu Moitra's background music.
You haven't had a single flop in your career.
I have stopped thinking about it.
Do you give yourself a pat on the back?
People around me are not patting me on my back.
My gym instructor is still saying, 'Tu thoda serious ho ja.'
My mother is saying, 'You don't have any time.'
They don't care. They treat me the same.
For them, yes, he is an actor, but besides that, he is Varun only.
For them, their priority isn't my career, but me.
11 National Award winners have worked on October.
I was very nervous when I gave my first shot.
I felt I should not mess this up, that I would get exposed as an actor.
I thought Shoojit Sircar is going to hate this, he is going to replace me. My career is over.
The first scene was a sit-down scene, where the lady who plays Banita's mother, and me are sitting on a porch and talking.
The first shot is the last shot of the film, so he made it even more challenging.
I had grown my full beard, my hair is long and I was like, what am I going to do.
I knew my lines and he came and said forget everything, don't perform this. Just understand the meaning of what is written.
The more I heard the lady speaking to me, the more I forgot that there is any shooting going on and it just happened.
When that take happened, Juhi (Chaturvedi, writer) was at the monitor and gestured that it was fine.
I knew that I had to really let go, I need not act. I need to just feel. That is very difficult.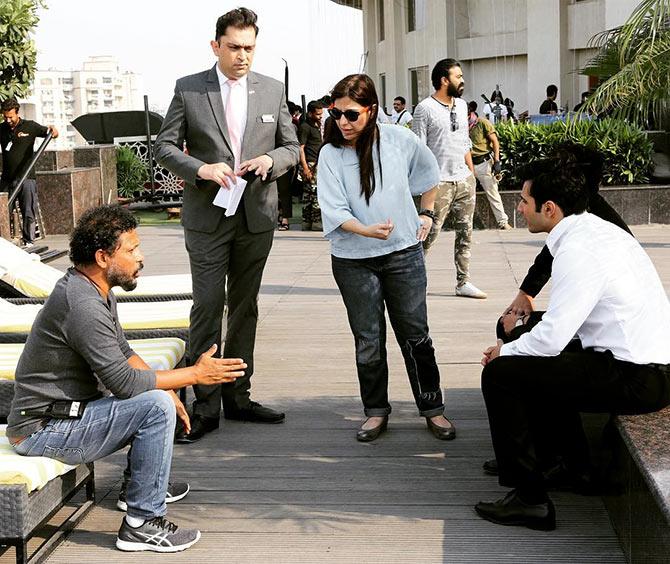 Wasn't it scary that people were going to be out there, judging you? Audiences aren't used to seeing you in this avatar.
The best thing about this set was that nobody judges you.
For instance, we are doing a serious thing.
I love dancing, so I would do a wave and start dancing and all the ADs (assistant directors) would laugh at me.
Then they know me that yeh toh aisa hi hai.
He (Shoojit) doesn't even want me to hide that part of me.
He said do 'Whatever you want to do don't hold back even if you come across looking bad.'
There are times I get very irritated and talk badly to Banita. I felt it looked very mean.
So Shoojit sir said, 'No, why? Irritating it is, chik-chik karti hai. Bol, say it like that. You are the hero, so you can't talk badly or be mean?'
All the notions and clichés that are attached to our cinema, he broke them down, one by one.
You said October and the character has made you a better person.
Six years into the industry, you start losing your innocence.
As we grow up, we all do.
There were certain ideals and morals that I had started bending as I was climbing up in the industry or progressing as a human being.
I was unknowingly hurting people close to me, unknowingly treating people the way I wouldn't want to be treated myself.
I would brush it off saying, 'itna toh theek hai yaar. Dusre actors kya, kya karte hai.'
But I am not that person and I didn't start off like that.
Then the introspection began.
I didn't introspect much about what I had done in my career, but in my life.
Very rarely does that happen when you do a film.
Two-three bizarre things happened to me while filming this.
I met people who had probably just come into my life to tell me certain things.
Weird stuff started happening and I was getting freaked out.
I felt the universe was telling me to make changes.
I was feeling unhappy as a person at that time. Now I am much happier.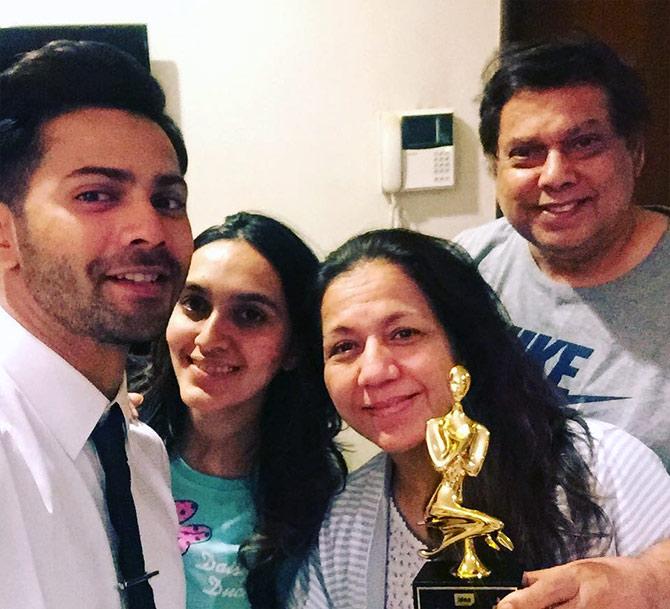 You cut down your fees for the film. How important is money for you at this point in your career?
I feel I should get my worth and I know that I have an audience.
I'm humble about it, but not stupid. I know what my worth is.
But I also know what each film is and what it will attract.
Nothing can fail a good film more than a budget.
In this film, the director is not taking a fee, so who am I to take one?
When the director is not in the budget... Shoojit Sircar has not put in his own fees.
He is a very big director and can easily take a double-digit fee if he wants. But if he is not writing his fee, as an actor, how do you feel about working for someone who is so pure that money is not even a thought?
Shoojit Sircar had said October is Varun Dhawan's debut film. Would you have wanted this to be your debut film?
I can't say that.
I feel there are two Varuns over here.
One part of Varun has to be Student of the Year.
But there's a big side of Varun which is like a Shoojit Sircar fanboy, a Sriram Raghavan fanboy, a Vishal Bhardwaj fanboy.
I'm a big fan of Anurag Kashyap's Black Friday.
I want to do all that as well.
As and when I get the opportunity and I believe that these films can go beyond, and I can take these films beyond, I'm going to do them.
But they are not going to come very fast.
It's not like I have done an October and my next film will again be in this space.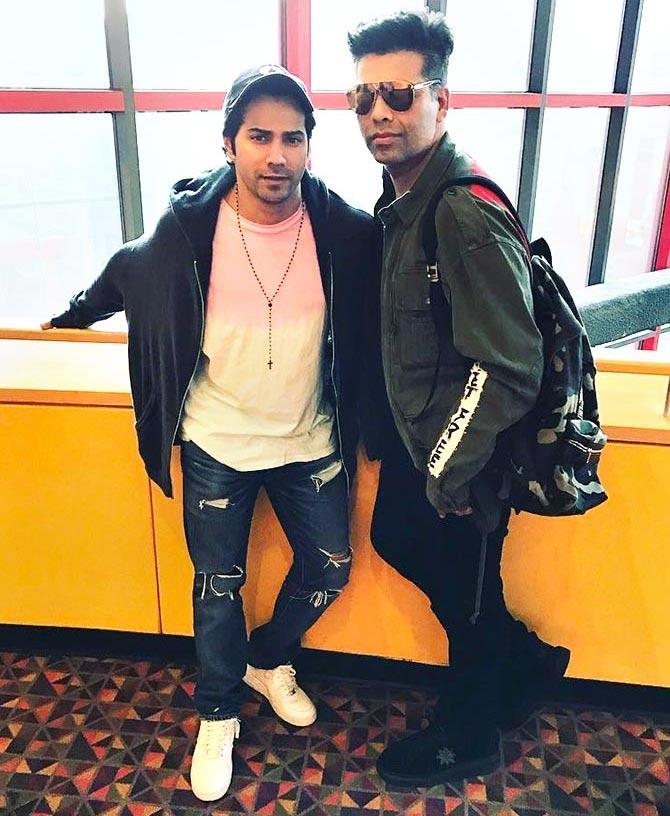 It has been almost six years in the industry now. How do you feel getting a film like this?
It has taken me almost 10 films to reach Shoojit Sircar, trap him and make a film with me.
I am grateful; I always wanted to work with him.
In the current times, he is my mom's favourite director. She loved Piku and PINK, and wanted me to work with him.
She would ask, 'Why can't you work with Shoojit Sircar?' and my dad would say, 'Woh khali baitha hai kaam karne ke liye. Uske paas Mr Bachchan hai, woh kyon kaam karega iske saath? (He is not waiting for Varun. He has Mr Bachchan, why would he want to work with Varun?)'
But I felt I have to work with him.
I remember when I got this film, I went to Dharma Productions to tell Karan (Johar). I walked in so proud.
Karan is like a father too; he was very proud. He feels good that Varun is going and working with such good film-makers.
Are there genres you want to be a part of?
A warrior film.
I always wanted to do a period film which we are doing in Ranbhoomi.
The film is not a true story.
It is not a genre, but with 4DX coming in, I would want to do that.
But hopefully, the next dance film (co-starring Katrina Kaif and directed by Remo D'Souza) will be in 4DX.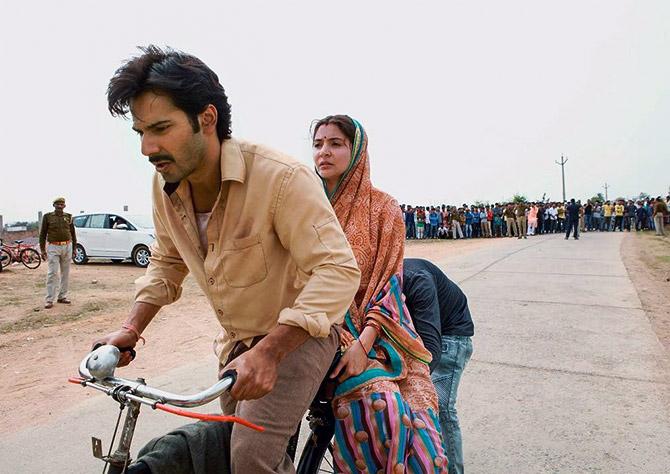 Tell us about Sui Dhaaga.
The film is 90 percent complete.
It is called Sui Dhaaga-Made In India, truly it is.