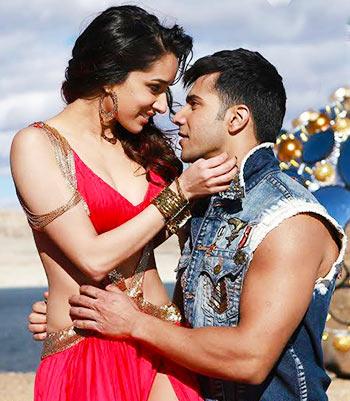 Because of its poorly paced beginning, ABCD 2 feels a bit of stretch at 154 minutes, writes Sukanya Verma
Movies about dance and sports are essentially about the same person– the underdog.
There's an unfailing formula in the classic routine of contest, obstacles and triumph, which invariably has the audience rooting for the dark horse. Because, let's face it, our hearts are made of slush and it's god-awful to watch someone lose for real or reel.
All those teary tales of struggle witnessed on reality-based dance shows haven't accumulated a following just like that. Choreographer turned filmmaker and judge on several such talent programs, Remo D'Souza is closely familiar with both sides of the story. And while there's no scarcity of astonishing dance pieces in his ABCD creations, he's still not able to fully utilise this knowledge on screen.
If ABCD: Anybody Can Dance revolved around an embittered dance teacher proving the point of the movie's title, the second one in the franchise is about a bunch of likeable Mumbai dancers trying to regain their reputation by beating the same Filipino team they were accused of plagiarizing, at an international hip hop competition hosted in Las Vegas.
What ensues is an unwieldy mash-up of Step Up, Indiawale and Dil Toh Pagal Hai. Though one must credit D'Souza for resolving all unpleasant issues far more amiably than one expects him to, despite the frightening melodramatic possibilities.
At best a serviceable script, based on the true story of suburban Nallasopara's Fictitious Dance Group, ABCD 2 suffers from the want of a more discerning treatment. D'Souza's vision is limited to dance but lacks the cleverness to render depth to his stockpile of standard characters hindered by standard conflicts.
While Prabhudeva reprises his Vishnu Sir and regales with his inimitable elasticity, Varun Dhawan and Shraddha Kapoor are the star additions this time and bring in the expected glamour and endearment.
They've toiled hard to acquire the aura of somersaulting dancers but the amateur nature of their capacity doesn't match the acrobatic dazzle of naturals like Sushant Pujari, Punit Pathak, Dharmesh Yelande, Jineet Rath and Lauren Gottlieb. These are quite all right in the acting department as well.
Reliably, ABCD 2 livens up when the action shifts to stage, thanks to some splendid choreography by the inspiration behind its source -- Suresh Mukund and Vernon Monteiro (featured in the closing credits). Even if you're not a fan of this sort of dancing, the upshot of the troupe's sheer coordination and dedication is tailor-made for applause, a sentiment you increasingly experience in the concluding half of the movie.
The build-up, however, is both -- clumsy and grating -- what with nearly every dialogue uttered in the first fifteen minutes crying 'cheater.' Equally tedious is Dhawan's attempt to rope in a drunkard Prabhudeva as mentor.
Because of its poorly paced beginning, ABCD 2 feels a bit of stretch at 154 minutes.
Rediff Rating: