'Priyanka is very, very kind-hearted... kind to a fault. She is too kind. That is something people do not know...'
Fascinating insights about PeeCee from her mom, Dr Madhu Chopra.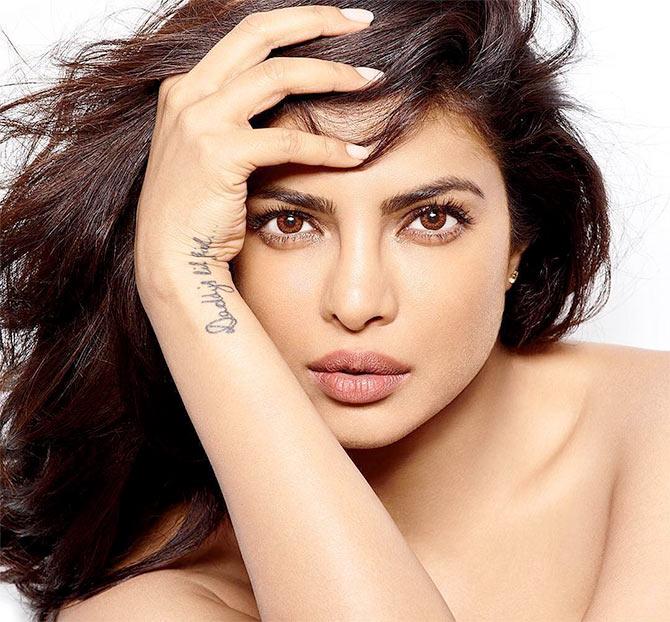 IMAGE: Priyanka Chopra. Photograph: Kind courtesy Priyanka Chopra/Instagram
Dr Madhu Chopra knows what it is like to take tough decisions.
But they don't faze her. Just like they don't faze her daughter, Priyanka Chopra.
That's just the beginning of the similarities between the two Chopra women.
Both are strong personalities.
Both believe in hard work.
Both have a passion for challenges.
And the genetic resemblance between mother and daughter is undeniable.
Though, laughs Chopra Sr, it's time she at least began to take it easy. After all, age, she says, is beginning to catch up with her.
But for Priyanka and her brother Siddharth, these are the years during which they need to work hard, says their mother, as she shares interesting insights about both her children with Rediff.com's Savera R Someshwar.
When did you move from being Priyanka's mom to being her friend?
At about the time she came back to me, to us (from the United States), when she was about 17, 18 years old.
I was spending all my time with her. I left my practice and was staying with her (in Mumbai) when she was training for Miss World. That's when our equation changed.
I didn't see her growing up. I could not treat her like a daughter.
Intellectually, she was at par. Physically, she looked like me.
She had a lot of confidence and she used to share a lot of things with me.
We actually became friends from there on.
Are there times now when she mothers you?
She's become my grandmother... what mother? (laughs)
Since her father passed, she has become so protective about me. I call her my grandma.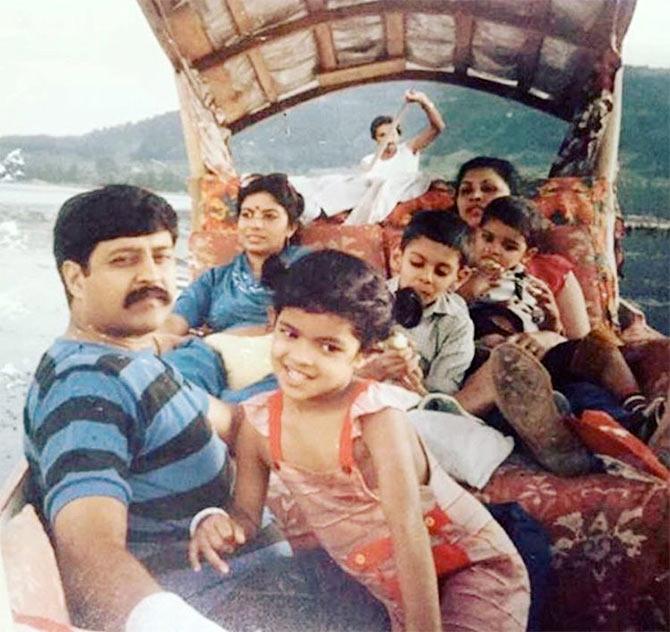 IMAGE: Priyanka Chopra in a shikara in Kashmir with her father Dr Ashok Chopra. Photograph: Kind courtesy Priyanka Chopra/Instagram
How have things changed since your husband passed away? How did she recover and how did you recover?
She stood like a rock.
As a doctor, I knew what was happening and I knew the end was near. So I was mentally prepared.
But the kids were not... they could not accept it. But still Priyanka... I don't know how she did it... she hid her tears and dived into work (sighs).
Worked double, worked more, so much more that she would be completely exhausted when she got into bed...
She was a rock. She has been a rock for us.
Where do you think she finds the strength to be so strong?
I really don't know.
Maybe it's the various experiences that she has had in her life... she had to modify and adjust to different people, to different environments, different kinds of situations... that's what probably changed her and made her such a strong person.
It's very integral to her personality, I think, that strength that she has. Inner strength. And now, it's showing as external strength also.
She is very resilient and adaptive. She did not find too much trouble adapting in the US, staying on her own.
It's a good thing.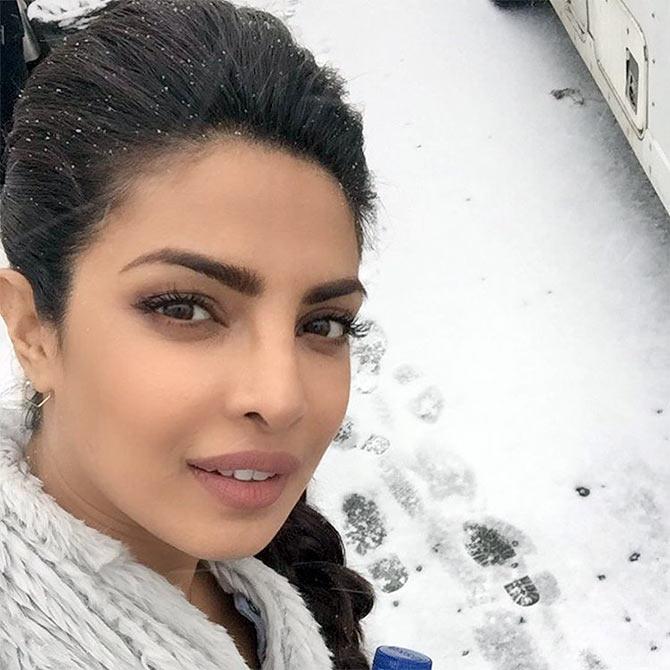 IMAGE: Priyanka Chopra in the US shooting for Quantico. Photograph: Kind courtesy Priyanka Chopra/Instagram.
How did that shift happen, deciding to move from India to the US?
They came to her with the offer (the American television serial, Quantico, which is now in its second season). It took her some time to think about it, but eventually, she accepted.
What did you feel about her decision?
Did you feel she was taking the right call in leaving a flourishing career her to start off at the bottom again?
Yes, I think she did.
She was expanding her boundaries.
She had done almost everything that needs to be done here. And she loves challenges.
There, she got another challenge. That was good for her.
Gossip and Bollywood, gossip and being a celebrity, go hand in hand. Your family was not familiar with the industry.
How did you cope with it as a mother? How did you help her to cope?
Initially, it used to bother us, but now...
Priyanka told us, 'You know your daughter, so don't listen to all this. Tell the family also not to listen to all this because this is what journalists do; this is what sells. So let them do what they are doing. It makes no difference to me.'
And from her fan base, from the kind of work that she is doing, I know it does not matter to anyone else.
People now understand that all this is just plain gossip.
No one has ever seen Priyanka do anything.
No one has seen her with anything.
No one has seen her at a party, trashed, or whatever people write... it never happened.
She never does it. We know that. Most of the journalists also know that. And I don't think there is so much bad stuff written about her.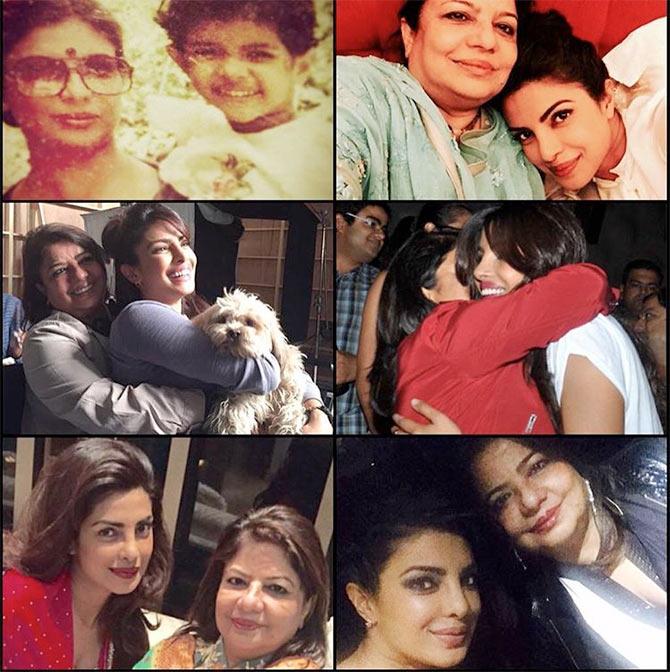 IMAGE: Collage of photographs of Priyanka and her mother Dr Madhu Chopra. Photograph: Kind courtesy Priyanka Chopra/Instagram
As a mom, what is your biggest worry when you think of your daughter?
Her safety. Her happiness. That's it.
I don't want anything to upset her. That bothers me a lot.
And yes, I want her to be safe wherever she is.
A public figures is always subject to... (searches for the right word)... trouble many times. And the way articles and stuff... turn people's opinions... and into something wild... that's when I worry for her.
How do you maintain the balance between your two children? You're also straddling two continents now.
Yes (smiles).
I visit Priyanka as often as I can. Siddharth is also finding his own feet now.
I am helping him, guiding him. He needs more of my attention.
Now the roles are different. I look after Siddarth and Priyanka looks after me (laughs).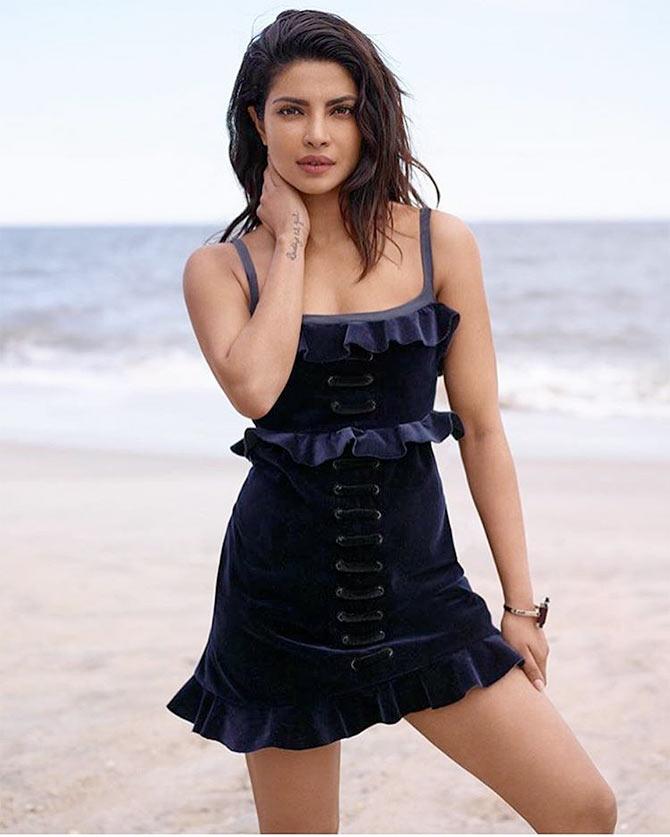 IMAGE: Priyanka Chopra's photoshoot. Photograph: Kind courtesy Priyanka Chopra/Instagram
At a certain age, mothers start worrying about when their daughters will 'settle down'. Did you worry too?
I did. I used to. But Priyanka convinced me that she is in a very happy place and asked if I wanted to upset that. I said no.
Then she said, 'Let me be.' So now, I don't worry.
She didn't like America very much the first time she went there. Do you regret sending her?
During those initial first few days, the first few months, I did think that maybe she'd come back.
At that time, probably, America wasn't really ready for outsiders. But now, from the looks of it, it seems like they are more welcoming. They are more used to diversity... so now, I am not worried.
When she was in Los Angeles and she was in the studio and she was making music and she got accepted... that was very nice. I was very happy after that.
How do you deal with the adoration that comes her way? How does it make you feel?
I take it with a pinch of salt. I feel this too shall pass.
I believe that good times and bad times both shall pass. So, for me, it is not a huge deal.
I am happy for her, very happy for her, but I take it with a pinch of salt.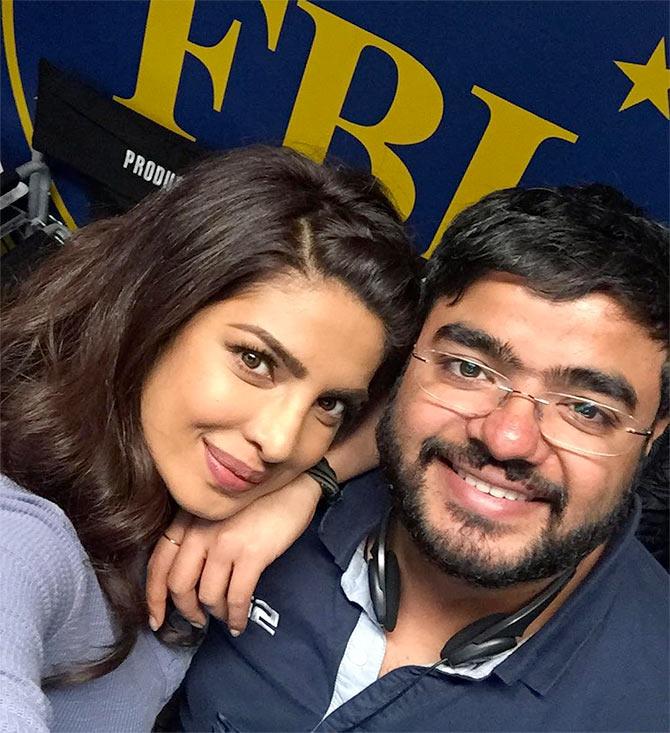 IMAGE: Priyanka Chopra with her brother Siddharth. Photograph: Kind courtesy Priyanka Chopra/Instagram
Could you tell me about the kind of relationship she shares with her brother, Siddharth?
(Laughs) She's a bully. (Laughs again) She's a bully.
She cares a lot for him. She advises him. She guides him, but she's a bully and because she does not want him to feel entitled, she does not want him to take things for granted.
He wanted to become a chef, that was his career plan.
As s a mother, I said okay fine, I'll get you a restaurant.
Priyanka didn't let me do that. She said no, he has to rough it out.
So he joined hotels, he worked from the bottom, cleaning potatoes, cleaning dishes...
It was quite hard, but I thought it was a good thing that happened because he realised that being a chef was not his cup of tea (laughs). That being a chef was not what he wanted to do (laughs).
He moved into management and he is happier. He is in the hospitality business, but on the management side.
Do Priyanka and Siddharth fight?
They don't fight, but they have arguments over issues.
In our house, we don't fight-fight. No yelling. No confrontations...
So does someone get up and walk off?
Most of the time, she does (laughs).
How does Siddharth deal with the fact that he has a celebrity sister?
I feel there are times when it is very difficult for him to accept that because he is living in the shadow of a big celebrity.
It is difficult for him to come out of that shadow... for example, to say no to his friends...
Didi does not let him take favours at all.
How do you, as a mother, bridge that?
I don't. He has to find things out for himself.
So you don't interfere at all.
No, I don't.
Do you kind of favour him a little more because...
Priyanka thinks I favour him and he thinks I favour Priyanka (laughs).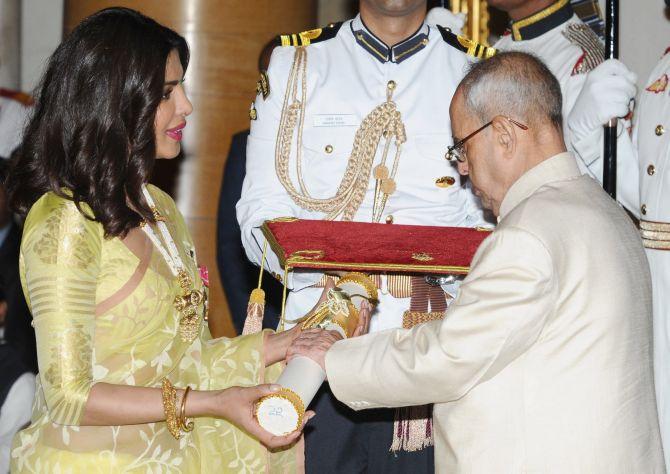 IMAGE: President Pranab Mukherjee presents the Padma Shri to Priyanka. Photograph: Press Information Bureau
What is your proudest Priyanka moment?
When she got her Padma Shri.
What was that like?
My God!!! My mother managed to attend. Her dad just missed it, but he was there for her national award.
The Padma Shri was very humbling and very... such a proud feeling. At such a young age, her achievements have been recognised.
Do you feel bad that she works so hard all the time?
No, I tell her, while you are young only you can do all this.
You can always step back whenever you want to, but once this time goes, when you get a little older, it's not going to come back.
This is the age when kids should put in hard work.
I encourage her.
As the mother of an actress, how do you feel? You gave up your career to stay with her...
Can't find many parents today who do that. All her contemporaries, none of them had their mothers sitting with them or, you know, following them...
I completely supported her and managed to integrate my business with hers. I managed to find the time for my work and hers.
Now, of course, I should be retiring from something, somewhere (laughs).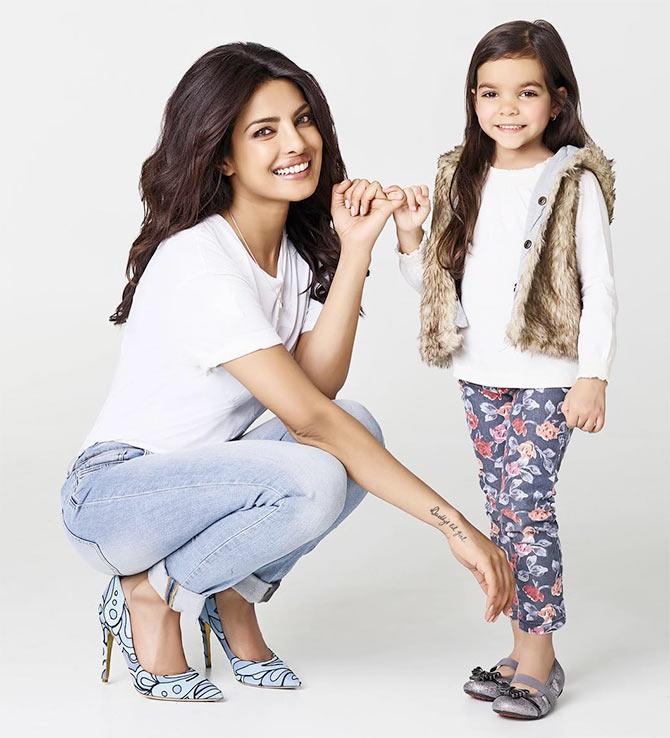 IMAGE: Priyanka captioned this image 'This lil cutie Sofia and I #MAKEAPROMISE to help children in urgent need.' Photograph: Kind courtesy Priyanka Chopra/Instagram
If you had to describe Priyanka... the Priyanka that the world does not know, but you know and your son knows, how would you describe her?
Very, very kind-hearted... kind to a fault. She is too kind. That is something people do not know... how much she does philanthropy... she is taking care of more than 150 children's education, medical health...
People don't know that because she does not want it to be known. She says it's her private business.
She does not raise funds for this because this is what she does.
When you think of Priyanka, is there a story about her that comes to mind that you'd like to share?
She's a good swimmer.
On one of the foreign shoots, they had to go mid-ocean and she was supposed to jump in and the hero comes and saves her.
So they went out in the boat. She had not told anybody she could swim. The hero tried to play a prank on her. She jumped and they moved the boat away, thinking she'd believe she was drowning and make a noise.
She did no such thing... she started swimming. She's a very strong swimmer. She was enjoying herself in the water. The hero got so pissed.
Who was the hero?
(Laughs and shakes her head.)
Does she miss the fact that her father is not there to see what she has achieved today?
I think she has accepted the fact that Dad is up there and he is doing it all for her.