'Every story has a heartbeat of its own.'
'Sometimes you want to go thak thak thak and finish the screenplay fast.'
'In other stories, you go thak (pause), thak (pause), thak (pause). That also works.'
'Pathaan has a different heartbeat.'

What is the secret of Pathaan's huge box office success?
It's all in the writing.
The film moves at such a fast pace that it keeps audiences at the edge of their seats.
It's no wonder that Yash Raj Films appointed the film's scriptwriter Shridhar Raghavan (who has written films like Khakee, Apharan, Chandni Chowk to India and War) as the mentor for its spy universe; his next project is the Salman Khan-starrer Tiger 3.
In the first part of this interview, Shridhar tells Syed Firdaus Ashraf/Rediff.com just what worked in Pathaan's favour.
When Director Siddharth Anand gave you the story of Pathaan -- where the hero works for India's intelligence agency and the heroine is a Pakistani agent of the ISI, which is known for creating terror activities in India -- were you convinced?
In today's political times, was it difficult for you to show an ISI officer falling in love with a RAW officer?
When we were writing, we were writing an entertaining comic type of story.
There were no sub texts.
If you see the Tiger series, you will see that this was done in the past too.
I have grown up on Manmohan Desai, Prakash Mehra and Vijay Anand films. That is the only filter I used for writing.
As an audience, I must have fun watching the film.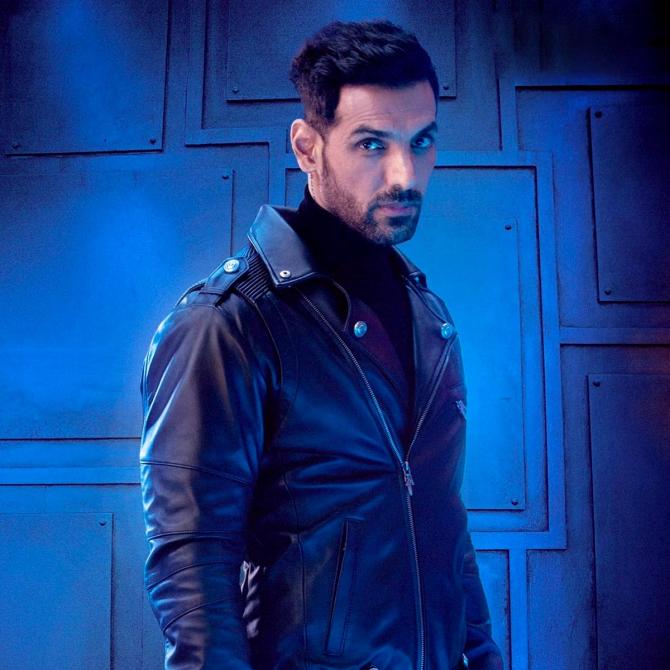 In the film, one gets the feeling that no one is wrong. All characters feel they are right and somewhere. You sympathise with John Abraham too, who plays a villain, because his agency wronged him. Was it intentional?
Even a villain is a hero in his own head.
If you listen to Pathaan's story from the villain's point of view, you will see that he has a rationale for what he is doing.
If we write a black and white character, it is not story-telling.
Everybody has a point of view. When that point of view clashes, it leads to a conflict and that creates the drama.
The story moves very fast and that makes it very entertaining.
That is the fun of screenplay writing.
Every story has a heartbeat of its own.
Sometimes you want to go thak thak thak and finish the screenplay fast. In other stories, you go thak (pause), thak (pause), thak (pause). That also works.
I watched Ijazat and Masoom and said, Wow!
Pathaan has a different heartbeat.
When people come to watch a mainstream entertainer, they have certain expectations.
It's like after Manmohan Desai made Amar Akbar Anthony, he had to make another film like that because people came with certain expectations to the theatre. Later on, he made Naseeb (after Suhaag).
That is the idiom that we Pathaan writers tried to live up to (after War).
As a child, when I used to watch those films on the big screen with my brother (Director Sriram Raghavan), we used to wonder, who wrote these films.
It is not that Salim-Javed were not known names at that time, but we, as kids, wanted to know who they were.
Look at the dialogue writing. A simple line has so much drama.
For example, that line from Deewar: 'Bhai, tum sign karoge ke nahi?'
It is said in such a correct way.
The same was with Vijay Anand in his film like Johny Mera Naam. It is such an engaging film!
We just went with the momentum in Pathaan.
The first 10 minutes of Manmohan Desai's films tells more stories than our entire Hindi cinema stories!
Remember Naseeb?
Four friends are buying lottery tickets for the last 10 years. One day, they win and that leads to the murder of one of them.
This is done in the first 10 minutes.
Prayag Raj, the screenplay writer of Amar Akbar Anthony, did a fantastic job.
K A Narayan wrote the screenplay of Vijay Anand films like Jewel Thief and Johny Mera Naam.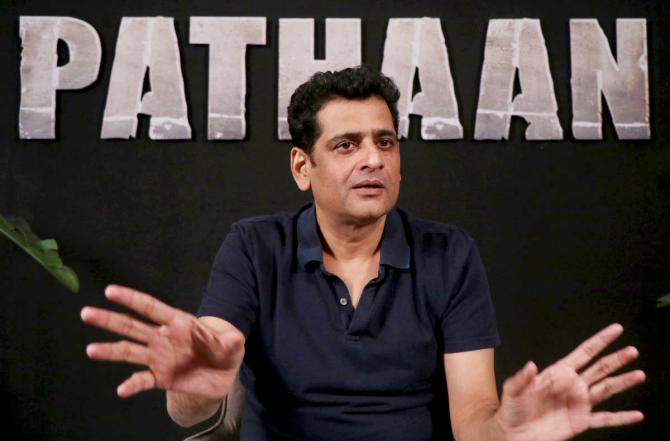 You got a lot of praise for Pathaan. Now, for some criticism. Don't you think the part where Shah Rukh Khan begins trusting Deepika immediately after she double-crossed him was flawed?
I will not judge my own film.
It is up to the audience.
But no one has pointed this out to me.
I have no answers.
Honestly, I have not analysed anything about Pathaan. I am sure there must be mistakes.
I am not saying this is a Yaadon Ki Baaraat script.
But this movie was a collaborative effort. We were all trying to make it interesting.
A lot of the film writing happened in collaboration with Adi sir (Yash Raj Films boss Aditya Chopra) and (dialogue writer) Abbas Tyrewala.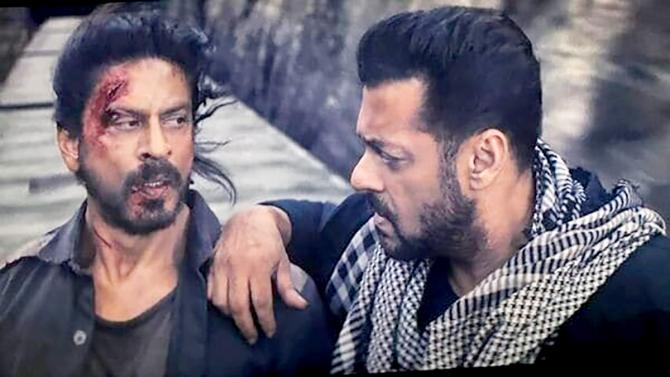 Was there any point where you did not agree with Siddharth Anand or the other writers?
Yes. The scene where they go to Moscow and steal (the deadly virus called Rakt Beej).
I was not convinced about it because I felt it was more about a heist.
But after I saw the film, I felt it was a justified scene.
The scene where Salman and Shah Rukh chat was written by Aditya Chopra. I did not even know that it would be there in the film.
Great ideas came from Adi sir, Abbas Tyrewala, Director Siddharth Anand and Editor Arif Shaikh.
The last draft of the screenplay is the edit table.
You can write 20 drafts of a screenplay, and the editor can change the whole thing on the editing table.
Arif is a terrific editor.
I had written so many scenes, but they were cut off. But when you see the film, it looks fine.
Was Pathaan written before the COVID-19 pandemic hit in March 2020?
Yes. Luckily, Siddharth and Aditya Chopra were confident that the script would work.
They knew what they were making.
Writers are always nervous.
If you go to a party, you will notice that the writers are always in a corner of the party, looking anxious, sweating and tense about something or the other.
I am that kind of person. There is always confusion in the writer's mind.