'This trope must have been taken in 30 films.'
'The rogue agent is a common trope and not something unique.'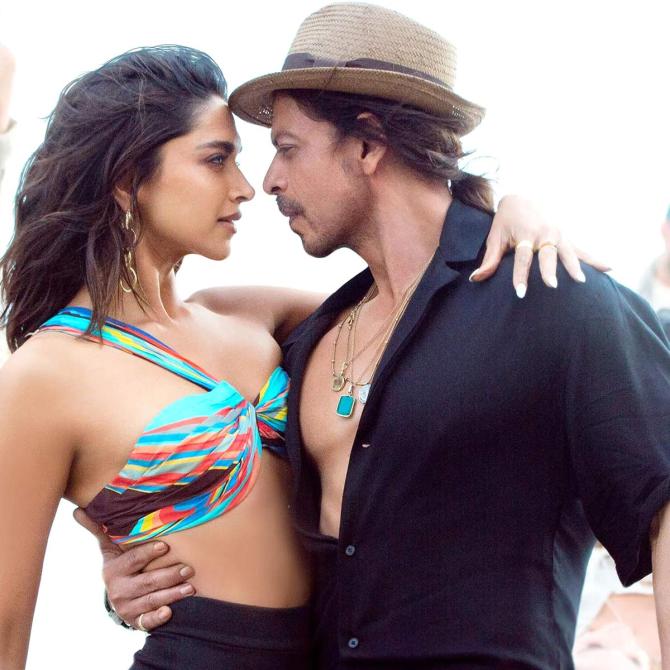 The man who gave Pathaan its heartbeat has about 30-40 stories with him, stories that he's trying very hard to sell but in vain.
You see, even a star writer does not have it easy in Bollywood.
Shridhar Raghavan tells Syed Firdaus Ashraf/Rediff.com, "You write 50 scripts and you will get one chance."
After South Indian films started doing well at the box office, there was a feeling that Hindi films did not have good writers. Do you feel you have broken that myth with Pathaan?
This was a wrong notion. This building (Yash Raj fILMS) has the best writer in Jaideep Sahni (Chak De! India).
He is a baap writer. I do not consider myself to be 1 percent of him.
Besides, go to any Starbucks outlet in the suburban area of Andheri and you will find a writer.
Why are writers blamed for flops?
Writers do not go anywhere. Just one year films did not work and the blame came on writers.
Now let six months pass and everyone will start saying that we have good writers.
People forget writers.
Rajat Arora is a great writer. He started with me in CID.
Anjum Rajabali is another great writer.
And I am only talking about writers and not writer-directors like Sriram Raghavan, Imtiaz Ali or Anurag Kashyap.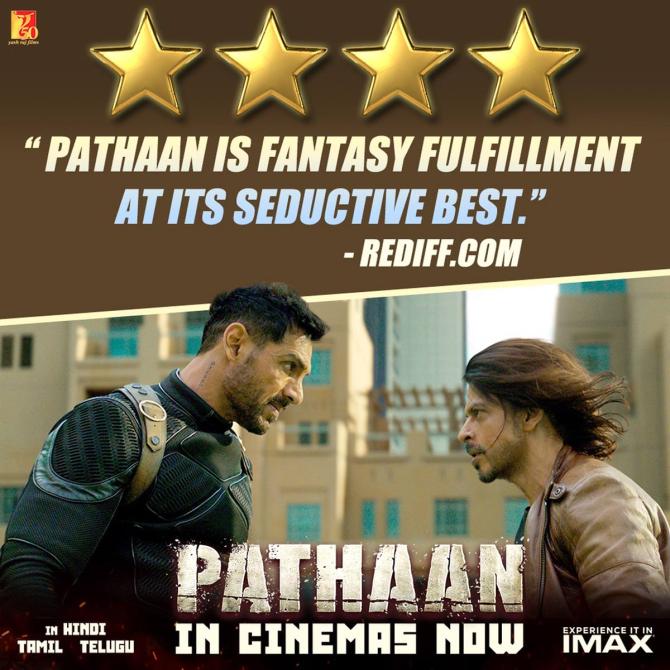 What is the most common question you are asked as a writer?
'When will you direct?'
Arrey dost, kahaan directing?
Where is the interest and the ability?
Directing is also about management. You have to manage 200 people at the same time. It is not an easy job.
I cannot take questions like what costume colour must the heroine wear? Blue or pink? I will go mad!
I can sit quietly and write. I get up at 5 am and write.
Also, if you get stuck, you can move on and write another subject. The director does not have the liberty to do that.
When (his brother) Sriram is directing, he cannot say after 28 days that let me give up and shoot something else.
It is his job to finish the project.
Writers are indecisive by nature, but producers and directors are very decisive.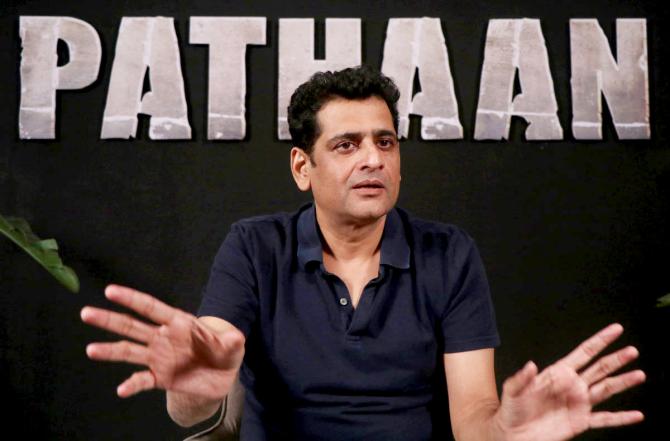 Are there any scripts that you have not been able to sell?
Many! Sriram has 10-15 scripts which were never made into films.
I must be having 30-40 such scripts.
I have spent five-six years on those stories, but they were never made. I tried my best to sell them.
I let young writers read my scripts and see if it is good.
It does not mean you get demoralised. You write 50 scripts and you will get one chance.
Do such failures disappoint you?
I love writing. It is a habit.
I get up in the morning and write.
I write scripts, short stories...
I write for myself because I enjoy it.
It gives me a sense of relief, makes me calm.
If somebody happens to buy a story, it is awesome.
Sometimes, people commission a story to you.
For War, Adi sir (YRF head Aditya Chopra) and Siddharth Anand commissioned me to write its screenplay.
So I wrote it.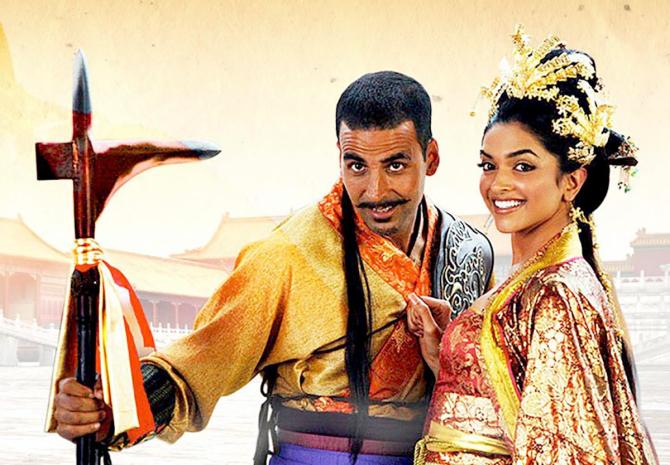 Chandni Chowk To China, which you wrote, was a debacle. Did you want to give up writing after that?
Failure teaches you some essential stuff and also teaches you about over-confidence.
I spent three years writing Chandni Chowk to China. When it failed, I questioned myself where I went wrong.
When something fails, you feel terrible.
I must have written 1,000 episodes of CID, of which 200 may be excellent and 100 may be bad.
You can experiment, but in films, you do not get that chance.
I got applauded with my first film Khakee. After my second film, Apharan, people said I must get the National Award.
After that came Chandni Chowk to China.
I am the same person; I did not change. But the film I wrote flopped.
At that time, Director Kundan Shah told me one thing: 'All these things are like a toss of a coin. It can go this way or that. This holds true, especially for comedy. You did not go wrong, that (toss) went wrong.'
Most people gets calls after success, but I got calls after failure.
I got calls from people who gave me encouragement like Subhash Ghai and Gattu (Abhishek Kapoor).
I felt good.
I took some time off and started working on smaller films to understand (where I went wrong).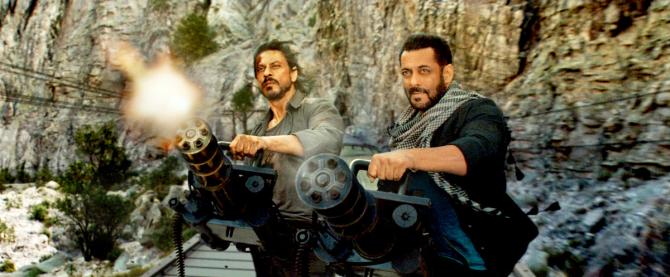 Was bringing Salman Khan in Pathaan was your idea?
No. Don't go by the traditional way that if I wrote the screenplay, I did everything.
Ninety percent of the film is written by me, but the final cut is 90 percent Adi sir's.
Getting Salman Khan in Pathaan is a big thing. I wrote it, but it was his brief.
Did you copy from Skyfall? The script looks like the same -- a spy agent turning against his country.
This trope must have been taken in 30 films.
The rogue agent is a common trope and not something unique.
Now, Yash Raj has a spy universe, and you are the writer. Are you under pressure?
No way! All I can do is write.
Writers must get a producer like Yash Raj Films.
The toughest job of the writer is to convince the producer, then the director and then the actors. It is like steeplechase race where the writer is a lame horse and there are obstacles.
But when you have a producer like YRF, all those obstacles are removed.
The focus is on writing.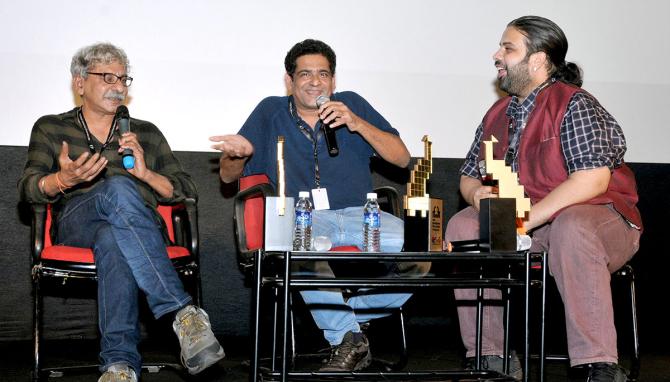 Why don't you write for your brother Sriram Raghavan?
He is a good writer. We worked on television together earlier. Now, he himself has 25 stories to tell.
There is only one life time and he will barely be able to tell three-four stories out of them.
Everything I can do, my brother can do plus one.
Sriram does not need a writer around him.
But we discuss each other's work.
Do you read spy novels?
I read eight-nine books a month. I have been reading since I was eight.
I love authors like John Le Carre and Eric Ambler.
The best spy novel I read was by John Le Carre, The Spy Who Came In From The Cold.
I love comics.
I loved Phantom, Mandrake and Bahadur.
The recent espionage writer I love is Mick Herron. You can see his show Slow Horses on Apple TV.