'Scenes of self-destruction are exhausting after a point. At nearly three hours, Kabir Singh's belligerence is too much to bear,' says Sukanya Verma.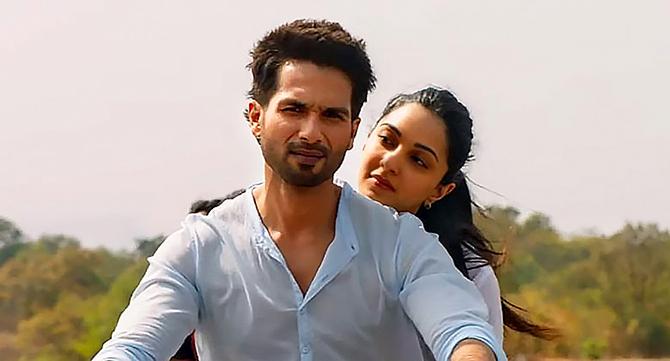 Is it important to like a character to like a film?
Morality is not an issue. I can accept vile mad men and perverse bigots at the centre of a story or sensationalism. I'll happily root for evil if it's clever and compelling. But I find it difficult to wrap my head around toxic machismo. Least of all reel in its romanticism.
Attributing bad behaviour randomly to anger issues and a drinking problem sans any context or consequences only makes it all the more rash and ridiculous.
My mind was at complete odds while watching Kabir Singh. Sure, it is slickly packaged. Only one, that constantly challenges your good judgement to ever fully surrender to or accept for what it is. The feeling is way stronger from the conflict I experienced on seeing its original Arjun Reddy not too long ago.
Save for the North Indian flavours and few edited-out bits, Kabir Singh is a frame-to-frame reproduction of the Telugu superhit whose excessive insolence is somewhat minimised in the marvellous magnetism of leading man Vijay Deverakonda.
Though Arjun Reddy troubled me no end, Deverakonda is the reason I couldn't look away. He is fascinating like nobody's business doing more than what is on paper.
I didn't take to the movie -- written and directed by Sandeep Reddy Vanga -- yet was fascinated by the actor-character incongruity it gave rise to. There is no way you can go into Kabir Singh and not dwell on Deverakonda's influence if familiar with the original.
Shahid Kapoor's eminence in edgy characters (Kaminey, Haider, Udta Punjab) is a good fit for Kabir Singh. But the raw passion and dark desperation that drive his quick-tempered character's impulses do not go the whole hog.
The tone is more irritable than obnoxious. Dare I say it; he's water to Deverakonda's soda.
That's no good when you are playing a problematic protagonist. Kabir Singh is as unlikeable as they come. Middle fingers are blurred and expletives are bleeped. He may insist he is not a rebel without a cause, but the alcoholic surgeon's flashback as medical student reveals him to be a classic bully eating his words time to time.
He says he'll rather leave college than apologise and then ends up doing just that.
He says he'll stay put on his resolve of lodging his girlfriend in a men's hostel only to promptly move out.
All the groovy rock music, lilting ballads and sympathetic background score cannot camouflage Kabir's douche ways. At the peak of his misogyny, he'll point sharp objects and threaten a fling to undress, chase his house help with the intention of thwacking her for breaking his crockery, force a 'healthy' girl to be his lady's best friend cum roomie, strong-arm his way into a relationship with the girl to catch his fancy and slap her in the film's most unsettling confrontation scene.
Between treating her like property and dismissing her as hanger-on, Kabir amply demonstrates his chauvinistic mind-set in casual remarks to fix her chunni or naming his bitch after his beloved.
Kiara Advani is called Preeti. But Putty would have been just fine. She's certainly one around Kabir. Preeti is a wimp, puppet and minion willingly allowing her subjugation as Kabir's 'bandi.'
She has no agency. She desires no agency. You'll find more spunk in a robot.
She is so blah even she can't help ask the hero, 'What do you like in me?' Maybe her conservative upbringing and lack of social interaction has made Kabir's forceful assertions attractive to her and playing pushover is her way of life.
To her credit, Advani is adequately coy and cries well. A romance between a cad and a cow, no matter how good-looking they seem smiling in harmony around yellow fields to lilting songs is still a romance between a cad and a cow.
It doesn't help that the chemistry between Kapoor and Advani doesn't sizzle at all. Lip locks galore and zero abandon.
When the inevitable estrangement happens, there's only this much whining, pining, drinking, doping, smoking, stuffing ice in sex-thirsty crotch one can depict and Vanga gets busy highlighting Kabir as the resident lothario.
The nurses lust over his sculpted torso and patients, including an actress, see him a potential for one-night stands. Around such a turbulent scenario, can medical negligence be far behind?
High on ugly entitlement and random rage even before his drinking problem has kick-started, there's no sense to his waywardness. There's no reason for him to snap all the time. His family dotes on him. He's an A-one student.
In films like Rockstar and Raanjhnaa, aggression stemmed out of quashed dreams and daddy issues. In Gully Boy, Alia Bhatt's volatile outbursts had something to do with all her pent-up emotions in a regressive household.
Even Shrek's ogre front is more of a defence mechanism and not simply because it is in his nature to be one. Kabir Singh can neither justify his agitation nor persuade us of his clout.
But Kabir Singh's dadi (Kamini Kaushal is elegance, intelligence personified) and director Vanga just wont give up on him.
His cocky gyaan, wholehearted violence and remorseless antics are not just condoned by his close ones but rewarded too. If his brother (Arjun Bajwa) informs him about a high-end bike he has ordered from abroad, his best friend (a scene-stealing Soham Majumdar) offers his sister's hand as a means to heal his heartbreak whereas his dad (Suresh Oberoi, looking every bit the lenient dad of a lame son) does what all wealthy dads of entitled brats do. 'Go for a vacation. You need it. You deserve it.'
The differences leading to the stalemate between Kabir and Preeti itself are daft. Her father's objections to their match owing to caste (she is Sikh), are brought about in a heavy-handed manner. He seems as antagonistic as Kabir and unwittingly reveals Preeti's pattern in men -- obviously a thing for controlling, raging daddy figures.
Scenes of self-destruction are exhausting after a point. At nearly three hours, Kabir Singh's belligerence is too much to bear.
From treating women like toys, trampling all over their feelings and then acting like a wounded martyr and misunderstood genius wronged by the world, Kabir Singh rounds up every foolish male's ultimate fantasy.
Lack of rules can be refreshing, but to watch a sicko getting away after ticking every wrong in the book just rankles.
Rediff Rating: