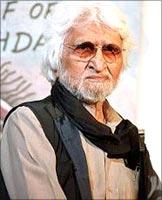 One is reminded of the song So Long Farewell, Are We To Say Goodbye. The time has indeed come to say farewell to one of Indian pre-eminent artists, rather the Czar of Indian Art.

It's hard to digest the fact that India's premier artist MF Husain is no more in our midst and it's harder even to write an encomium recounting memories. For the artist was such a generous man who in his interactions interspersed with interesting nuggets gave away so much that it was an enriching experience talking to him on most occasions be it on his works, on cinema (which he was deeply passionate about), art in general.

Therefore it's hard to reproduce all that in a few words. Undoubtedly, MF Husain was one of the first to glamourise Indian art.

MF Husain was Husainsaab to many and Baba as he was fondly called by his family.

The first time I set out to meet him was one morning in January about a decade ago.

Hearing he was in town I proceeded to the Cinema Ghar (the house he had designed in Hyderabad, which was a mini museum cum residence. It even had a 50-seater theatre given Husainsaab's passion for cinema).
On entering Cinema Ghar hesitantly I stepped slowly towards the flight of steps looking for a person to ask Husainsaab's whereabouts. And lo! as I climbed the first step I see none other than the celebrated artist himself sitting on the foyer.

My joy knew no bounds on seeing him for the first time in flesh and blood. As I was working in one of the nation's premier newspaper at that time I introduced myself and he beckoned me to sit.

For more than an hour one sat and chatted about various things primarily related to his journey in art. He gave me a book The Genesis of Gaja Gamini and 2 small books (one on the furniture he has designed and another written one by his daughter-in-law Najma Husain's Art: Book for Children.

Too thrilled at this I requested him to autograph The Genesis of Gaja Gamini (which is priceless now) and he kindly did so writing my name too!

Husainsaab even invited me (gave me two invites) for the special screening he was having of Gaja Gamini the next day in a theatre in the city. The next day when I went along with my mother for the screening Husainsaab was at the entrance personally inviting and seating the guests.

I got another opportunity to see him pretty soon when he was shooting his second film Meenaxi, A Tale of Three Cities in Hyderabad. Once again I made my way to Cinema Ghar and met him at the very same foyer. And what a revelation that session turned out to be.

It brought out his deep passion and fascination for cinema as he told me "cinema is a medium of the painter. It is not the medium of any storywriter or anybody else. It is a visual language."

He proves this by saying many leading filmmakers like Akira Kurosawa were painters. (Satyajit Ray was an illustrator) He delved deep into the subject that day. Besides talking about Tabu, AR Rahman (who was composing music) and the film in general, he also gave some interesting anecdotes about his visit to Italy and staying with the famous filmmaker Roberto Rossellini.

Husain was adopting a method of film-making influenced by Rossellini. He told me about the whole month spent in Rome and how he observed Rossellini and his cameraman Tonti and their methods of filming. And the meals Rossellini had cooked for him and how he never had that kind of Italian food again!

Husainsaab also gave me exclusive stills from the film which helped me do a special piece again.

When Nagesh Kukunoor made Iqbal, Husain was struck by the film and he made about six paintings (black and white with just a hint of colour) within a few hours and showcased them at Cinema Ghar.

He had invited some people also including Kukunoor and Shreyas Talpade (the hero). He asked me if I had seen the film (it had barely released a day or two before) and when I said I had not he said there's a show at 10 pm at this theatre so come along.

So a privileged 10-12 people went along with him and saw the film. In the interval as people spotted him they came up for autographs and he obliged.

There were innumerable other occasions I met him -- during the release of his autobiography Where Art Thou (with Khalid Mohammed), his audio tapes Suno M.F ki Kahani, the visit of his artist-friend Tyeb Mehta to Cinema Ghar, his exhibitions of serigraphs, paintings etc.

In fact, Cinema Ghar would be the hub of artistic activity thanks to Husainsaab, his son Mustafa and daughter-in-law Najma who had settled in Hyderabad. Each and every occasion of interaction would be a learning experience as one would come back with a new facet of Husainsaab.

Husainsaab felicitated eminent filmmaker Adoor Gopalakrishnan on his receiving the Dada Saheb Phalke Award and organised a screening of his film Nizhalkuthu. It was a pleasant evening with the two eminent personalities around.

Lastly I was fortunate to be associated with him in the reprinting of one of his books. I helped in the proof reading and was with Husainsaab as he colour corrected the pictures in the press. In fact he was discharged from hospital only the day before and he sat in the Press for three hours plus with the computer technician correcting the pictures!

His zest and inexhaustible energy was admirable. So was his endearing and pleasant demeanour.

He was a frequent visitor to Hyderabad in the early 2000's. Cinema Ghar had some of his prints and other works of art including the "Theorama paintings" -- A set of paintings on 7 religions which he did. It also housed many of his sketch books drawings and even his observations as Member of Parliament.

It's a pity that he died far away from the land of his birth. Dasvidanya Husainsaab. May his Soul rest in peace!