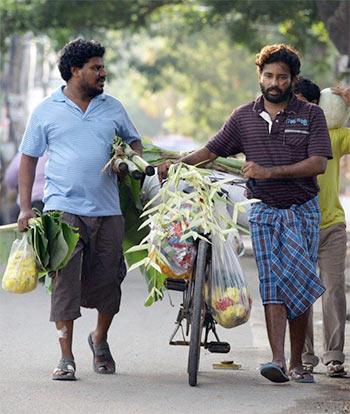 'Police brutality and lock-up deaths have been relevant forever.'
'I believe this is why Visaranai has appealed to everybody. We can all relate to the subject. We read about it every day. It is this harsh truth, this reality in society that has struck a chord with the people.'
Filmmaker Vetrimaaran gets ready for the big Oscar race.
Awards, acclaim and commercial success, director Vetrimaaran has seen it all.
After the spectacular success of Aadukalam in 2011, which won six National Film Awards, Vetrimaaran went on to direct Visaranai, a crime thriller that won him international acclaim.
Visaranai was the first Tamil film to be screened at the competitive section of the 72nd Venice Film Festival, where it won the Amnesty International Italia and Cinema for Human Rights award.
The film won three honours at the 63rd National Film Awards: Best Feature Film in Tamil, Best Supporting Actor and Best Editing.
Now, Visaranai has been selected as India's official entry for the 89th Academy Awards.
In this exclusive interview with Rediff.com contributor S Saraswathi, Vetrimaaran shares his excitement and reveals why Visaranai will appeal to all.
Visaranai wins you yet another honour. How does it feel?
The announcement comes as a beautiful surprise. We are very happy. It is a huge honour.
The focus now has to be on promoting the film.
There is a lot to be done in the next few months before the film can actually be nominated.
What do you think sets your film apart from the 29 other films that were being considered?
Honestly, I really don't know. It all depends on the jury. This jury perhaps found my film interesting and chose it.
Kamal Haasan's Hey Ram in 2000 was the last Tamil film to be selected as India's entry to the Oscars. Does this reflect on the quality of Tamil films in the last 16 years?
Not at all. There are so many films coming out each year in our country. So many different languages.
We have some beautiful films in Bengali and it has been years since a Bengali film has been selected. I don't believe this reflects on Bengali films, or any other language film for that matter.
We also have been consistently making good films; it is just that only one film gets this opportunity every year.
In light of Ramkumar's death (the accused in the Chennai techie Swathi murder case) in the lock-up recently, does your story become more relevant now?
Police brutality and lock-up deaths have been relevant forever.
It was relevant when M Chandrakumar, (Visaranai is based on the novel Lock Up written by M Chandrakumar) an innocent labourer, was unjustly arrested over three decades ago and it is just as relevant today.
I believe this is why the film has appealed to everybody. We can all relate to the subject. We read about it every day. It is this harsh truth, this reality in society that has struck a chord with the people.
Was it difficult finding a producer for the film?
Dhanush loved the script of Visaranai. He was more than happy to produce the film.
Besides, I have never had any difficulties finding producers for my films.
You seem to have found the perfect balance between critical acclaim and commercial success.
(laughs) I don't really think about all that while making a film. It is all instinctive. If I am intrigued or moved by a particular subject, I go for it. At that time, you don't sit down and plan whether it will be commercially successful or critically acclaimed.
I enjoy what I am doing and fortunately, the audience also seems to be enjoying my films.