Preetisheel Singh lets us into some star secrets.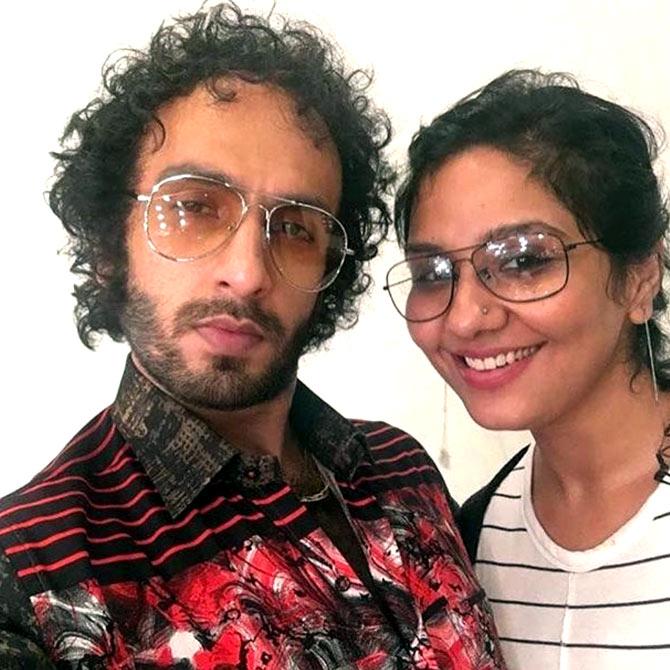 IMAGE: Ranveer Singh looks unrecognisable as he poses with Preetisheel Singh.
Were you amazed at Nawazuddin Siddique's look in Mom?
Did Ranveer Singh's make-up in Bajirao Mastani shake you up?
Did you wonder how Kay Kay Menon and Tabu bloodied up for their death scene in Haider?
Make-up artist Preetisheel Singh takes Rediff.com's Patcy N on her Bollywood journey. A magical, mystery, tour indeed!
Tell us about yourself.
I am the oldest of three siblings. My father was in the timber business earlier, but he had to shut it down. Then, my parents started a boutique in Pathankot.
My mom was very particular that her daughters have to be financially independent, so there was a lot of stress on studies. I did a BTech in electronics and instrumentation.
I got a job in TCS (Tata Consultancy Services), Delhi, and worked for a year.
Then, I was transferred to New York for three years.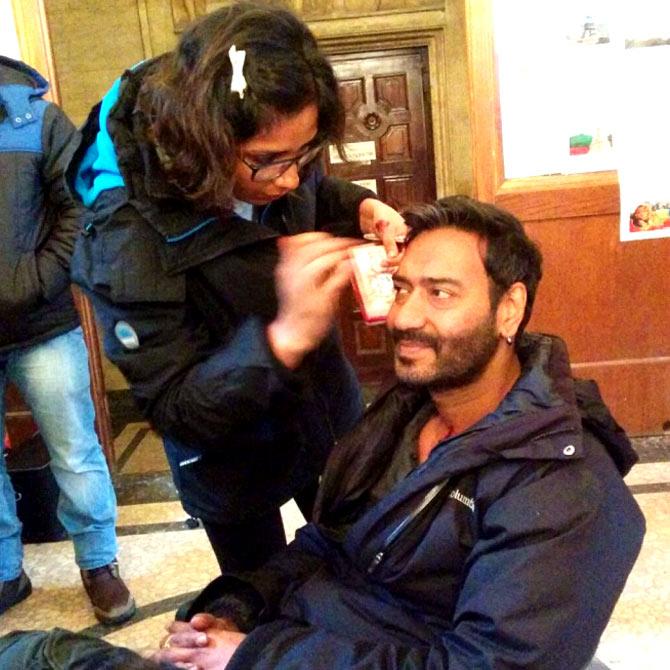 IMAGE: Preetisheel with Ajay Devgn in Shivaay.
When did you know that you wanted to pursue this profession?
After working for a year, I realised it wasn't for me.
My father was a movie buff and I was quite fascinated about the movies as a child.
I would do makeovers on my mother, my sister and my friends.
I watched a lot of fantasy films like Lord Of The Rings and Planet Of The Apes. I realised that in India, we did not have anything like that; we don't make 'creatures'.
In the 1990s, Kamal Haasan had called (American make-up artist, best known for Star Trek) Michael Westmore to work in Chachi 420.
I was taken aback with the kind of transformation he did on Kamal Haasan. So I thought why not do something in this profession?
How did you go about it?
I started short-listing schools from where I could do a course.
Then I saw the fee structure. The school fees, the material costing, travelling to Los Angeles, accommodation, food and commute was coming up to Rs 20 lakh for a six-month course.
I had bought a house in Pathankhot, so I had a monthly EMI.
I thought I should save money before I quit my job at TCS. So I saved every penny for the next three years.
Then, I went to the Cinema Make Up School in Los Angeles and did a six-month course and with a one-month internship. After that, I returned to Pathankot.

IMAGE: Akshay Kumar tries prosthetics to bring on the laughs in his show, The Great Indian Laughter Challenge.
When did you come to Mumbai?
My sister was working in Mumbai.
I was broke when I came here, so the first thing I did was figure out how to acquire the material that I used in the US.
I realised that barely 15 percent of the things are available here. The rest I had to source from abroad.
I started figuring out what the chemical substitutes would be, and that took me a year- and-a-half. I also started looking up production houses to show them my work.
There are a lot of make-up artists here, so I needed to have a USP to stand apart.
That USP was prosthetics.
People liked my work, but no one would actually give me work. Firstly, we do not make movies that need a lot of prosthetic.
Secondly, everybody has a tight circle.
I met senior make-up artist Anil Pemgerekar. He was the first person in Bollywood who started foam latex along with chemical foam blast in the late 1980s. But he had not got any recognition for his work.
He was impressed with my work and started referring me to people.
I got a little work in the film Joker and that's when I started learning how the industry worked. But after that, there was no work for almost eight months.
Then I learnt that they were making mutants in Krrish 3 and there would be a lot of prosthetic involved. So I called the production house and told them about my work. They had already signed up a prosthetic designer from the UK, Mike Stringer.
But while Mike Stringer had arrived, his assistant could not come because of some visa issue.
So I got a call from the Krrish 3 production team -- they wanted someone to help out. So I went and worked with him.

IMAGE: Nana Shah Fakir did not get a proper release, but it was a big break for Preetisheel.
Please continue.
People got to know of me by word-of-mouth. I was called for a film called Nanak Shah Fakir, based on the life of Guru Nanak. It was directed by Sartaj Singh Pannu.
Even though it did not get a proper release, it was a big break for me.
I had to design Guru Nanakji's look till age 75, 76, as well as the people around him -- his parents, sister... there were about 12 characters.
We had to show a leper, a fat king, a war sequence where they needed amputated body parts...
I had to work six months before the movie went on floors. My youngest brother is my chief prosthetic artist.
A year back, I shifted to a lab in Andheri near Yash Raj Studios. I have a core team of 10 to 12 people, plus freelancers.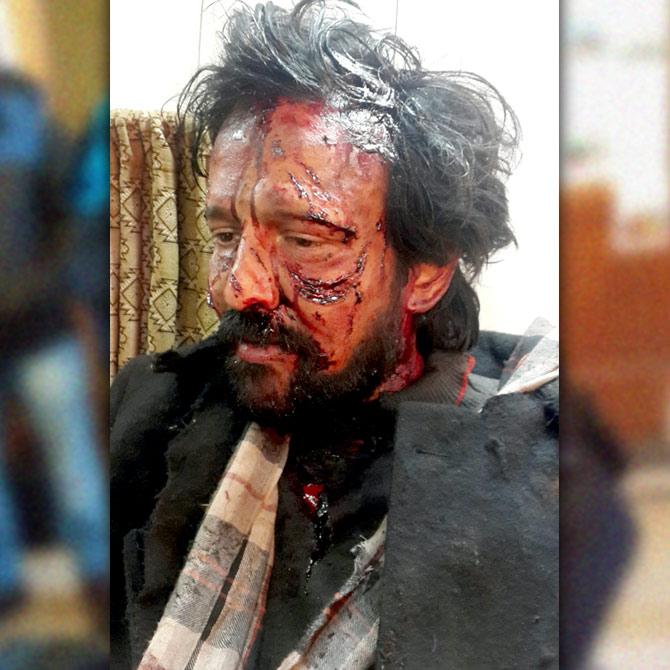 IMAGE: Kay Kay Menon's bloodied look in Haider.
Which was your next film?
I got to work on Haider.
Sameer Chanda, the production designer for Joker, had called me for make-up for a film that he was going to direct. But he passed away.
Vishal Bhardwaj was a close friend of Sameer Chanda's and he wanted to give a break to his main team. That's how my name was recommended for Haider.
I have designed the looks of all the actors in Haider. There was a lot of prosthetics involved during the bomb blast sequence in the climax when Kay Kay Menon's body blows up, when Tabu blows herself up...
After reading the script, I design the look of every character, right from hair, make-up to the beard and moustache on Photoshop. I do different looks for different scenes.
All the look tests are executed by me. Then I explain it to my assistants who have been working with me for a long time now. They replicate it for me as I can't be at multiple places at the same time.
We always do the look test, so that everyone is on the same page, and there is no shock in store for the actor or director on the sets.
In Shivaay, I designed everyone's look -- Ajay Devgn, Sayyesha Saigal, Erica Kaar, the child, the villains... I embossed a tattoo and a mask for Ajay Devgn.
Brothers had a lot of blood and tattoo work for Akshay Kumar. There were swollen eyes, cuts and bruises.
How much does a make-up artist get paid in Bollywood?
I started off with Rs 2,200 per day when I assisted on Krrish 3.
When the company started expanding, I faced problems dealing with money so my husband Mark helps me out. He has his own VFX studio.
Initially, I could not quote a high price since I had to prove myself. I was working on losses then, but now, I am recovering all the costs.

IMAGE: Preetisheel would visit the sets of Bajirao Mastani every day to understand Sanjay Leela Bhansali's temperament, and the requirements of the film.
What did you do after Haider?
I did a part of Finding Fanny; I did 'Fanny' herself. We added some prosthetic to make her face fat.
Sometimes, I don't get the whole movie. I am just required to make a chopped-off head or hand or a body. I may have work for three, four days only.
After Haider, my next full film was Bajirao Mastani.
I met Sanjay Leela Bhansali through a friend who had worked with me on Joker.
I did a presentation for him and fortunately, he was impressed.
Sanjay Sir and I get along well. I understand what he requires. All my look tests were bang on; he never got anything changed.
He called me when he started on Padmavati. I have created the looks for Ranveer Singh, Shahid Kapoor and Deepika Padukone. You will see them like you have not seen before!
It's a period film, and there were a lot of other clans then. Designing looks for each clan... all the characters cannot look the same.
I have also designed the look for Aditi Rao Hydari who plays Ranveer's wife.
I go on the sets only if something new is happening. Usually, a scene gets shot in five to six days; I don't have to go on all the days. My assistant stays on the sets, and replicates the look.
But I was on the sets every day for Bajirao Mastani as I was working with Sanjay Sir for first time. I had to understand his temperament and the requirements of the film.
What do you work with to make the cuts look so real?
We use silicon. It's the best material available in today's times as it gives you a transparency. It looks like you are putting rubber on your face. It blends beautifully and looks stunning.
You get different grades of silicon. We use the softest on the face, so that every moment of your muscles, when you talk, gives the impression that it's moving with you.

IMAGE: 'In Housefull 2, I did the climax scene -- Madame Tussaud's Museum -- because they could not shoot in England. We had to make eight heads in one month. The most tedious in making heads is hair punching, where you have to take a single strand of hair and punch it into the silicon head with a needle,' Preetisheel says.
What's the longest time you have taken to work on an actor?
I took five hours for Nanak Shah Fakhir. My call time would be 3 am because the actors had to be ready by around 8 am. I had to do the make-up for Arif Zakria and Adil Hussain.
Recently, I was working on 102 Not Out. We were doing bald caps for Rishi Kapoor and Amitabh Bachchan. That took one-and-a-half hours to blend and colour, so that you cannot see the lines.
I have done an ad with Ranveer Singh. His look was appreciated a lot, as no one could recognise him.
It is fun working with actors who are ready experiment like Ranveer.
I thought we have always seen him in straight hair so I tried a curly, receding, hair for him.
He sits quietly and lets me do whatever I want, no tantrums at all.

IMAGE: Preetisheel does the make-up for Amitabh Bachchan and Rishi Kapoor for 102 Not Out.
Are senior actors like Rishi Kapoor and Amitabh Bachchan okay with sitting such long hours for their make-up?
Rishi Kapoor loves this kind of make-up. He will appreciate a good job, and tell me to work on a look for him for his next film.
He is very patient. He allows us to do our work at our pace.
He discusses ideas about the stiffness of the wig, the way the hair falls...
He was very happy with his look in 102 Not Out. He called me a magician!
Amitabh Bachchan, on the other hand, is quiet.
I always tell the actors how much time the prosthetics will take, approximately, and how it will feel on their face. I even tell them how it will feel after they remove the make-up.
For example, Rishi Kapoor sweats a lot. In a human body, the maximum heat comes out from the head. So the bald cap that we made for him would start leaking by the end of the day, if there was no air conditioning.
We ask actors to apply aloe vera on their skin after they remove the prosthetic.

IMAGE: Preetisheel's work in Mom got her a lot of work.
Tell us about working on Nawazuddin Siddiqui's look in Mom.
Nawaz would doze off while I was doing his make-up!
After doing his make-up, I started getting a lot of work.
I also worked on the girl who gets raped and thrown in a gutter. I made a swollen eye. It was the first job where I couldn't find mistakes.
Have you found mistakes before?
Oh yes! I don't find pleasure in watching films anymore because I'm always scrutinising my work.
When I see my mistakes, I hope no one else has seen it.
What are you working on now?
Sriram Raghavan's Shoot The Piano Player is a thriller, starring Ayushmann Khurana, Tabu and Radhika Apte.
I have designed the looks of all the actors -- their hair, make-up and prosthetic parts. There are not much prosthetic involved in the film, other than cuts and gunshots.
I am also working on Sunny Deol's son launch Pal Pal Dil Ke Passand Bhavesh Joshi (starring Harshvardhan Kapoor).