'Bollywood feels like a dream.'
'I never thought I would be a part of it, but I am glad that I am.'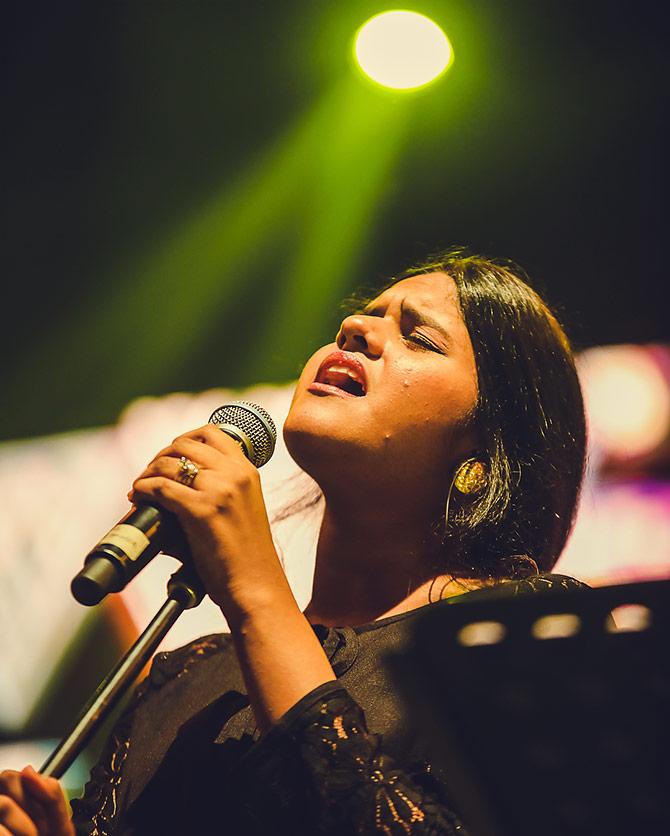 Photograph: Kind courtesy Meghna Mishra/Instagram
Meghna Mishra is all of 16 and a star already.
She is the voice for Zaira Wasim's Secret Superstar in the songs Nachdi Phira, Main Kaun Hoon, Meri Pyaari Ammi, Sapne Re and O Re Manwa.
Bagging Secret Superstar was beyond Meghna's imagination.
"Aamir sir (Aamir Khan, the producer) and Amit sir (Amit Trivedi, the composer) are people who my family and I admire a lot," she says.
Meghna tells Rediff.com's Jahnavi Patel how much her life has changed since Secret Superstar made her something of a star.
Tell us about yourself.
My dad is from Ghazipur and my mom is from Banaras (both in Uttar Pradesh). I was born and brought up in Mumbai.
My father sings very well, and started training me from an early age.
Before my training, I used to randomly sing songs. I didn't know music was so deep.
Once I started learning, I understood the meanings of the lyrics, how to get the right emotions...
My father taught me classical music. At times, he also teaches Bollywood songs and light music so that I don't get the classical accent.
Has your family's support encouraged you to take up music seriously?
Everyone encourages and inspires me a lot -- my parents, my grandfather, my cousins...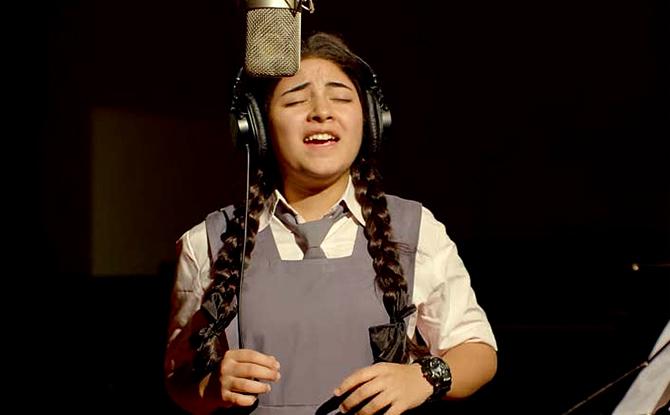 IMAGE: Zaira Wasim sings Nachdi Phira in Secret Superstar.
How did you come on board for Secret Superstar?
I had sung a song for a Marathi film, Vitti Dandu. The music director, Santosh Mulekar, has become a close friend.
He called my mom one day and asked how old I was. She said I would turn 15 in a few months.
He informed my mom about an audition and asked if I could take part in it. My mom agreed.
He said someone will call (about the audition) and ask me to sing a few lines. But he did not say who he was.
I sang and also sent a YouTube link, which I had uploaded a few months ago.
It was Ashish Narula sir, Amit Trivedi's manger.
This is how I auditioned for the film.
He gave me an address and asked me to go there. I went with my dad and that's when I realised that I was sitting in Amit sir's studio.
I met him, he gave us a contract and said I was chosen as the singer.
I was so shocked!
It was strange because I had never signed a contract before.
Meghna's Nachdi Phira is something you can't miss.
Video: Afsar Dayatar/Rediff.com
When did you realise you were singing for Secret Superstar?
We were told I was chosen as the singer for the film, but until the teaser released, we had wondered if the singer would really be me.
When the teaser released, there was this line of Nachdi Phira. That's when I got to know that I was doing the film.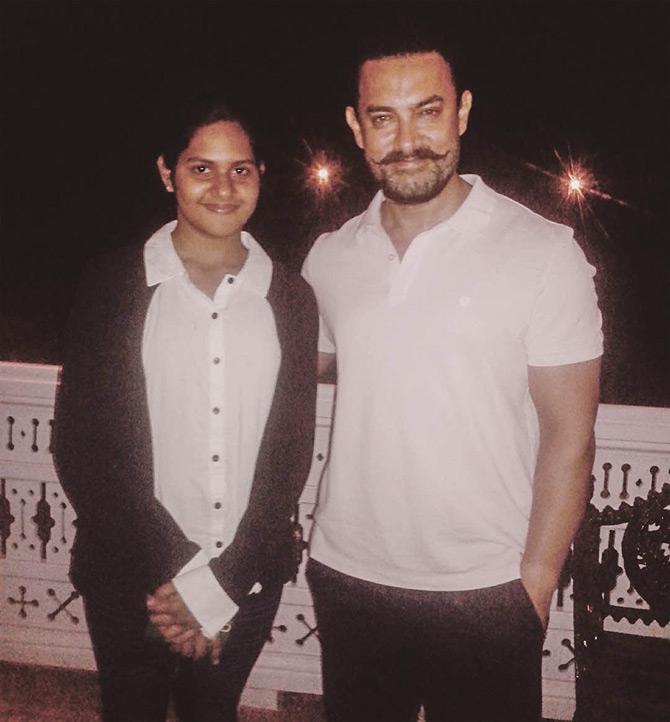 IMAGE: 'When we first met, I thought I was dreaming,' Meghna says. Photograph: Kind courtesy Meghna Mishra/Instagram
What was the first meeting with Aamir Khan like?
I didn't know I would be meeting him.
We were told to go to Panchgani to make (create) the songs.
Amit Trivedi, (lyricist) Kausar Munir, (director) Advait Chandan and many more were there, except Aamir sir and Zaira.
The lyricist wrote the songs there. Amit sir sat under a tree and composed the songs.
In the morning, Amit sir told me about the songs, the melody and lyrics.
I used to prepare the whole day and record in the evening.
Amit sir had a mini set-up in his room with a mike and all. No one was allowed during the recording.
After the recording and mixing, he would call all the members of his team, make them listen to it and take their opinion.
Aamir sir wasn't there for one or two songs, so the director would send them to him.
He came after three, four days. When we first met, I thought I was dreaming!
After that day, he was with us. It was good working with him.
Aamir treats his team like family.
We used to have lunch and dinner with him in his bungalow.
He spoke to each and every person.
He was so humble.
It doesn't feel like you are working with Aamir sir; you feel so comfortable.
Meghna sings Sapne Re, another Secret Superstar track.
Video: Afsar Dayatar/Rediff.com
What did you learn from him?
He used to make suggestions, taught me good things.
I learnt a lot from him like dedication, passion for work.
And he is not very serious. People think he is very serious off-screen, but he isn't.
Of course, he is serious about his work, but not all the time. He jokes around, blends in with people so fast.
It's not just Aamir sir. Amit sir and Kausar ma'am also taught me how one should work, how dedicated one must be.
How old were you during the making of Secret Superstar?
I got a call in March 2016, so I had given my final exams of Standard 9, and was going to Standard 10.
You were going to appear for your board examinations. Wasn't it a precarious time to take up a Bollywood project?
I am not very serious with my studies. My first preference will always be music.
My teachers helped me a lot in school.
It (managing studies and singing) is normal for me, it wasn't tough. I scored 60 percent.
I am pursuing Arts in the same school now.
Meghna's version of Adele's Someone Like You.
Video: Afsar Dayatar/Rediff.com
Does Bollywood feel like a dream?
I remember what I used to do. I used to stand in front of a mirror, take a comb or anything as a mike and sing.
I used to work on my expressions too... how I would sing on stage, how I would interact with the audience.
Once, I was giving an imaginary interview in the kitchen and my mom asked who I was talking with!
Yes, Bollywood feels like a dream.
I never thought I would be a part of it, but I am glad that I am.
How has life changed after Secret Superstar?
People have started recognising me.
In my school, people know that Meghna Mishra studies in this class.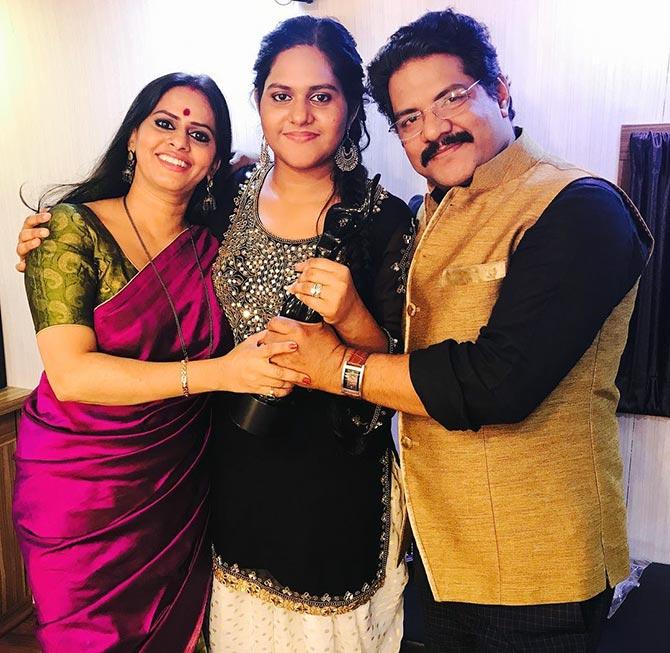 IMAGE: 'My parents cried a lot after seeing me with the black lady,' Meghna says. Photograph: Kind courtesy Meghna Mishra/Instagram
You have won so many awards.
My first award was Filmfare. I had a performance at Filmfare as well... that was enough for me.
As a singer, performing in front of the industry is more than enough.
I was nominated and I was 100 percent sure that I would not win.
When they announced my name, I froze.
I can't explain the feeling, I was about to cry, but I controlled myself. I was so thrilled.
I had to give a speech, and that was a big task for me.
It was scary, but I managed.
My parents were extremely proud and happy.
They cried a lot after seeing me with the black lady. It felt really special.
Meghna croons Lag Jaa Gale.
Video: Afsar Dayatar/Rediff.com
What kind of music do you listen to?
I like all forms of music, Indian and Western, but I prefer the former.
My favourite singers are all the old legends of our country.
There was magic in their voices.