Thalaivii proves Kangana is the Queen of Bollywood, asserts Syed Firdaus Ashraf.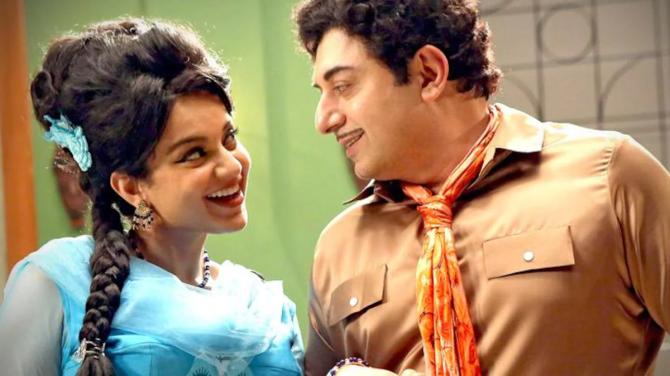 American psychologist Abraham Maslow's famous theory of 'Hierarchy of Needs' speaks of 'Belonging and Love Needs', which is followed by 'Esteem Needs'.
According to him, every human being wants to have the feeling of 'belonging and love'.
But if you are the romantic companion of Tamil movie superstar and later Tamil Nadu chief minister M G Ramchandran, you will never get acceptance.
Worse, society will hurt your self-esteem and remind you of your status of 'being the other' and unwanted.
And this is where the individual has to challenge society and prove her mettle.
Thalaivii. starring Kangana Ranaut (playing J Jayalalithaa) and Arvind Swamy (as M G Ramachandran), depicts the beautiful relationship between them amidst a lot of obstacles in their more than two decades of life together.
Everything changes around them, but the feeling of love between them never does.
The story starts with 17-year-old Jaya aka Ammu who is in love with a 48-year-old man married to Janaki (Madhu).
One of the flaws of the film is that they try to pass off Kangana as a 17 year old. But then, if Shah Rukh Khan can be a college student at 33 in Kuch Kuch Hota Hai, then this too can pass.
The beauty of Thalaivii is the chemistry between Arvind Swamy and Kangana, which Director A L Vijay weaves so well.
Be it songs or dialogues, each scene is a class apart.
Credit also goes to Dialogue Writer Rajat Arora and Writer K V Vijayendra Prasad.
As an audience, you will not get bored even for a minute.
In your heart, you know it is morally wrong to be in an extramarital affair but seeing the passion of these two lovers, you want them to be together forever.
There is a scene where MGR praises Jaya for a dance performance in a make-up room.
He realises the door is open and goes to shut it.
Jaya gets scared, thinking he is going to kiss her, but instead, MGR whistles at her.
Raj Arjun, who plays R M Veerappan, MGR's right-hand man, is a great find.
His enmity with Jaya over her proximity to MGR and then how they settle scores over medu vada is shown very well.
Notable actor Nassar does justice to the role of M Karunanidhi. Just watch his facial expressions in those dark goggles. In one word: Terrifying.
The same holds true for Arvind Swamy, as he effortlessly romances Kangana. Their chemistry rocks and one wonder why Arvind is not seen anymore in the Hindi film industry.
The star of the film is the Thalaivii herself.
Kangana keeps you hooked right from the beginning of the film, where she is molested and thrown out of the Tamil Nadu assembly to going to her past as an actress.
She moulds herself so well as Jayalalithaa the actress, the chief minister and MGR's lover that you never get the feeling that you are watching the same actress who spews venom on social media in real life.
Why waste time with that, Kangana?
As an actor, you have reached the top of Maslow's pyramid of 'self-actualisation', which talks of creativity, spontaneity and acceptance.
Why spew so much venom?
You are born to act. You are born to tell stories.
No other Bollywood actress can do justice to Jayalalithaa's life as you have done in Thalaivii.
Thalaivii proves you, Kangana, are the Queen of Bollywood.
Rediff Rating: