'In the film she played a chirpy bubbly character. But in person she was quite the opposite.'
'Very dignified, graceful and quiet,' Dharmendra, who starred with Jayalalithaa in her only film, tells Subhash K Jha.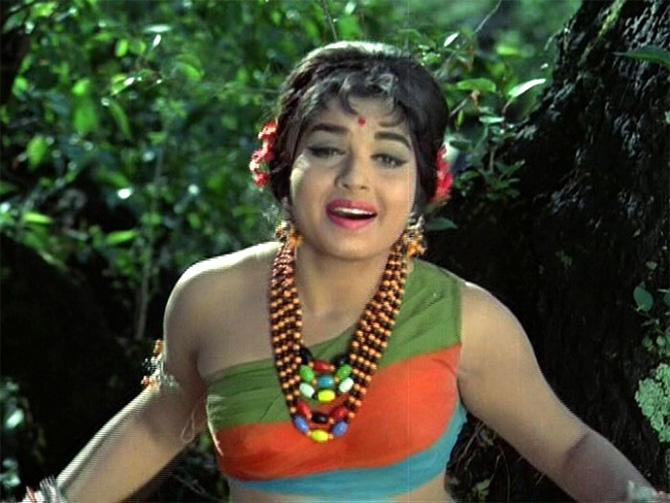 J Jayalalithaa had a very successful movie career in the 1960s and 1970s.
Surprisingly, she made only one Hindi film as a leading lady. This was a 1968 melodrama, Izzat, which featured Dharmendra in a double role.
He played the two sons of an arrogant Thakur (played by the amazing Balraj Sahni) who during a hunting expedition, rapes and impregnates a tribal woman.
The tribal woman sires a son who falls in love with a sober sad and grieving upper class woman while the thakur's legitimate son falls for a sprightly, outspoken and unabashed tribal girl, Jhumki.
The tribal girl was played by Jayalalithaa.
Izzat was directed by the famed Tamil-Telugu director T Prakash Rao who made several successful Hindi films in the 1960s, mostly with South Indian leading ladies: B Saroja Devi in Sasural, Vyjayanthimala in College Girl, Duniya and Suraj, Padmini in Nanha Farishta.
Rao was given the responsibility of launching Jayalalithaa in Hindi cinema for the reason of cultural comfort. Rao had great facility with the cultural transition from Tamil to Hindi cinema.
The tribal girl's role in Izzat was talkative, chirpy and aggressively attention-grabbing. But the film came and went without creating a dent at the box office.
If it is remembered to this day it is for Jayalalithaa dancing with fluent grace to Lata Mangeshkar's fabulously rendered song Jaagi Re Badan Mein Jaala Saiyyan Tuney Kya Kar Dala.
The hit song composed by Laxmikant-Pyarelal had raised quite a storm for its lyrics written by the great Sahir Ladhianvi.
Lataji recalls that number with a smile of recognition. "Yes, after the film was released there was quite a lot of noise about the song. Actually I had sung another number for Jayalalithaaji in that film, Ruk Ja Zara Babu Re Babu Re, which was also a hit."
Dharmendra, who had the singular privilege of being the only leading man from Hindi cinema to have been paired with Jayalalithaa in a Hindi film, remembers her with much respect.
"She was very quiet, very graceful and only focused on her work. She didn't speak much on the sets. And we all respected her privacy. In the film she played a chirpy bubbly character similar to what Hema (Malini) played in Sholay many years later. But in person she was quite the opposite. Very dignified, graceful and quiet."
IMAGE: Jayalalitha played a chirpy, talkative tribal woman in Izzat.