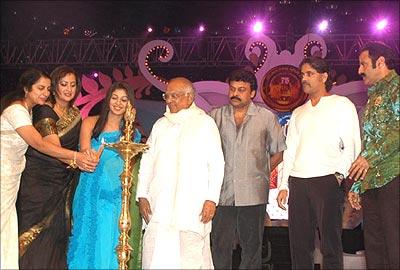 Telugu cinema celebrated its Vajrotsavalu -- 75 year anniversary -- in grand fashion, complete with glitz, glamour and some glitches too. Spread over almost three days at the Hyderabad Convention Centre, this mega extravaganza included numerous film personalities being felicitated amidst several cultural programmes.
The guests at the inaugural function included Governor of the State Shri Rameshwar Thakur, Shri Ambareesh and Shri T Subba Rami Reddy, while SP Balasubramaniam compered the opening programme. The lamp was lit by thespian Akkineni Nageswara Rao with Chiranjeevi, Balakrishna, Nagarjuna, Suhasini, Sumalatha, Nayanthara, etc in attendance. The late Shri NT Rama Rao was remembered and ANR, Rajnikanth and others recalled his contribution to the industry. Hindi actress Kajol also made an appearance in the celebrations.
A host of film personalities were felicitated for their contributions to Telugu cinema. These included actors ANR, Krishna, Krishnam Raju, Kanta Rao, Rajendra Prasad, producer Rama Naidu, actresses Jamuna, Sowcar Janaki, Krishna Kumari, B Saroja Devi, Sharada, directors Bapu, K Vishwanath, Singeetham Srinivasa Rao, KB Tilak, Raghavendra Rao, lyricist Dr C Narayan Reddy, art director Thota Tharani, dialogue writers Parachuri brothers, among others.
The cultural programmes included some song and dance, some acting (Balakrishna played Duryodhana), a laser show, Russian ballet and percussion by Sivamani.
A special song featuring all the present actors from Chiranjeevi, Balakrishna, Nagarjuna, to Sumanth, NTR Junior and a host of others was choreographed by Prabhu Deva for the occasion. Written by Suddala Ashok Teja and composed by Devi Sriprasad, the song was directed by Krishnavamsi. This is the first time that all the stars in the Telugu industry came together  -- multi-starrers are not a feature of the Telugu industry.
At the celebrations, there was an absence of actors Venkatesh and Mahesh Babu (for reasons best known to them) and some hitches -- some organisational problems, some film personalities being peeved and discontented, some film people ignored -- but the main aim of celebrating 75 years of Telugu cinema with pomp and grandeur by a few in the industry was largely achieved.