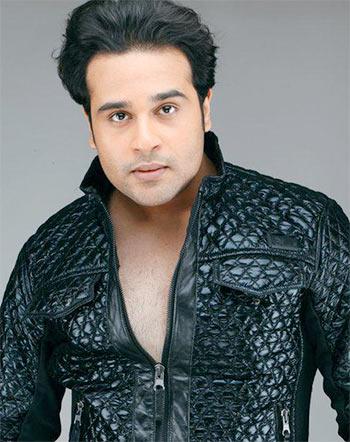 'There is a difference between the US burger and the Indian vada pav. She should have done some research or watched at least one episode of Bachao before she came on the show.'
Comedy Nights Bachao Taaza host Krushna Abhishek reacts to the controversy.
After Tannishtha Chatterjee slammed the television show Comedy Nights Bachao Taaza for their racist jokes, the actress received an apology from the Colors channel which airs the show.
But actor-comedian Krushna Abhishek, who hosts the comedy show, doesn't seem apologetic at all.
"If you want to put an allegation, you can pick anything and make a big issue of it," he says. "She wanted to put some allegation on us and she chose racism. If you are going to a restaurant, you should know what cuisine you are going to get.
"When Tannishtha came on the show, she told me that she has never watched my show or AIB's Roast. She didn't know what to expect, as she had come on the show without knowing the format. I think it was unexpected for her and she couldn't take the roast," he adds.
Krushna, who has roasted many Bollywood bigwigs on his show, further points out, "We have roasted Salman Khan saying that he is so strong that he eats dumbbells for breakfast but he never got offended. We have said so many things to Deepika Padukone. It's not a derogatory statement to hurt someone."
When asked if he thinks it is right to ridicule people on the basis of their complexion or physical attributes, the Bol Bachchan actor says, "We say all sorts of things to Bharti Singh (stand-up comedian on the show). We call her fatso, buffalo and what not. If she files a complaint, all of us will be behind bars."
Initially, Tannishtha said she was looking forward to the roast as she thought it would be on the lines of American TV shows like Saturday Night Live.
To this, Krushna responds by saying, "Tannishtha has never seen Hindi television. Foreign roast is very different from Indian because their style is different from ours. There is a difference between the US burger and the Indian vada pav. She should have done some research or watched at least one episode of Bachao before she came on the show.
"She is not our enemy, she is an artist like us. Despite all this, if she has felt bad then I would like to apologise on everyone's behalf even though I have not said this to her on the show. I don't know who said this because I was outside during the act," he continues.
Clearing the air about the actress walking out of the show, Krushna reveals, "She did not object to the content of the show while she was on the sets. She did not give any reaction. So I was shocked to hear about this in the morning. Someone overheard Tannishtha telling Radhika (her Parched co-star Radhika Apte, who was also on the show) that it was not her type of humour and she wasn't enjoying it. I informed the director about this. Since we had finished shooting two-three segments, we thought she could leave. She left nicely without any bad feelings."
Talking about director Leena Yadav and Radhika, Krushna says, "Leena Yadav is a respected director. She didn't have any objection though I said so many things to her. She was dancing with me. She had fun, as she knew the format of the show. Even Radhika enjoyed and she hugged me after the show."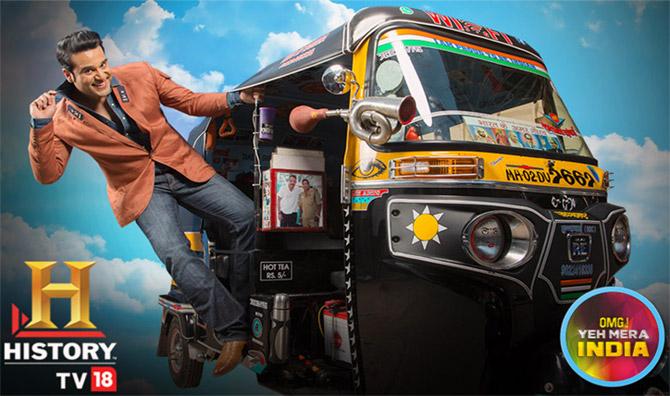 Meanwhile, Krushna also spoke about his next show called OMG! Yeh Mera India Season 2 on History TV 18, which premieres on October 6.
It will present OMG facts about people and places in the distant corners of India.
How was your experience in the first season?
I have a chaap (stamp) of doing comedy shows (like Comedy Circus and Comedy Nights Bachao) and that will never go awat even if I do 10 hit films.
Despite that, when I travel for shows, children come to me for pictures. When I ask their parents if they watch Bachoa, they say no, the kids watch OMG.
In the last six-seven months, I have met at least 5,000 people, who have said this. So I feel hosting OMG! Yeh Mera India has been a great experience, as it has allowed me to break the stereotype of being a comedian.
What's different in the second season?
In the second season, we decided to shoot outdoor instead of in the studio.
Tell us five OMG moments in your life.
I am a big fan of Amitabh Bachchan. I was 10 years old when I first danced with him at his bungalow during Holi and that was an OMG moment for me.
The next OMG moment was when I got 36 percent in Class 10, and the passing marks were 35 percent! I thought I would have failed.
After assisting a cameraman, I got my first payment of Rs 100. That was my second OMG moment, and I must have spent it on my girlfriend. I was in college then.
Another OMG moment would be when I signed by first film with Rohit Shetty, Bol Bachchan. I was doing a big film for the first time.
When I took over Kapil's Sharma's show Comedy Nights with Kapil, it was a big moment because that was one of the biggest shows on TV. First, he gave an OMG moment to the channel and then the channel gave it to us.
After you took over Kapil Sharma's show with Comedy Nights Live, it got decent TRP in the beginning but it did not last long, and it finally went off air. What do you think went wrong?
When we started Comedy Nights Bachao, it was doing well. Comedy Nights with Kapils had reached a saturation point, so I think Kapil made a wise decision to leave the show.
After we took over, it was doing well. But when he came back with a new show on Sony Television, it affected our show.
But our show did not go off air because of that. The TRP wasn't bad, and we would have continued for another six months. But Jhalak Dhikhhla Jaa wanted the same time slot. Since we were doing both Comedy Nights and Bachao, it was becoming repetitive. So we thought that we should leave the show before the audience got bored.
Is there anyone you would like to roast?
I would love to do a fun roast with Rajat Sharma (editor-in-chief of India TV). In a way, he would roast people on his show Aap Ki Adalat. We had approached him but he refused. We will try again in future.
How about Kapil?
He will not come on our show but I would love to do a show with him. It would be one of the best shows on TV.
The audience loved us when we appeared together on Comedy Circus. It would be good fun if it ever happens. Hopefully, we will work in future. How long can we keep fighting, it has to end some day, right?
So how is your equation with him?
I lost my father recently and he had called me.
I respect him for what he is. He is a nice person; he made a name for him, which is not easy. I salute him for that.