'In the 1990s, wherever I would go for work, I would see Tabu dancing in a studio.'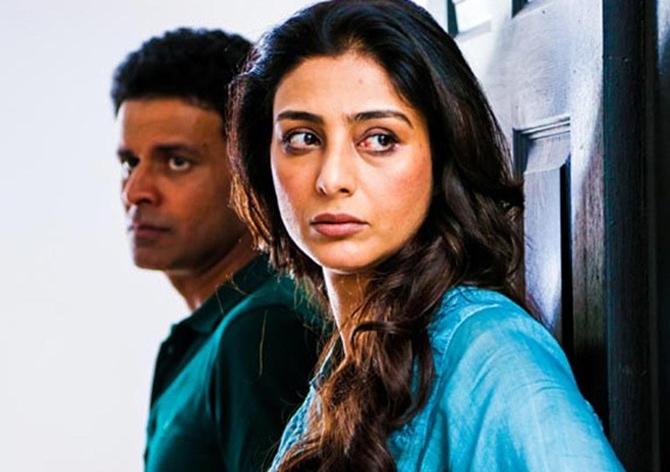 IMAGE: Manoj Bajpayee and Tabu in Missing.
18 years after they worked in Ghaath and Dil Pe Mat Le Yaar, Tabu and Manoj Bajpayee will come together in this week's release Missing.
They obviously have great memories working together, and their camaraderie is there for all to see.
After sharing the screen together, two of Bollywood's finest actors sat together for an interview.
Missing Director Mukul Abhyankar joined in.
Rediff.com's Patcy N records all the action.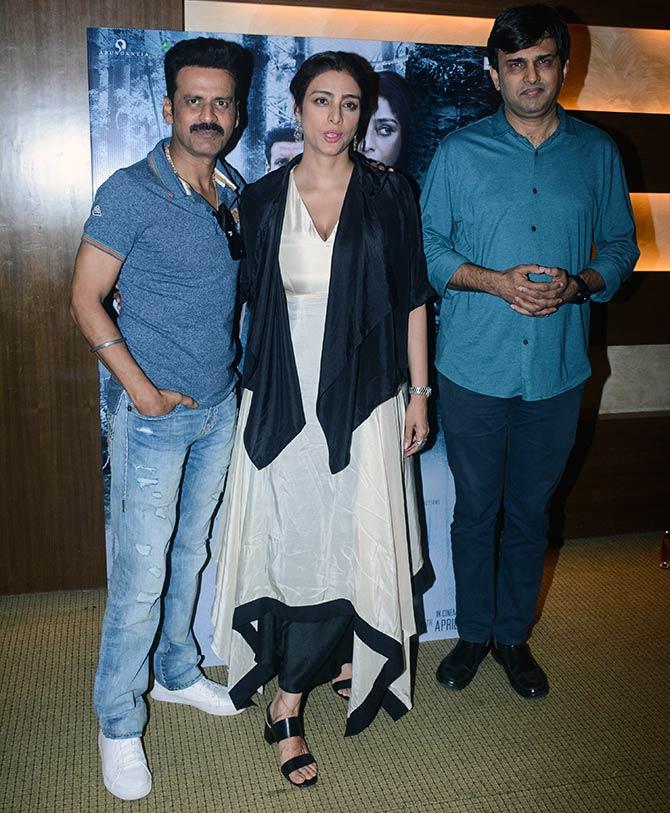 IMAGE: Manoj Bajpayee, Tabu, Mukul Abhyankar. Photograph: Pradeep Bandekar
Women characters are coming to the fore in Hindi cinema now, but you have been a part of such films before -- Astitva (2000), Chandni Bar (2001)...
Manoj: She started with Kaalapaani (in 1996). She is the pioneer! (laughs)
Tabu: I don't know why this change has come about now, but I know why I did those films.
I was very convinced about them, about their contribution to my growth as an actor.
I was not afraid to play those layered or immoral characters.
I am glad that people have become more accepting of female characters.
They are not just nice women; they have dark shades too.
Do you think the mid-1990s was the right time to balance realistic and commercial cinema?
Manoj: Tabu was very successful in commercial cinema. She made a change in her career with Priyadarshan's Kaalapani and was acclaimed for it.
I think that gave Tabu an idea to dabble in both worlds.
She has shown the way to other actresses, about how to choose roles where women are in the forefront.
As far as my career goes, after Bandit Queen, I was very lucky to get Satya. It became a landmark film.
Ram Gopal Varma showed belief in me in films like Kaun and Shool.
All of his films were talked about and gave my career a lot of strength.
I felt I should wait patiently for roles, and in the end, it paid off.
I don't know how far it is true, but Kay Kay Menon said that had Bhiku Mhatre not happened, actors of my kind would not have happened to Hindi films.
In the end, you give credit to a director like Ram Gopal Varma who revolutionised the whole industry.
In the 1990s, wherever I would go for work, I would see Tabu dancing in a studio.
I still remember Ruk Ruk Ruk (Vijaypath) (laughs aloud).
In those days, studios were full of commercial films, so actors like me could not see ourselves fitting into it.
We needed directors like Mani Ratnam, Shekhar Kapur, Ram Gopal Varma, Govind Nihalani... these directors have contributed to making space for us.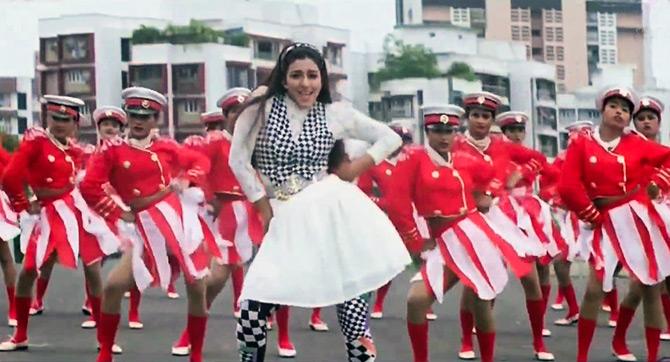 IMAGE: Tabu in the Ruk Ruk Ruk song in Vijaypath.
Were you waiting for that change to happen in your career?
Tabu: No, but when it happened, I recognised it.
I was very young to understand these things. I came from Hyderabad and didn't know the difference between commercial and parallel cinema.
But I was clear about the kind of work I wanted to do and when such offers came to me, I did not think twice before taking them up.
I wanted to act in a particular way, not in the way everybody expects an actress to perform.
And I did not understand why it was so difficult for people to allow me that.
Why was it important for women to be only nice? Why can't she have dark layers?
So when they came to me -- films like Maqbool and Astitva -- they just grabbed me and I wanted to be part of them.
And I wanted to make it okay for myself to be doing this.
I did not set out to create this space, it just happened.
Now, you seem to be returning to commercial cinema with films like Golmaal Returns. Are you going back to the Ruk Ruk Ruk times?
Tabu: It is not like that. There is no going back and forth. You are going on your journey, and finally, you come full circle.
My intention has been to keep growing.
What aspect of acting do you find toughest?
Tabu: Action. When they tell me to jump from the third floor, it scares me.
I have done that in films like Maa Tujhe Salaam and Jaal. I have been injured and have got stitches too (points to her head).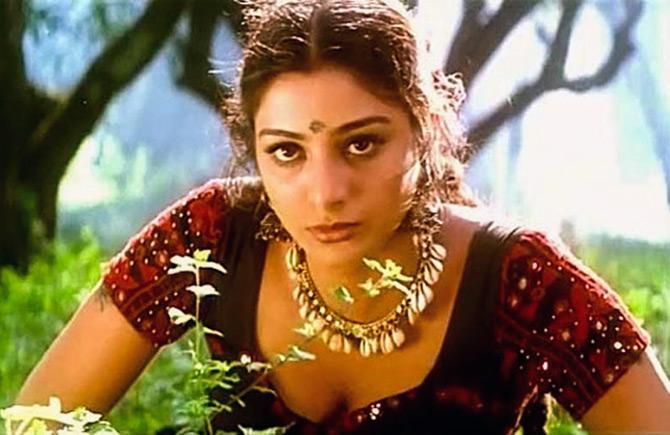 IMAGE: Tabu in Prem.
Can you tell us about your toughest scene?
Tabu: I have done 85 films in my 30-year career, how can I remember?
I think my first film Prem's first shot was very difficult for me.
I was very nervous. I had to go down some 100 stairs in a gown.
I had to look pretty and smile, but I was not allowed to look down while climbing down.
Like any other Hindi film, when an actress goes down the stairs, she never looks down.
She has to look at the camera. She smiles and handles the gown properly also.
I found that very stupid and asked how I would manage.
I couldn't smile. I was very nervous and scared of falling, but the director kept asking for a 'romantic smile.'
I asked, who should I give a 'romantic smile' to?
It was very difficult for me to fathom and so that experience has stayed with me.

IMAGE: Tabu and Manoj Bajpayee in Missing.
What kind of preparation did you do for your role in Missing?
Tabu: I just read the script.
You have worked with Manoj Bajpayee before. How was it working with him after so many years again?
Tabu: I worked with him in Dil Pe Mat Le Yaar and Ghaat.
Physically, he has not changed at all. He is looking younger.
When we were shooting, I was tense because Manojji lost so much weight that I was feeling fat. Manojji has become suave now.
He used to be painfully shy. He would get troubled very easily, so I would trouble him purposely.
I used to like watching him get embarrassed. But now, he is not shy. Abhi woh meri saari bakwaas bardaasht kar lete hai (now, he bears all my nonsense).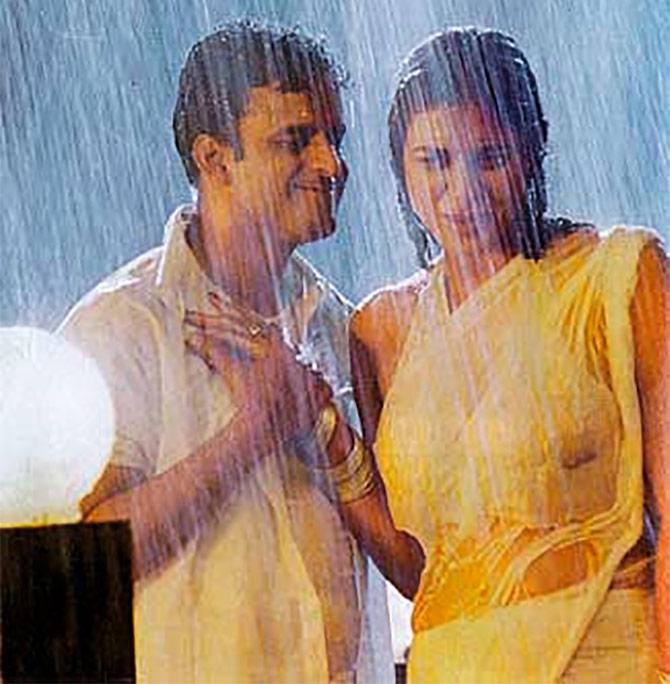 IMAGE: Manoj Bajpayee with Tabu in Ghaath.
Tell us about the film's music.
Manoj: The music has been done by M M Kreem.
He is one of the biggest names in the music industry.
Neeraj Pandey and Mukul waited for eight months for M M Kreem because he was busy with Baahubali.
After that, he did the background score and a song for this film, so you can imagine the importance they have given the music.
What was the first day of directing Manoj Bajpayee and Tabu like?
Mukul: Annu Kapoor was also present on the first day of the shoot, besides Manoj and Tabu.
I have known Tabu for a long time, Manojji too.
And when you meet Annuji for the first time, you instantly become his friend.
On paper, this is my debut film. I have been doing a lot of work since a long time.
It is a very intense film. There were a lot of tense moments, but they are all 'switch on-switch off' actors.
One moment they are doing an emotional and intense scene and the next, they are back to normal. It is fantastic!
The film is barely being promoted.
Manoj: We are not feeling sad about it.
The kind of story this film has, we did not want to promote the film at all.
But the team said we should meet the media and talk about it, but not reveal the plot.
Mukul: Manoj said this is the only film in his career which he is extremely scared to promote.
If he says something unknowingly, it would be unfortunate.
Manoj: Yes, I was very scared. Even now, we are very careful while speaking about it.
Tabu: Promotions create awareness, but if there is no merit to the film, what will promotions do anyway?
Do box office numbers scare you?
Tabu: No, it doesn't bother me at all. But it is great to have a Rs 200 crore or Rs 300 crore films.
Hits are always welcome.
Manoj: I have made my career out of flops, why should I bother?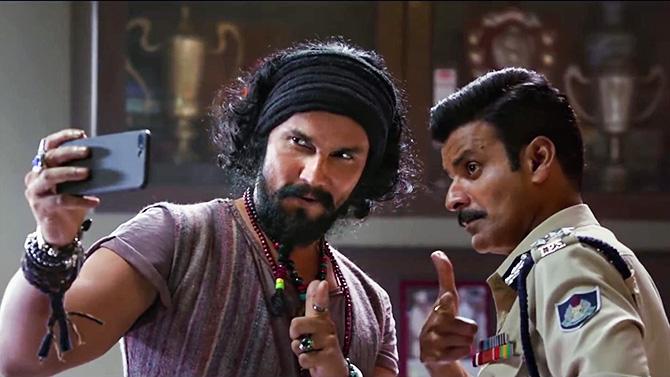 IMAGE: Randeep Hooda and Manoj Bajpayee in Baaghi 2.
Don't you think your talent gets wasted in a film like Baaghi 2. You barely had a role in it.
Manoj: In a film like Baaghi, either you will use Manoj Bajpayee or Tiger Shroff... and you will definitely use Tiger Shroff! (laughs)
What will Manoj Bajpayee do in such a film?
Then why would you sign a film like that?
Manoj: Why not?
There are things you do for many other reasons.
Sometimes, you try to please yourself and sometimes, you try to please a friend.
(Director) Ahmed Khan and (casting director) Mukesh Chhabra are my friends. They came to my house, and I was very happy.
Sajid (Nadiadwala, producer) has had many hits and is in a successful position today.
Baaghi is yet another hit for him.
The people who needed this success the most are Ahmed -- his initial two films did not do well -- and Tiger.
Tiger is so devoted to his skill. He is so hardworking that even between shots, he practices with his trainer.
When you see such kind of devotion, that person deserves it (success).