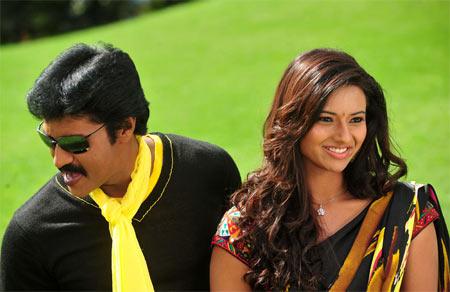 Telugu comedian Sunil, who was the hero in Andalu Ramudu and recently in S S Rajamouli's Maryada Ramanna and Ramgopal Varma's KSD Appalraju, will play the hero once again in Poolarangadu.

Isha Chawla, who made her debut in Prema Kavali last year, is the heroine.

Kota Srinivasa Rao, Ali, Pradeep Rawat, Raghubabu and Dev Gill will also star in the film.

Incidentally, Poolanrangadu was the name of an earlier Telugu film starring Akkineni Nageswara Rao

and Jamuna, and was directed by Adurthi Subba Rao. It was based on A J Cronin's novel Beyond this Place.

Sunil's Poolanrangadu is presented by RR Movie Makers' K Achi Reddy and directed by Veerabhadram (of Aha Naa Pellanta fame).

Sunil has built up a six-pack body for this film and joins the bandwagon of muscular stars. The film has some action sequences and the fights have been choreographed by Kanal Kanan.

Prasad Murella is the cinematographer and Anoop Reubens composes the music.

The film is currently under post-production. It is slated to release on February 10.