Suresh Krissna has directed superstar Rajnikanth in four Tamil films -- Annamalai, Veera, Baasha and Baba. Of the four, Baasha turned out to be the superstar's biggest hit while Baba was his biggest flop.
Suresh has also directed some of the biggest names in South India like Kamal Haasan, Chiranjeevi, Mohan Babu, Nagarjuna and Venkatesh, to name a few.
Now as release date of Rajni's new film, Sivaji, draws nearer, the director tells Radhika Rajamani about his experiences directing the superstar, or 'Rajni sir' as he calls him. Excerpts:
How was the experience directing Rajnikanth in your first film Annamalai?
My first film with Rajni sir, Annamalai began with a bang.  I was not the director of the film initially. Vasanth was supposed to direct it but he backed out at the last moment. My mentor K Balachander then asked me to direct the movie.
With barely 48 hours before shooting was to commence, I was supposed to direct the biggest superstar!  But apprehensions about Rajni sir's star status were laid to rest when I met him. We hit it off on the first meeting itself. He had no starry airs about him.
By the time we finished our first schedule, Rajni sir openly said, 'Honestly Suresh, I was very apprehensive about you. But after the first schedule I am clear, you are a Manmohan Desai.' At that moment I knew we were going to have a long innings together.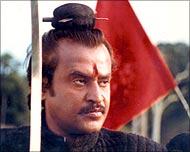 You have worked with Rajnikanth in four movies. How did you tailor the scripts?
When you make a script for Rajni sir, you have to be very clear about one truth -- he has a larger-than-life image. People come to see Rajni's sir's films first and foremost; all the other things are secondary. 
The script has to suit his image, star status and what the audience expect from his films. All the elements of a film like comedy, songs, fights, drama etc have to be done differently. 
Does Rajni involve himself in the scripting stage and while shooting?
He is basically a director's actor.  He gives tremendous respect to his director. He definitely gives his inputs in the scripting stage for he has to get the feel of his character. And with his long experience, his inputs are of great help.
He would guide us if he felt a particular dialogue or a particular mannerism would not suit him. I think those kind of inputs are very necessary. During shooting in the mornings we would just revise the scene once again and then go to the floor.
Is he punctual?
Absolutely!
How is Rajnikanth off the sets?
Rajni sir is very friendly off the sets.On the sets he is very quiet, especially if it is a very important scene. He likes to concentrate. He would not even leave the sets to go to his make-up room once he arrives for a shoot. He would go through his dialogues once and then take a bench in one corner, put a wet cloth over his eyes and mull over his acting. 
During lighter scenes, he would have fun with everyone. He even shares a smoke or tea with the crew. He especially has a soft corner for the light men. During his earlier days, he would make them apply make-up and enact a scene. One famous song in Badsha sees a very senior light man acting the role of a gatekeeper in a hotel.
As for me, I share a very good rapport with him. I know his family members -- his wife Latha, daughters Aishwarya and Soundarya -- very well. Recently I had the opportunity to direct his son-in-law Dhanush too in a Tamil film. My daughters are also studying in his wife's school Ashram. Rajni sir is like an elder brother to me.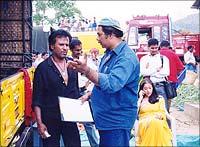 Can you highlight any interesting incidents in the course of shooting films with him?
There are so many. But the one I just cannot forget is the first shot of Rajni sir in Badsha. We had to shoot a fight scene in the Golconda tombs, Hyderabad. I told my cameraman Prakash to follow his reactions and slowly zoom in for a close-up.  At that time there were no monitors. I prepped Rajni sir about the importance of the shot and then got ready for the shot.
As the clap was struck and I called 'action' and watched in awe as Badsha came alive, I was so mesmerised by his tremendous intensity and power that I forgot to cut the shot. Rajni sir, himself, had to remind me to cut the shot. And when I did, there was this tremendous applause. The whole unit felt the power. 
That night I sent a huge bouquet to his hotel thanking him for the brilliant performance.
Does he have any favourite quotes or anecdotes, which he talks about?
Don't worry about the past, it's over, look forward to the future and enjoy the present, is his favourite quote.
Did he have anything to say for your films?
I was in Hyderabad shooting, when he saw the preview of Aaha in Chennai. He called me from the theatre itself and said, 'Suresh, forget all your films you have made till now; forget Badsha, Annamalai, Sathya all, for Aaha is your masterpiece.' I will forever cherish those words of praise.It's truly a great feeling.
You must have seen his spiritual side.
Yes, often. He is very spiritual and that is why he is able to carry his success so perfectly on his shoulders. He has inspired me to read lots of books by great masters.
Do you wish to direct him again? If so what would be the kind of subject you would choose for him?
I would definitely like to direct him again. We got to discuss the subject but somewhere in the back of my mind I would like to do Badsha 2 if Rajni sir agrees.
Are you looking forward to seeing Sivaji?
Of course, who isn't? I am first and foremost Rajni sir's fan, then a director.